Acting out a world without financial borders
October 9, 2021 | 12:00am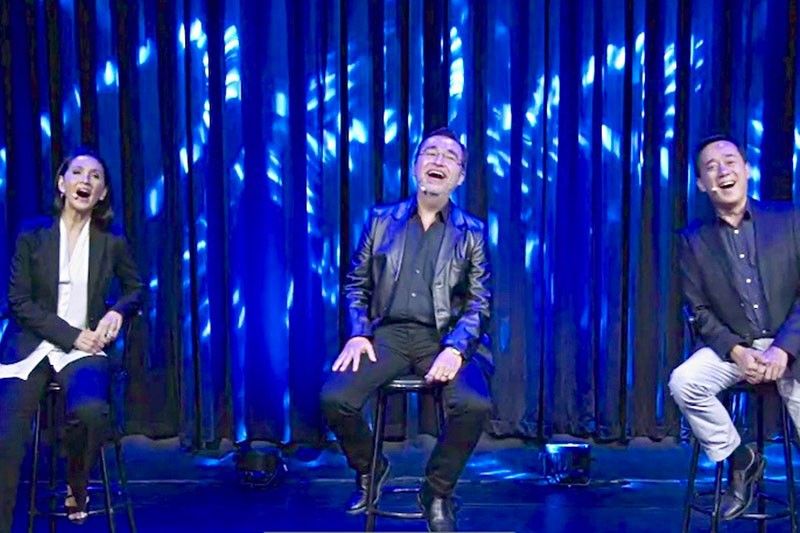 For its recent celebration with clients and media guests situated at home, HSBC Premier had something special in mind: a series of monologues, spelling out the freedom and empowerment that an international banking network provides.
Specifically, they had seasoned thespians Audie Gemora, Menchu Lauchengco-Yulo and Jaime del Mundo act out personal stories based around the theme of "Life Without Borders."
As we enjoyed a graze box sent from Peninsula Manila, ironically within the borders of our own homes, the Zoom presentation (like an earlier one during Chinese New Year with a performance by Lea Salonga) managed to show how HSBC Premier clients enjoy and grow their wealth across 29 markets, thriving and living life without borders.
As HSBC Philippines president and CEO Graham FitzGerald put it: "At HSBC, our purpose and values have opened up a world of opportunity for our clients. We are committed to managing our client's wealth by connecting them to opportunities - not just locally but globally."
Hostess Issa Litton introduced the trio of actors who, after an opening rendition of One, each told a personal story centered on a major life milestone commonly experienced by Premier clients — from planning a child's overseas education, to nurturing their financial growth, to seamlessly transferring funds between their global HSBC accounts — and demonstrated how HSBC meets these needs by leveraging its international connectivity and comprehensive suite of solutions.
Audie spoke of early experiences studying in New York — when phone calls were prohibitively expensive, and wiring money from home was a huge hassle."So when my son Richard said that he wanted to get a university degree in Canada, those scenarios flashed through my head and I thought 'Oh God, I don't want to go through what my parents had to go through.' Thank God that international communications and banking are so much better than they were then." With HSBC Premier, he was able to set up Richard's account online in less than 30 minutes, even before he arrived in Canada; he could now easily transfer funds to his son without panicking; and — the icing on the cake — no transfer fees. HSBC Premier also gives access to webinars to help Richard prepare for overseas education, including information on COVID-19 protocols at his destination. "I decided: HSBC Premier is way cool."
Jaime spoke of being "a Luddite" when it comes to technological advances, but how HSBC Premier made it so easy — even for someone like him — to set up an account online. "For me, banking meant over-the-counter transactions, paying bills with checks, withdrawing through international remittance centers." But with family members spread across three continents, he needed to carry at least three different currencies when visiting them. "HSBC Premier had me at 'international connectivity,'" he says. "I opened accounts in all five countries, getting all the same perks in all these accounts. With Premier, transferring funds globally is easy, done in real time for most currencies and free of charge." HSBC deals with up to 11 different currencies, and if he gets overwhelmed, a Premier Relationship Manager is on hand to answer his "Luddite" questions.
Finally, Menchu shared what it's like to lose a spouse, then take on the responsibility of managing one's own finances and investments. "All of that changed when he passed away. I found I had to manage all those financial matters by myself." Menchu describes making investments to be the biggest challenge. Fortunately, "HSBC Premier referred me to a team who assisted me in opening investment accounts and provided offshore wealth-management solutions for protection. Wealth, retirement and legacy planning means that I was given my own personal Premier Relationship Manager, my financial BFF who would update me regularly on my placements."
Menchu said she now feels "more confident about making financial decisions. I know my family is protected. My future is secure, and I have the freedom to be me: a Type A, OC woman working at my craft. I love traveling all over the world, studying, teaching, growing — sans my husband, yes, but independent, productive and able to build a new life. A life full of life."
Guests enjoyed munching on a variety of cheeses (brie, emmenthal and vintage cheddar) and a charcuterie board of chorizo Pamplona, salami Milano and pepperoni, along with periodic sips of Romio Prosecco, as the actors revealed how the settled, earning generation now plans and provides for the next generation — and their own investment choices — in a fast-changing world.
HSBC Philippines head of Wealth and Personal Banking Peter Faulhaber closed with a toast: "As we open a world of opportunity for you and your family to take advantage of, we remain committed to helping you thrive, today, tomorrow and into the future."
* * *
HSBC Premier is a global banking proposition to help customers and their families achieve their goals. From remote and convenient banking services, to help in planning for their child's overseas education, to globally growing wealth, it's a premium banking experience for a life that builds lives.
Visit https://www.hsbc.com.ph/premier/.