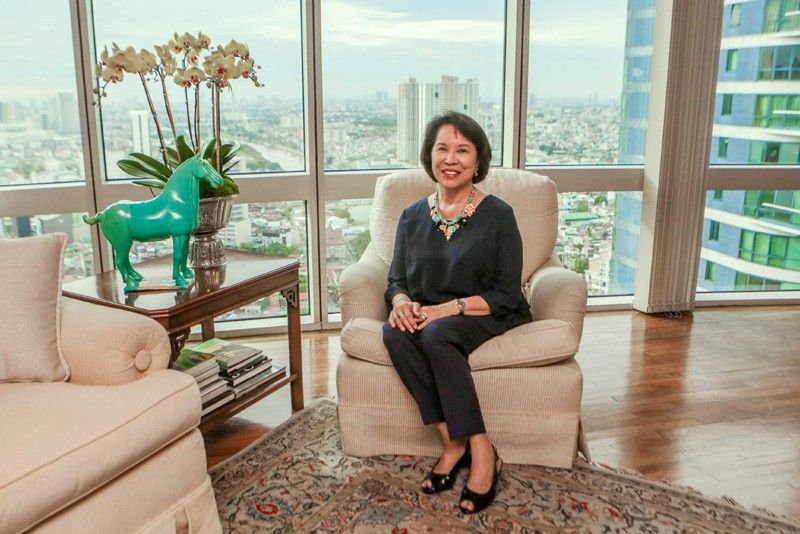 City lights: So how did Ada Ledesma-Mabilangan — Kalaw-Ledesma Foundation Inc. (KLFI) president and patron of the arts — design her home with her husband and former Ambassador Felipe Mabilangan? She went for a combination of antique pieces, contemporary artworks, muted colors and an unimpeded view of her beloved Metro Manila. She explains, "I like everything to be simple, neat, bright, elegant and uncluttered."
Photos by Geremy Pintolo
Ada Ledesma-Mabilangan & the aesthetics of purity
What will stun you firstly upon visiting the condominium of cultural vanguard Ada Ledesma-Mabilangan and her husband Felipe Mabilangan (former ambassador to France and People's Republic of China, representative to the United Nations) is the view from the huge windows: the sprawling Makati-Pasay cityscapes in all the colors of daily, delirious existences. It is like having a glass box of extreme maquettes of fantastical cities by Bodys Isek Kingelez or, closer to home, Manny Baldemor, the cars flitting and forming a rainbow of matchboxes.
"It is ever-changing — depending on the time of day, the weather, the tides of the Pasig River — but always beautiful. It is the nearest I can get to nature in the midst of a teeming urban environment," shares Ada.
When the couple returned to the Philippines after the ambassador's postings in 2004, they started living in this condo unit on the 30th-plus floor. They are empty nesters, so the place suits them perfectly. "'Yung Century City, wala pa 'yan noon. You see those big buildings by DMCI? They were not there at that time. We could see all the way to Manila Bay. Would you believe that the Pasig River is cleaner now? Before, it was filled with water lilies."
Ada and Philip have lived in houses and apartments in varying configurations. They lived in a Paris apartment along Avenue Foch (an area of palaces and grand residences of Onassis and Rotschild levels), staying in the French capital for eight-and-a-half years. The living room has been immortalized by Paris-based printmaker Ofelia Gelvezon-Téqui.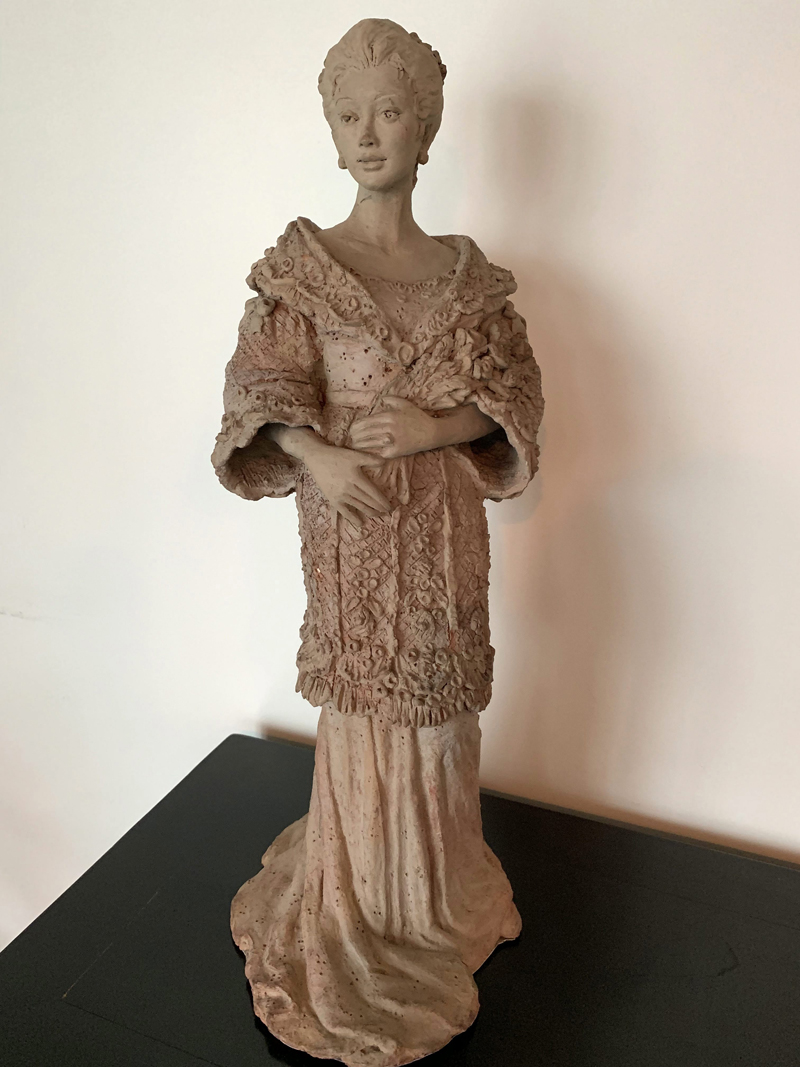 A sculpture by Dr. Antonio Raymundo. Ada says, "I wish it were my mother (Purita Kalaw-Ledesma) or me.This piece is one of my favorites."
"We got married in a beautiful old church on Foch that has been torn down now in favor of a high rise with a modern church. Sayang! When we moved to Beijing, Ofelia also drew the living room." But the ambassador's residence in China had a more, how do we put this, "colder" approach in terms of architecture — the Philippines had the same exact interiors to the one of Brazil. "I had such a huge job of redecorating the place (laughs)."
The 10-year stint in New York was also fascinating. There, Ada took up interior design. She was in her 50s and her young 18-, 19-, 20-year-old classmates would come into class with cropped tops and belly button rings. "The wonderful thing about New York is that everything is okay. No one looked down on me. Well, we even had a 60-year-old classmate (laughs).'"
When the Mabilangans came back to Manila, they brought most of the stuff from their homes in Paris, Beijing and NYC. "Most of them have meaning, so they travelled with us."
She points to a pair of chairs.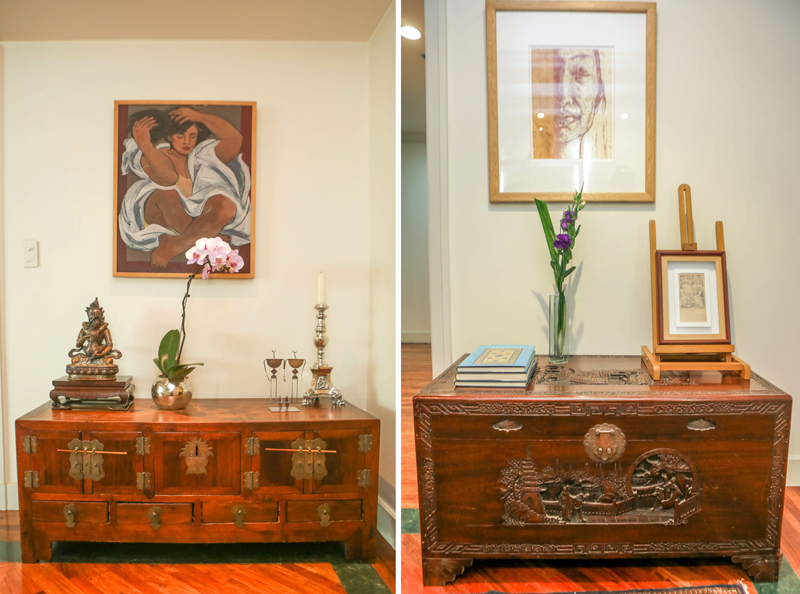 Strategically placed on several spots in the Mabilangan condo are these tasteful vintage baulartwork-and-flower combos. Ada took up interior design when she was in NYC. She was in her 50s at that time and her 20-year-old classmates would come into class with cropped tops and belly button rings.
"Those are vintage black pen shells with mother-of-pearl accents. Our designer at that time was Edong Lazatin. While we were staying in other countries, I wanted to show our foreign guests the best in Philippine arts and crafts' but not the bahay kubo-type. It had to be something sophisticated."
In Paris, she would visit auction houses to score some household treasures.
Her first pick was a silver surtout de table or a mirrored centerpiece made during the time of Napoleon III & Empress Eugenie of France. Probably dates back to 1850s. She put an Ed Castrillo sculpture on it and now it sits majestically on the dining table. In China, she would go with a group of friends to the countryside for weekend markets. "The farmers rolled down their carpets on pavements and hawk their antiques."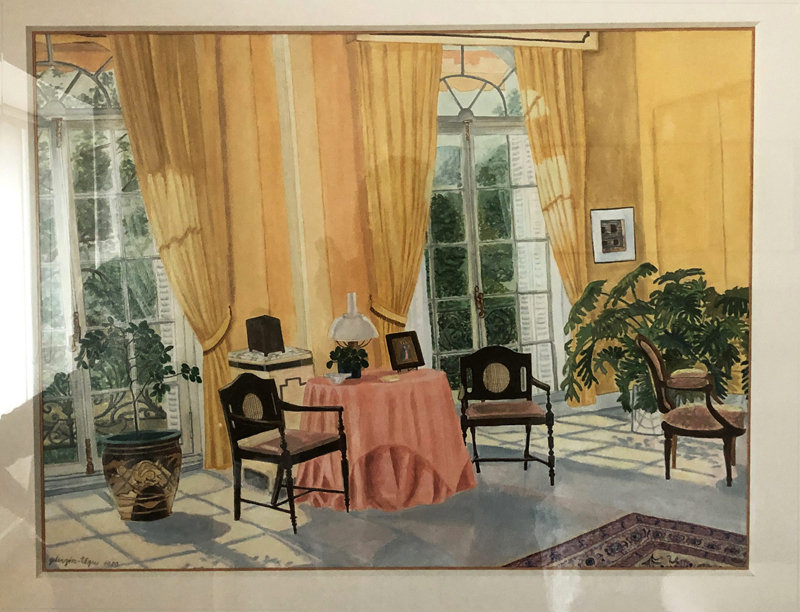 A beautiful print of the Mabilangans' Paris home by Ofelia Gelvezon-Téqui
Inside the condo are Martaban jars, statues bought in India, Tang Dynasty horse replicas as well as intricate rugs from Iran and Tibet. They are juxtaposed with Lao Lianben abstracts (two pieces that are hung back-to-back covering the hall toward the door), very early BenCabs, as well as a Ryan Villamael paper art piece mounted side-by-side with doors covered with wallpaper from the walls of the Mabilangans' NYC apartment. There is an old writing desk and a number of antique aparadors and bauls. A treasure trove of cooking books and Filipiniana.
"One time, my husband's visitor remarked, 'Mahilig pala 'yung asawa mo sa mambubulok,'" Ada recalls with a laugh. "Philip answered, 'Oo.'"
Pure souls
Where does all this love for all things antique and artistic come from? From Ada's mother, Purita Kalaw-Ledesma, of course.
"When my sisters and I were growing up, our house was filled with so much artworks," explains Ada. "And whenever we travelled, my mother would give us very little shopping money and instead take us sightseeing to all these museums and cathedrals. One time, umiiyak na kami ng sister ko. 'Mommy, no more churches please!'"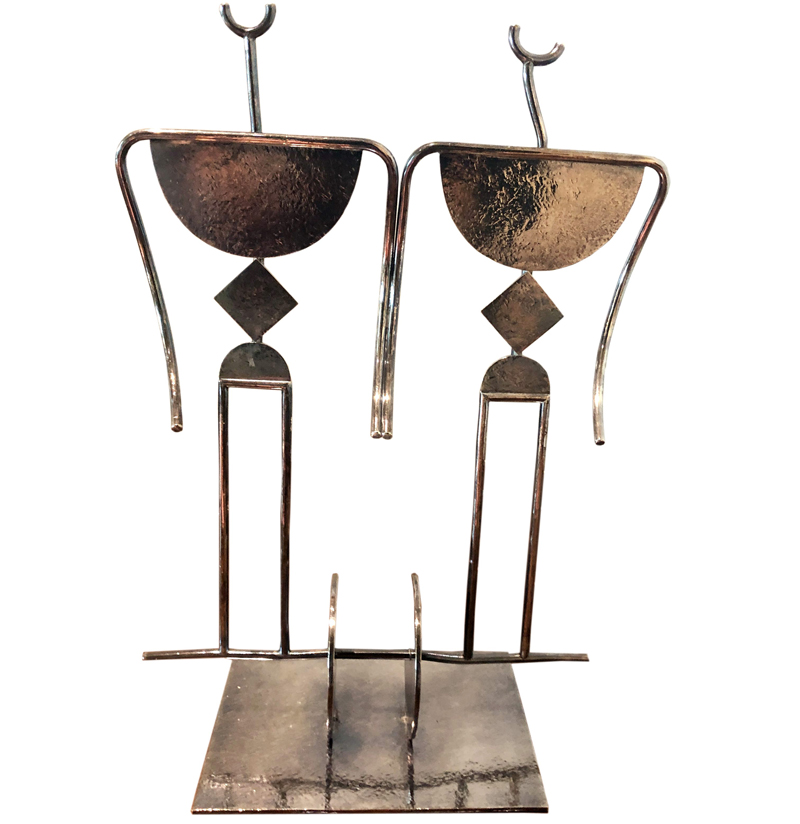 A sculpture by Arturo Luz
Purita explained it to them deftly: if she gives them money for shopping, the children would just buy assorted throwaways from a store. If she takes them to cultural places, the experience would stay with them forever.
Ada shares, "When I got older I realized how right she was — because I have done the same thing to my children."
When Purita Kalaw-Ledesma passed away in 2005, that was when Ada took over the foundation.
"I think my mother's contribution to the development of Philippine contemporary art is inestimable. The vibrant art scene we have today can be traced directly to her pioneering work in the Art Association of the Philippines (AAP). It is difficult to imagine a time when there were no art galleries; when artists had no venue to exhibit or sell their works; when artists could not support themselves, let alone their families, with their art. This was exactly the situation after the war. It was a time when the government had to focus on the economic rehabilitation of the country and did not have the resources to prioritize the development of our culture. It thus fell on the AAP to act as the de facto Ministry of Culture."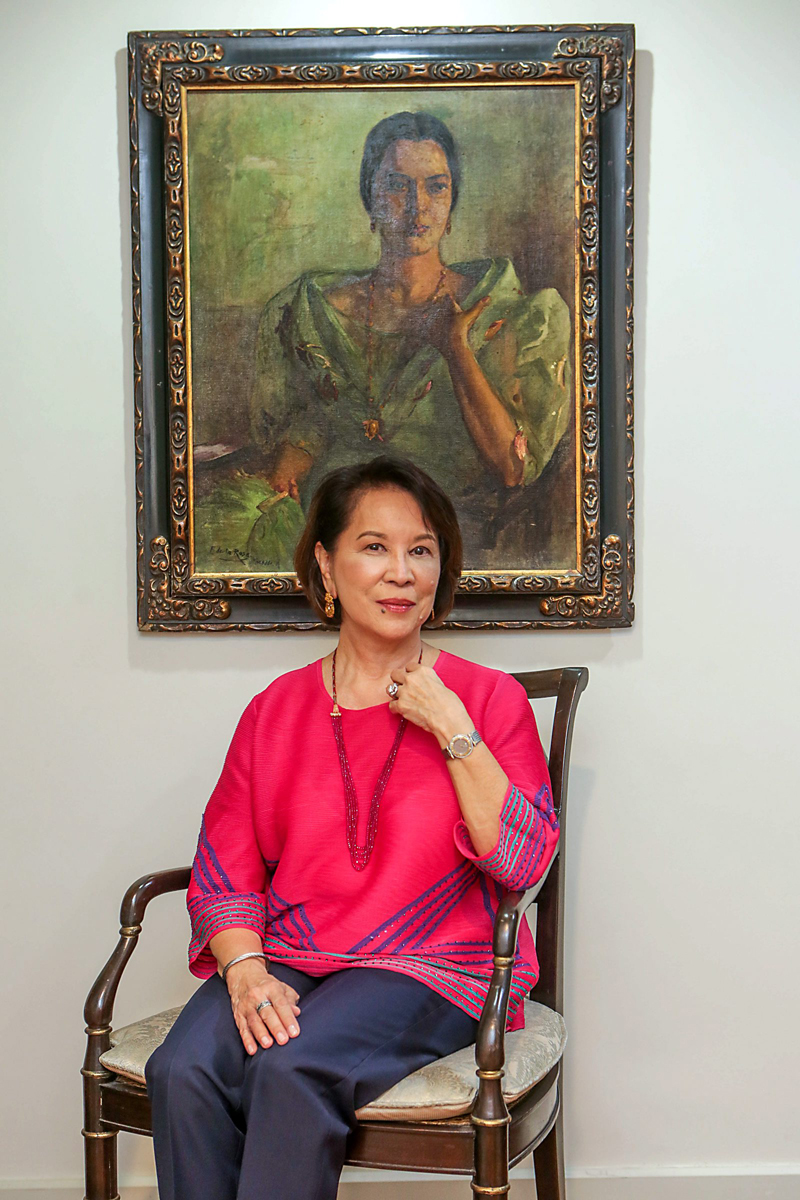 Ada beside the iconic portrait of Purita Kalaw-Ledesma by Fabian dela Rosa
Big shoes to fill at the Kalaw-Ledesma Foundation Inc. (KLFI). Ada was given the honor of taking over from her mother because… "No one in the family wanted to do it. I was the weakest link (laughs). But through the years, I have learned to treasure our mission in the foundation. Thus, in a sense, my whole life has been in preparation for the role."
Today, KLFI has partnerships with the Ateneo Art Awards, National Gallery Singapore, and The Philippine STAR (for the Purita Kalaw-Ledesma Prizes in Art Criticism). But the one closest to heart is KLFI's recent project in Marillac Hills: providing art lessons to girls who have been victims of abuse.
"It gives us so much joy," she says. "These girls are very brave."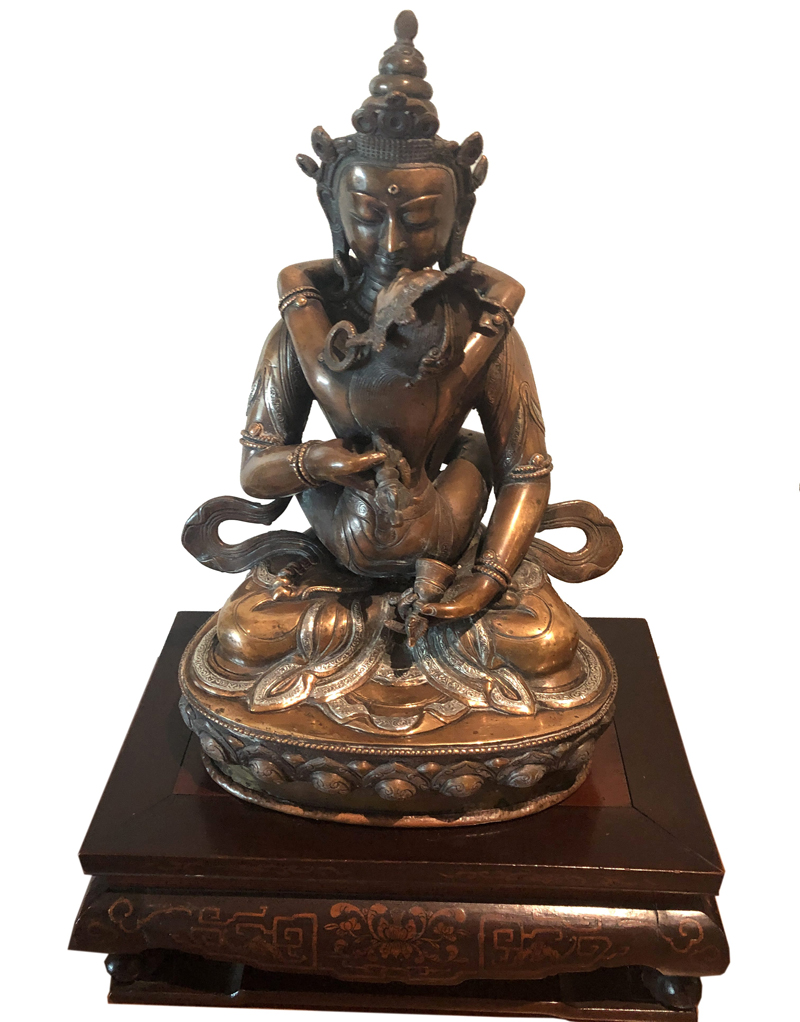 An antique statue
The condo of the Mabilangans reflect much of this joy. Books on Purita (as well as Chabet and Anita Magsaysay-Ho) are on the coffee table along with a glass lion figurine from China. Indian gods and Arturo Luz sculptures occupy the same hallway. Furniture, fixtures and walls in muted colors convey the vibe of lightness and serenity. The combination of antiques and contemporary touches are masterfully done.
"I like to mix, but I like everything to be simple, neat, bright, elegant and not cluttered. I only hang or display the essential, the rest are kept in storage. And at this stage in my life, the stuff that I don't love… I have already given them away (laughs)."
Ada remembers all the houses they lived in fondly, because her mother had impeccable taste. They went from Sta. Mesa (during the war) to Baclaran (near the church, right by the waters) to Times Street in QC (where Philip courted Ada) and then to Dasma (with interior design by the mother of Arturo Luz [Rosario from Lipa], the young Arturo was tasked with the arrangement of the artworks in the library).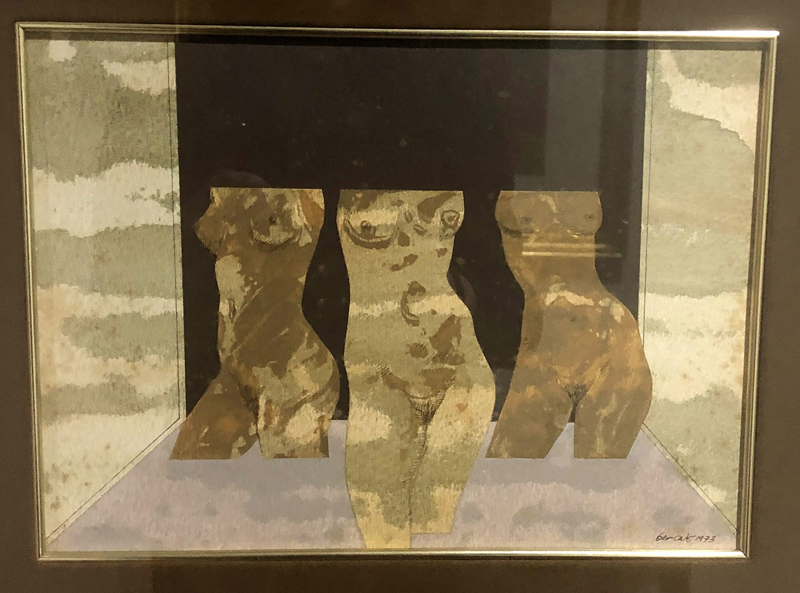 An early BenCab. Ada bought the piece in the '70s at the Luz Gallery for P700. "I didn't know him yet, but I love the piece! I showed it to Ben and he said, 'Ah, si Caroline (Kennedy) 'yan."
"I remember telling my mother — I was in my 20s, I was newly married at that time, and Philip and I lived across the street from her — 'Mommy, your house is so beautiful.' She answered, 'Of course, this is my entire lifetime right here. What you see is my life.'"
Ada Ledesma-Mabilangan looks around her condo with a view of the Pasig River slendering its away across the maw of the metropolis that is both beautiful and beastly at the same time, another day deepening by degrees. She points to the jars, chairs, triumphant bronze figures and artworks by contemporary artists.
"I would like to think this is the culmination of my entire life," she concludes. "Every piece has a memory."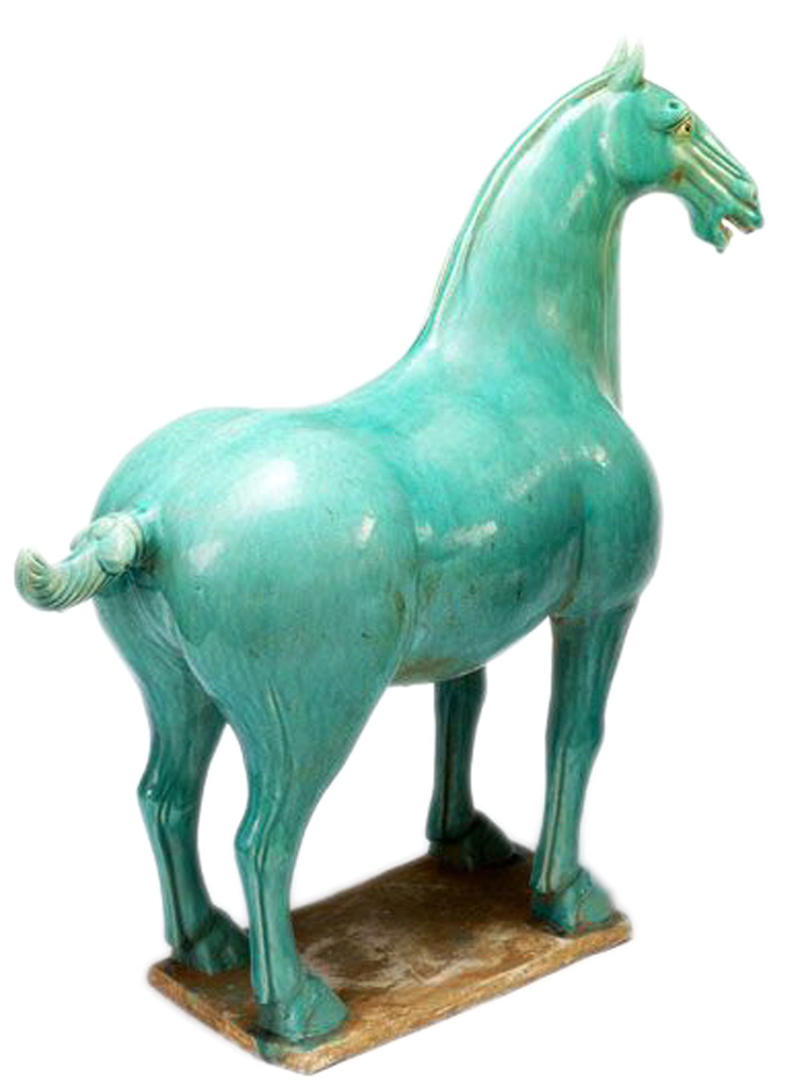 A Tang Dynasty horse replica