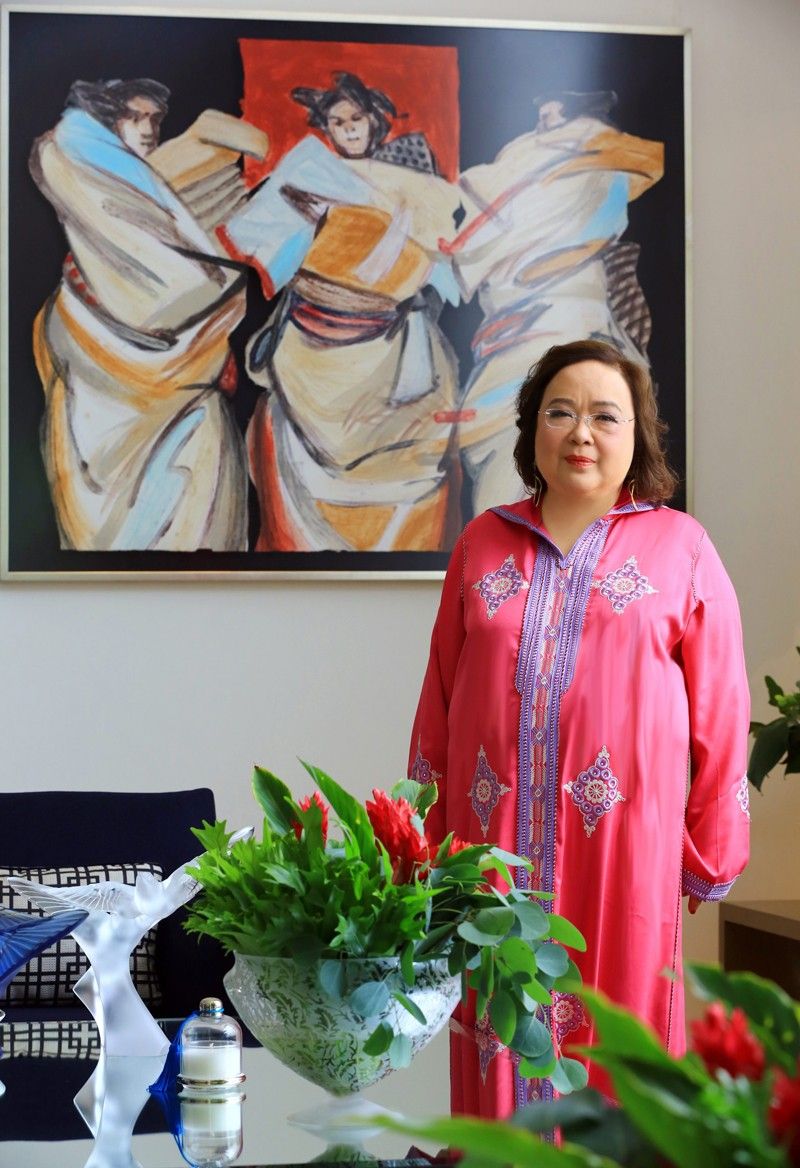 Marilen Tantoco wears a Moroccan djellaba in her modern home designed by Anton R. Mendoza: Behind her is a painting by BenCab.
Photos by Walter Bollozos
Marilen Tantoco's home is an ode to Morocco & New York
If her mother Glecy Tantoco's style taught her to find her own, so did her father Ambassador Bienvenido Tantoco's love of art influence how Marilen's house looks today.
There is an old Moroccan proverb that goes, "In Morocco never be surprised. If you see a donkey flying, just say Allah is capable of anything."
Rustan's VP for merchandising-home division and Morocco Consul General Marilen Tantoco has seen it all in Morocco…well, perhaps with the exception of a flying donkey. But in every souk and garden in the capital city Rabat and Marrakech in the foothills of the Atlas Mountain — including Yves Saint Laurent's Majorelle Garden — she was and continues to be captivated on every visit by the colors and beauty of a country she considers one of her spiritual homes (the other being New York City, but more on this later).
She lived in Rabat for two periods of her life. The first was when she was a young mother with her then two-year-old son MJ and two-month-old son Chris to live with her parents and help them run the Duty Free Shops of Morocco. This was in the late '80s to the early '90s, and again from 2007 onwards, for a combined nine or 10 years.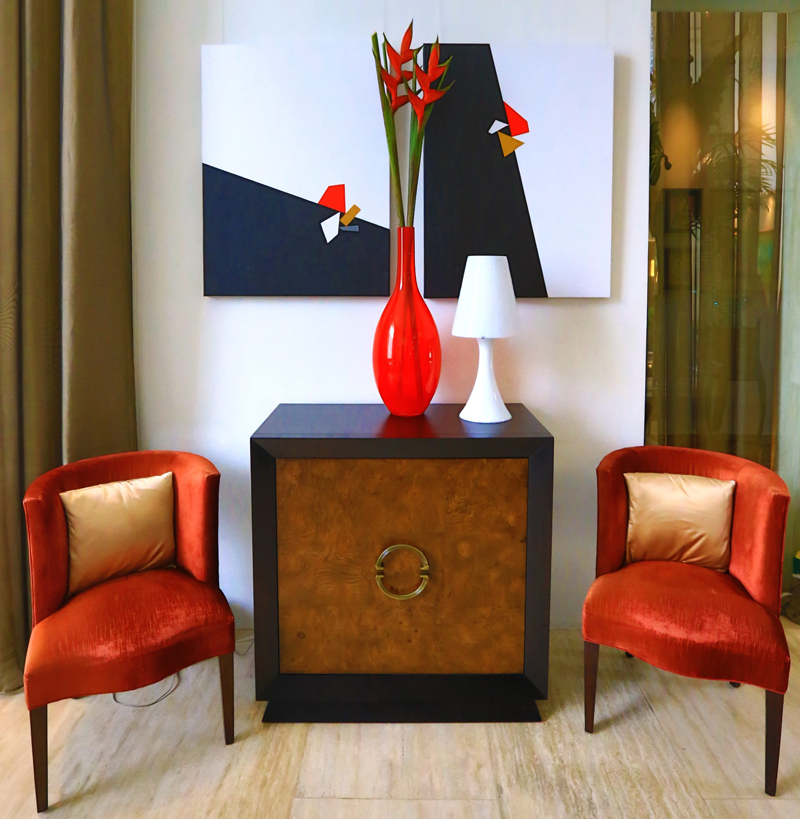 An artwork by Arturo Luz and his granddaughter Paulina Luz Sotto
"When we were living in Morocco, my young children didn't understand the meaning of the word 'cousins.' When they came home, they realized malaki pala ang pamilya namin. They said, 'We thought it was just us, there was such a thing pala as cousins, pamangkins and titas. They even had to go back to school because they couldn't really understand English — but they could write in Arabic."
But Marilen is also a New York kind of woman. When her parents, Ambassador Bienvenido Tantoco and Rustan's founder Glecy Tantoco, were living in the States she would visit them and enjoy the modern, cosmopolitan vibe of New York — and the shopping. Oh the shopping! You'd think that a woman who buys merchandise professionally for the family-owned Rustan's would at some point give up on shopping — no, not Marilen.
"When I was growing up and we would go on vacation I would call New Jersey 'New York,'" she says with a laugh. "And then when my kids were in university in Boston, I would always visit and when we would cross the bridge, they'd say, 'Okay, mom, this is no longer New York.'"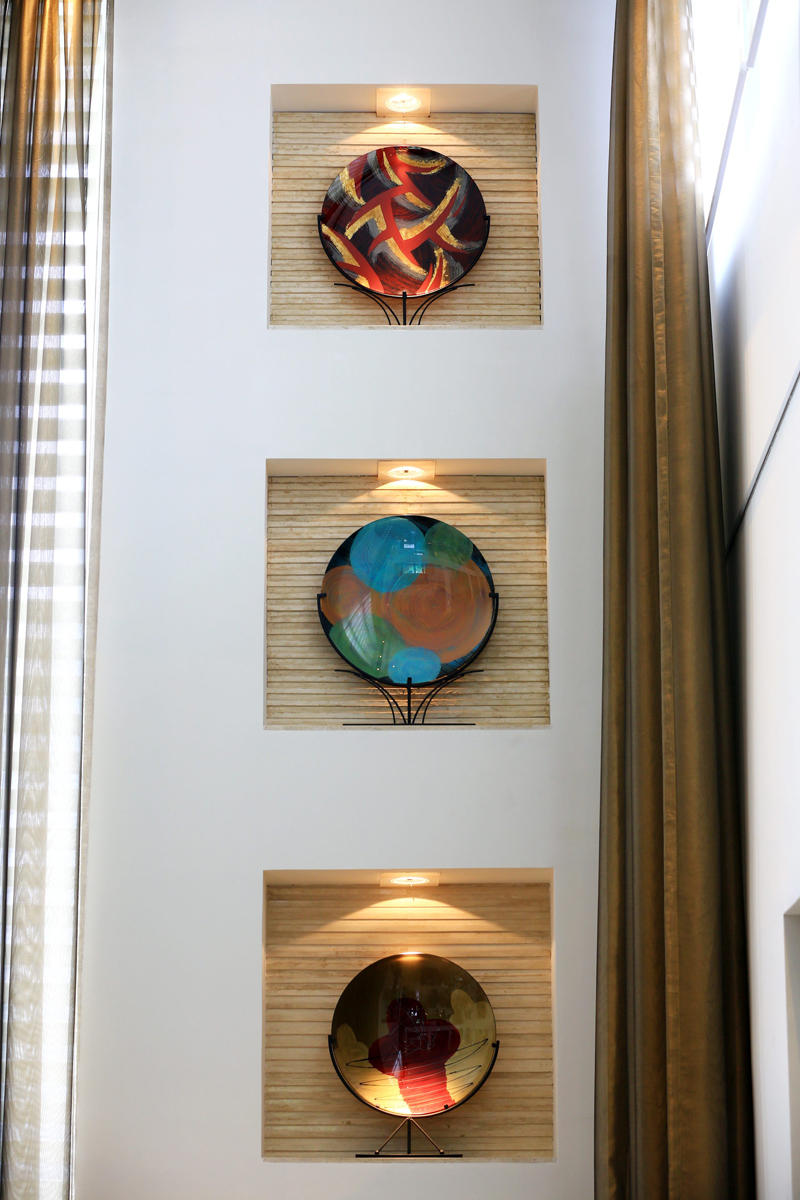 The mounted plates in alcoves on both sides of the living room were bought in New York by Marilen's designer Anton Mendoza.
Two different places with two different styles and vibe — New York and Morocco — who'd have thought the twain would meet?
That's how Marilen's home in Makati feels and looks like. With its smooth natural stone cladding and floors, its artworks and tall ceilings, its glass tables and wood paneling, it looks like a New York penthouse. But then you see colors bursting from the tiny mosaic tiles and rugs thrown on top of each other, and you think of the fountains and riads of Morocco.
"I've always wanted a modern house and always been a modern person," she says, and adds with a twinkle in her eye, "My taste is different from Rustan's."
We're not sure if she's being serious or facetious, but we point to the giant mounted plates recessed in the wall running the whole length from the floor to the ceiling, which we are told some are Laliques, a brand that Rustan's brought to our shores and made famous in grand Filipino homes.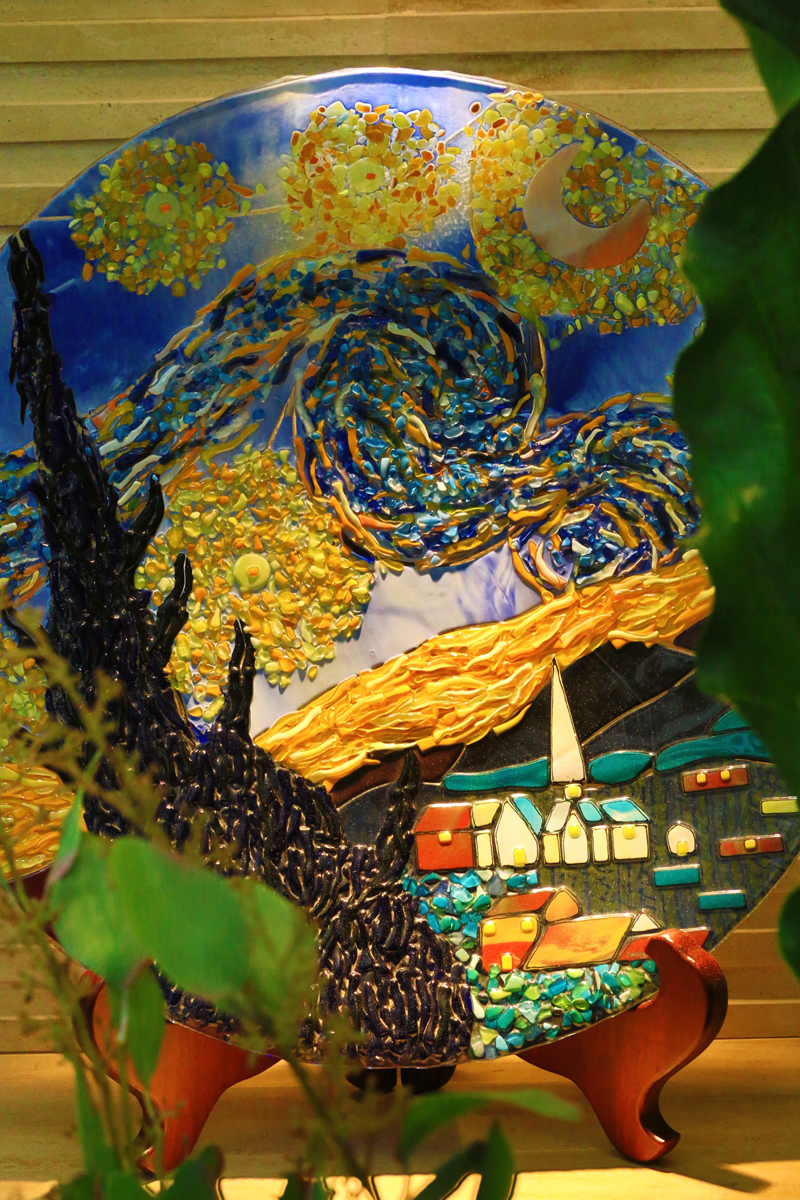 Detail of a glass plate
When pressed, she traces her inclination for modern homes to growing up surrounded by her mother Glecy Tantoco's style, which was French.
The fifth of six children, when she was born the Tantoco family moved to a house on Banaba Circle in Forbes Park. "I was the 'first' when we moved there, then we transferred to Tamarind St. The Banaba house had a different theme in every room, but my mom's style was French, which my sister Marilou took after because she really idolized my mom and was influenced by her style. So parang nagsawa ako, palagi kong nakikita araw-araw. I wanted a change."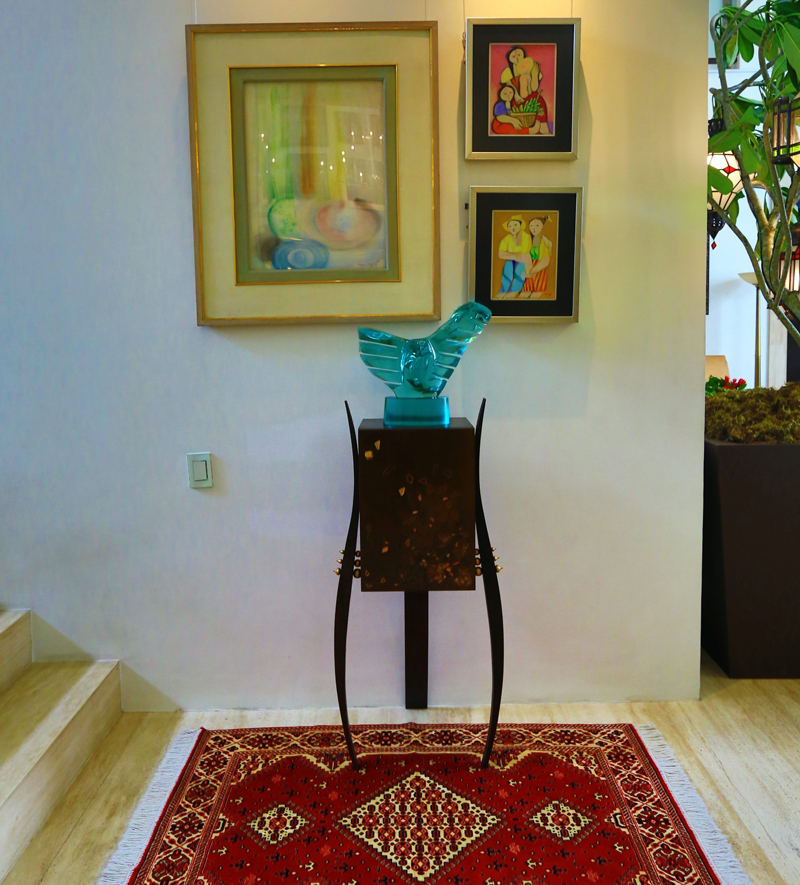 "It was my father who told me, 'Marilen, why don't you start collecting art?'" And so she did, and not just paintings but sculptures too.
So when it was time for her to renovate her own home about 12 years ago, she sought advice from her designer Anton R. Mendoza and he asked her, "Well, what do you like?"
"Modern," she said.
And so she and Anton knocked down most of her old (and already modern) house and rebuilt it along the same clean lines with the walls waiting to be filled with her collection of paintings.
If her mother's style taught her to find her own, so did her father's love of art. Ambassador Bienvenido Tantoco had a bit of influence on how Marilen's house looks today. When she was younger, her father told her, "Marilen, why don't you start collecting art?"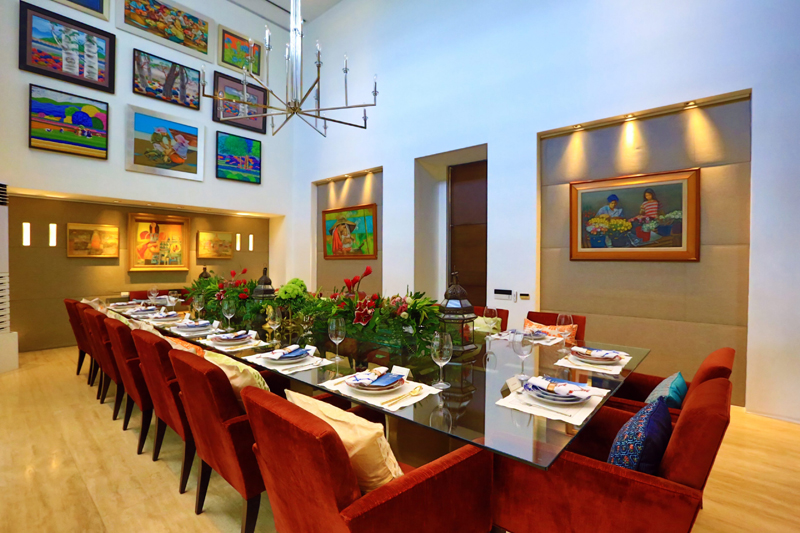 Marilen's dining room is filled with artworks by Sanso, Malang, Baldemor, Zalameda, Ibarra dela Rosa, Lamarroza, Salita, Nemi Miranda and Nena Saguil.
She followed her father's advice — "slowly," she says. A master here, a master there, sometimes she bought a piece or two from a struggling artist's wife who was raising money for their children's tuition.
In the living room wall are a BenCab and an Alexander Charriol, the latter artist belonging to the luxury watchmaking family of his father Philippe Charriol. The large paintings are positioned in the sitting areas where Marilen likes to entertain her friends and tell them of Morocco or reminisce about the country she's guided them through when they visited her. In the hallway are Malangs, and an Arturo Luz piece that he collaborated on with his granddaughter Paulina Luz Sotto. In the dining room surrounding the long glass table and red velvet chairs are pieces by Sanso, Malang, Baldemor, Zalameda, Ibarra dela Rosa, Lamarroza, Salita, Nemi Miranda and Nena Saguil.
The second influence of her father is the garden. "He told me, 'Marilen, ang laki-laki ng bahay mo wala kang garden." So the big swimming pool was filled out and made into a garden, which sits beside the lanai.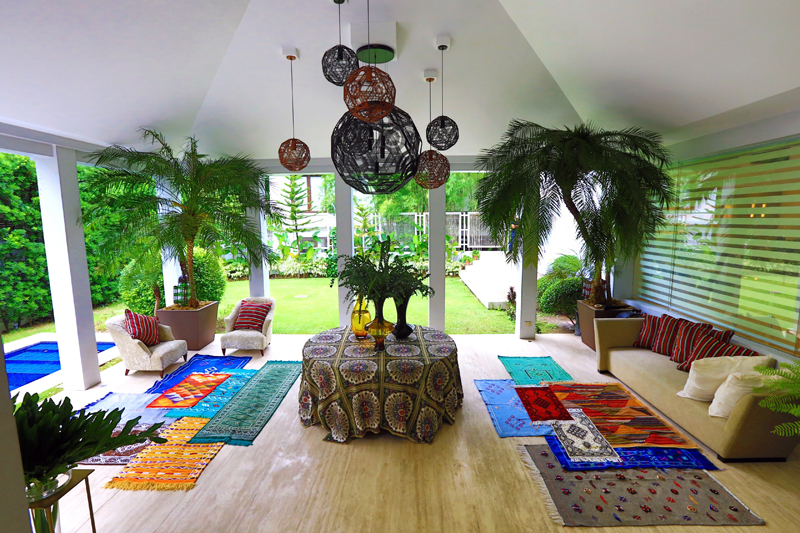 The lanai adjacent to the garden and a lap pool. The rugs were bought in the souks and bazaars of Morocco through the years.
When they renovated the space, the furniture pieces were all made in the Philippines — as with the lanai's hanging lamps by export company Schema. Called Zatellite and designed by Thai designer Anon Pairot, the pendant lights are made of super-thin steel rods in the pattern of traditional Thai fabrics, tying in nicely with the Moroccan rugs on the floor.
After Marilen and Anton Mendoza agreed on the design, she had to leave Manila and go back to her second Morocco "posting" to help in the family's business there. She put her sister Marilou Tantoco-Pineda in charge of the construction, to attend to the details, the schedule and the budget. "If not for Marilou, the house would never have finished," Marilen says. "She was very strict, she would come once a week and check the progress, and it finished in two and a half years. If I didn't reply to her about something, she would decide on it herself. Like the swimming pool. I said after a while, let's keep the pool. She said, 'Tapos na, wala na yung pool.'"
But, in fact, Marilou had a smaller lap pool constructed, which Marilen says her two grandchildren and her 14-year-old daughter Annicka love.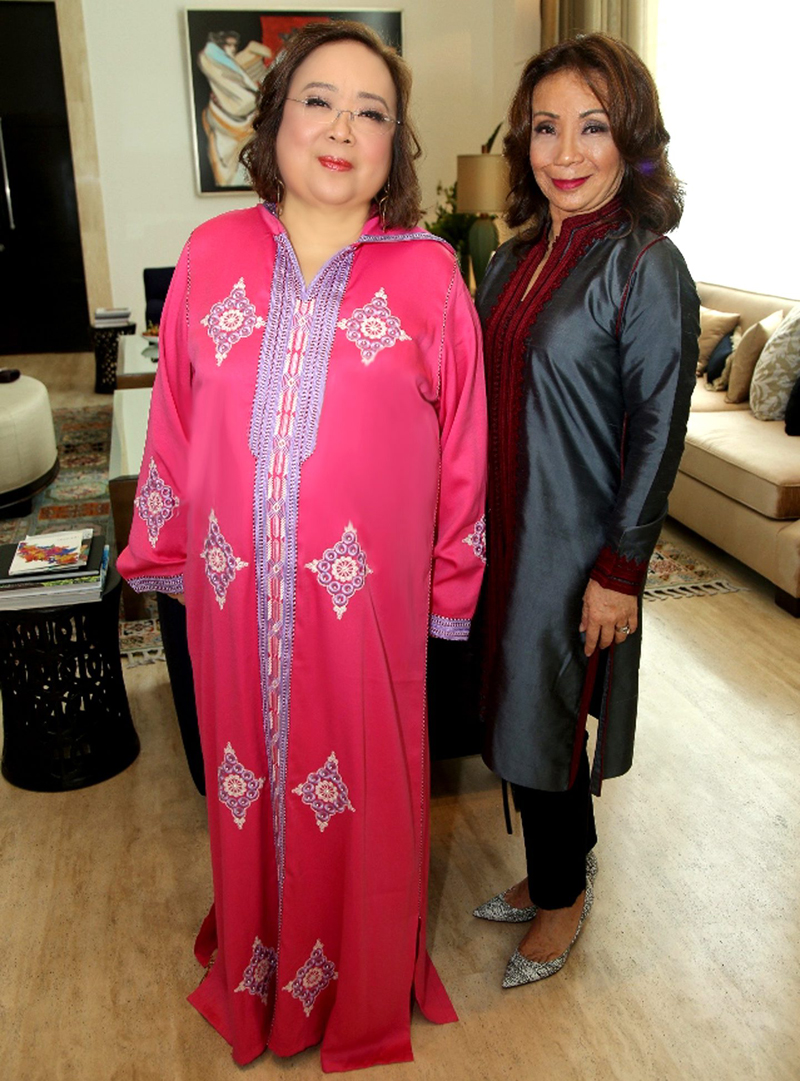 Marilen and her sister Tokie Tantoco Enriquez
For all the modernity of the architecture and interiors of her house, Morocco fits nicely in the design scheme, especially during the lunch Marilen hosted recently.
The lunch was a celebration of the ongoing Moroccan festival in Rustan's, which she curated, and a preview of Café Casablanca, which opened this week on the fifth floor of Rustan's Makati.
The living room — normally a quiet space of straight lines — was furnished with Moroccan lamps made with glass and wrought iron hanging from the branches of a potted tree, the color of the glass catching light streaming from the tall windows. If you were looking at the small table they put there temporarily you would have caught the light, too, from the ends of the cutlery which had Swarovski crystals on their tips.
The dinnerware, of course, was a highlight. Marilen loves Moroccan dinnerware so much she hoards them even when her elder sister and Rustan's chairman Nedy Tantoco "scolds me and tells me to sell them. Ayoko nga, they don't make them like this anymore," she says of several dinnerware sets with their distinctive patterns (one set could have as many as 48 pieces).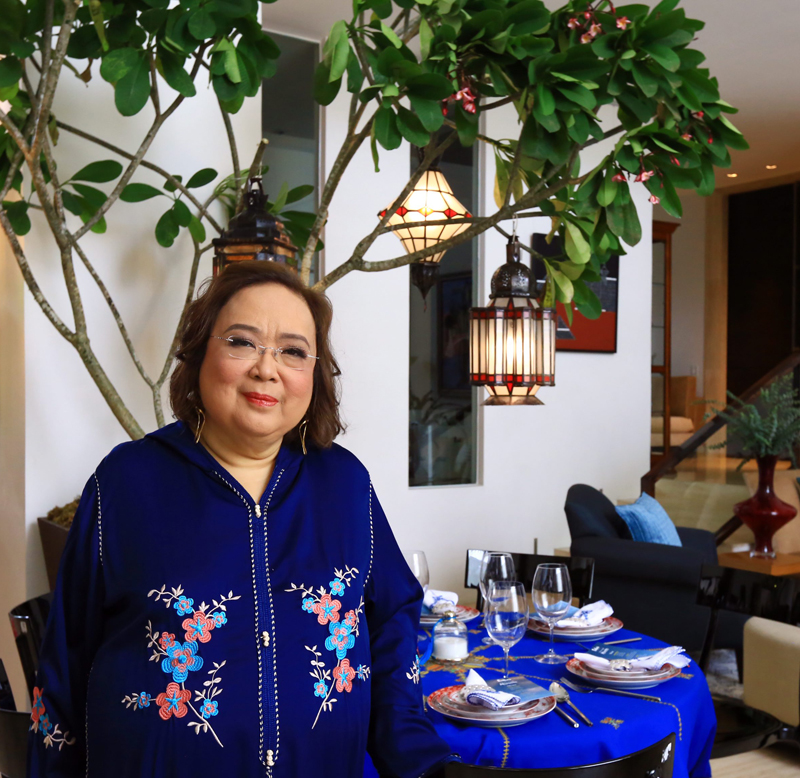 With Moroccan lamps and an Arturo Luz in the background.
The lunch was a delicious buffet of richly spiced lamb and beef roast, couscous, chicken, salads and desserts by Moroccan chef Rachida Bousta and assistant chef Fatima Zara, who are cooking for Café Casablanca.
Marilen met the two chefs when she attended an event in Morocco with the DFA. "The café we put up last year was so successful, Nedy told me, don't come home without a chef and her fountain."
Nedy was referring, of course, to those colorful mosaic-tile fountains — small versions of which were sold at the Rustan's festival, along with mosaic tables that all sold out in a matter of days.
We had seen Marilen wearing a green djellaba — the traditional, hooded and loose-fitting unisex dress in Morocco — when Rustan's opened the festival the week before. In her home, we see her wearing two blue djellabas the color of the tiles on fountains and courtyards across the country, and a pink one with lilac piping running from the neckline to the hem with gorgeous embroidery.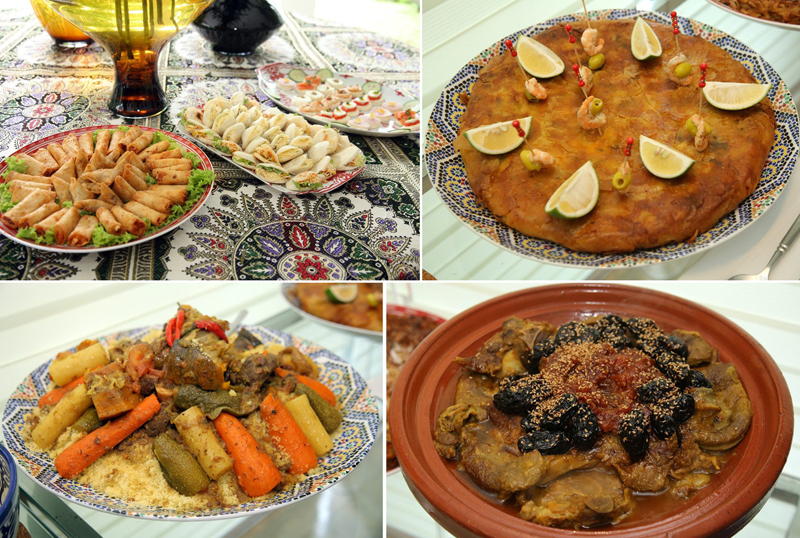 The Moroccan dishes Marilen Tantoco served in her home, by chefs Rachida Bousta and Fatima Zara, are available at Café Casablanca on the fifth floor of Rustan's Makati.
She moves in a djellaba as if it was her native dress, all the years and memories of her life in Morocco stitched together in the dress that she loves to wear and collect (she has between 60 and 80 djellabas, bought or gifted to her through the years).
"You know, I became very close to my parents when we lived together in Morocco," she says. "My dad was like a father to my sons; he raised them, he taught them how to be gentlemen. There, I would cook for my mom when she had visitors; she always asked me to cook tempura and sukiyaki. I also made a very good leg of lamb and my secret is to always cook over low fire. It was a wonderful time with my parents and kids."
It's no wonder that Morocco is never far away in her home.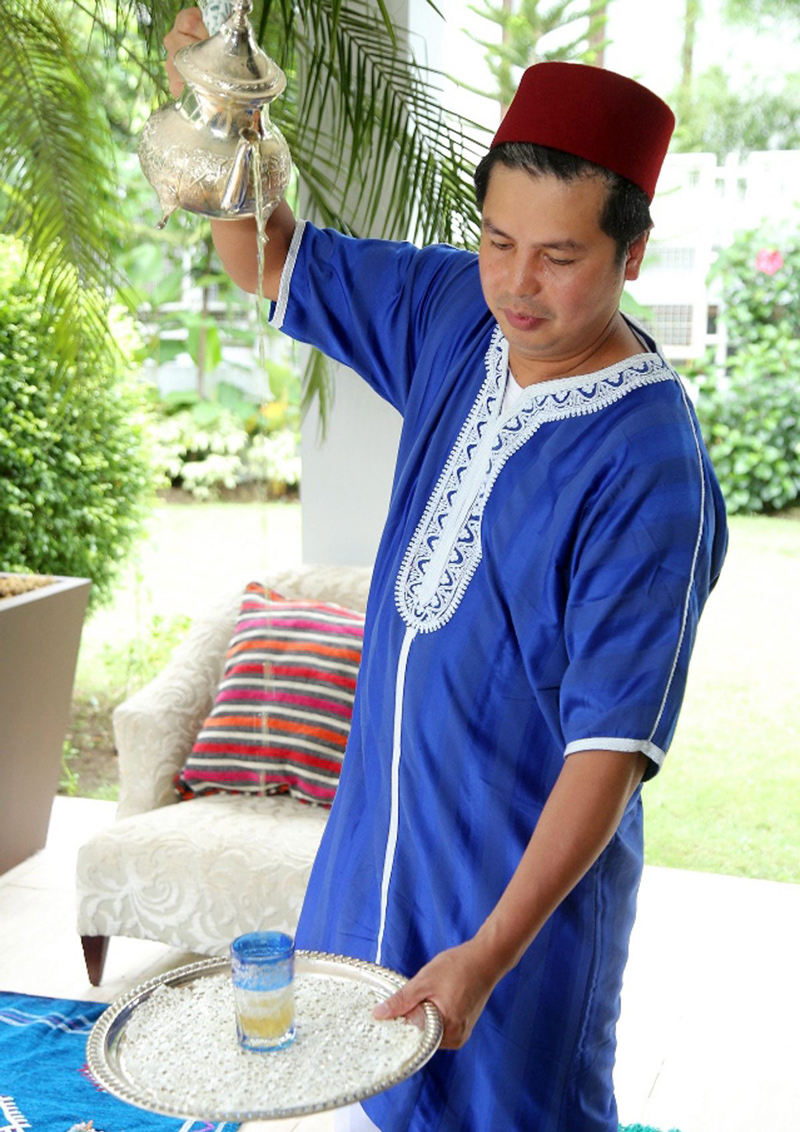 A waiter pours mint tea.
* * *
Café Casablanca is at the fifth floor of Rustan's Makati.
Visit the author's travel blog www.findingmyway.net. Follow her on Instagram and Twitter @iamtanyalara.