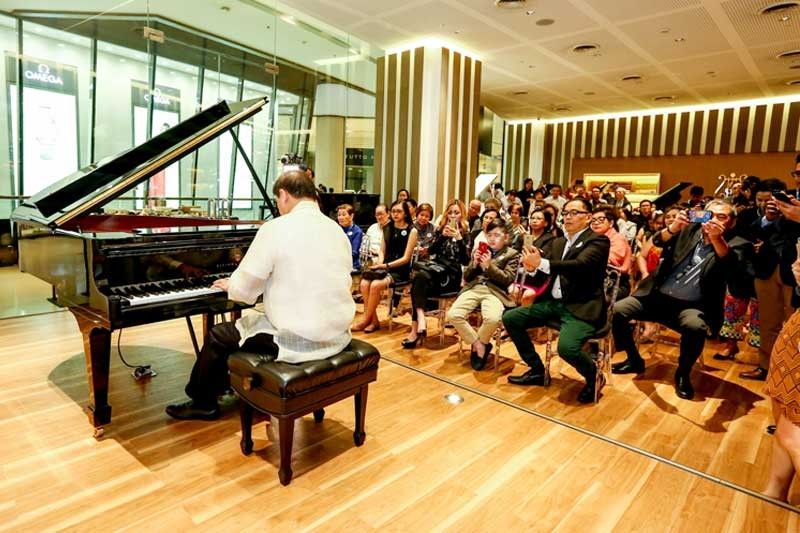 Classical pianist Dr. Raul Sunico performs at Steinway Boutique Manila for the guests at his conferment ceremony as the newest Steinway Artist.
Photos by WALTER BOLLOZOS
Raul Sunico: Memory has the texture of melodies
For Raul Sunico, memory, melody and mathematics have probably shaped who he is as a pianist.
"People have always wondered how I was able to perform four Rachmaninoff piano concertos in a single evening," explains Sunico. (The world-renowned pianist performed this feat for the first time in 2003, and again in 2019 at the Cultural Center of the Philippines [CCP].) "I always tell them I have strong ears and a good memory." (To all of us who are not classicaly-trained and have a predilection for prog rock, it's like trying to memorize all the guitar parts of Dream Theater's early discography! Or something as proggy.)
Believe it or not, Sunico got degrees in both Mathematics and Statistics at the University of the Philippines (UP) to go along with his Music diploma. What is the connection between mathematics with music? "None," he answers. "In all my years teaching Statistics at the Conservatory of Music, I've found out that many of my students are very poor in math (laughs). So, I wouldn't say there is a relation between math and music — but it helps if you are a musician and are mathematically inclined. Math helps you analyze and systematize the way you study and approach music."
A prelude: The young Sunico — who was then just 25 years old — was already working at General Bank (which became Allied Bank and afterwards Philippine National Bank) when he got a call for an audition; the pianist who was supposed to play for former President Ferdinand Marcos' birthday got sick and a replacement was direly needed. The former First Lady Imelda Romualdez-Marcos wanted to hear the sub first before handing him or her the gig. The conductor gave Sunico a 40-page commissioned piano concerto to memorize the day before playing for Imelda.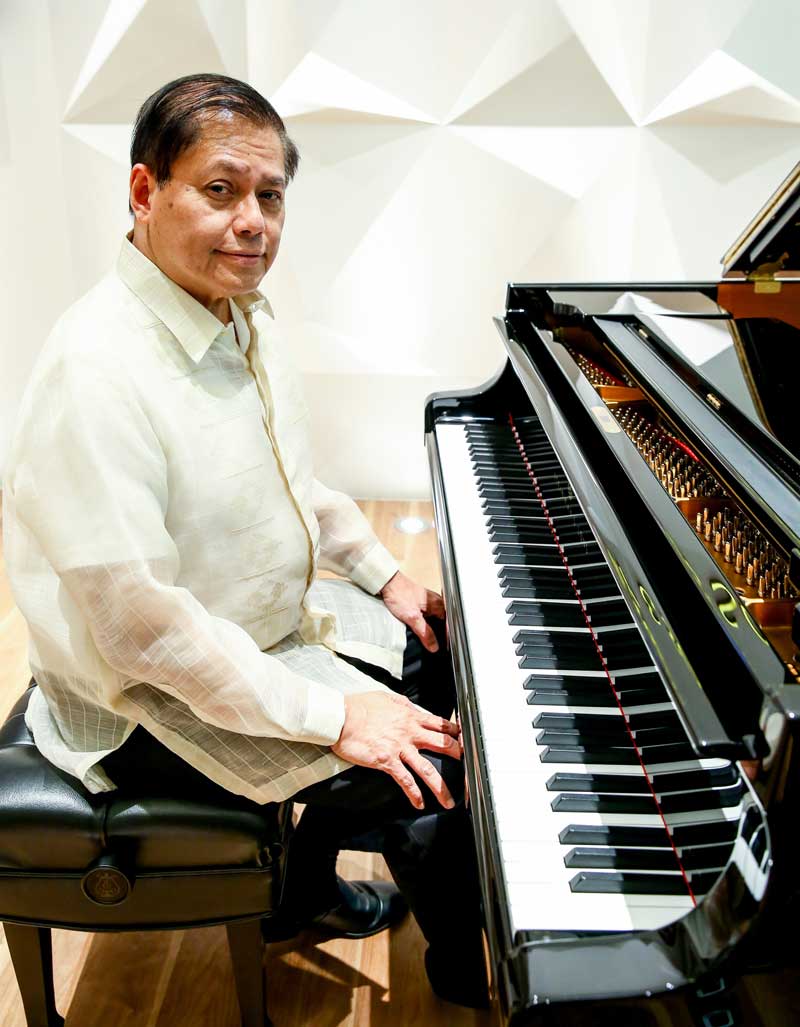 Songs in the key of S: Sunico says, "Steinway never fails to inspire us to bring out the highest sound quality of the music at hand."
"I left the bank earlier than usual, at 4 p.m., to get the music sheets and rehearse. The following day, I went to Malacañang to play the piece — everything from memory," he shares. Several days later, Sunico got an offer for a scholarship to the prestigious Julliard School in New York. The world was his oyster. The yellow brick road lay before him. He was going to glissando his way to the heart of the Big Apple. Firstly, he needed to do an audition at Julliard a few days after touching down on JFK Airport.
But before the flight, Sunico contracted hepatitis.
"Naka-dextrose pa ako when I left Manila. I had yellowish eyes. Naka-sunglasses pa ako sa Honolulu — my port of entry — para hindi mahalata at ma-quarantine (laughs)." In his apartment at the International House at 125th Street and Riverside Drive, he alternated bedrest with intense piano rehearsals. "To make a long story short, I passed."
In between then and now is an illustrious career as a classical pianist, with stints at the CCP as president (2010 to 2017) and at the University of Santo Tomas (UST) as dean (from 2002 to 2016). Raul Sunico has charted an entire concerto of achievements:
He has given solo recitals in the United States, Canada, Mexico, India, Australia, Austria, France, Germany, Italy, Belgium, Luxembourg, Kosovo, China, Japan, Sri Lanka, South Korea, Indonesia, Poland, Spain, Netherlands, Norway, Portugal, United Arab Emirates, Qatar, Sweden, England, and the Philippines. He was the soloist of the Moscow Philharmonic Orchestra, Transylvania Philharmonic Orchestra (Romania), Szczecin Philharmonic Orchestra (Poland), Towson Community Orchestra (Maryland, USA), Taipei Symphony Orchestra, Taiwan Normal University Wind Orchestra, Tokyo Sinfonia, Vietnam National Symphony Orchestra, Ho Chi Minh Symphony Orchestra, Philippine Philharmonic Orchestra, and most major Philippine orchestras.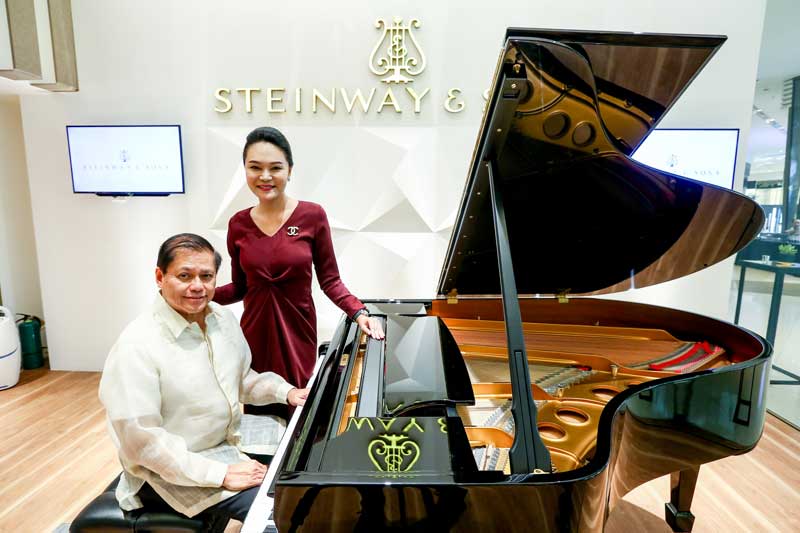 Steinway Gallery Singapore general manager Celine Goh with Sunico.
He has recorded around 50 albums on CD, including his piano transcriptions of Filipino folk songs and kundimans, concertos by Grieg, Saint-Saens, Ravel, and Lucino Sacramento; solo classical pieces; popular American songs set to piano; chamber and duo piano music, and original compositions. He wrote piano arrangements of Philippine songs in Himig and "Mga Awit ng Himagsikan," and is currently the music author of the textbook series Musika at Sining for grades 3 to 6 used in public schools. And, as mentioned, he holds the singular distinction of being the only pianist in the world to perform the four piano concertos of Sergei Rachmaninoff in a single evening, and later the three piano concertos of Tchaikovsky in a similar setting.
Recently, Steinway & Sons conferred upon Dr. Raul Sunico the title of Steinway Artist.
During an evening ceremony at Steinway Boutique Manila in Shangri-La Plaza. Celine Goh, general manager of Steinway Gallery Singapore, explained: "Without a doubt, his contributions to the local music scene has been remarkable, but of equal importance is that his recognition has helped establish a cultural presence in the international community, and a cultural identity for the Philippines in the region. He is the first locally domiciled Filipino classical Steinway Artist." The other Filipino pianists are Cecile Licad and Victor Asuncion.
By the way, Sunico first acquired his Steinway in 2006 (bought secondhand from the son of a former student who passed away). Now, he has five recorded improvisations in the Steinway Spirio library (two of them are Ernani Cuenco's Bato sa Buhangin and Mike Velarde's Buhat).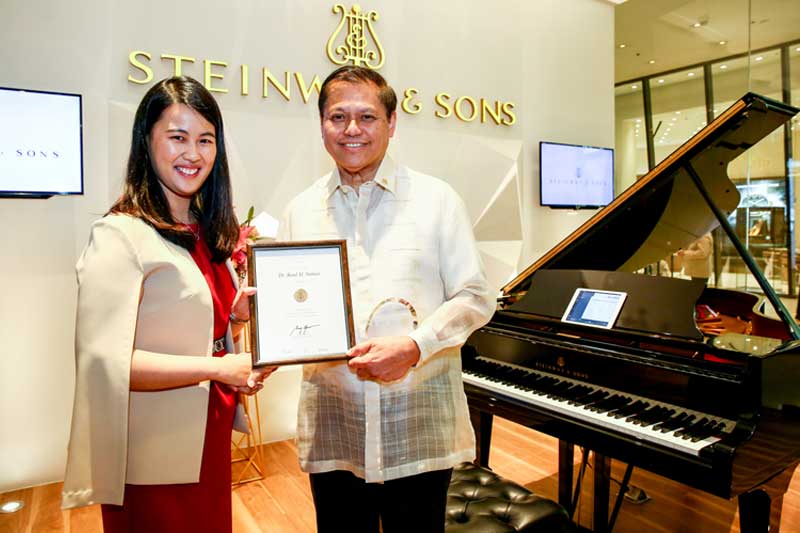 Steinway & Sons brand manager May Yao presents the certificate to Dr. Sunico.
"My reason for recording these tunes is to hopefully put the Filipino repertoire in the library of international pieces," concludes the Steinway Artist.
Quite a feat for a five-year-old boy growing up in Misericordia in Manila, and seeing his grandmother's piano for the first time. It was not love at first sight, admits Raul Sunico. He was not a child prodigy. There were no magical-realist moments where the heavens wept when the boy played. It's all about hard work, hard work and more hard work. Everything just quietly added up and quickly multiplied — like notes by Rachmaninoff or Chopin with their intricate mathematics of memorable melodies.
* * *
Steinway & Sons Shangri-La presents a wide selection of Steinway & Sons pianos, including the Steinway-designed Boston and Essex. Its showroom is located at Level 1, Shangri-La Plaza East Wing, Mandaluyong City. For information, visit www.steinway-boutique.com.ph or call 637-7600.