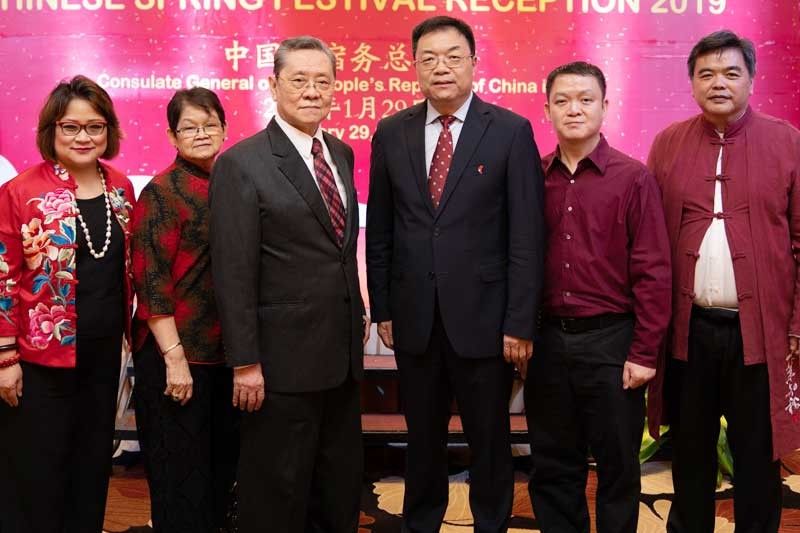 Consul General Jia Li with Melanie Ng, Julia and Antonio Chua, Jan Chua and Wilson Ng
The Chinese connections in Cebu
Consul General Jia Li of the People's Republic of China hosted a formal dinner reception at the Marco Polo Plaza Hotel to welcome the annual Spring Festival. Joining him at the reception line were Deputy Consul General Wu Xiaomin and Consul Cai Wen of the Economic Consulate.
In his brief remarks, Jia Li expressed China's readiness to further enhance bilateral relations, expand new areas for economic cooperation and tap new potential projects that will benefit the two countries and its people.
In relation to national development, Li shared optimism that the Chinese government will actively continue its partnership with the Philippine government especially with the recent visit of China President Xi Jinping. Li assured that the Chinese Consulate will continue to work hand in hand with local government agencies to increase mutual assistance and support.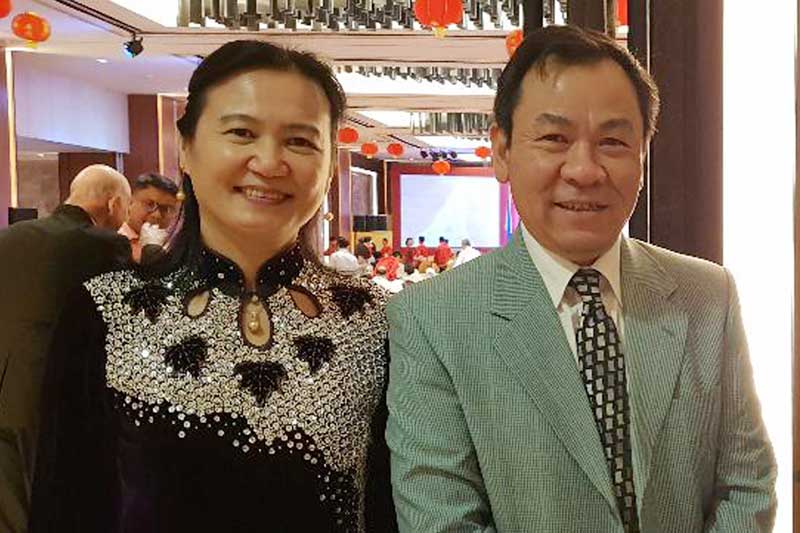 Consul Cai Wen of the Economic Consulate and Deputy Consul General Wu Xiaomin.
In attendance were government officials led by presidential assistant for the Visayas Michael Lloyd Dino, Ambassador Frank Benedicto, Consul of Japan Chiharu Tsuruoka and his genteel wife Mariko, Honorary Consuls Samuel Chioson of Portugal, Franz Seidenschwarz of Germany, Emily Chioson of Israel, associates of the Chinese Chamber of Commerce and Industry, affluent members of the Chinese community and hoteliers represented by general managers Brian Connelly of Marco Polo Plaza, Rene Egle of Shangri La Mactan Resort and Spa, and Anders Hallden of Waterfront Cebu Hotel.
* * *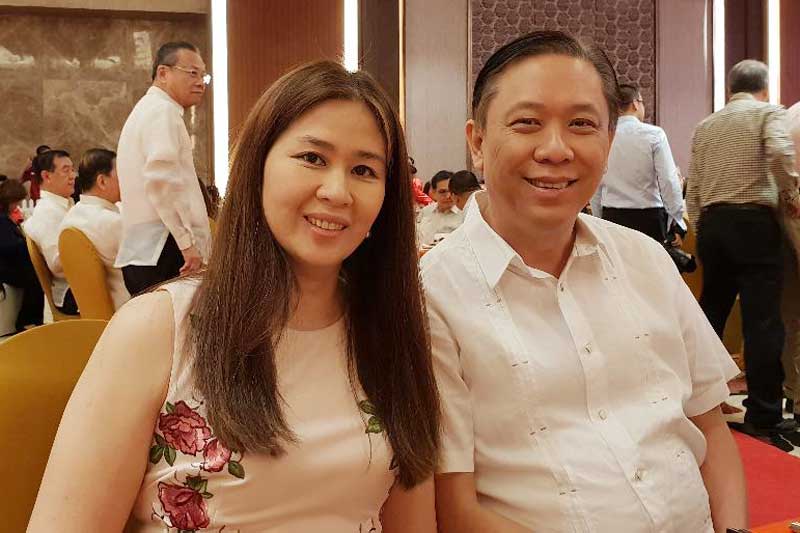 Honorary Consuls Emily and Sam Chioson
Chinese New Year was also celebrated at the Golden Prince Hotel and Suites with president Benny Que and Aaron Jeremy Que, executive president for corporate communications, hosting an impressive Chinese buffet at the property's Le' Mon Restaurant.
Que declared that for the entire Year of the Pig, Le' Mon Restaurant will be giving a 30 percent discount to Philippine senior citizens card holders from Monday to Friday and birthday celebrants, can enjoy a complimentary buffet for as long as they are accompanied by two paying adults.