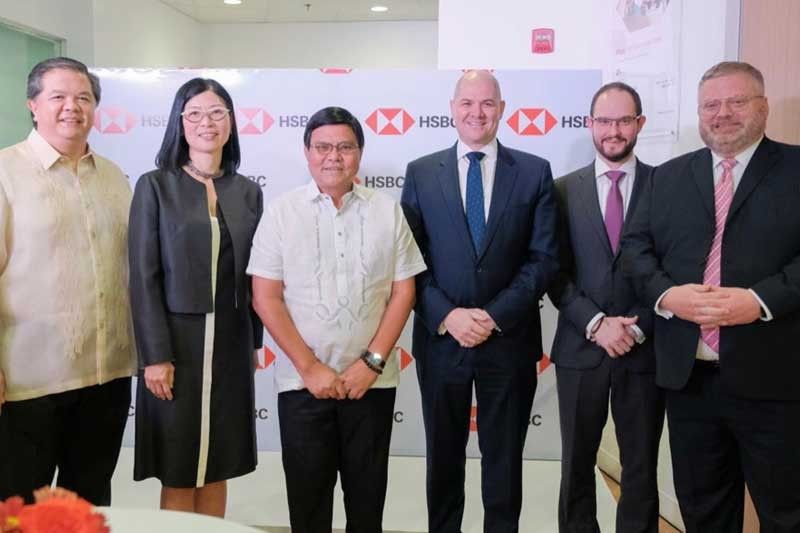 Cebu Vice Mayor Edgardo Labella (3rd from left) with HSBC executives Claro Fernandez, Betty Miao, Graham FitzGerald, Nigel Burbidge and Bruce Peoples
HSBC finds a home in Cebu
The new home of HSBC located at the heart of Cebu's business district was recently inaugurated with no less than HSBC Philippine president and CEO Graham FitzGerald in attendance. He was joined by Cebu Vice Mayor Edgardo Labella, BSP Cebu regional office director Leonides Sumbi and HSBC head of Retail Banking and Wealth Management International, Asia Pacific Betty Miao for the ceremonial ribbon cutting.
Also present were HSBC Philippines executives RBWM COO Nigel Burbidge, SVP Distribution Management Bruce Peoples, head of wholesale banking Michael Brennan, head of communications Claro Fernandez and HSBC Cebu branch head Debbie Dy Realiza, among others.
Graham reiterated that the new branch is a reflection of HSBC's long-term commitment to the country and represents a significant investment in the area and its people. He further stated that the investments in Cebu are seen as one of the major investments of HSBC Philippines. He concluded by affirming that the bank's success is in part due to the strong and longstanding relationship forged with companies and clients such as the Cebuanos.
Betty Miao, for her part, added that at HSBC, customers are at the heart of everything they do, making life a bit simpler, better and more convenient for the customers.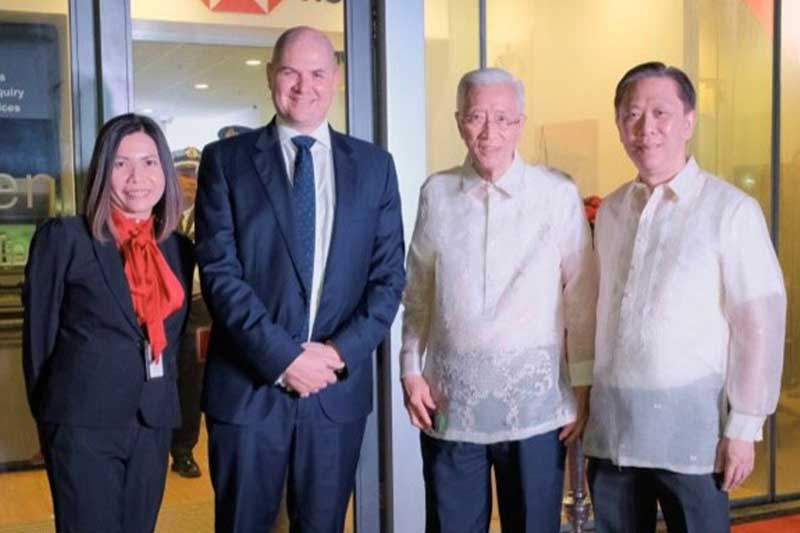 HSBC Cebu Retail head Debbie Dy Realiza, HSBC Phils. president and CEO Graham FitzGerald, Ambassador Frank Benedicto and Honorary Consul Sam Chioson.
Bright, colorful and engaging, the modern interiors offer world-class and accessible banking service, giving customers the best opportunity to have discussions with their bankers while maximizing the space for productive work.
Gracing the happy occasion were distinguished guests and business partners from different sectors of society. They included BSP Cebu deputy director Christie Tan, Ambassador Francisco Benedicto, president of the Cebu Chamber of Commerce and Industry Antonio Chiu, members of the diplomatic corps, such as Honorary Consuls Tamsin Booth of the United Kingdom, Sam Chioson of Portugal, Emily Chioson of Israel and Jose Sala of Sweden.
Guests were entertained by a delightful, traditional lion dance for prosperity and good luck, while feasting on several delectable spreads such as paper rolls with confit magret duck, lobster maki rolls with ogo seaweed salad, smoked and cured salmon gravlax with lemon dill cream cheese, roast Jack's Creek black Angus beef tenderloin with cabernet sauvignon jus, and sliced organic pork lechon with atchara wrapped in a mini buckwheat tortilla.