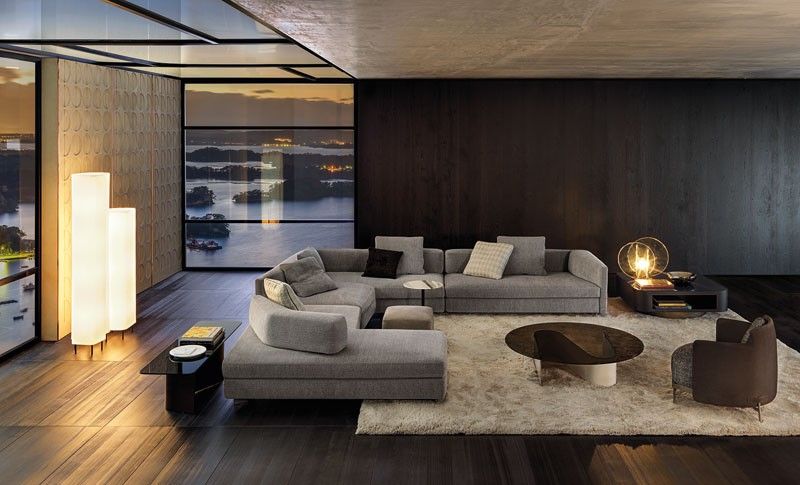 A design, Minotti's Granville is a result of the careful research on the free form. The seating system focuses on an interplay of curves and of marked and light strokes. Available in both the traditional sofa option and as a more flexible solution of detached islands. Available at Minotti showroom in BGC.
Photo by Bening Batuigas
70 years of 'the Minotti look'
For its 2018 collection, Minotti collaborated with three outside designers for the first time: Japanese design studio Nendo, Brazilian architect Marcio Kogan and French designer Christophe Delcourt.
As interior design lookbooks go, this one has been very consistent for the past 70 years. Its aesthetic of clean lines and attention to detail in every piece they produce, whether it's a sofa released decades ago or just two years ago, results in a timeless, cohesive look in any space.
Minotti, the furniture family business founded by Alberto Minotti in the 1950s just after the war, and continued by his sons Renato and Roberto, celebrates its 70th anniversary this year as one of the world's top furniture brands.
"Made in Italy" is not just a badge for Minotti, it's a design philosophy central to its identity — a blend of craftsmanship and technology. When the Minotti brothers took the reins of the company, they hired the then not-so-famous Italian architect Rodolfo Dordoni in 1997 who pulled that look of relaxed sophistication together.
Unlike many furniture brands that collaborate with "starchitects," Minotti hasn't really sought outside designers — until now. Its 2018 collection, launched at Milan's Salone del Mobile last spring, includes pieces by Japanese design studio Nendo, Brazilian architect Marcio Kogan and French designer Christophe Delcourt. And, of course, Dordoni. You can mix this year's pieces with the ones Dordoni designed 10 or 20 years and you'd still have that "Minotti look."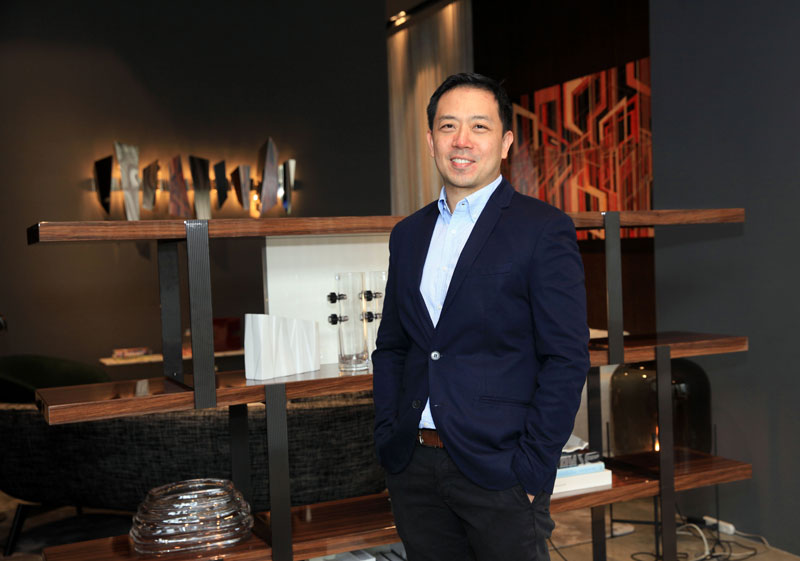 Living Innovations owner Ferdie Ong, whose company distributes Minotti in the Philippines, says, "This year, Minotti created a global collection using three different designers who harmoniously worked together to create for the Minotti lifestyle."
But first, the story of how Minotti came to Manila 16 years ago, because it is as noteworthy as it is a lesson in passion and gumption. A young manufacturing and management engineering graduate from La Salle had been, for as far as he could remember, a design enthusiast with an eye for luxury brands.
Living Innovations owner Ferdie Ong was only 23 years old when he first approached an Italian brand to bring into the local market. An executive from the company told him, "The Philippines? We don't need to get into that market."
Not too long after, Ferdie was in Hong Kong having dinner with a friend who told him, "You should look at this up-and-coming brand."
Minotti wasn't exactly new, but while it was a well-known brand in Italy it wasn't moving aggressively to expand worldwide.
By spring, Ferdie had set up an appointment with the Minotti brothers at Salone. "I had to bring my dad because I was afraid they would take one look at me, think I was too young and not take me seriously."
But they did take him seriously as he put over a very strong sales pitch for Manila. They said, "We see the passion in this kid."
So 16 years ago, Ferdie opened a 75-sqm. showroom at 6750 in Makati Shangri-la. It was small but very tastefully done, it had a staff of three people, and Ferdie all but did everything himself including installing and designing.
Today, Minotti has its own 350-sqm. showroom with a staff of 55, and the brand's principals have told him it's one of their best showrooms in the world.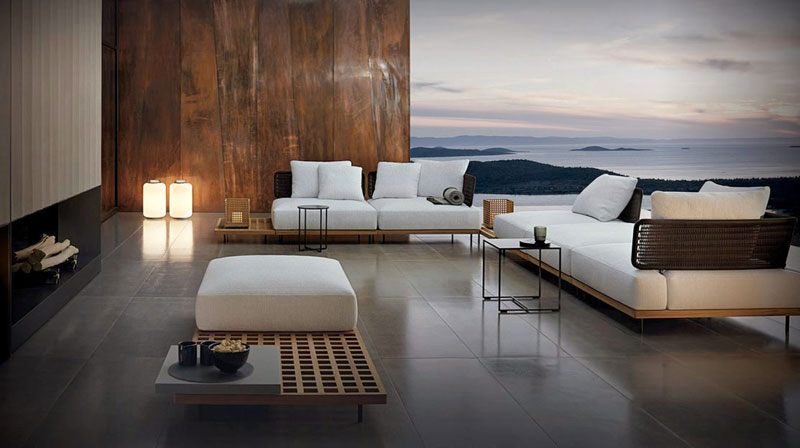 Quadrado by Brazilian architect Marcio Kogan reflects a young and contemporary concept that provides new informal solutions.
"We've been able to maintain a good representation of Minotti," he says proudly. "Everyone who walks into the showroom already knows Minotti and if there's one thing they want it's always a Minotti sofa."
That wasn't the case in the beginning of course. "People told me, 'Ang mahal naman niyan' or 'Walang bibili niyan, bakit ka-presyo ng kotse?' I always told them, "It's the same as your watch — you don't buy a simple Casio watch, you buy a Rolex; you don't drive a Vios, you drive a Mercedes Benz." Minotti is a heritage brand, as are most of the brands Living Innovations carry like B&O, which is 90 years old, and Gaggenau is 300. The common thing about our Minotti clients is that they want the best of the best."
I think it was when he opened the showroom years ago that I first got to know Minotti. I asked Ferdie about the price points and pointed to a sofa. He mumbled, "Three."
Having done my fair share of furniture stories, I said, "Oh, that's not so bad," thinking it was P300,000.
He corrected me by saying, "Three million."
This year's collection is the culmination of three generations of Minotti aesthetic. The children of Renato and Roberto are also working in various capacities in the company — and you can say that Alessio, Alessandro and Sandra Minotti prove that their eye for detail is a family trait.
Studio Nendo, founded and directed by Oki Sato, designed Tape, a collection of seats characterized by a light silhouette and consisting of a comprehensive range of models: armchair with and without armrests, lounge armchair, bergère (an enclosed French armchair), two- and three-seater sofas and an ottoman.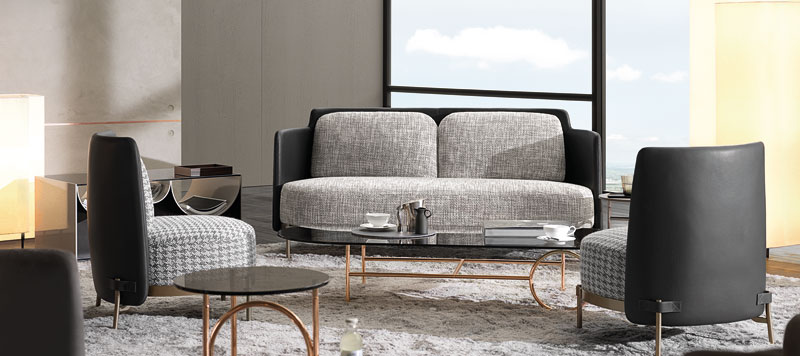 Minotti's Tape collection by Studio Nendo is a series of seats with a strong personality, characterized by a light silhouette and consists of a comprehensive range of models: armchair with and without armrests, lounge armchair, bergère, two- and three-seater sofas and an ottoman.
"Tape owes its name to the couture detail, conceived as a piece of ribbon that holds the light bronze-colored metal feet. It's a real tribute by Nendo to the sartorial experience of Minotti. The soft curve of the shell, which designs the armrest and accommodates the soft back cushion, highlights the pure and enveloping line of the armchair."
For its 2018 outdoor collection, Minotti turned to Brazilian architect Marcio Kogan, who designed Quadrado, a modular system consisting of suspended square platforms that show lightness and flexibility.
Kogan was "inspired by the classic teak duckboard used in the yachting industry to facilitate the outflow of water." The sitting elements are interspersed with wooden surfaces that feature trays or candleholders, which can be arranged as desired with a surprising interlocking effect.
The wooden bases welcome comfortable padded cushions with backrests in a special fiber woven with wicker-effect, available in mud or plain licorice color.
Christophe Delcourt designed the Granville seating system, which focuses on an "interplay of curves and of marked and light strokes."
Ferdie points out that the modules, which vary in shape and size, interact with each other while the armrests and backrests design relaxing areas suggesting different ways of seating — "such as lady wearing a mini skirt, who will now find it comfortable to sit without being self-conscious," says Ferdie.
Granville is available both in the traditional sofa option and as a more flexible solution of detached islands. Joinable together, the various elements come without fixed backs and armrests and are characterized by the original curved shape of the removable armrest.
"Granville is the expression of a young and contemporary spirit," he says.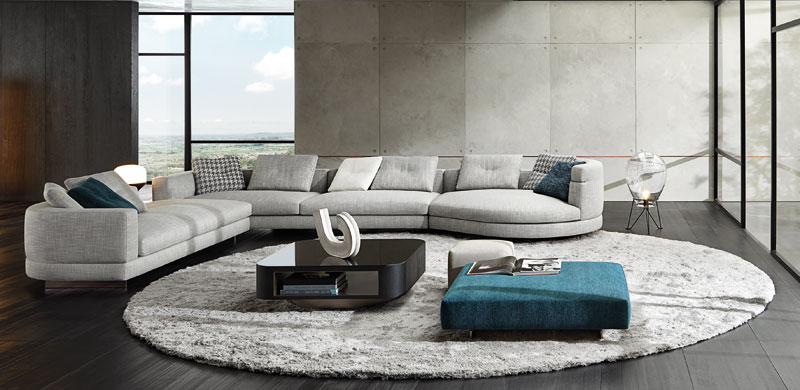 Alexander by Rodolfo Dordoni is a seating system with different forms that can be combined with each other.
The three designers may just represent a turning point for Minotti — an affirmation of the Minotti look while looking to several new and exciting directions.
"I think we were lucky that we began our relationship with Minotti when we did, when it was just poised to explode internationally," Ferdie says.
His own favorite piece is the Hamilton sofa by Rodolfo Dordoni — "the most copied design in the world." It is the piece that Ferdie believes pushed the brand to the level where people understood its values and flexibility to adapt to a modern home.
There's a postscript to Ferdie's story of bringing Minotti to Manila. Remember that first Italian brand that he approached? The same executive called him up years later and asked him if Living Innovations was interested to distribute it in the Philippines.
Ferdie said, "Don't you remember me? You rejected me many years ago."
The executive said he didn't remember. And that was the problem — he didn't see the hunger, ambition or passion that was plainly obvious to the Minotti brothers.
Politely but very firmly — and one can't blame him if there was a bit of inner gloating — Ferdie said, "No, thanks, we've already got Minotti."
* * *
The 2018 collection is available at Minotti's showroom, located at the ground floor of Fort Victoria Building, 5th Ave. corner 24th St., BGC. For inquiries, call Living Innovations at 734-3243 or visit www.livinginnovations.ph
Visit the author's travel blog at www.findingmyway.net. Follow her on Twitter and Instagram @iamtanyalara.