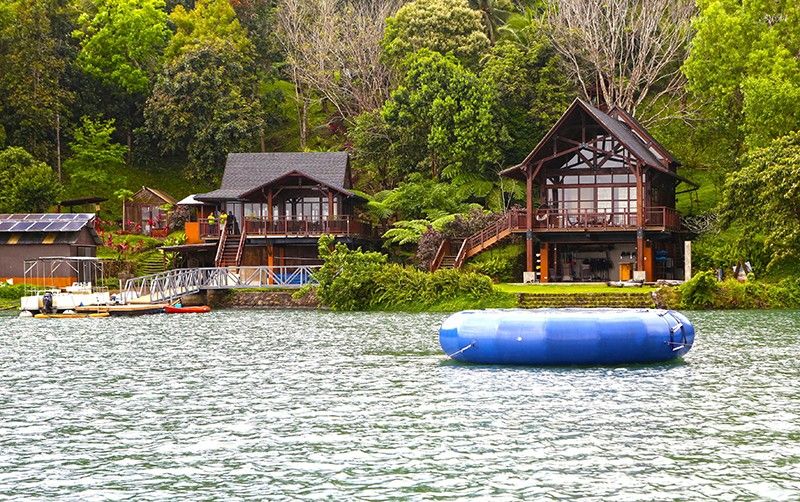 The three-structure eco-lodge is surrounded by a forest that's a sanctuary for many species of birds and butterflies. They recycle and compost their waste to "minimize the impact of pollutants on the environment so we can maintain the beauty of the lake and the nature around it."
Photo by Walter Bollozos
Caliraya's self-sustaining & most famous lake house
It's a beautiful Balinese-inspired home, but what's even more impressive about this lake house is how little it impacts on the forest and lake around it. It's 100 percent solar-powered and water is sourced from the ground.
The couple first discovered Lake Caliraya over 18 years ago. Uffe Henrichsen liked windsurfing and Emily Artadi preferred the lake over the beach. She took lessons in windsurfing over the summer but even when the season was over they kept coming back to Caliraya, a three-hour drive from Manila, to camp by the lake on weekends.
"Lake Caliraya was a surfer's spot especially during the months of January to February when the conditions were optimal for windsurfing. We found the place therapeutic and with so much nature around us and very few visitors or tourists, it felt like paradise," says Emily Artadi-Henrichsen.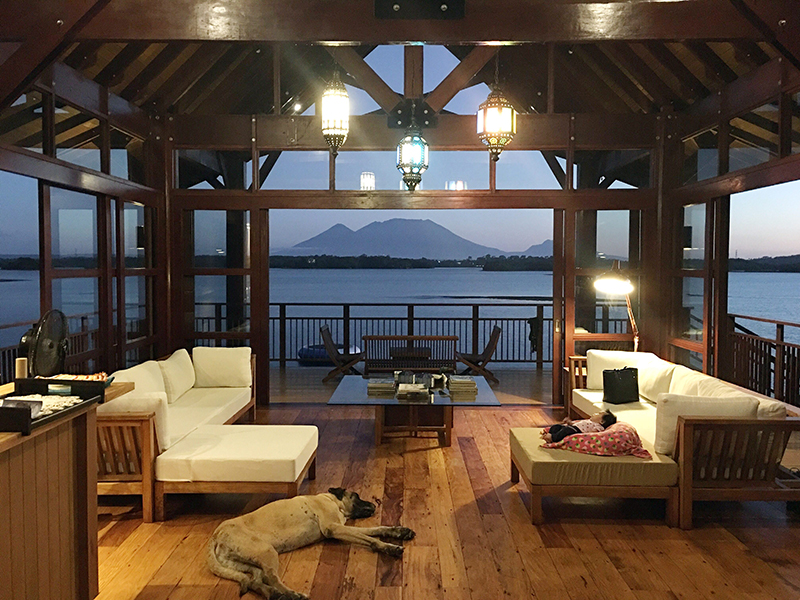 A dramatic view of Mt. Banahaw from the living room. Even the family's great dane finds the ambience conducive to rest and relaxation. Photos courtesy of Emily Artadi-Henrichsen
Today, the couple owns what is probably the most famous lake house in Caliraya — a three-structure eco-lodge that's fully self-sufficient, running on 100 percent solar power (there is no connection to the national power grid) and water sourced from the ground. The swimming pool is filled with fresh water extracted from underground aquifers.
One structure is the lounge with a conference room behind and the recreational area below, and bonfire pit up front. The second is where the dining room and kitchen are located. And the villa 72 steps up is called the Hillside Villa, where the bedrooms are, and then there is the pool. They are building a fourth structure called Springside Villa.
We first saw the house on a tour of Lake Caliraya, a 10-square-kilometer manmade lake in Laguna. The boatman and locals pointed to the house, saying, "That's the Airbnb house." Indeed, a cursory glance at the listing online showed it was booked solid for the next two months.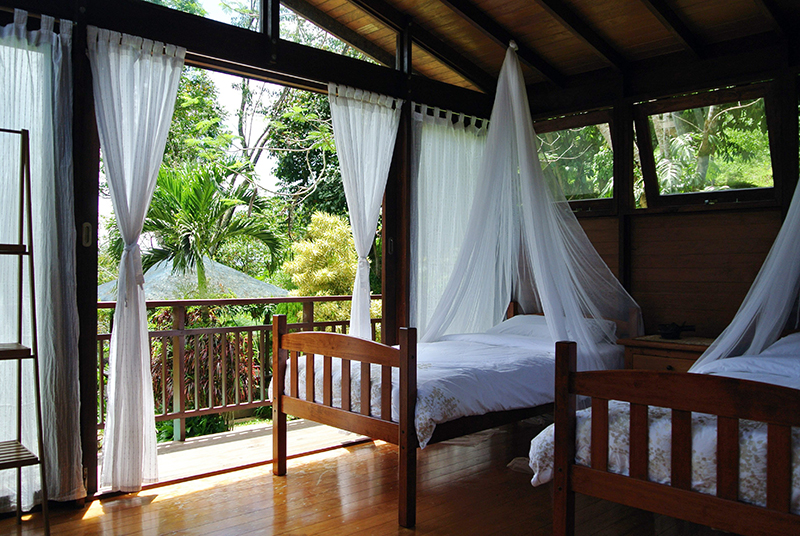 One of the bedrooms in the Hillside Villa, 72 steps up on a hill
But before it was an Airbnb house, it was the Henrichsens' beloved second home for 10 years, where they raised their children.
Uffe was a Danish expat in Manila starting in 1997, "and like many expats he found it difficult to leave," Emily says. They lived in the Philippines for 20 years and moved to Denmark only in July last year.
"I am not a beach person. I don't like getting sand on my skin especially when I am smothered with sunscreen. I am sure my husband had no preference but as a newlywed couple in 2003, it was important for us to build a home where our children could play in big open spaces, get their hands dirty, walk barefoot and enjoy simple pleasures like swimming in the lake or climbing rocks and boulders. We wanted a home in a remote part of the lake because it was peaceful and untouched by tourism or big housing projects. It gave us a chance to slow down and synchronize our clocks with Mother Nature and just chill after a long week of stressful living in the city."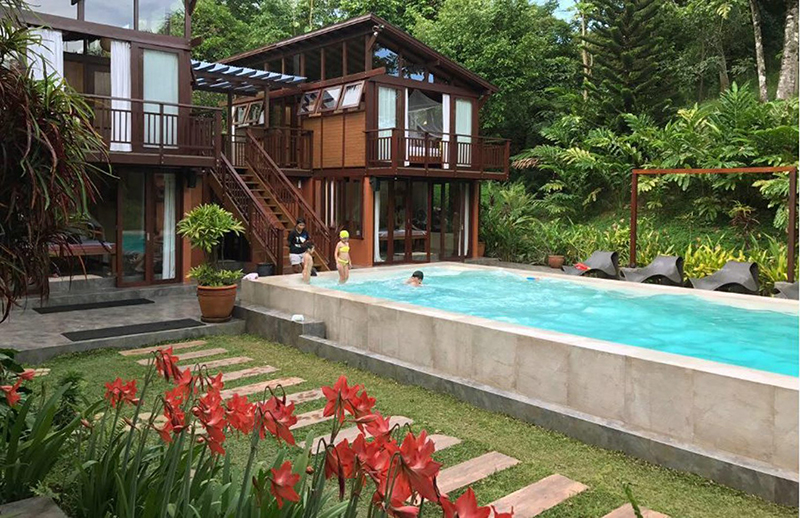 The swimming pool is filled with fresh water extracted from underground aquifers.
Emily adds that a big factor in their decision was the worsening pollution in Manila. "We considered several areas to purchase property and discovered that the only place left to breathe in relatively clean air was in Alabang. But we knew that the village would eventually be enveloped by the same cityscapes as everywhere else in Metro Manila. It would have been a pity to build a house but have the windows closed all the time and the air-conditioning running all day just as we did in all the Makati apartments that we lived in. It would have been a pity to have a garden but breathe in polluted air from buses and vehicles stranded along the roads a few meters from your home. It was a hassle to go on plane rides to other islands in the Philippines to find a decent getaway. We decided on an alternative and would much rather say that we invested in a healthier and more sustainable way of life rather than a property."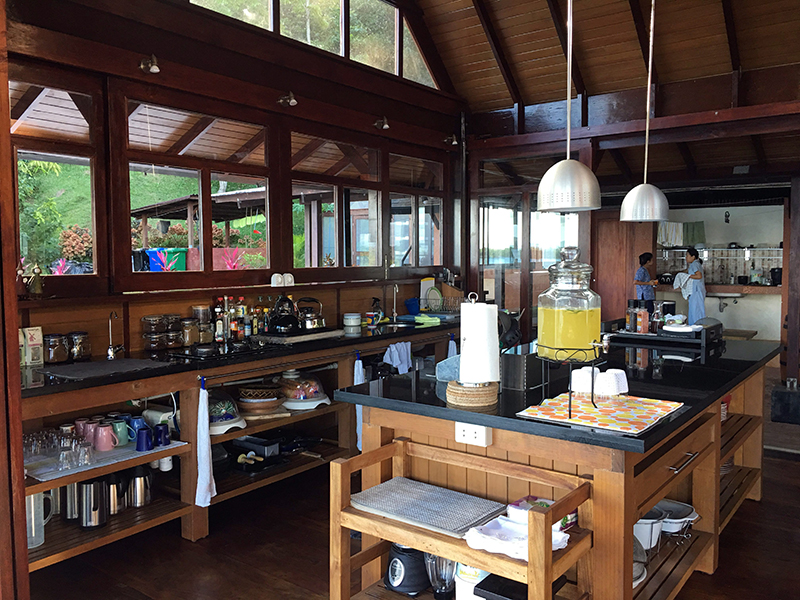 The open-concept kitchen. Since the house is not connected to the national power grid, guests are encouraged to bring their own coolers.
And what a home they built! Off the grid, self-sufficient in terms of power and water supply and mindful of the environment around it. It took them 15 years and two builds. "The first structures were inspired by the Ifugao homes in Banaue but they were devoured by termites after a few years. So we turned to a more practical design using concrete as a base and scaling up with wood. We took a lot from modern Balinese house designs with the high ceilings and wide doorways and incorporated both local recycled hardwood from demolished homes in Laguna and pressure-treated pinewood from New Zealand for the walls and floors. We wanted our home to complement the landscape and feature the forests and lake. To do this, we kept the interiors simple yet interesting with touches of native materials like seagrass and capiz shells."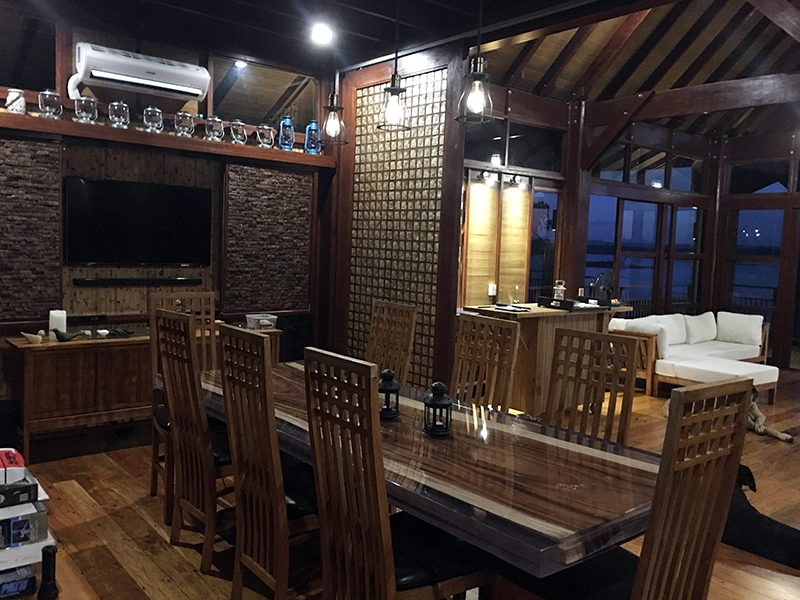 The dining room: "We kept the interiors simple yet interesting with touches of native materials like seagrass and capiz shells," says owner Emily Artadi-Henrichsen.
Sitting on a property of 5,000 square meters, the three structures are spread out with a forest backdrop, a swimming pool, gardens, bridges and its own dock. The forest that surrounds it is a sanctuary for many species of birds and butterflies. They recycle and compost their waste to "minimize the impact of pollutants on the environment so we can maintain the beauty of the lake and the nature around it."
"We run entirely on solar power and source our water from the ground so we have had minimal impact on the environment. I do hope that the big developers consider their impact on the environment as well and find ways to conserve and preserve the ecosystem that thrives in the forests of the Caliraya Watershed."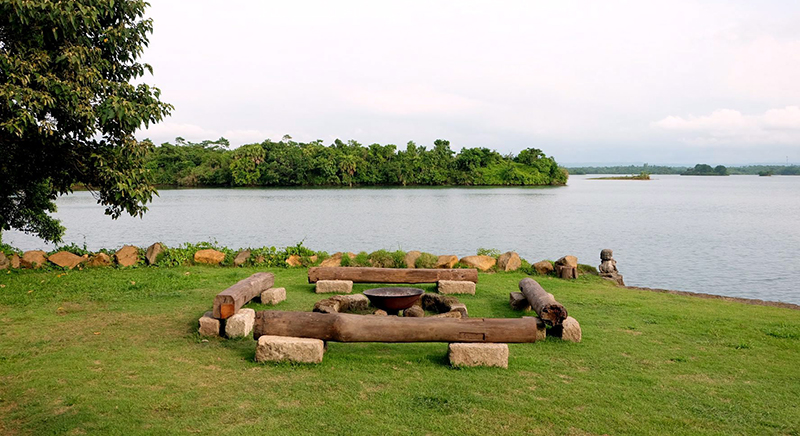 Bonfire pit by the lake
Today, the lake house hosts families and groups of friends "who want to bond or celebrate occasions like birthdays and anniversaries or enjoy their holidays in a quiet, remote place away from the crowds in beach resorts."
They get to enjoy daily breakfast and all-day coffee and tea, the use of the entire house and the bonfire pit and swimming pool, and kayaks, SUPs, fishing rods, water trampoline and life vests.
Even their guests will take away some lessons on how to live a simple life. The Henrichsens remind them: "We take from nature only what we need."
* * *
Visit the author's travel blog at www.findingmyway.net. Follow her on Twitter and Instagram @iamtanyalara.