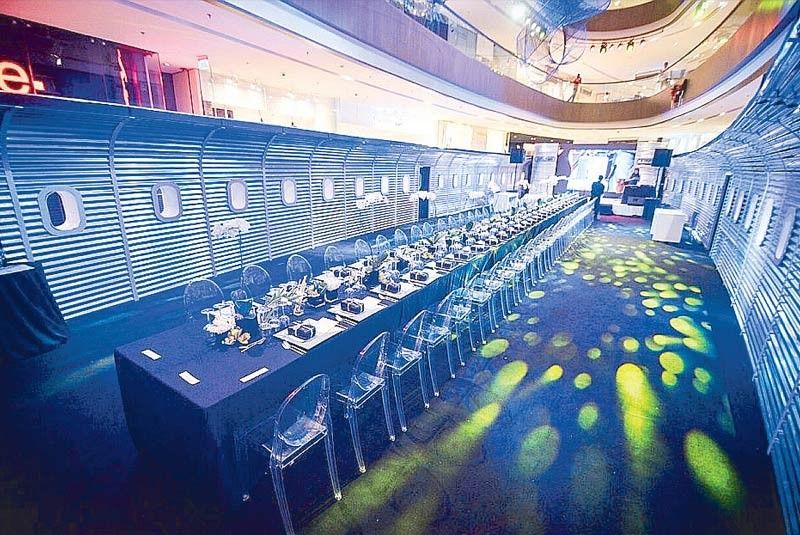 Moss Manila built a life-size aircraft body at the Shangri-La Plaza Mall East Wing within eight hours for Rimowa to house 70 press and VIP guests.
Moss Manila paints the town glam
A blown-up replica of the Junkers F13 aircraft body, grooved exterior and all, right in the middle of the mall — this was in November 2015 and I was interviewing German premium luggage brand Rimowa's president and CEO Dieter Morszeck for a STAR exclusive hours before the opening of their second flagship store in the Philippines. Even he was charmed by the cleverness and execution of the setup that he whipped out his phone as soon as we wrapped up to take a snap. The Junkers F13 is at the heart of Rimowa's story, making it apt inspiration for the event space created by interior, events, and furniture design firm Moss Manila while allowing for seated dining arrangements.
It is also right up there among Moss Manila managing design partner and interior and event designer Cyndi Fernandez-Beltran's favorites. "That was really something else! It was done in eight hours! Just when everyone thought it couldn't be done, we did it!"
Such spectacle is all in a day's work for Cyndi. For events, naming Moss Manila's clientele is like a who's who of luxury brands — Hermes, Bulgari, Patek, Pandora, Adora, and Moet Hennessy, corporate consumer brands like Philip Morris and Unilever, consumer beauty brands MAC, Jo Malone, and Estee Lauder and the hospitality industry like Peninsula Manila and Sofitel — they all give Moss Manila their trust.
"We have a genuine desire to help build these brands," she surmises. "As interior designers in an industry dominated by production professionals, this translates into our technical ability to read the brand's guidelines and create something that reflects the brand's personality. Introducing interior design into events creates warmth, a thematic feel that becomes more experiential to guests."
She explains, "In our creative process, we always look at projects objectively first especially in space planning, then the aesthetics will follow. At the end of the day, the success of one project, for events, it's whether or not the objective has been met. For interiors, if the end user is satisfied."
Growing Moss Manila
The University of Santo Tomas BFA in Interior Design graduate got her break when she met event director extraordinaire Robby Carmona at The British School of Manila where she designed a working vignette for student designers including Lesley Mobo and Mich Dulce. Robby asked her to design his home and office, and eventually some of his events.
Since then, Cyndi has been freelancing as an events and interior designer, a Malaysian royal wedding being one of her gigs, until she took the board exam and worked under a firm doing commercial spaces for five years.
Cyndi was finishing up her summer school studies in Design and Management at Parsons The New School for Design in New York City in 2005 when the vision to set up her own practice offering both visual and exhibit merchandising and interior design came to her as she wandered into design entrepreneur Murray Moss' now-defunct namesake design gallery in SoHo.
She put up Moss Manila Design House in 2008 with her husband Mado Beltran. Mado's background in construction was like the magic wand that granted whatever space she conceptualized, with him creating specialty fabrications and interior builds. Furniture rentals followed, and Moss Manila introduced designed lounges and thematic seating in events.
"At that time, it was unheard of. It was my way of introducing an interior design approach to event design," she says. She has dressed up lounges for Jennifer Lopez, Taylor Swift, One Direction, Rihanna and Lady Gaga during the Manila leg of their concert tours. They also recently decorated a lounge for a 65th Miss Universe side event.
"He brings in the balance," she says of working with Mado, their husband and wife dynamic being the secret to managing Moss Manila's multiple disciplines. Moss Manila is the mother company where, apart from its event design and event rentals arm, is also where the design firm and interior design department Moss Manila Interiors and Moss Manila Home for home styling, décor, and furniture fall under. "With regards to taste in interior style, oh, he has adapted well. He knows that Moss Manila Home, if it were a persona, is female so he adjusts. But for the other projects where I feel that it is more his personality, we take his lead on the aesthetic."
More than Aesthetic, more than Events
"My personal style has always been refined and sophisticated with enough dose of opulence to create an inhibited vision of luxury. Whenever the theme allows, I like adding a decorative period influence done in modern silhouettes. In 12 years of practice, we have subconsciously developed a signature style, I knew this from the feedbacks I get that 'It's very Moss Manila.' Having a signature style is both an advantage and a disadvantage but no matter what theme is thrown at us, we put enough flair that is tasteful, well-edited, and never over the top."
This is evident in Moss Manila's interior design projects where she works with interior designer Seachelle Chua. Their projects include residential condominiums and turn-key model units for the Ayala Land Group; conceptual commercial restaurants for the Pancake House Group like Maple; design retail projects like Harlan and Holden; and the restoration of 37,000-sq.ft. Chimes Department Store in Davao, the "Shopping Mecca of Mindanao" into luxury retail store status.
Working as an events and interiors designer took a natural progression into curating the furniture she works with, going full circle as she and her sister Happy Fernandez-Victorino opened the boutique home store Moss Manila Home in September 2014 offering luxury home décor including Happy's own locally made designs. It all began with their Butler's Cabinet and Credenza, still a bestseller. "It's so unique and I can't find it anywhere else, but I have yet to have one made for my home. Being an interior designer myself, the last project you get to finish unfortunately is your own house which probably should be my New Year's resolution!" Happy is the creative force while Cyndi handles branding, the marketing and PR, and interior styling of their clients' homes. They are now working on their mid-year furniture collection. "It is an ode to all things old and familiar but re-creating those to our design philosophy," she hints. Expect bold patterns layered with textures.
The Philippine STAR steals a minute from the busy designer for a quick chat.
THE PHILIPPINE STAR: What was the light bulb moment to start Moss Manila, when did you realize that Manila was ready?
CYNDI FERNANDEZ-BELTRAN: If you asked me in 2005 if our designs would make it to the Manila scene, I would flat out say no because of our limited access for inspiration, mainly home magazines where everything seemed to be only tropical, Zen, and Filipino-themed. But because Filipinos have more access to social media, they have a preview of the global scene and saw that eclecticism and glamour — the Moss Manila aesthetic — was big across the globe.
What has been Moss Manila's most challenging project?
The most challenging ones are those that involve a very strict time frame, so that falls under our event design. Top of mind is Harlan and Holden's super pop-up structure in Greenbelt 5 where we had to build the entire structure in four nights and we were working with a foreign architect so there were a lot of lost-in-translation moments. Just as I was about to throw in the towel, everything started to fall into place and lo and behold, we did open on the day we promised we were going to open.
Which project do you feel is most like your personal vision and taste?
My all-time favorite is the launch of Jo Malone in 2015 in Blackbird. I got so much feedback, saying, "That project was so you, Cyndi!" And it was really was! The aesthetic was clearly in line with ours — clean, elegant, understated but never over the top.
For those hoping to emulate the Moss Manila events design touch, could you share a few tips?
I could not stress it more: learn to edit. It is knowing when to stop using a specific material for all parts of your home, or when to know that there is enough of a specific color, or when adding more flowers in the ceiling is already too much.
Any design peeves?
When things put together are out of scale in relation to the room and the pieces around them. When colors are not used on the same hues or saturation that it ends up clashing with one another. When interiors or events are not edited well and there's too much of everything in one place.
What are your favorite materials to use?
I have an affinity for velvet in jewel tones because I grew up admiring this rich and luxe look as a child. It just makes everything look elegant in the right sheen and color.
Can you share with us some tips on how to integrate the Pantone color of the year, Greenery, into one's home or office?
I love green! It is hopeful, happy, fresh color especially when mixed with white to make it crisp and with gold for warmth. It uplifts the mood without being too intense. There are a lot of applications like wallpapers, throw pillows, upholstery or even greens — actual plants can be added in doses to refresh your homes in 2017. If you're not ready to commit to any major redecorating, it's always wise to try out this trend in small batches of accessories around the house or the office.
Year 2016 was about the statement cabinet and bar cart; there was a lot of antlers from 2015. What furniture pieces and accessories do you see getting a revival this year?
People will be looking for uniquely crafted furniture. People will be going back to furniture that is more of an investment, furniture that is considered handcrafted or artisan-made. I also think raw white in home decor will have its moment this year — white that looks unfinished but refined, just like honed marble or artisanal vases and bowls in raw white.
What is your interior design trend forecast for 2017?
Mixed patterns will be big this year, which is something we've always done in Moss Manila Home. We like layering patterns and texture for statement. Another thing I've been seeing which will continue to 2017 is the use of navy as a neutral. Navy will be the new black. It pairs well with most color schemes so it's a good alternative to black if you want a traditional feel with a modern twist.
What makes an interior or event design project your favorite?
My favorite projects are those that enable us to work and collaborate with the most talented people in the industry.
* * *
Get in touch with Moss Manila Interior, Events, and Home at info@mossmanila.com. Moss Manila Home is at 1 Granada Street, Gilmore, Quezon City.