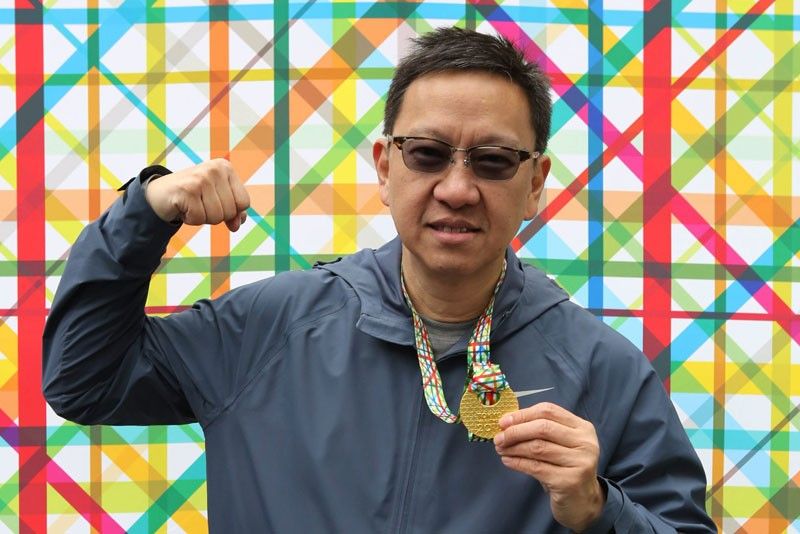 Long-distance voyager: Lucerne managing director Emerson Yao is an avid marathon runner. He recently participated in the Tokyo Marathon as well as Maratona Di Roma. Yao trains on his own. "If I had a personal trainer or running coach, I would just be stressed knowing the person is waiting for me in the gym."
What races through Emerson Yao's mind while running
It was a bit of a Eureka moment. Emerson Yao got hooked on running instantly. 'The view, the weather, the way the San Francisco Marathon was organized — I realized the love for running is in me. I could feel it.'
Ideas, random thoughts about family, even answers to work-related riddles — these are the things that run a marathon inside watchman Emerson Yao's head while he is in the middle of a long run (whether in Tokyo, Rome, Singapore, the Golden Gate Bridge or Roxas Boulevard).
"I get frustrated, sometimes, because when you run, you can't stop to write things down — and I want to make sure I remember all of it when I reach the finish line," explains Emerson with a chuckle.
The man says that we are all so busy working, attending meetings, answering kilometric e-mails and Viber threads, or scrolling across our cell phones that we never get to find a quiet time to reflect. It is mildly ironic that being in motion is when Emerson finds the time to pause, take a breather, and reflect about life and its bafflingly beautiful generalities. Running allows him that. Not just outdoors, but even on the treadmill. "They say that when running — and with the increase in blood flow to your body, including the brain — some neurons are reactivated. I hope that's true (laughs)." (Maybe something like: "Wake up, lazy Neurons," says the training team of Platelets and Plasma. "Be like our man from Jamaica named Usain.")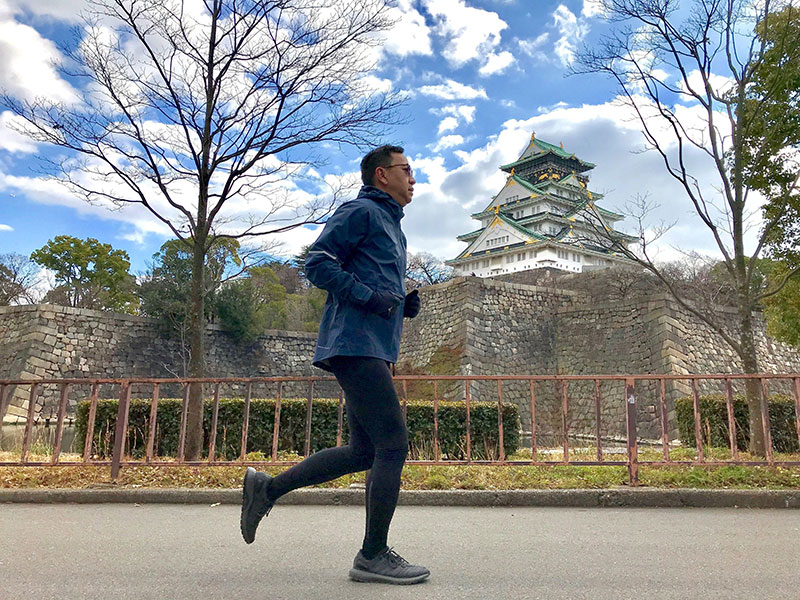 On the road again: Yao goes on a New Year's Day run near Osaka Castle.
By the way, it was not a metaphorical bolt of lightning that made Emerson Yao — the managing director of Lucerne which exclusively distributes high-end watch brands such as Patek Philippe, Audemars Piguet, Breguet, Breitling and Longines, among others — decide to take marathon running seriously. He used to do some short-distance running before (although sporadically in the last 15 years) to lose weight, improve his heart rate, and take on a healthier lifestyle.
"During those days, I dare not go beyond 10K dahil nakakatakot na. It felt like a very long run already." Makes you think of Dustin Hoffman engaging madly in a half-mile method running to prepare for his scenes in Marathon Man with Sir Laurence Olivier.
How things have changed. In February, Emerson completed a sub-five-hour, 42K run in the Tokyo Marathon with its 36,000 participants, passing landmarks such as Sensoji Temple's Kaminarimon gate in Asakusa, the Tokyo Skytree, the Ginza Crossing with its cheering crowd, finally clearing the stretch through the streets of Marunouchi. The early spring air, the beat of ritual drumming, participants that range from career runners to people wonkily dressed in Spider-Man or panda costumes — this run was loads of fun.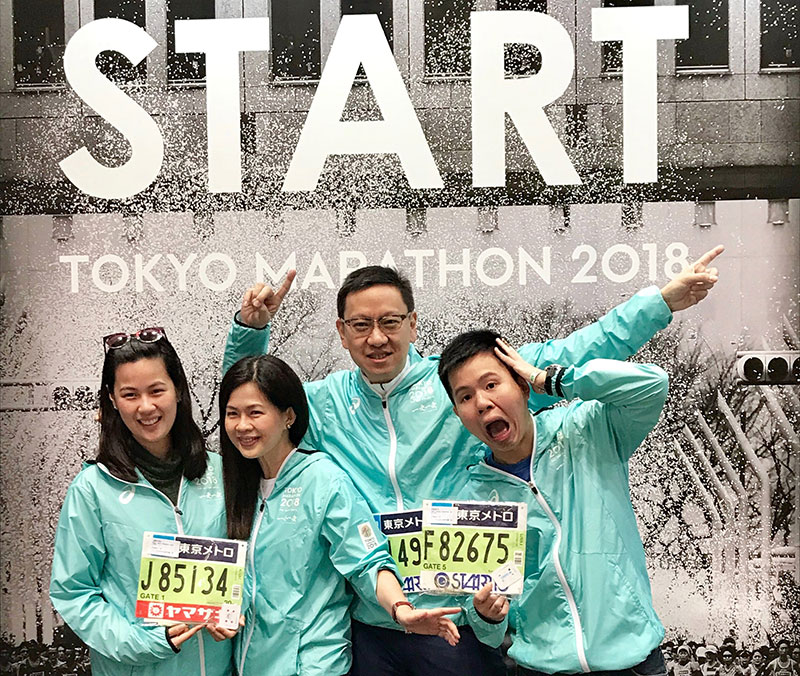 It's a family affair: Emerson participates in marathons with his wife Lingling, son Mark and daughter May. "It's very touching to see your children competing, pushing themselves. You can have family bonding wherever — in a restaurant or in a mall. But when you run together, train together, or face challenges together, that's on an entirely different level."
How did Emerson end up joining the Tokyo Marathon, which is part of the World Marathon Majors (comprised of Boston, Chicago, London, Berlin, and — of course —New York with its 56,000 participants annually who get in mostly via lottery)? How did the man decide to compete in one of the world's major runs?
"Early last year, I dared my son Mark to join the San Francisco Marathon, since he was working in SFO. And he dared me back that he will join as long as I participate also. I agreed to do the half marathon; my daughter May joined, too."
It was a bit of a Eureka moment. Emerson got hooked instantly. "The view, the weather, the way the marathon was organized — I realized the love for running is in me. I could feel it. I decided to join the Tokyo Marathon. And I simply couldn't wait."
To prepare for the Japan run, Yao joined Run Rio back home with its route from Okada Hotel to Bonifacio Global City and then to SM Mall of Asia — an entire stretch of Roxas Boulevard in between. That was in October. In December, he participated in the Standard Chartered Singapore Marathon.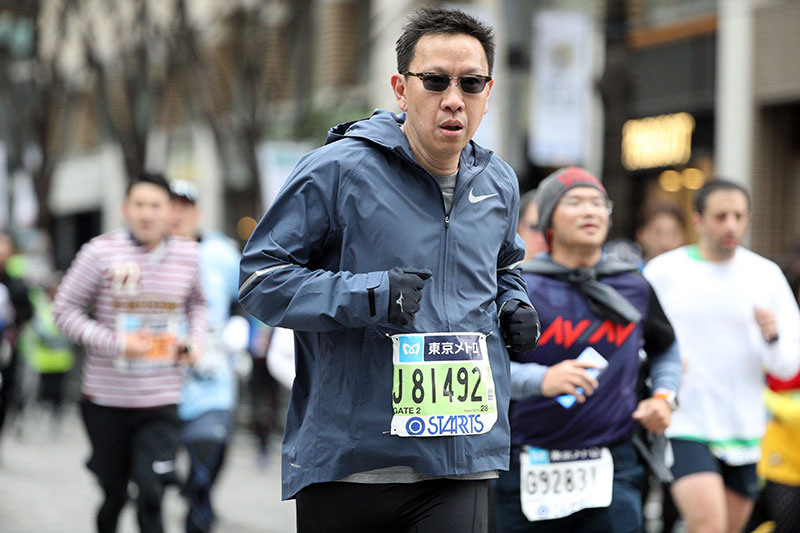 The watchman runneth: At the Tokyo Marathon
"Tokyo was my original goal. But it was too costly to go there and merely fail or to 'DNF' (Did Not Finish.). And I was quite happy with the result. I wasn't competing against anybody and I set a relatively doable goal. My son Mark finished it in sub-four. After Tokyo, I joined the Rome Marathon last April. Next year, I plan on joining the London Marathon."
Emerson trains twice a week. On weekdays, he goes to the Manila Polo Club or Ultra in Pasig. On weekends, he takes part in fun runs. A few Sundays ago, he joined the Nat-Geo Earth Day Run. In the gym, the man doesn't just focus on his legs. He also does some exercises on his arms and shoulders. "You tend to slouch when you get tired while running. That's not a good running form. Five hours eh, so nakakangawit."
How does he prepare for long runs?
He explains, "Some people do carbo-loading the night before. I just eat normally. For breakfast, I eat eggs and banana, and drink water with hydrite. Once I get to the runner's corral, I consume a gel and drink pickle juice. I found out that in between the 19K and 20K marks, I get leg cramps. It's very accurate. When I do an 18K run, it's not a problem at all. So, I consulted other runners and they recommended pickle juice. Since then, I haven't encountered leg cramps. Others bring salt sticks. But pickle juice works for me. And with my running, I lose one pound a month."
The benefits are not only health-wise. Running provides Emerson a totally new perspective upon returning to his Lucerne office.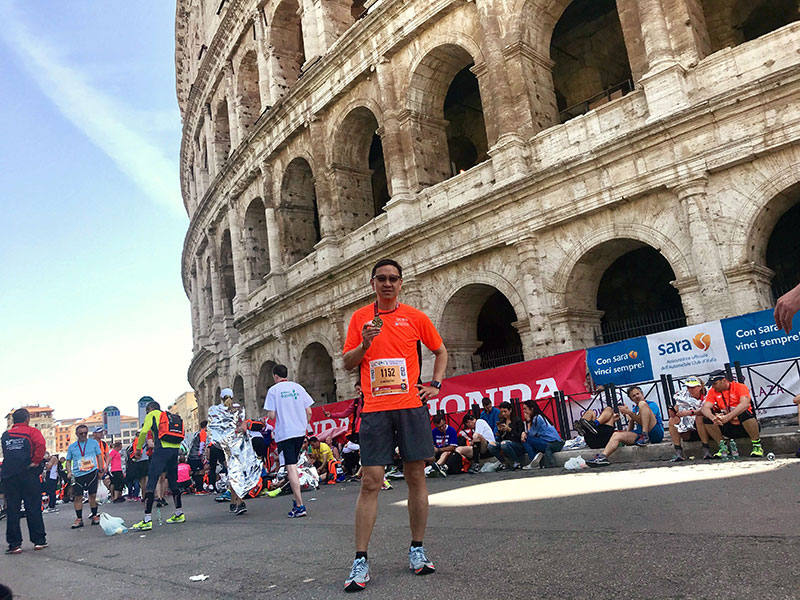 When in Rome: How cool it is to see the sights around Rome in less than five hours.
"Participating in a marathon teaches you how to be patient," he shares, adding how determination and motivation come into the fray as well. "In business, when you're working on projects, it takes time before you see everything come into fruition. You also encounter obstacles. But if you've endured the training and have taken on the commitment necessary for a marathon, you will face the challenges in the corporate world head-on, with no hesitation. It gives you that extra courage."
Something special happened during the run in Italy. As Emerson and the other runners made their way through the old city of Rome from the starting point of the Colosseum, past the Tiber River, they turned a corner and found themselves in the Vatican City. A throng of people greeted them. Pope Francis was holding morning Mass at the square. Even the runners had to stop for pictures or to quietly take in the splendorous sight of the Pope at the pulpit.
It was a Sunday run for the ages. Emerson Yao still remembers how touching that moment was. Running takes you places — from Roxas Boulevard to Champs-Élysées to elsewhere. From one stretch of road to another, from one headspace to the next. You live a life at the same pace as others, and then you set off on your own. Running brings it all back to you.