What a car: The Honda Civic
A perfect 10: The Honda Civic
Honda Cars Philippines has a new variant of the iconic Civic and it is to die for. The 10th Generation Civic charms with completely redesigned exterior, modern and expansive cockpit interior with a host of new and advanced technologies, and Honda's first locally available VTEC Turbo engine.
The Honda is truly one of those sedans that truly amaze me. From the way it is designed to the powerful engine and the lovely interiors — it never goes wrong.
From the outside, the Civic has a more aggressive style inspired by the "Revolutionary Silhouette Advanced Neo Sedan" design concept. Its unique sporty design is further accentuated by its low and wide stance, sleek and swept-back bodylines, and sharply defined character lines that give the 10th Generation a coupe-like stance. Its bold front fascia is complemented by Honda's signature LED lighting, which includes full LED Headlights, and LED Daytime Running Lights. Its distinctive C-Shaped LED Tail Lamps that truly highlight its unique brand identity also distinguishes the athletic design of the Civic.
As I marveled at the Honda Civic that was parked in the driveway of my home, a few weeks ago, I couldn't help but exclaim, "What a beauty" in a macho sort of way.
The top-of-the-line variant, the Civic RS Turbo gets sportier treatment with an RS Design 17-inch Alloy Wheels, Gloss Black Front Grille, Wing Type Trunk Spoiler, Chrome Door Handles, LED fog lights and RS Emblem.
What more could Honda do to make the Civic even lovelier? I wondered.
Hop On
I had admired the Civic from the outside but I was sure there was so much more to be awed by inside and more so under the hood. I was right.
Under its hood is a DOHC VTEC Turbo engine. It retains a 1.8-liter engine option for the Civic. Engines that boast a powerful driving performance with uncompromised fuel efficiency power the Civic. Both engines are mated to a Continuously Variable Transmission (CVT) developed under Earth Dreams Technology. The RS Turbo is also equipped with paddle shifters for a sportier driving performance.
And how.
I started the engine and I felt like one of those racecar drivers who just entered his best car. The roar was enough to get me in the mood for a drive — a long one — that I had planned.
But before I put my pedal to the metal I took time just to admire what I saw inside the Civic. I have entered many Civic sedans in my lifetime — but each time I am met with something new that the car has to offer. And it was not different with this one.
Harmonizing with the aggressive sporty design of the Civic is an interior that defines modern refinement. The Civic boasts a dynamic and wide cockpit design integrated with high class soft-touch materials. The RS Turbo Variant gets leather seats, steering wheel, and shift knob.
For a stronger driving character, the Civic consists of a high deck console that attributes to the wide and spacious front row, which also allows for more leg and knee room. Its instrument cluster was also designed for more versatility and utility. The full color TFT Instrument Cluster of the Civic includes a Multi-Information Display that allows for quick browsing of vehicle speed, and vehicle-related information. This is easily operated through a soft swipe on its Electrostatic Steering Wheel Controls.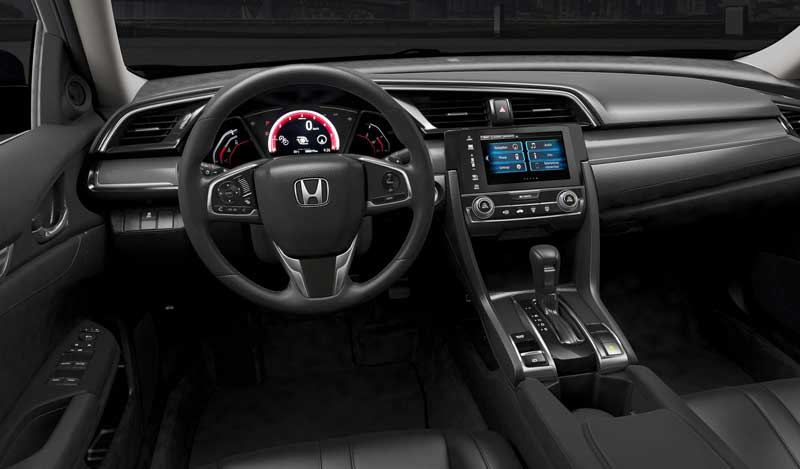 Tech rules: Everything is a touch away in the cockpit.
For audio and entertainment, the Civic is equipped with a new 7-inch Advanced Display Audio (RS Turbo gets incorporated navigation system) that provides advanced touch controls, entertainment features, and Smartphone connectivity. Climate controls are also featured on the Display Audio screen, which may be adjusted through the Climate Control Button.
I turned off the engine for a bit and I tested whether the Smart Key was working. I walked a few paces away — 2.5 meters to be exact and tested whether the smart key would grant me entry.
Civic's Smart Key features numerous functionalities. It includes the Remote Engine Start Function that conveniently starts the vehicle engine and turn on its Auto Climate Control System from the outside, which allows the cabin to cool even before entering the vehicle. The Smart Key Entry System also consists of a Walk-away Auto Lock Feature, which is an auto lock function that automatically bolts all doors after sensing the Smart Key away from the vehicle by approximately 2.5 meters.
Success! Although I did think that opening the Civic from that far off is a choice that one might make in a well-lit place — for safety.
In terms of safety, the Civic delivers a class leading performance. The New Ace Body Design, and low and wide platform of the Civic not only attribute to its premium sporty styling, but also help realize better torsion rigidity and above class crash safety. Its full suite of safety features includes driver and passenger SRS airbags (with side and side curtain airbags for the RS Turbo), Vehicle Stability Assist (VSA), Hill Start Assist (HSA), Anti-Lock Braking System (ABS), Emergency Stop Signal (ESS), Multi-view Reverse Camera with Dynamic Guidelines, Seat Belt Reminder, ISOFIX and Immobilizer. The Civic also gets an Electric Parking Brake (EPB), which replaces the conventional pedal or handbrake lever with a single button or switch.
Drive on
As I started the engine of the Civic again, a rush of joy filled me because of the engine sound.
It was time to drive on.
The Civic delivers on its promise to make the drive an all-new driving experience with its striking sporty design, powerful driving performance, advanced set of key technologies and innovations. Since its first global debut in North America, the Civic has already earned global recognition from having received 14 awards from leading institutions. I smiled as I drove down the SLEX as I had set my sights on Villa Escudero.
The drive was more than fun — I hadn't noticed that I had been driving for almost three hours.
It was fun to get to where I was going but more fun to get there in style — and with a happy heart.
My vacay started as soon as I entered the Civic. The drive was everything.