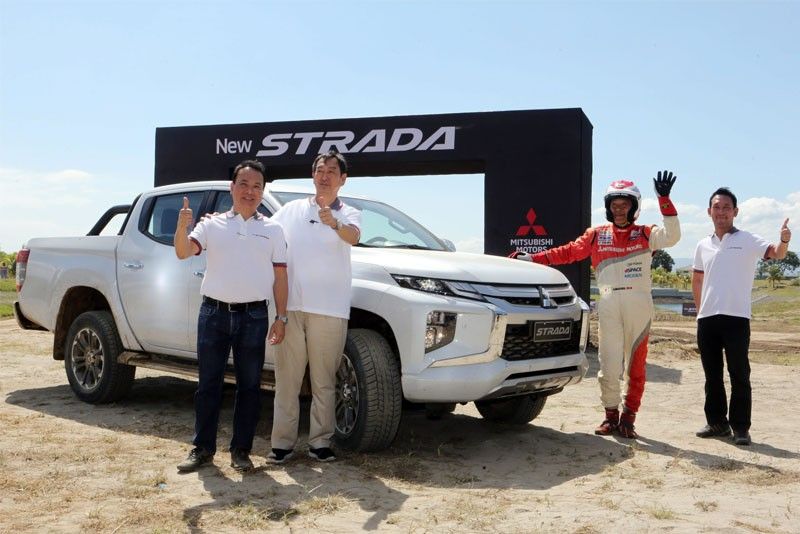 All together for the Strada: Mitsubishi Motors Philippines Corp. (MMPC) officially unveils the New Strada at the Pradera Verde in Lubao, Pampanga. In photo are Mutsuhiro Oshikiri, MMPC president and CEO (second from left) with (from left) Arlan Reyes Jr.,GM for Marketing Communications and Product Planning (MMPC), Hiroshi Masuoka, two-time Paris Dakar Rally Champion/chief expert, Corporate Planning & Development Engineering Office, Mitsubishi Motors Corp. (Japan), and Taichi Nakajima, EVP, MMPC
Built for the roads ahead
Kathy Moran
(The Philippine Star) - February 12, 2019 - 12:00am
MANILA, Philippines — It was a scorcher when Mitsubishi Motors Philippines Corporation (MMPC) launched its new Strada in Pradera Verde, Lubao, Pampanga, recently. The venue is about a two-hour drive from Pasig and is home to a wakeboarding facility, Olympic-size swimming pool and a golf course, to name a few.
The drive was long and oh so hot — but I had my sights set on the launch of the new Mitsubishi Strada, so I left my home at 7 a.m. to avoid the Saturday traffic.
When I got to Lubao, and after I had a cool welcome drink, I was informed that after its global premiere in Bangkok, Thailand late last year, MMPC finally brings to the country the much-awaited latest version of the Strada. Considered one of the most important models of Mitsubishi Motors, the new Strada, which is produced in Laem Chabang Plant in Thailand, will eventually be sold around the globe in 150 countries.
I walked around and noticed how Mitsubishi had built an off-road track where two-time Paris Drakar rally driver Hiroshi Masuoka was set to show us just how tough the new Mitsubishi Strada is.
"Today's event is very important to Mitsubishi Corporation as we unveil our core model and we are excited to share (the) new Strada which was developed with decades of expertise," said Taichi Nakajima, EVP, sales and marketing, MMPC at the launch. "The Strada plays a vital role for Mitsubishi and over 40 years a total of 4.7 million units of the pickup has been produced. It accounts for 15 percent of Mistubishi sales and is a major contributor to the brand."
Under the design concept "Rock Solid" which embodies a strengthened inside and out, the new Strada flaunts the new-generation "Dynamic Shield." The refreshed design communicates a powerful and reassuring sense of protection. The high hood and functional LED lamps layout communicate an even sturdier look. LED projector type head lamps are harmonized with grille design and projector lamps (GT 4x4 and GLS 4x4) to express a wider and more stable image. The newly sculpted body curves with contrasting sharp lines express the modern and toughness of Mitsubishi Motors' pickup. The front- to-back character line expresses a sense of space and the thickness of the overall body. Complementing its stunning design, the New Strada is available in seven exterior colors: White Diamond, Graphite Gray Metallic, Sterling Silver Metallic, Jet Black Mica, Red Solid Clear, Grayish Brown Metallic and Impulse Blue Metallic.
I was able to step into the Strada, which was on display inside the cool tent by the wayside and noticed the enhanced robustness and functionality in the Strada. Inside the new Strada is a functional and modernized center panel and console. All variants feature 2-DIN Touch Screen monitor, tuner, MP3 player, USB, iPod- ready Auxiliary-in, Bluetooth with Mirror Link feature Multi-media system. All variants are also equipped with GPS Navigation System. For passenger convenience front smartphone tray is available which includes USB terminals. Rear smartphone tray is also available and is located at the in rear of the center console including a USB power socket. The new Strada also boasts a roomy interior which can comfortably seat five adults due to the unique J- Line design that offers a class-leading legroom for an enhanced comfort.
With four decades of pickup truck expertise the new Strada is refined to deliver an unmatched performance and off-road capability. The New Strada is powered by 2.4L 4 In-line 16 Valve DOHC Clean Diesel with Variable Geometry Turbo and MIVEC (Mitsubishi Innovative Valve timing Electronic Control System) 4N15. Ride is improved with the use of larger rear dampers which contain more damping oil. Braking performance were also improved with the use of larger front discs and caliper pistons (GT 4x4, GLS 4x4 and GLS 4x2).
"The key words for the new Strada is 'engineered beyond tough,'" shared Arlan Reyes, senior manager, marketing communications, MMPC. "With the first Strada coming out in 1978, Strada has five generations with this new Strada being the highest-engined unit to date."
Safety will never be compromised as the new Strada hosts an array of passive and advanced active safety features. It carries the proprietary Mitsubishi Motors' RISE body (Reinforced Impact Safety Evolution) which absorbs the impact of collision. It retains the current model high durability, high reliability ladder-type frame and high-impact safety cabin structure. Active Stability Traction Control (ASTC), Hill Start Assist (HSA) and Trailer Stability Assist (TSA) are now standard on all variants. The top of the line variant (GT 4x4) of the New Strada is equipped with Forward Collision Mitigation system (FCM) which can detect vehicles and pedestrian ahead preventing or reducing impact of collision. It also has the Ultrasonic Misacceleration Mitigation System (UMS) which prevents accidents resulting from improper use of accelerator when moving off or reversing. Blind Spot Warning (BSW) is also standard on the GT 4x4 variant. With the BSW, sideswiping is prevented when changing lanes by detecting vehicles behind or at the rear quarter and alerting the driver thru an audible alert and flashing light.
In the Philippines, the new Strada will be available in six variants and all variants are fitted with 6-speed transmission. Available variants are GT 4WD Automatic Transmission (A/T), GLS 4WD Manual Transmission (M/T), GLS 2WD A/T, GLS 2WD M/T, GLX Plus 2WD A/T and the base model GLX Plus 2WD M/T.
I was delighted with how well Mitsubishi put together the launch by showcasing just what the unit can do off-road. But, knowing that this vehicle is used more for private rather commercial purpose, it has indeed built a reliable workhorse because the new Strada is designed to be more durable, more reliable and more capable and adding even more comfortable ride.
With its new Strada, MMPC is optimistic that it will be one of the most preferred vehicles in its segment.
From what we experienced and watched that morning, we have no doubt the new Strada will be a force in pickups to reckon with.