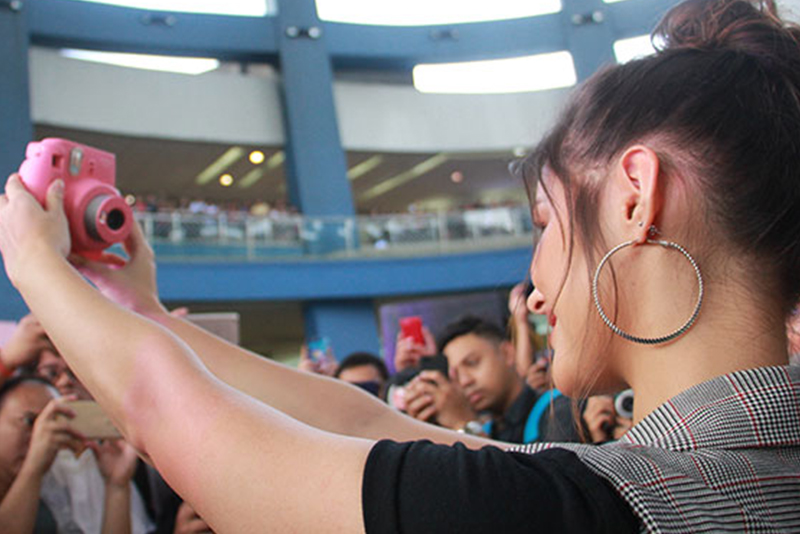 Liza Soberano taking a selfie using the new Instax Mini 9. Philstar.com/Efigenio Toledo IV
How to improve your selfie game, Liza Soberano shares tips
MANILA, Philippines — Like any millennial, Liza Soberano loves taking pictures of anything – food, places, her outfits and of course, selfies.
Nonetheless, for Liza, selfies are not for vanity.
"I take selfies just so I know what I look like before I go on cam," she explained during her launch last night as new ambassador for tech company Fujifilm Philippines.
What is her secret for taking great selfies? "I make sure the background is nice. I look for the perfect light and I put on my best smile!"
Though she loves taking self portraits, she admitted that there are times she does not take any selfie at all. "I like taking pictures of other people more than I like to take pictures of myself. Because sometimes, I don't like looking at myself that much."
Also, though she has been featured as Vogue's "style star," Liza said she does not take #OoTDs. Her stylist, she said, is the one documenting her looks. "I guess, you just have to pose artsy," she gave as a simple advice to those who want to take good OoTDs.
"When I travel out of the country, I do want to wear like a touristy outfit," admitted the star, who likes Fujifilm's new X-A3 Mirrorless Digital Camera because it comes in black, which goes with any outfit and professional look that makes one seem like a pro photographer.
She also likes the camera's macro feature that allows her to capture even tiny details when taking pictures of her food. "I love to take pictures of my food. I do share it especially when something looks exotic and I tell them where I got that food and recommend it as well."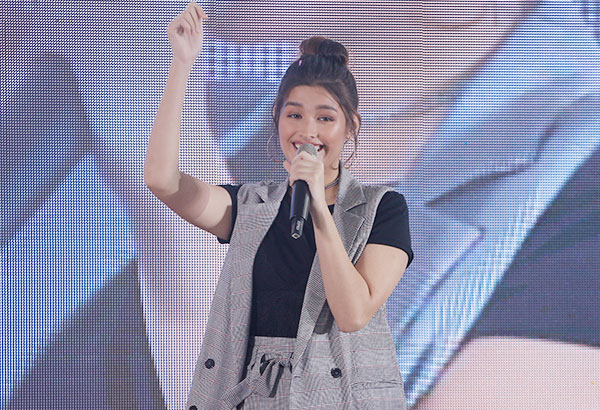 Though she has been featured as Vogue's "style star," Liza said she does not take #OoTDs. Philstar.com/Efigenio Toledo IV
Although she has six million Instagram followers, Liza does not pressure herself to post so many pictures. Instead, she keeps prints of her photos at home. The new Instax SQ10, she said, allows one to print pictures in an instant, but now has added features that many Instax fans have been hoping for: picture editing tools, filters, the ability to store images digitally and easy sharing via bluetooth.
To make her prints look more fun, Liza loves to decorate her prints. "I love arts and crafts. They used to be my favorite in school," said the actress, who enjoyed making a scrapbook and a volcano for a science project.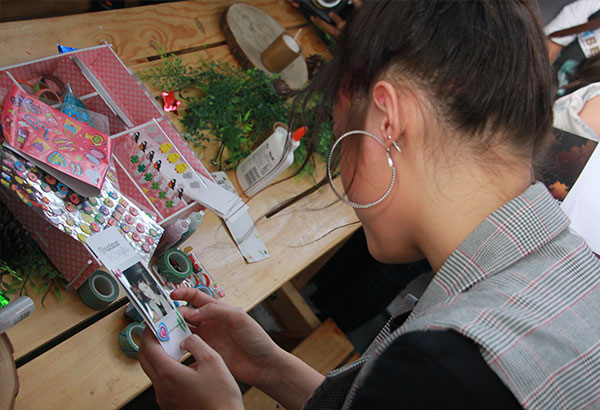 Although she does not consider herself artistic, Liza likes arts and crafts. Philstar.com/Efigenio Toledo IV
Because Liza is a huge photography fan, it is easy to see why she was chosen as the brand's new endorser, said Fujifilm Philippines President Tomoyuki Fukura.
What makes a photo great, according to the actress, is "when you're able to capture that memory and then you look back and you just feel what you were feeling at that moment."
How Liza captures the night
The newest Darna, Liza, likes taking selfies. But her usual problem is either low light or difficulty holding her phone when taking photos of herself.
Samsung offers an answer to Liza's problems as it recently introduced the Galaxy J7 Pro, which promises to "capture the night" with its innovative night camera with a bright higher-resolution 13MP rear camera equipped with an F/1.7 aperture, a front LED flash and a wide selfie monitor.
"I no longer encounter problems taking selfies now because the upgraded J2 Prime has a front flash already. I also have a better grip because of the material used in the 5-inch body," says the Kapamilya star.
The smartphone's seamless and polished finish allows for a comfortable grip. Its fluid design is sleek and modern, made of durable premium materials featuring a full metal body and 2.5D glass.
"It dazzles at first sight. It has no camera protrusion and it has a curved back, so it is easier to grip," adds Liza.
"Another plus for me is its 32GB storage space and 3GB RAM, and it supports microSD cards so I can expand its storage capacity by as much as 256GB for my photos and videos," Liza beams.
It also has a Dual SIM capability and a fingerprint scanner for extra security. — With reports from Robbie Pangilinan