Take me to brunch at the Waterside, Solaire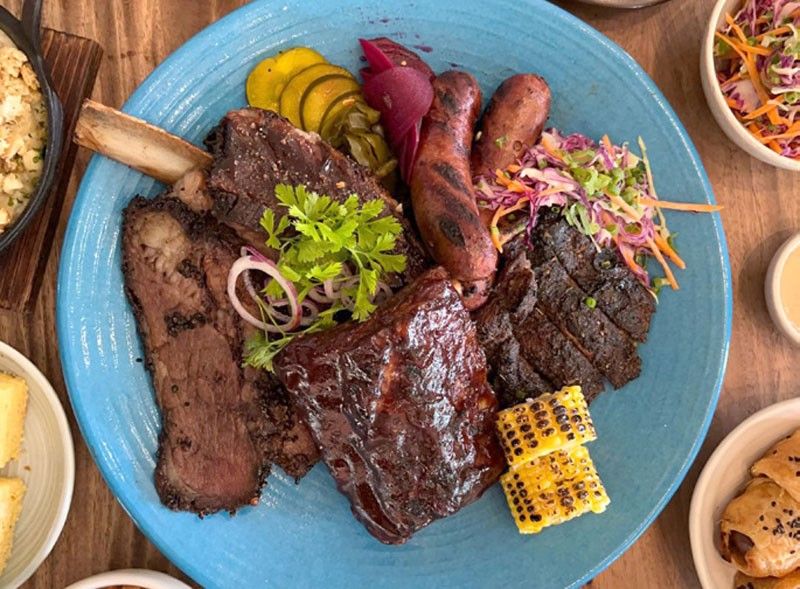 MANILA, Philippines — Who wouldn't want to magically snap back to pre-COVID society? Definitely not the diners enjoying their BBQ Sunday Brunch at Waterside, Solaire.
Brunch is nothing new. But the fact we can now openly share a barbecue meat platter, avocado toast, or pulled-pork eggs benedict and milkshakes with friends, acquaintances, or family members we haven't seen in a long time is more than enough reason to head over to Waterside at Solaire this Sunday.
Dining in the new normal
The relaxed atmosphere at the Waterside, which launched its BBQ Sunday Brunch menu last Sunday, June 27, encourages diners to take as long as they want to eat, drink, and chat.
And, unlike other buffet restaurants in the metro, here at Waterside, you won't find succulent churrasco meat items or bucketsful of fresh seafood displayed on the counter. The restaurant boasts a curated menu that puts the spotlight on quality over quantity.
In terms of food handling and preparation, the chefs and restaurant staff follow a certain standard that goes beyond its norm of stringent safety and hygiene measures.
Everything here is prepared upon ordering so diners are assured that everything's made fresh.
The best part? You can reorder the dishes from the Sunday BBQ Brunch menu as much as you want.
Once seated, diners are served corn bread with smoked butter honey, Texas-style Honey Wings, and Grilled Jalapeño (bacon, cheddar and nacho chips — something to snack on as Waterside chef de cuisine Alfred Santiago prepares the grill).
Pulsating flavors from the west
Chef Santiago worked for a Michelin-star restaurant in Singapore for two years before joining the culinary team of Solaire.
"It may sound cliché, but my passion for cooking started at home, helping my mom in the kitchen," he shares. "The curiosity about how good food is made, and the love for food and traveling, inspired me to become a chef. The more time I spent in the kitchen, the more I learned, the more I was exposed to different cooking techniques."
Slowly but surely, chef Alfred grew to love cooking as an art form.
"I always believe that you should respect the ingredients and let them speak for themselves," he adds.
When asked what's the secret to a good barbecue, he hastily replied: "Freshness. Whether it's meat, seafood, or skewered veggies, everything has to be fresh."
And that's what diners can expect at Waterside — from starters to dessert!
Prep your palate with a selection of fresh, crisp greens — Caesar Salad, the Wedge Salad with pork belly burnt ends and blue cheese — Mom's Potato Salad with soft-boiled eggs and garden herbs, or the light cucumber salad with tomatoes and red onions drizzled with lemon-herb vinaigrette.
Waterside's Sunday BBQ Brunch menu is varied. Brunch classics are definitely must-haves. I personally loved the Pulled Pork Eggs Benedict with a complex chipotle hollandaise on grilled English muffin. The pulled pork is moist and packed with flavor, and the egg is perfectly poached, allowing the golden yolk to ooze out when you cut it open.
There are also the IG-worthy Scotch eggs with rich, homemade beer mustard. If you prefer omelets, go for the chorizo and mushroom frittata. The breakfast burrito combines everything good in one appetizing roll: smoked meat and bacon.
At Waterside, brunch favorites like the crunchy buttermilk fried chicken paired with cornbread and country gravy, and the cottage pie with smoked oxtail and pork belly burnt ends, never go out of style. And oh, did I mention the tender, slow-roasted beef shin with a spicy-tangy Chakalaka sauce? Superb!
But the star of the menu is still the perfectly grilled meat items, which chef Alfred and his team have perfected over the years.
"When you bring out the best in your barbecue dish, you'll come back for more. And you'll want to share that joy with others, too!" enthuses chef Alfred.
And this philosophy comes alive the moment the shy but amiable chef lights up the grill and prepares the barbecue dishes.
"We make sure that the seafood or meat items are generously seasoned and grilled to perfection," he adds.
The whisky-cured USDA short ribs and bourbon baby back ribs definitely whet the appetite.
For more charred goodness, try the Pork Belly Burnt Ends, or the smoked meat platter. There are also homemade sausages and juicy jerk chicken. Choose from a selection of sides like the Waterside spiced fries, mashed potatoes, creamed corn or mac and cheese to complement the smokiness of each bite.
But Waterside's BBQ Sunday Brunch isn't all meaty bliss. The sea also sweeps through the menu with seafood paella, beer-battered fish and chips, grilled oysters with chipotle bourbon butter and grilled pulpo in peri-peri sauce.
"Barbecue at Waterside is a team effort," shares chef Alfred. "And I'm proud to share the delicious dishes we've made with love and passion to bring out the unique flavors we all look for."
The dessert selection is a different story. Waterside has a milkshake and sundae bar where you can create the most elaborate vanilla milkshake with a slice of chocolate cake or red velvet donut on top. Or you can grab a slice or two of moist chocolate cake, confetti cake, decadent red velvet cake, or the fanciest donut at the donut wall.
"A good barbecue and a decadent dessert lift my food," adds chef Alfred. "And I hope we can do the same for everyone at Waterside."
* * *
The Waterside BBQ Sunday Brunch, priced at P3,229+ per person, is from 11:30 a.m. to 2:30 p.m.
For reservations, call 888-8888 or email [email protected].
For information, visit www.solaireresort.com/watersidebrunch.