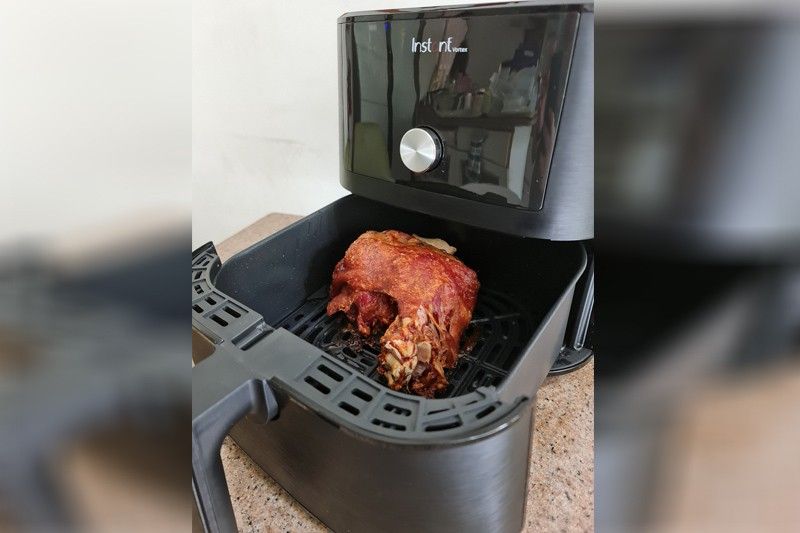 Reinventing crispy pata: Using The Plaza's curing recipe and air frying in my InstantPot Vortex to make the skin crispy
Millie: Having been locked down for 14 months at home, I had a long list of things to do but must admit, I haven't been successful in accomplishing even 20 percent of the tasks I envisioned myself doing. Not an excuse, but working from home under the new normal isn't quite as easy as it sounds. I spend a lot of time daily on the phone or on Zoom, meeting with my team or talking to clients. But I learned to manage my time for the business, plus do household chores, since we were left "help-less" — in other words, we had no household helper to clean up for us.
I honestly think this pandemic has drawn us closer to each other. We each have our own workspace, having converted our long dining table into our office table as we sit across each other amid all the paperwork and clutter. At certain times of the day, I work in my room or have my prayer time while she attends classes online in the living room. But it's in the kitchen where most of the chatter and laughter happens while whipping up a meal or having a cup of coffee. It is in the kitchen where we find the comforts of hearth and home.
Luckily for me, Karla is such a kitchen wiz and she naturally took on the role of planning our meals, cooking and even shopping online and ordering all the ingredients needed. All I do is clean up after her mess! At first, I used to complain about how many kitchen gadgets, pots and pans she uses because it was really a task to scrub and wash, but I truly enjoyed the meals she would prepare for just the two of us, so I stopped complaining.
The kitchen is Karla's domain. That's where all her toys are stored.
Different kinds of gadgets to make her culinary skills shine. But one of her favorites is her magic air-fryer! It is simple and easy to use, saves on electricity and cooking oil and the beauty of it all is it is not messy and easy to clean! Whenever Karla is pressed for time or too busy to cook, it's the air fryer to the rescue; just pop it in and voila! Like magic, we have a meal!
Karla: There are so many air fryers available now online and it shouldn't be a problem to find one. I use the Instant Pot Vortex, which is the most spacious air fryer I've seen so far. Most of the air fryers available on the market have tiny baskets for the food. I remember having to cut a milkfish crosswise just so it would fit inside. I would have to cook it in two batches, which was a bit of a hassle. With the Instant Pot Vortex, a whole butterfly-cut milkfish or bangus can actually fit.
On busy days, all I have to do is coat pre-marinated bangus in flour and pop it in the air fryer at 180°C for 20 minutes, just around the same time it would take me to cook a pot of rice. You may pull out the basket midway and spray some oil just to help get that golden brown color and for crunchiness, of course.
Pro tip: don't throw the milkfish skins. Put them back in the air fryer at 200°C for 5-10 minutes to make milkfish chicharon.
Millie: We tried cooking bagnet from Ilocos in the air fryer and it was crispy-licious! We ate it with the traditional KBL accompaniment, of course: kamatis, bagoong and lasona (shallots). Karla even had this crazy idea of air frying a cured pork knuckle and it was a huge and delightfully delicious success!
Karla: We cured pork knuckles using The Plaza's generations-old recipe. I pressure-cooked it using my InstantPot Duo a day in advance. Mom and I were going to have it for Sunday lunch but I didn't want to get up too early, so I kept it in the refrigerator overnight. The next day, all I had to do was directly put it in my air fryer at 200°C for 30 minutes and it was instant lunch. I served it with potatoes and leeks cooked in white wine and sauerkraut. It was so good that we just might add this to The Plaza's product line.
Some other our simple everyday dishes on rotation using the air fryer are fried chicken or chicken wings, lechon kawali, roast beef brisket and whole roast chicken. You can definitely use it for so much more than just French fries or chicken nuggets since the InstantPot Vortex is more than just an air fryer, it's multi-function and even has preset buttons for air frying, baking, roasting and reheating. I haven't even tried to bake in it yet, but that will be next on my list.
Air frying is definitely a healthier choice than deep-frying without sacrificing the taste and crispiness. You end up using very little oil, which is less fat. Whatever drippings can be easily drained since the pan coating of the InstantPot Vortex is non-stick. It saves me so much time and I'm also able to multi-task. All I have to do is turn on the settings, put in the food and wait for the timer to stop, no supervision needed.
* * *
Both InstantPot Duo and Vortex are available through www.instantpot.com.ph or through the InstantPot flagship store on Lazada.
* * *
Send email to milliereyes.foodforthought@gmail.com and quichethecook.ph@gmail.com . Find us on Facebook: Food for Thought by Millie & Karla Reyes and Instagram: @quichethecookph.