Home, the first line of defense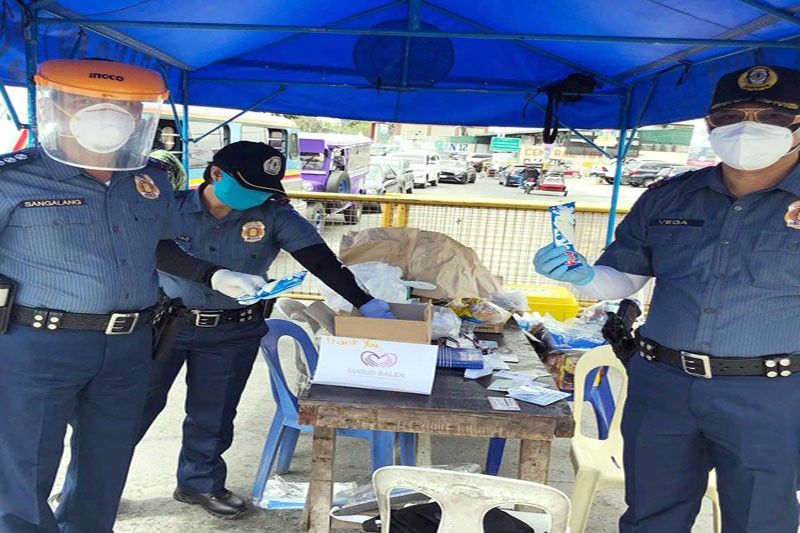 With the quarantine and lockdown being extended till the end of this month, it seems we have to hold out in our foxholes a little while longer. We're told to stay home indoors, wear a mask if we have to go outdoors, observe social distancing, wash our hands as often as possible, exercise and eat nutritious food to keep our immune system stronger. After all, keeping a sane mind and a healthy body is our best defense. And home is our fortress.
Since we're faced with an invisible enemy, we "fortify" our homes, not with thicker walls or cyclone wires, but with proper hygienic practices in our daily activities.
I, for one, have been practicing "no street footwear" inside the house for the past 30 years. There are disposable slippers available for guests. Being an artist/writer/cook, most of my creative time is spent at home. The "work-from-home" policy of many businesses since the lockdown is nothing new to me. It's as normal as can be, but with the addition of a lot of physical labor doing the gardening, disposing of garbage, grocery, cooking (with the absence of househelp), while the wifey makes sure the house is in order: spring cleaning, laundry, and best of all, sanitizing the groceries before they enter the house.
I am required to remove all my street clothes outside, entering the house only in briefs and going straight to the shower (shh). She even devised a "footbath" by wetting a coconut coir rug with laundry detergent and bleach. Our son Nico is looking after the welfare of our 25 employees.
Home remedies and common sense are your best buddies in these trying times. They're often free, or low-cost, if they cost anything at all.
Go bask in the morning sun (between 6:30 to 8:30 a.m.) even just for 15 minutes for vitamin D. At the first sign of a cold, gargle with warm water, better if with salt. Or drink warm salabat (ginger tea), or even take a tablespoon of honey at bedtime.
Sabila (aloe vera) does wonders for one's hair growth, as well as an ointment to heal wounds or burns. Cuban oregano boiled into a tea (aka Spanish thyme, Indian borage or Mexican mint) has been used for ages to treat respiratory and throat infections, rheumatism, constipation and flatulence. Both plants thrive well in pots inside an apartment if placed by a window with morning sun.
What this pandemic is teaching us is how to live simply, get by with as little as possible, and help others as much as possible.
Charity begins at home
Speaking of keeping a healthy body and eating nutritious food as our best shield, the first and foremost to suffer are the frontliners in the medical, military, sanitation and service sectors. It is difficult enough for them to get a ride to their workplace and back, but they have to nourish themselves with proper nutritious food, especially the health workers doing irregular hours and overtime.
With the snail's pace of our national and local governments' response to the crisis, the best of Kapampangan generosity and compassion came to the fore. Even before the official announcement of the lockdown, private individuals had been donating cash or kind in their respective areas.
But a new set of problems arose. Some hospitals had so many food donations pouring in that on a given day some food would spoil, while on other days there wouldn't be any.
Coming to the rescue is Lugud Balen (love of town/community), an informal organization stemming from a chat group mainly from the professional Pampango chefs and restaurateurs who did the catering at the 30th SEA Games late last year.
According to its Facebook account, Lugud Balen is a movement inspired by people who want to contribute to the fight against COVID-19. They believe that, no matter how little, they can and will make a difference. They are accepting donations in cash, raw materials such as meat, vegetables, seasonings, and also manpower.
It further says one can also help as "a partner restaurant or food purveyor, if one wants to produce your own meals to be donated. Just let us know so we can properly coordinate the deliveries so we can spread the blessings to all those who need it (just as my extensive Tayag family of home cooks have been assigned to provide dinners for the Ospital Ning Angeles staff since March 20). Or as a transport provider to pick up and deliver goods. Likewise, we wish to inform everyone that we continue to follow and practice the basic EHQ guidelines for everyone's safety and protection."
Lugud Balen is the "control tower" that coordinates the daily operations. As of April 9, some 17,852 meals have been provided by Lugud Balen to various recipients all over Pampanga. Cash donations have reached P1,249,640. Recipients are not limited to hospitals and the PNP, but also to Duyan ni Maria Children's Home and Tahanan ng Munting Nazareth orphanage, and some depressed areas in Porac, Mabalacat and Angeles City.
The bulk of the cooking is done in the kitchens of Systems Plus School, Taldawa Restaurant, K Café, Tollhouse, Perfect Loaf Bakery, with chefs Howard Dizon, Froi Cruz, Chloe Cauguiran, Lola Nors and Denlim heading their respective kitchens. Chef Howard is assigned to cooking food for the Jose B. Lingad Hospital, Makabali Clinic and San Fernandino Hospital, all in the City of San Fernando.
More manna from heaven came when Sara Soliven Guzman told her staff to donate all of OB Montessori Center, Angeles City's food stock of 16 sacks of rice and an assortment of frozen bulk meats. The OBMC Angeles Alumni COVID Drive has raised P328,244 and 1,640 kilos of rice so far.
Indeed, charity begins at home. Lugud Balen is kitchens by the community, for the community.
* * *
Email them at lugudbalen@gmail.com.