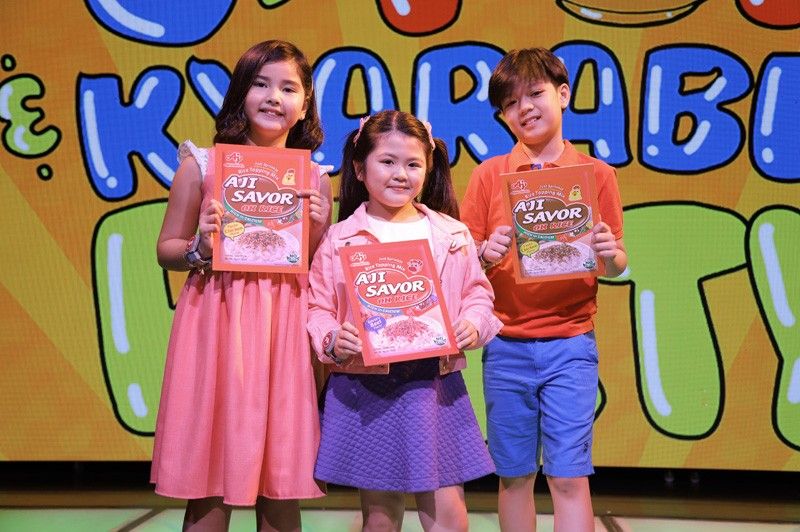 Young celebrity endorsers Sophia Reola, Chunsa Jung and Marco Masa at the launch of Aji Savor™ on Rice, which was held at KidZania Manila.
Photo Release
Ajinomoto launches calcium-rich rice topping mix
(Philstar.com) - November 20, 2019 - 8:00am
MANILA, Philippines — In a bid to be the pioneer in providing rice topping mix in the country, Ajinomoto Philippines Corp. (APC) launched Aji Savor™ on Rice at KidZania in Bonifacio Global City, Taguig.
Aji Savor™ on Rice is a delicious and affordable way to add calcium to one's diet. Inspired by Japanese Furikake, this product contains a blend of ready-to-eat dried umami food ingredients, like malunggay leaves, toasted sesame seeds and meaty beef or chicken flavored granules. Each pack can be conveniently sprinkled and mixed in a cup of rice.
Kuya "Omurice" Sawa, a Japanese who went viral for selling omurice (fried rice omelette) to help street children, was invited to co-host the event.
Kuya Sawa-san talked about the popularity of Furikake, a dry Japanese seasoning sprinkled on rice, among Japanese children. He shared his excitement about the launch of Aji Savor™ in the local market.
Since rice is a staple food in the Philippines, this product hopes to add more calcium into the diet of Filipinos.
In its 8th National Nutrition Survey, the Food and Nutrition Research Institute recorded high inadequacies of calcium intake across all age groups.
However, this is particularly alarming for younger population since calcium is one of the key nutrients required for proper growth and development. Aji Savor™ contains 385mg of calcium, which is comparable to the calcium from a drinking a glass of milk.
Young celebrity endorsers, Chunsa Jung, Sophia Reola and Marco Masa were present during the JPOP and Kyaraben (Character Bento) Party organized by Ajinomoto.
They led everyone to dance to the beat of the new Aji Savor™ jingle featured in the product's TV commercial. The jingle made use of the catchy PPAP (Pen-Pineapple-Apple-Pen) tune popularized by Japanese comedian Daimaou Kosaka.
One of the event highlights was the Kyaraben boxed-lunch making activity where media guest and their children joined Ajinomoto's Culinary Nutrition team in making delicious meals.
As a food company, Ajinomoto utilizes its technical expertise to enhance the quality of life of Filipinos by offering delicious, safe and quality food products and promoting proper nutrition and healthy lifestyle.
For more information about Aji Savor™, visit www.ajinomoto.com.ph and www.facebook.com/CookmunitybyAjinomotoPH.