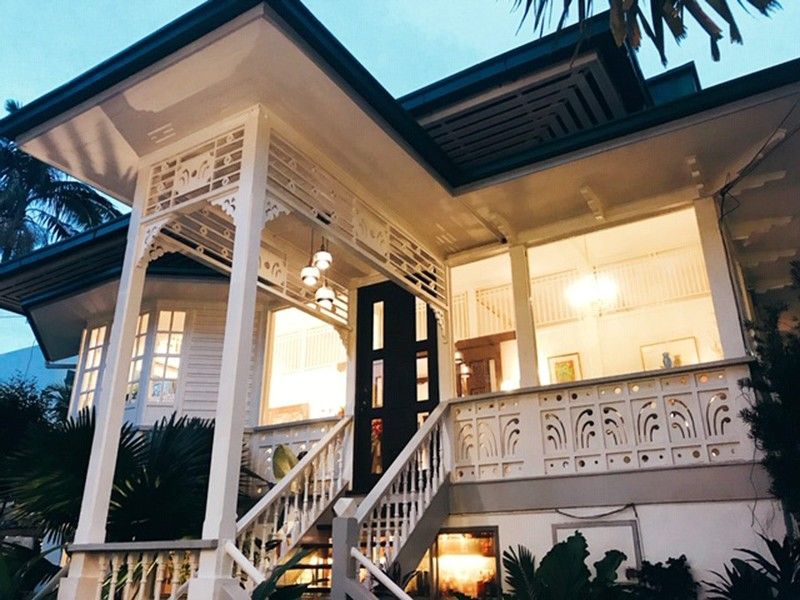 Refined Davao flavors in a beautiful, Historic Setting
Tola, a newly opened restaurant in Davao, is named after the region's unique version of a quintessential Filipino dish.
"The name Tola is short for their style of tinola, inspired by the fishermen who are out in the sea," explains Rob Pengson, Tola's chef consultant. "They make their tola soup so simple, so plain, but you don't find it anywhere else. It's tinola of fish, and it's one of the things that resemble what Davao food is all about."
Last I heard, Pengson was in the process of opening his signature restaurant Beso Beso in Makati, so I was surprised to see him shuttling on the reg to Davao a few months before his restaurant was supposed to open in November.
"I could not say no to my ate!" he says, by way of explanation.
Apparently, Rob's older sister Tricie Pengson-Arcenas and Davaoeño brother-in-law Vince Arcenas are part of the group that owns Tola, and Tricie asked Rob to help them develop the menu and train the cooks — an offer Rob couldn't very well refuse.
"We wanted to elevate the food and have a good system," explains Vince, "because downstairs (at Huckleberry, a popular Davao bar also owned by the Tola group), the way it operates is completely different, so we needed Robert to bring his professional skills and establish a system, and also develop the recipes."
"I really enjoyed coming here," Rob says. "I learned so much about Davao cuisine that two of the items on our upcoming Beso Beso tasting menu are Davao-inspired: the sutokil is very Mindanao, di ba? And also the sinuglaw."
Heritage House
Tola (full name: Tola, Kan-anan Sa Balay Oboza) is located in a 90-year-old compound owned by the Obozas, the family of one of Davao's first mayors.
"They were living here until maybe 10 years ago and decided to rent it out, but they were very selective with whom they rented it out to," explains Vince. "So the first one that took over the whole lease initially was Claude's Café — a friend's restaurant — and then we had that place underneath. And that place turned into Huckleberry about five years ago."
Huckleberry is the allied but complementary opposite of Tola, serving American Southern cuisine, while Tola specializes in Filipino Southern.
"They have good shrimp and grits, good fried chicken," Rob says. "I have it every time I'm here."
Huckleberry's executive chef Kenneth "Tata" Villaluz, a transplanted Manileño who now lives in Davao, is also part of the Tola group, which includes Chris Pamintuan, president of the Davao institution Apo View Hotel, and Kim Pamintuan, CFO of his mom's Ann Pamintuan Designs.
Even from the outside the Oboza house is stunning, and inside the ancestral abode is no different. "A lot of people have stayed at this house, like Manuel Quezon," notes Vince.
The main dining room is framed by the balay's original carved wooden arches and pillars, and the rooms now serve as function rooms, each with its own elegant design motif. The largest one in the center is called the Alfonso Room, after the owner of the house, Alfonso Oboza, and it boasts a lucky history: "Apparently, any deal that's made there and hands shaken eventually comes to pass," notes Rob.
The room's original hardwood chairs have an "O" seal carved onto their backs. The wooden floors, beams and doors are also part of the OG dwelling. Vince says they enlisted renowned interior designer Isabel Lozano to complete the look of the space while respecting the house's vintage elements.
"The vision she had for here was like a 1915, 1920s throwback to the Golden Age," he notes. "So that's the tropical feel we wanted."
"It's a heritage home, so I think it's important to maintain the history," agrees Lozano. While maintaining the house's integrity, she added details like pocket doors, wainscoting, re-stained the floors, customized fabrics for the furniture and built a beautiful curved wooden bar that was so inviting I ended up hanging out there from aperitif to dessert.
EAT LIKE A LOCAL
Rob, for his part, trained Tola's chefs over three visits of five days each, developing a Filipino menu with a strong Davao influence. "The partners, their instruction to me during the development of the cuisine is that when people go to Davao, you need to eat like a local. So it has that Davaoeño flavor of Filipino food," he says. "And when I came here they took me out to eat in all these wonderful places. I fell in love with it."
They fed Rob bagaybay, "which is the sperm sac of the tuna, and it's now my favorite ever. And they have these wonderful clams, imbao — they're bigger than the oysters from Aklan. And the tuna here just tastes different. So that's when I realized how limited the Manileños' version of Filipino cuisine is."
Not only is the bar beautiful; the drinks shaken and stirred behind it are also rave-worthy: "We got (professional mixologist) Enzo Lim to do our drinks," says Vince. "He's the same guy who did our drinks downstairs."
"Enzo started in the States (at the trendy New York restos Maharlika and Jeepney) and made a name for himself making really good drinks," adds Rob.
While Huckleberry features a lot of infused rums, Tola serves cocktails incorporating tropical fruits like coconut sangria and inspired by Pinoy pop-culture icons like Jollibee's peach-mango pie.
For my aperitif I chose La Morena, an endearing elixir of tequila, orange bitters and watermelon syrup showered with dark-chocolate cocoa nibs.
It led beautifully into Rob's Abrigana (appetizer) of Sinuglaw, a portmanteau that describes an interesting Pinoy hybrid merging the smokiness of sinugba (grilled) pork belly with the tartness of kinilaw (ceviche) of fresh tuna — you can't get more Pinoy than that contraction of words and mash-up of flavors.
Next came the Ensalada At Gulay (salad and vegetable) course, Itlog Na Pula — savory salted egg with tomatoes and onions in a tangy calamansi-vinegar dressing — personally one of my favorite salad combinations.
Sabaw (soup) followed, and it was kansi, a dish originating from Rob's native Bacolod. A cross between sinigang and bulalo, bone marrow and beef shanks lend their earthy meatiness to a sour lemongrass broth enlivened by jackfruit (langka). My (and, I suspect, most Filipinos') preferred way of eating this is by first dousing a mound of white rice with spoonfuls of the hot soup. Then, if I'm lucky enough to get a bone with marrow still inside it, I'll slide out the glistening fat, mix it with my soupy rice, and eat the meat and vegetables along with it — pure heaven.
Tola's Sud-an (mains) consist of Filipino favorites like sizzling sisig, which you can have as classic pork or fish (bangus), white adobo, and seafood and pork dishes galore, whether you want something as simple as steamed Pompano, as guiltily pleasurable as crispy pata, as exotic as bagaybay or as comforting as Ang Bulli, Tola's version of local favorite Bulcachong, beef stew made with lemongrass and tomatoes.
Panghimagas (dessert) of Ice Buko on a popsicle stick brought me back to the long, hot summers of my childhood, though I wouldn't mind trying Tola's durian cheesecake for a hit of Davao's fabled fruit.
This is Filipino cuisine as filtered through chef Pengson's refined palate, though it's not so tweaked as to be unrecognizable or so elevated as to be snooty. It still tastes like authentic lutong bahay (home cooking) and, though the sophisticated ambience might lead you to think otherwise, Tola's prices and style of serving are refreshingly down-to-earth. Though Pinoys usually like to share family-style, solo diners have the option of ordering single portions at pocket-friendly prices. A solo appetizer starts at P75, salad at P65, main at P160 and dessert at P45. Large plates meant for sharing start at P140 for an appetizer, P125 for salad, P270 for sisig and P280 for a main.
Taken as a whole, I would consider the 65-seater a destination restaurant for both locals and tourists alike. Tola is the place you should go if you want authentic local flavors in a beautiful, historic setting you wouldn't be ashamed to take your balikbayan or expat friends, business colleagues, or maybe that girl you want to impress to. As the locals would say, "Mangaon ta!"
* * *
Tola is located in the Oboza Compound, 143 Rizal St., Poblacion District, Davao City. Call 0961-108-1724, 082-238-6419, or email toladavao@gmail.com for more info or to reserve a table. Follow them on Instagram @tola_davao and Facebook @toladavao.
* * *
Follow the author @theresejamoragarceau on Instagram and Facebook.