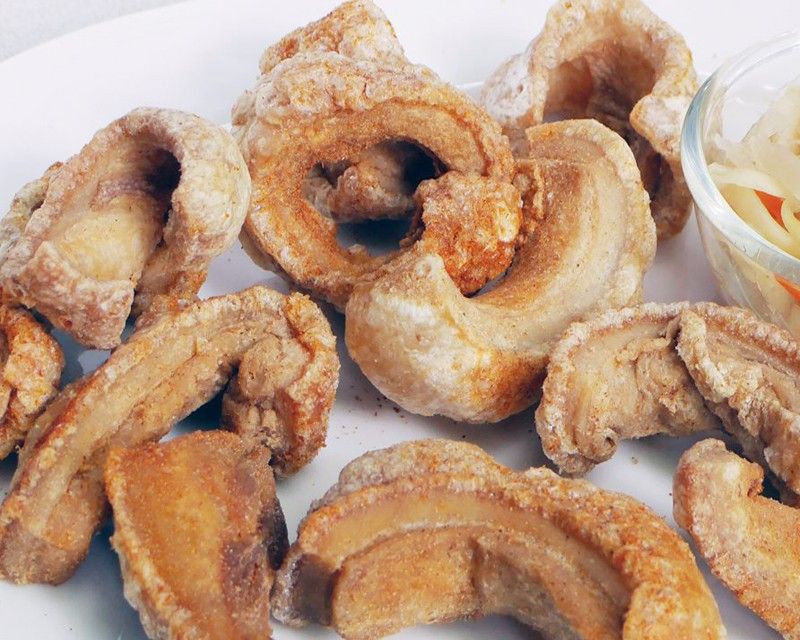 Chicharon may laman: Made from the pig's backfat
Photos Claude Tayag
Chicharrific: Potion or poison?
Chicharon is good in a bad way, but it could also be bad in a good way, too. It is a known fact that chicharon is deemed unhealthy due to its high fat content.
What is it with Filipinos and chicharon?
No other nation in Southeast Asia has this obsession — or rather, fatal attraction — to the pig, especially its crispy, crackling skin, be it in lechon, crispy pata, lechon kawali, bagnet, and most especially, chicharon.
No matter how hard you may resist the temptation, this often-maligned treat is bound to hound you wherever you may find yourself in the Philippines — in the streets with ambulant vendors, bus terminals, kiosks, wet markets, supermarkets, gas stations, restaurants, and just about any gathering, especially during a male drinking binge (to line the stomach with fat, or so they claim.)
It's generally believed that chicharon is one of those delicacies we got from the Spaniards, or at least, the borrowed word. According to Antonio Sánchez de Mora, head of the Archivo General de Indias, Sevilla, Spain, "Chicharrón (the Spanish spell it with a double "r") originated in the Andalusia region of southwestern Spain, where most of the colonial seafarers came from. It was in Cadiz, one of its five provinces, where the ships embarked to the New World. They brought with them their food ways, including all things pork, especially its curing into jamón, tocino (bacon), chorizos, and chicharrón.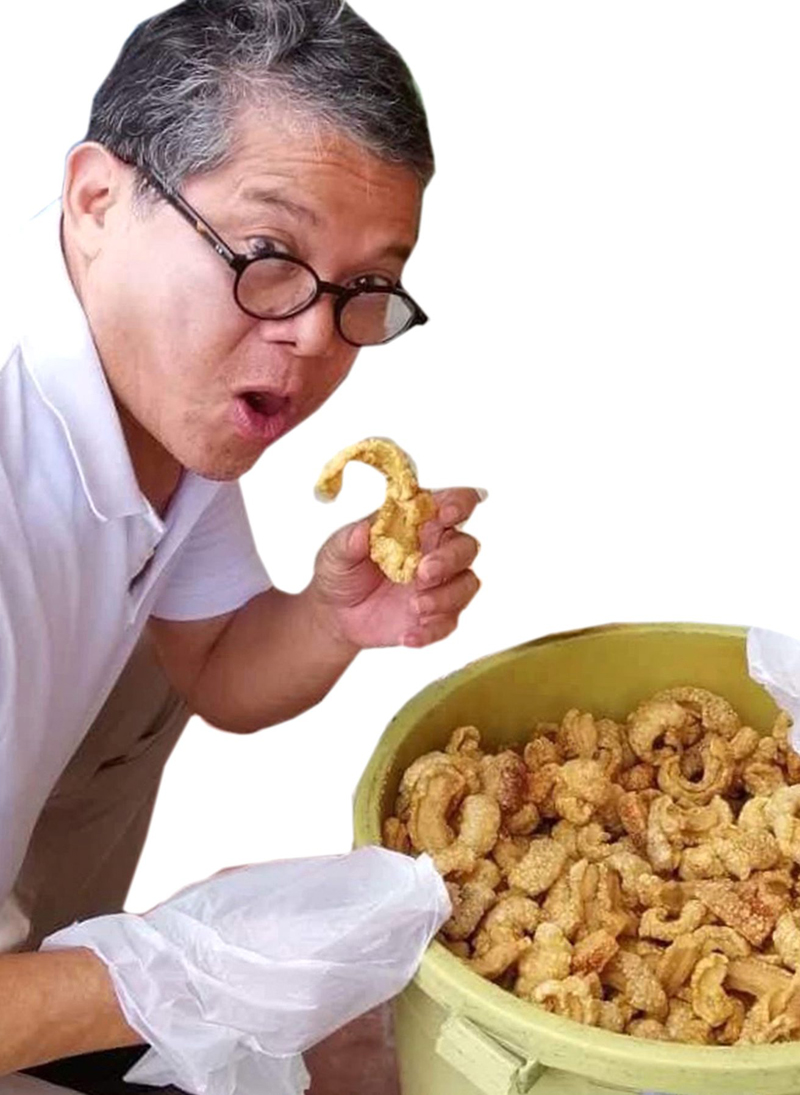 Gets niyo?The ham eats skin: Author Claude Tayag dips his hand in a drumful of the golden nuggets in Carcar, Cebu.
In fact, in the town of Chiclana de la Frontera in Cadiz, there's an annual "fiesta del chicharrón" to celebrate the town's specialty. All former Spanish colonies have their version of chicharrón, differing in shape, size and seasoning. In the central and northern parts of Spain, though, it is called also torreznos or cortezas."
Closer to home, I was recently invited to speak on this somewhat misunderstood yet popular Filipino snack at the MusKKat (Museo ng Kaalamáng Katutubò), at the Bayanihan Center in Pasig City. The museum's director Cora Alvina billed it as "Chikahan Chicharon," part of their ongoing series of lectures on food and drink, travel and language, weapons, and beauty and fashion. MusKKat is a foundation engaged in a museum development project, with Unilab as its main benefactor.
Not surprisingly, food is the top draw to events, as their surveys and reviews consistently show. A new development about their lectures, however, is that they actively co-curate each lecture with the speaker, with MusKKat providing not just technical support by way of assistance in organizing the PowerPoint presentation, but scientific research and visuals as well. My third time to speak in this forum, this was the best attended and had the most enthusiastic audience I had by far. It could have been billed the "First Chicharon Convention" ever in the country.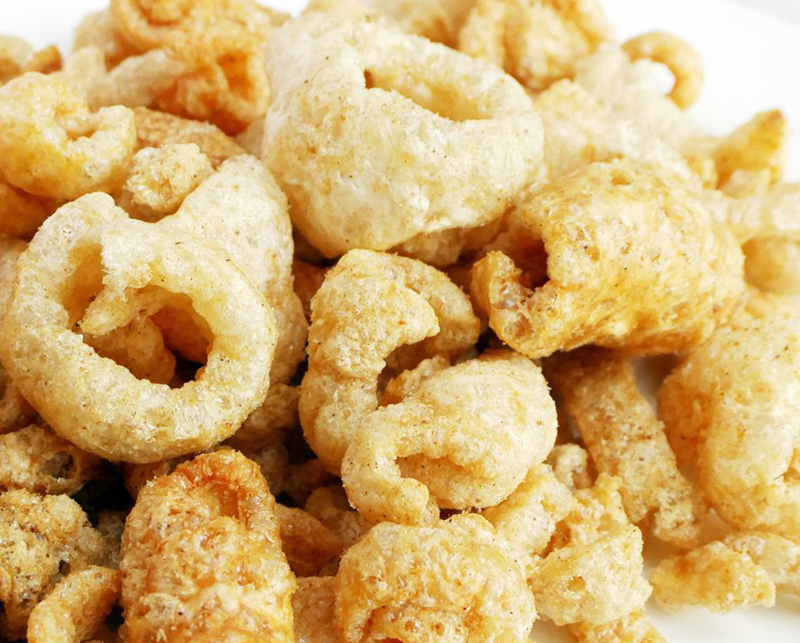 Chicharon bula: Airy, all-skin chicharon, aka chicharon bobo or tanga. Kasi nga walang laman, puro bula lang.
In my talk, apart from separating the myths and facts about this crackling treat, I presented the contrarian view that chicharon (spelled with one "r" to mean the Pinoy kind) may have already existed in pre-Hispanic Philippines. To begin with, as Cora Alvina noted in her introduction, fossils of the endemic native pig (baboy damo?) were found in the Callao Caves in Cagayan, carbon-dated to be 60,000 years old.
Even the domesticated pig, which was foreign in origin, was believed to have been introduced through the land bridges connecting Taiwan, Batanes and Luzon approximately 4,500 years ago.
In her book Tikim, Doreen Fernandez wrote (in the chapter "The Flavors of Mexico in Philippine Food and Culture: Indigenization, when a foreign name is adopted"), "The grains, fruits, vegetables, and dishes that traveled from Mexico to the Philippines are not only recorded in history, but are especially engraved in the language. The Mexican names have persisted, and have been adapted into the vernaculars, without being replaced by local names. Where there is no local name, but only a Mexican one – Filipinized or not – therefore, the Mexican origin is quite clear." Examples of this are: achiote/ atsuete; mani/ mani; chocolaté/ tsokolaté; jicama/ singkamas; avocado/ abokado; tamale / tamales/ tamalus; etc.
But in the case of chicharon, there is — or rather, there are —local names found in several parts of the archipelago: bagnet in Ilocos Norte; okilas (skin only) in Ilocos Sur dipped in dinardaraan (all-blood dinuguan); pititian in Pampanga (bite-size chicharon; from the root word titi or to fry in its own fat); agas and tacas in Bicol (what remains of the rendered fat); tulapó in Iloilo (all-fat rendering, aka chicharon Bisaya).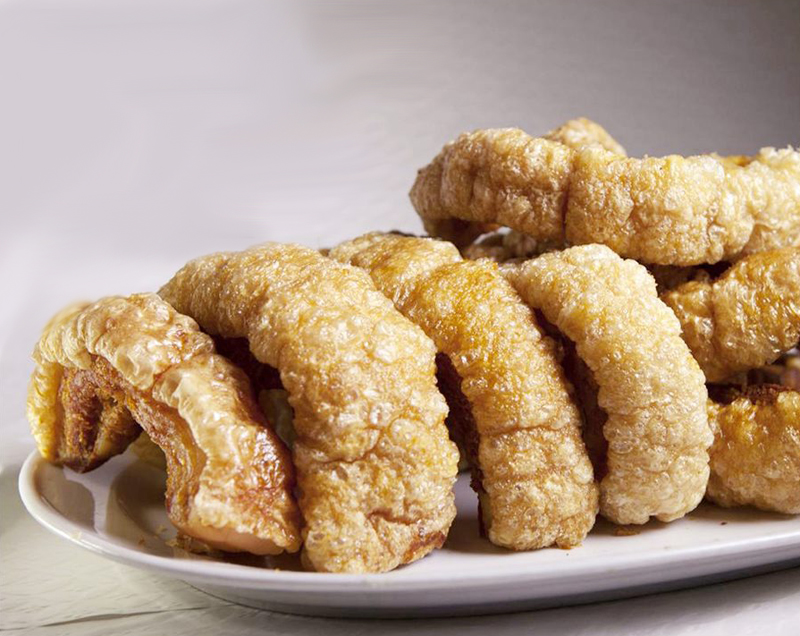 Spanish chicharrón, aka torreznos: Made from the bacon cut of the pork belly
But not all chicharon are created equal. It comes mainly in two variants, with the difference in skin-to-fat ratio: may laman (firm and dense with meat, actually mostly fat) and bulá (airy all-skin, aka chicharon bobo and tanga).
Chicharon aficionados say its texture should be firm to produce that crackling sound once bitten into, but not hard enough to be unfriendly to one's gums or even chip a tooth. And, once chewed on, it shouldn't stick to the back of the mouth.
In the Filipino context, chicharon doesn't refer only to pork rinds, but also to all things deep-fried to a crisp. Thus, attached to the term chicharon are any animal skin and its innards: bituka (intestines, aka bagbagis in Ilocano), bulaklak (flower fat), isaw manok (chicken intestines), butsiron/ buchiron (chicken esophagus), fish-charon (fish skin), sawa or phyton skin; mushrooms and even processed cracklings, the so-called vegetarian chicharon snacks.
And of course, what would our crispy cracklings be without its requisite sawsawan or dipping sauce: suka/ vinegar, and always spiked with chili, garlic and black pepper.
According to food chemists/technologists from the UP College of Home Economics and DOST, chicharon is made up mostly of fat and fatty acids. Without seasoning, the taste is rather bland but cloyingly oily (nakakasuya), just like other fatty, fried foods like potato chips, fries, kropek (shrimp crackers), okoy (shrimp fritters) and other pig's parts with crackling skin (crispy pata, lechon kawali, bulaklak, etc.). The acidity in vinegar "cuts through" the oily, cloying taste.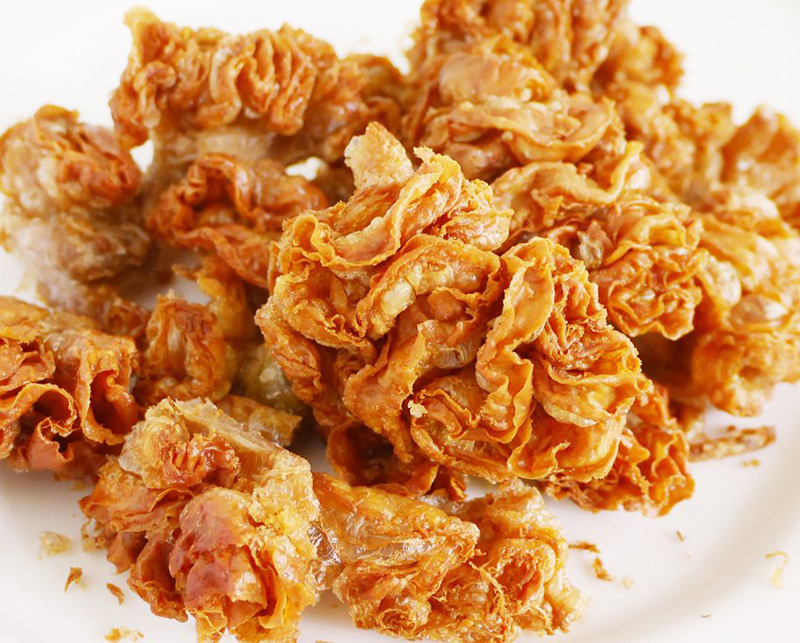 Flower power: Golden-brown chicharon bulaklak
Clara Reyes Lapus of Mama Sita set up a vinegar booth during my talk, with a free tasting of some 10 kinds of vinegar variants.
In Pampanga where I come from, though, the sweet/ sour/ salty papaya atsara/ achara is preferred over the vinegar to counter the fat. It is also a common practice to have the meaty chicharon eaten with rice and a fresh tomato sawsawan with onion, cilantro and bagoong alamang (shrimp paste), eaten with one's hand, to boot. (Why does our food taste better when eaten with our hands? Just asking. Wink, wink).
In the Filipino kitchen, chicharon is not only eaten as is, but also is used in many of our staple dishes. What would the Ilocano pakbet, Pampango pancit luglog/ palabok, Tagalog munggo gisado, and Ilonggo batchoy be without the crackling bits? Well, one can actually skip it, but it will be less fun without the these musical high notes.
The good, the bad, and the yummy
Chicharon is good in a bad way, but it could also be bad in a good way, too. It is a known fact that chicharon is deemed unhealthy due to its high fat content. But the kind of fat that's in chicharon is mostly mono-unsaturated, the same healthy kind of fat found in olive oil, avocados, and macadamia nuts. Some kinds of chicharon have as high as 40 percent of this "heart-healthy" fat. Seriously? I'm not kidding.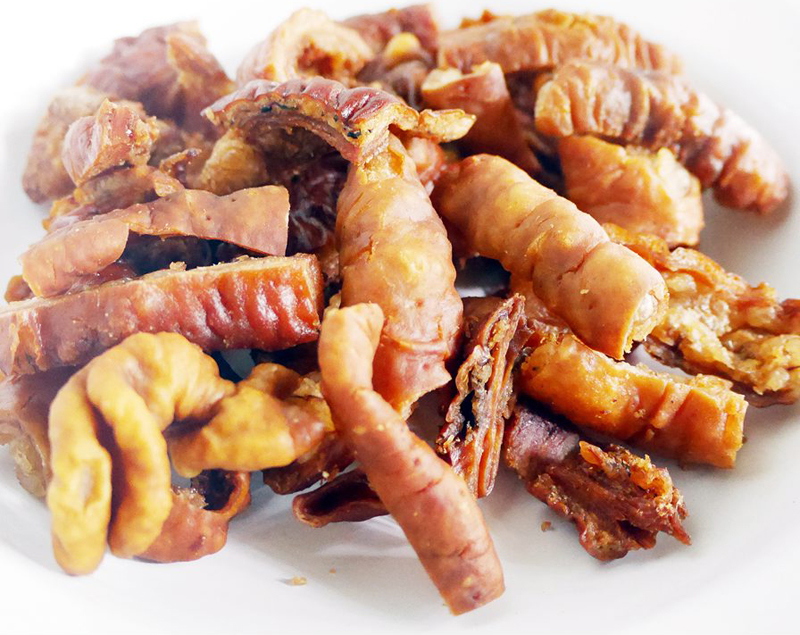 Bagbagis: The Ilocano name for chicharon bituka (pork intestines). Pictured is the best bagbagis I've ever had, made by Pamela Aragoza of La Preciosa Restaurant in Laoag City.
It is also high in protein, comparable to the protein content of Greek yogurt, and has nine times more protein than potato chips. Since it has zero carbohydrates, it is Keto diet-friendly. It is the seasoning used, mainly salt, that raises blood pressure, which in turn could lead to heart problems. But it is also high in calories. (Source: Dr. Gideon Lasco, a medical doctor and columnist).
Potion or poison? natural vs. processed
Just compare the list of ingredients of a supermarket-bought chicharon and processed vegan chicharon.
Chicharon: pork skin, lard/ cooking oil, salt, monosodium glutamate (MSG).
Vegan chicharon: dehydrated green peas, vegetable oil, tapioca starch, dehydrated potatoes, seasoning: rusk powder (from hard, dry bread, i.e. biscocho, mamon tostado), sugar, spices, anti-caking agent (silicone dioxide), MSG, disodium guanylate, disodium inosinate, stabilizer (calcium carbonate), and antioxidant (TBHQ).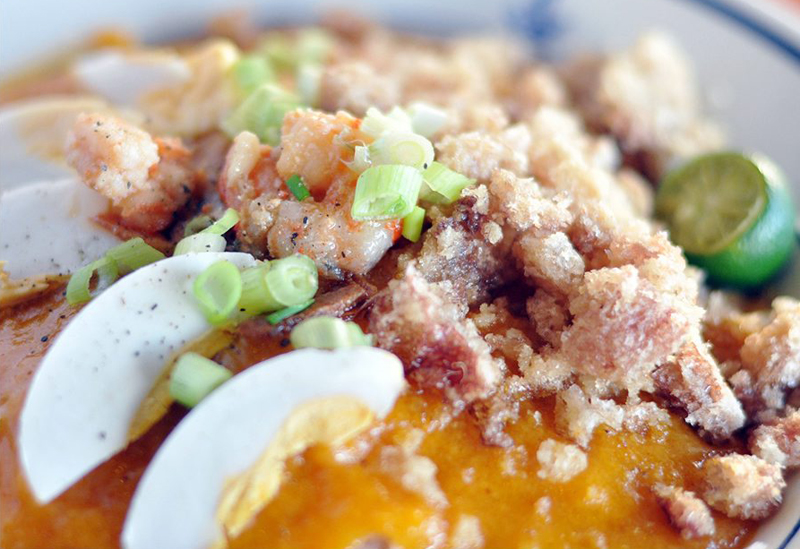 Pancit luglog/ palabok: This noodle dish wouldn't be complete without a generous amount of crushed chicharon.
Like in most everything good that is bad (i.e., cigarettes, alcohol, chocolates, illicit sex, wink, wink), chicharon produces the "feel-good" chemicals (endorphins, oxytocin, serotonin and dopamine) that make us happy when consumed, at least for a while. Well, my advice is to just avoid it or have it in moderation.
Choose your poison. Or potion (wink, wink).
Give me lard or none at all.