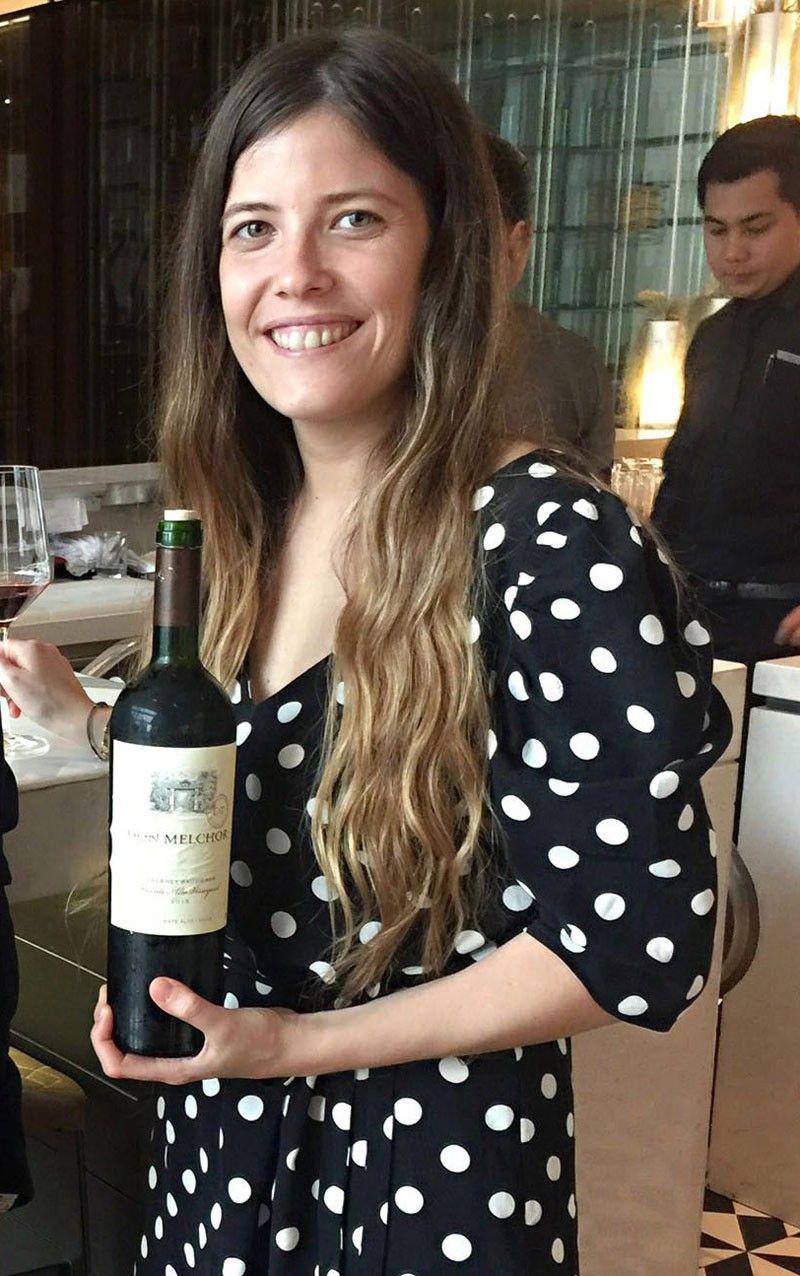 Isabel Mitarakis is an integral part of the winemaking team of Don Melchor wine.
Spilling secrets with a lady winemaker
I love eating everywhere in the world I go, and it isn't just about the food for me. I love stories, meeting the people who prepare the food and getting to know them more. I'm quite fortunate that when I do go around to eat, I get to meet the makers and I get my fill of stories.
It's different, though, when I drink. I don't get to meet a lot of winemakers. When the distributors of Don Melchor wine called with an invitation to not only taste the 2015 vintage of its beloved Cabernet Sauvignon but also to meet one of its makers, I could not resist.
Isabel Mitarakis flew all the way from Chile (total travel time: 35 hours) to drop by Manila to present the 2015 vintage of Don Melchor wine. After giving a short presentation on the winemaking process, I was excited to try a glass. I was, however, curious about the maker herself, because as effusive as she is with praise and information on the wine, she was very shy about revealing details about her life. I managed to grab some one-on-one time and find out more about her.
While Chilean by birth, I took note of her last name and she explained that her grandfather was Greek by birth, and he moved to Chile.
Her grandfather also took a prominent role in her entry to the wine business. It was quite interesting to learn that he had been one of the first to invest in the wine business with the Concha y Toro family.
"I think my pacifier had wine," Isabel laughed, recalling how involved their family is in winemaking. Having family in the wine business and taking her first sip at age 12, it was only natural that she would go on to take up agriculture in college and specialize in winemaking. She got her chance to work with the Don Melchor brand in 2013, no small feat.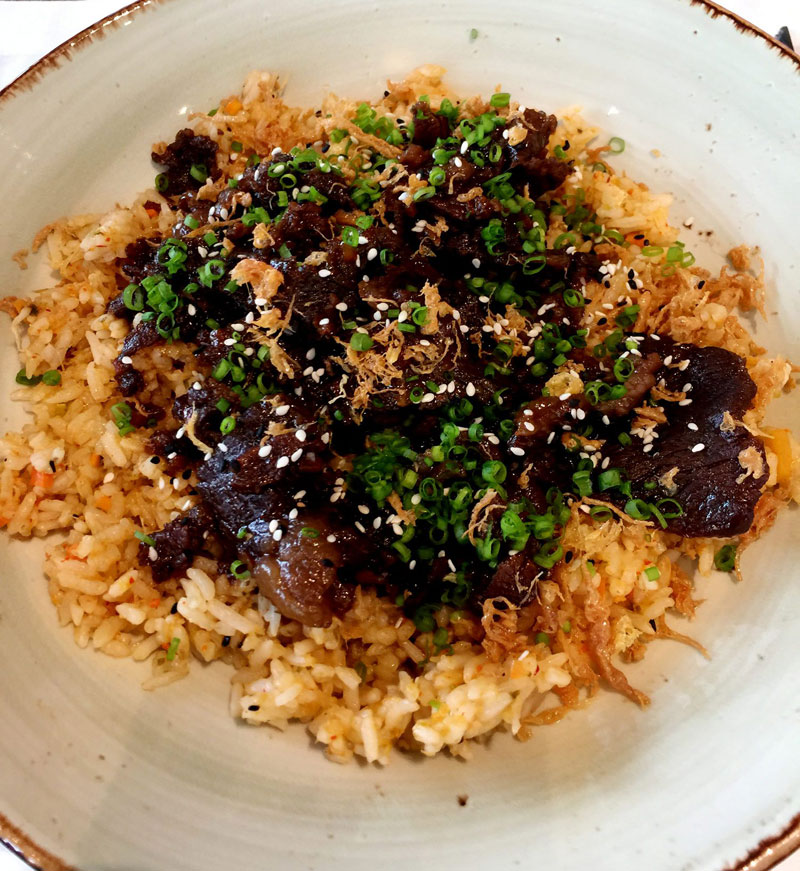 Don Melchor wine was paired with Bulgogi and Kimchi Rice from Discovery Primea.
Gender diversity in winemaking
I was heartened to see that gender diversity has found its way into the winemaking field as well. "It wasn't as common (having female winemakers), but now it's more common," Isabel said. "For example, in my class of 30, it was 50 percent males and 50 percent females. But if you looked at the class of my boss (head winemaker Enrique), for example, there was maybe, I don't know, 70 percent males, so it's changing."
When I asked if females encounter more difficulties in the winemaking field, she assured me it's gotten better. In fact, she thinks there are advantages. As a female, she can "sense different things, so it helps when I work with Enrique; we can share about the wines. We have different senses so together we can talk about the different flavors we taste and make better wine."
Tips from a winemaker
On a lighter note, I asked Isabel if winemakers ever get drunk at work.
"No," she said with a smile, "because we spit out the wine when we taste it; we do not drink it." When I asked if she ever gets tempted to drink the wine, we laughed. "Of course! But I drink wine at home or with friends. In the cellar, when we taste the wine, we spit it out. Otherwise, we cannot continue," she said, mimicking a drunk person.
I also wanted to confirm a rumor that the best time to taste wine is in the morning. Isabel confirmed it's true, because in the morning "you feel everything. After lunch, your nose, your palate, are more closed. When you wake up in the morning, you feel everything; you smell the flowers and things like that."
When I joked about having wine for breakfast, she laughed, shook her head and said mornings are only for tasting. Asking her when the best time to drink wine is, she gave a wonderful response.
"You have to find the best occasion. For me, wine is something to enjoy, so if I'm going to enjoy in my apartment, in my house with my friends, then that is the best time. Maybe you can also drink alone, while reading a book. When you will enjoy, that is the best time."
Speaking of enjoying wine, I asked her if her friends or dates feel the pressure of picking out the wine or if she selects it herself. "Sometimes they pick the wine and sometimes I pick the wine. For me, it's good because I have to taste more wines anyway."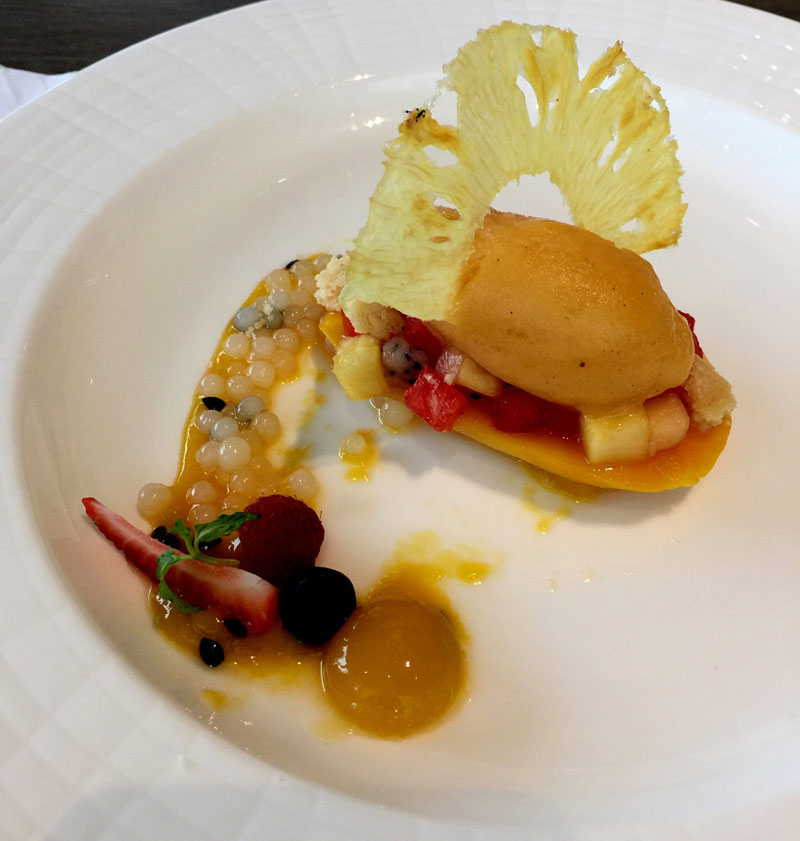 Don Melchor wine went well with this fruity dessert as well.
On the practical side, one of the first things I learned is about temperature. For reds, Isabel recommends keeping the wine cool at 15-16 degrees Celsius. "When the wine is cold, like 10?, the aromas will not appear. You can't taste all of the layers of flavor in the wine."
She also recommends opening the bottle an hour earlier than when you plan to drink it. When I asked for tips of things to say to sound more like a wine expert, she assured me there is no need to pretend. "The thing is, it's much better to comment on the wine in terms of what you feel. The easiest way to taste the wine is to comment on your first impression. Then you can comment on what you taste. Sweet, salty, bitterness… like acidity. You don't have to be an expert because everyone can feel something."
Comparing it to being a chef, she described the process in a way I could appreciate. "It's like with food. You can taste if a sauce is acidic or creamy and you can use the same words to describe the wine."
Personal favorites
As a winemaker, Isabel tastes wine on a daily basis, but I wanted to know if she has any favorite wine varieties to drink for pleasure. "I like the Sauvignon Blanc variety because I feel fresh drinking it, with the citrus notes, the flowery notes," she said.
Isabel's favorite should come as no surprise: "I love Cabernet Sauvignon because it is a noble variety, with a very good quality of tannins. It has a good expression with the spicy notes."
Just how much does she love her own wines? Asked about her favorite wines, she doesn't hesitate: "Don Melchor, of course. It's the best in the world."
When I ask her where she sees herself in five to 10 years, she's confident about this, too: "I will continue making Don Melchor!"
* * *
Follow Sharwin's food adventures on Instagram @chefsharwin and for questions, reactions, recipe and column suggestions, you can contact him at www.sharwintee.com.