On Pavlovas: The dancer and the dessert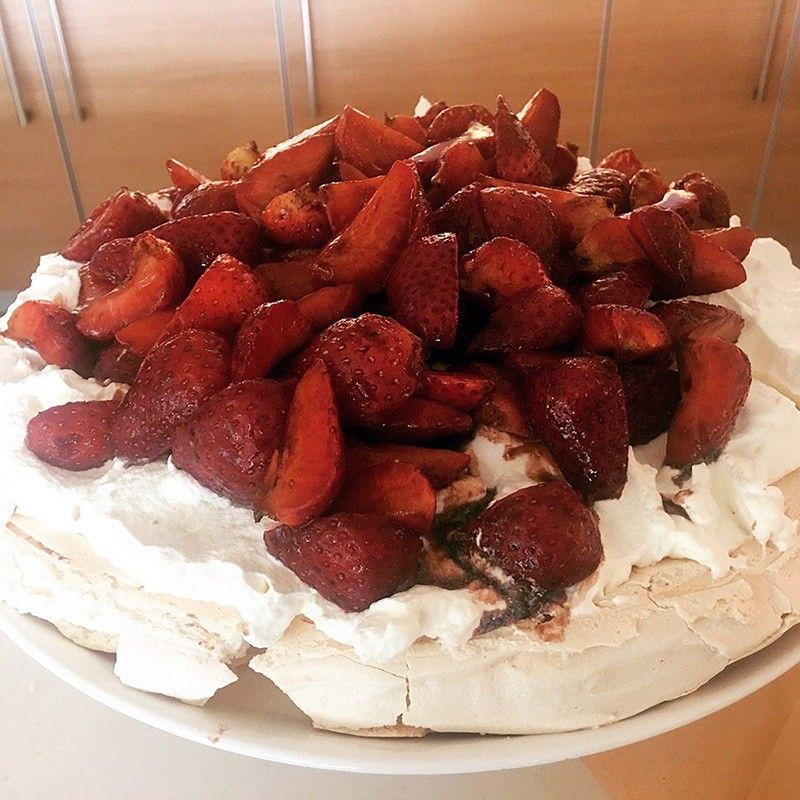 Who is Anna Pavlova? Anna was a Russian prima ballerina, one of the greatest dancers that ever lived. What makes her success even more amazing is that she was not innately gifted with grace or the physique associated with the great ballet dancers of her time. However, her passion for dance was stronger than any hurdle, propelling her to learn everything she could to truly excel at her craft. It was that very same passion that mesmerized her audiences when she took the stage, transcending any physical or technical shortcomings she had to become a legend.
What is a Pavlova? It's a meringue-based dessert inspired by and named after Anna Pavlova herself. Its origins are debatable, with both New Zealand and Australia claiming the dessert as their own, but there's one thing everyone agrees on: the Pavlova, with its crisp exterior and marshmallow-y insides, topped with luscious mounds of fruit and whipped cream, is as ethereally delicious as a performance by Anna Pavlova herself.
So, to recap: one's a dancer, the other, a dessert. One makes the near impossible look impossibly easy, while the other looks crazy difficult but is actually easier to execute than a demi-plié. But both are sheer perfection.
Pursue your passions and your dreams as relentlessly as Anna did. Your love for what you do will help you overcome those pesky fears and any other obstacles that get in your way.
And when life offers you the opportunity to grab some low-hanging fruit (in this case, strawberries), for the love of all that is delicious, take it. It's like mountain climbing or spinning. Enjoy the flatlands and the little hills when you can, because we have enough steep to deal with.
This Strawberry Pavlova, adapted from a recipe by the patron saint of effortlessly impressive cuisine, Nigella Lawson, takes some planning. The meringue needs several hours or overnight to dry out, but the actual work itself is minimal. You'd never know it, though, from the looks and taste of your masterpiece, and neither will your audience. In fact, start practicing your curtsy because you may just inspire a standing ovation.
* * *
For questions, comments and suggestions, email me at [email protected], visit my website www.realgirltoykitchen.com or follow me on FB (Real Girl Toy Kitchen)/IG: realgirltoykitchen.
Recipe File
Strawberry Pavlova
(Adapted from a recipe by Nigella Lawson)
Yield: 6 servings
Meringue:
4 egg whites
Pinch of salt
1 cup superfine (caster) sugar
2 teaspoons cornstarch
1 teaspoon white wine vinegar
A few drops vanilla extract
For the topping:
1 pound strawberries, hulled and halved, or quartered, if large
1 teaspoon high-quality vanilla extract
2 tablespoons balsamic glaze (can be substituted with 2 tablespoons balsamic vinegar and 2 teaspoons sugar)
2 cups high-quality heavy (whipping) cream
Procedure
To prepare meringue:
Heat oven to 350 degrees. Line a baking sheet with parchment paper, and draw a circle on the paper using an 8- or 9-inch cake pan as a guide. Flip the parchment over so the pencil marking is facing down (this ensures that the pencil won't transfer to the meringue).
In an electric mixer bowl, combine egg whites and salt. Begin beating at low speed, slowly increasing to high. Continue until satiny peaks begin to form; gradually beat in sugar a tablespoon at a time until meringue is stiff and shiny. Sprinkle in cornstarch, vinegar and vanilla, and fold in gently. Mound onto parchment within circle, and shape into a disk, flattening top and smoothing sides.
Place in oven, and immediately reduce heat to 300 degrees. Bake 1 hour 15 minutes. Turn off heat, and allow meringue to cool completely in oven for several hours or overnight until ready to use.
To prepare topping:
In a mixing bowl, combine strawberries, vanilla and balsamic glaze. Cover with plastic wrap. Let sit at room temperature at least 15 minutes and up to 2 hours.
To serve, carefully peel off parchment. Invert meringue and place on a platter or cake stand. Gently crack the top with the back of a soupspoon to make a shallow nest for the whipped cream and berries.
Whip cream until it is thick enough to hold stiff peaks, and spoon it evenly over meringue. Cover cream with strawberries, allowing a small amount of their liquid to dribble onto cream. Serve immediately.
Recommended