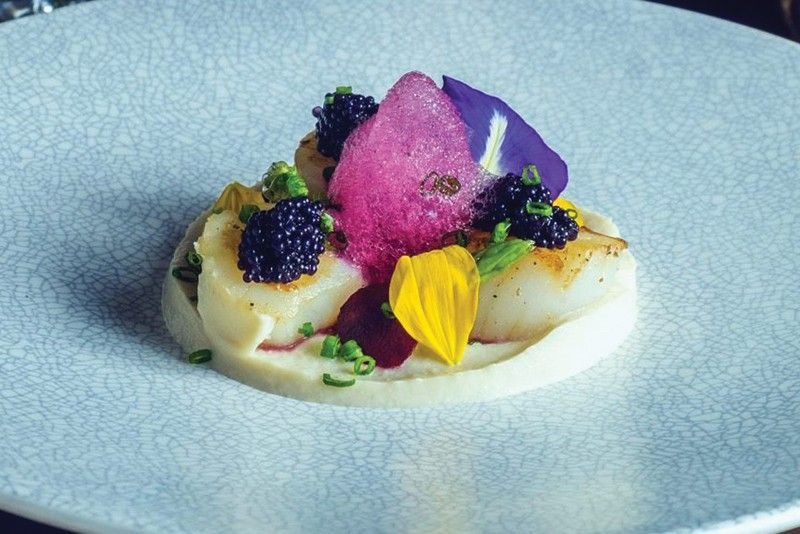 Pan Fried Scallop Topped with Black Caviar with green asparagus, beetroot foam and Brittany sauce
A taste of France at Anya
It's not an easy thing to get me out of my apartment, much less out of Makati. But an invitation to get away from the noise and grime of the city to enjoy a luxurious getaway at Anya Resort in Tagaytay, and a meticulously prepared classic French meal? Yeah, that'll do it.
Last March 21, Goût de France (literally translated as "A taste of France" but widely referred to in English as "Good France") brought together over 3,000 restaurants and 150 embassies all over the world to celebrate French gastronomy, from haute cuisine to quality bistro food.
Organized by the French Ministry for Foreign Affairs and world-renowned chef Alain Ducasse (who personally approved each participant's menu), this year's event paid tribute to Paul Bocuse, the undisputed master of French cuisine who died earlier this year at 91.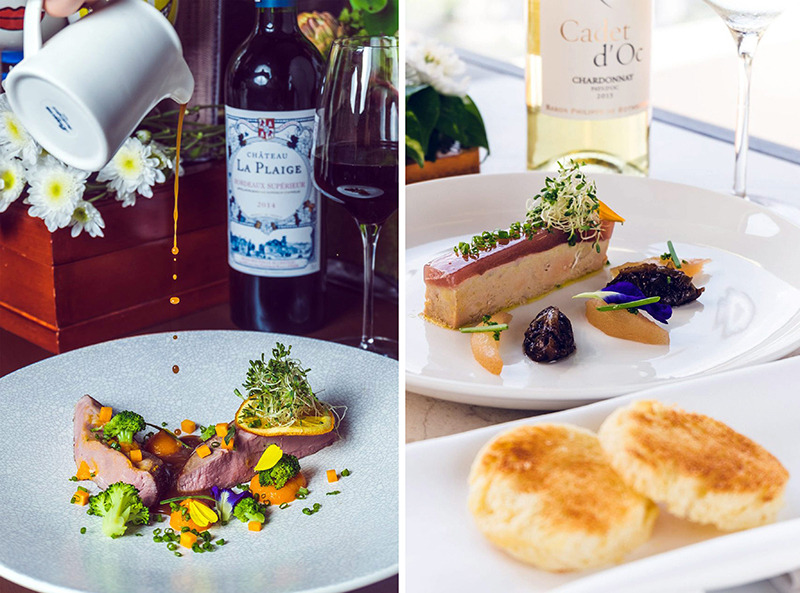 Duck Breast Sous Vide with carrots, broccoli florets and orange sauce(left). Foie Gras Terrine with roasted pear, onion chutney and homemade brioche(right)
Only 18 restaurants in the Philippines were part of the event, and Samira at Anya Resorts was the only participant outside Metro Manila. Preparing the dinner would be chef Jonathan Bouthiaux, a 15-year veteran of Michelin-starred restaurants and five-star luxury hotels.
Upon my arrival at Anya, an attendant immediately greeted me with a wide smile and a heartfelt, "Welcome home, Ms. Garcia!" General manager Peter D'Souza echoed the sentiment when I checked in, as did my spacious suite, complete with a framed photo of me on the nightstand. The only thing missing to make me feel truly at home was a pile of dishes in the sink and a hamper overflowing with dirty laundry, but I guess I'd have to settle for a large, inviting bed, a patio overlooking lush foliage, and sinking into a bathtub full of bubbles instead.
Nestled amid the greenery of lush pineapple farms, Anya Resort is one of only three establishments in the Philippines to be included in the exclusive list of Small Luxury Hotels (SLH) of the World. If a hotel is to be considered for inclusion, SLH inspectors visit the site anonymously to ensure that the establishment meets their exacting standards. Well, they sure met mine.
I had time to kill before dinner so I decided a visit to Niyama Spa was in order. After a 90-minute treatment by a masseuse with magical hands, I felt like a new woman. In fact, I felt like Cinderella waiting for her carriage to take her to the ball. Anya's golf carts? Close enough.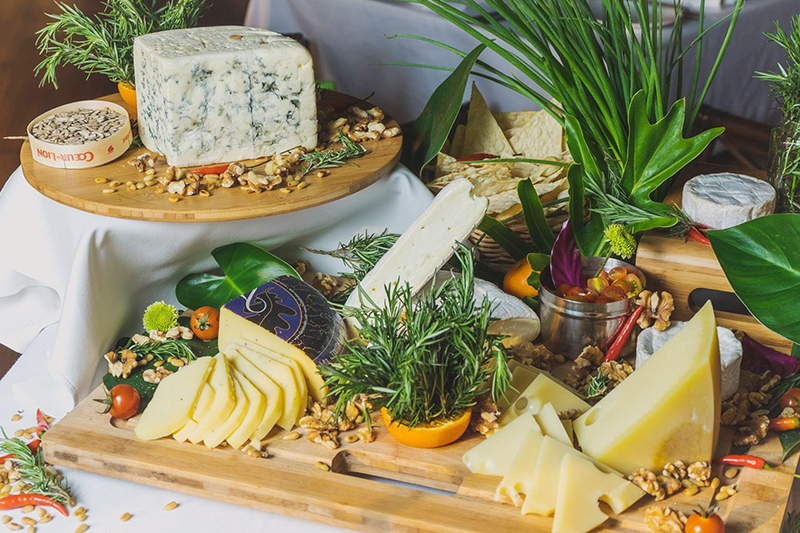 French Cheese Trolley
French music played in the background as we entered the restaurant, and I found myself seated next to Anya's director of operations, Mikel Arriet. I remarked upon the photo of myself in my room, which I found out they tried to do with every customer.
"We like to get to know our guests before they come so we can really personalize their stay," Arriet said, adding that it really wasn't that hard to find a photo in the era of Facebook and Instagram. "One time, though, our staff used a photo of one of our guests standing next to a woman they thought was his wife. Luckily, we spotted and corrected that error just in time, or we could have caused a divorce!"
All thoughts of golf carts, photos and divorce disappeared, however, upon the presentation of Bouthiaux's first course: a smooth, creamy and delicious foie gras terrine, topped with onion chutney and an intensely flavored roasted pear gelatin and atop a slice of buttery brioche. "All our bread is made on-site," Arriet said proudly.
Our second course consisted of plump, pan-fried scallops topped with caviar and served on cauliflower puree with asparagus, beetroot foam and beurre blanc. The third course was a modern take on duck a l'orange, cooked sous-vide style and served with carrots and broccoli florets. And finally, after the cheese course consisting of a bevy of French favorites, dessert.
Despite its modern, deconstructed look, chef Bouthiaux's version of tarte tatin stayed true to Paul Bocuse's recipe (see below) and flavors, a delightful concoction of caramelized apples on a salty-sweet, buttery short crust.
Spend a relaxing evening in one of Anya's luxurious suites.
Sated and happy, I joined the rest of the diners in giving Bouthiaux an enthusiastic round of applause before I was (literally!) carted off back to my suite. Unfortunately, I had an early meeting in Manila the next day, which meant I wouldn't be able to sample any of Anya's other restaurants. A shame, really, because I hear their brick oven pizzas are amazing. But I'll be back. After all, there's no place like home.
* * *
Anya Resort and Residences Tagaytay is located on Buenavista Hills Road, Barangay Mag-asawang Ilat, Tagaytay City. For inquiries and reservations, call 657-1640, (998) 577-9999, or email resv.tagaytay@anyaresorts.com.
For questions, comments and suggestions, email me at Johanna@realgirltoykitchen.com, visit my website www.realgirltoykitchen.com or follow me on FB (Real Girl Toy Kitchen)/IG: realgirltoykitchen
Recipe File: Paul Bocuse's Tarte Tatin
Ingredients:
Short-crust pastry
4 ounces (100 g) butter
Table salt
3 ounces (75 g) confectioners' sugar
9 ounces (220 g) flour
Large pinch (2 g) baking powder
1 egg
Caramel
8 ounces (200 g) sugar
4 ounces (100 g) butter, cut into pieces
1 vanilla pod
Tart
2 pounds 8 ounces (1.2 kg) Golden Russet apples
Sweet short-crust pastry dough
Flour, for dusting
Short-crust Pastry
Melt the butter in a double-boiler, stirring it with a whisk. Let cool for a few seconds. Add the salt and mix. Add the confectioners' sugar. Mix. Add the flour in a steady stream, while continuing to mix. Once the dough begins to come together, take out the whisk and continue to mix with a spatula. Work in the baking powder.
Break the egg into a ramekin, beat it with a fork, then pour it into the dough. Mix it until the dough comes together into a ball. Flatten it slightly, put it on a plate, and leave it to rest in the refrigerator for 1 hour.
If you prepare the dough the day before, remember to take it out of the refrigerator a bit before you want to use it, so that it is not too hard.
You can also make the caramel several hours in advance. There is no need to reheat it before arranging the apples.
Caramel
Heat the sugar over high heat in a saucepan. When the sugar has turned a nice, golden color and is beginning to foam, mix it with a wooden spoon. Add the butter. Mix until the butter is melted.
To make a successful caramel, wipe the pan carefully before starting the process. Move it around during the cooking of the sugar, but do not use any utensils.
The caramel should have a good color without becoming at all brown. Allow 3 to 4 minutes or so.
Pour the caramel into an 8-inch (20-cm) metal baking dish. Split the vanilla pod in two without separating the two halves. Put it into the pan, right in the middle, to form a "V".
Tart
Preheat the oven to 325°F (160°C). Peel and core the apples. Cut them in half vertically. Arrange the apples, standing them upright in the pan. Fill in the center, and fill up any gaps.
It is important for the success of the tart that the apples are all the same thickness. Peel them immediately before cooking to make sure they do not oxidize when in contact with the air.
Place the pan in the bottom of the oven and cook for 1 hour. Check that the apples are cooked. Allow to rest for 10 minutes, then chill for 1 hour.
Preheat the oven to 400°F (200°C). Place the dough on parchment paper, and flour it lightly. Roll it out into a circle about 1/8-inch (3-mm) thick. Lay the lid of the dish upside down on the pastry, and cut the pastry out to the same interior dimensions as the lid. Cut away the excess.
Prick the surface of the dough all over, using a fork. Trim the greaseproof paper to within 1/2 inch (12 mm) of the edge of the dough. Slide the dough, on the paper, onto a baking tray. Bake for 10 minutes. Lay the cooked pastry on a cooling rack. Allow it to cool and harden.
It is always helpful to use parchment paper: there is no need to butter the pan, and the transfer of the pastry base is easy.
After 10 minutes of cooking, the pastry will still be soft. It hardens completely when cool. Handle it with care!
A few minutes before serving, gently warm a serving plate. Place the pastry disk over the apples. Unstick the apples by holding the pastry with one hand and turning the pan from all angles.
When the apples are unstuck from the bottom, turn out the tart. Lay the plate upside down over the pan, invert, and lift the pan away.
From: "My Best Paul Bocuse" (Editions Alain Ducasse)