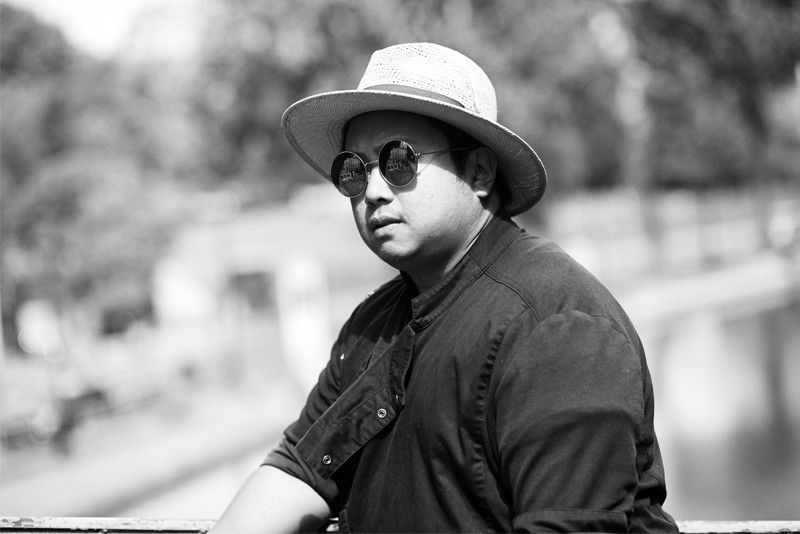 A homecoming for Chef Aaron Isip
Chef Aaron Isip and I go way back. He is one of my BFFs who probably knows every crazy thing I've done under the anonymity of being a self-exiled student in Paris. Not only do we share the same birthday, but we have always shared the same passion for food and — as much as I would love to say wine, I believe the right word here is — booze.
Yep, we would drunkenly wander around the back alleys of Paris, looking to satisfy our late-night cravings of poulet braisé, kebab or pizza. He'd always joke that I was a little bourgeois living in the chic confines of the 6e, but he knew full well that I was happy to go on adventures across town, deep in the heart of multi-ethnic Paris to try some new Vietnamese eatery he discovered or buy spices in some sketchy market.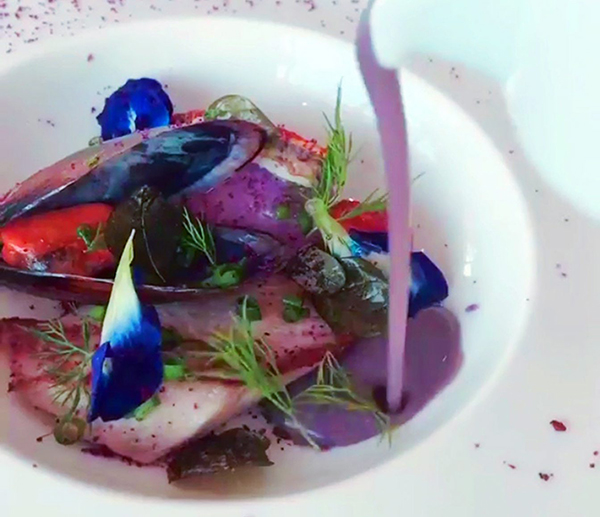 The sophisticated surprise of Ube Bouillabaisse: A delicate mix of heady seafood, anise, lemongrass and kaffir Photo courtesy of Philippine Tatler, T Dining
Aaron is definitely a chef to watch out for. He's earned his stripes in the starred kitchens of Paris, working his way up from lowly commis to finally earning chef status after almost a decade.
Yes, real chef status. In France, you have to earn it. It's not a title thrown around lightly or just because you graduate with a culinary degree. It comes with late nights, abusive work hours and a tough, trash-talking environment that's in stark contrast to the pretty little plates that guests feast on.
He's traveled the world dining in the most sought-after establishments, taking mental notes of techniques and reveling in its artistry. However, the most important quality Aaron possesses in that he is not a snob. He loves everything, from fine dining to fast food, market meals to street-food snacks from all over the world. This gives him an arsenal of flavor profiles that he so masterfully manages to put together.
He can layer flavors and textures from across the globe and apply his hard-earned classical French skills to come up with a dish that is stunning beyond presentation. Personally, fancy techniques no longer impress me. What good are air, foam and sous vide if it has no oomph or flavor? Aaron has always had the maturity and wisdom to know when to apply modern technique and when to just simply cook. And really cook from the heart.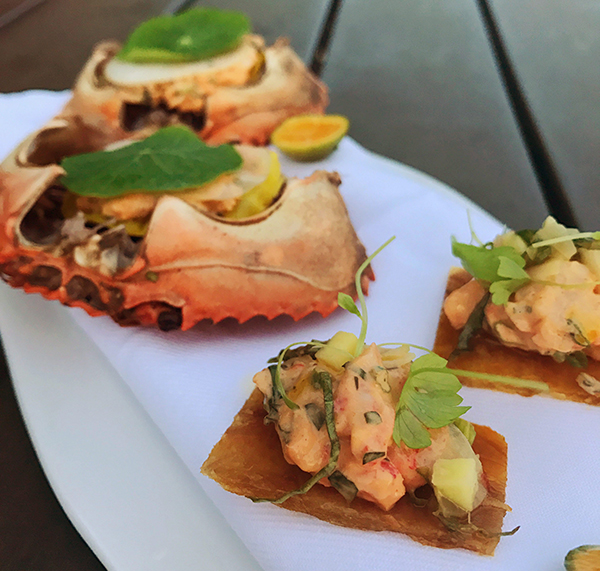 Crab tostada with aligue mayo and crispy chicken skin topped with Carabinero Shrimp
It's no wonder why he was awarded by Gault et Millau the coveted Chef Espoir 2015 for Ile-de-France. Since his departure from France he has been doing a series of pop-ups around the world. His most recent stints were in the W Maldives last November and at the Raffles Hotel's Provençal bistro Mireio for a Philippine Tatler, T Dining Charity Event called "Manille-sur-Mer." The latter was able to raise over P500,000 for the Save Palawan Seas Foundation.
Though literally oceans apart, the two dinners had one rather common theme: the use of Filipino flavors and ingredients married with the freshest ingredients from the sea.
He loves calamansi and wherever he goes he brings fresh ones. He also can't live without patis, salted egg, chicharon and bagoong "to make bagoong butter as a glaçage for sautéed vegetables and salad dressings," he explains. When he is invited to cook abroad, you can guarantee this will be in his suitcase!
Good prep is also extremely important to him. For both events he prepped ahead, stewing up things like jackfruit confit, danggit and dried squid powders, puréed fresh lanzones and chico condiments. For everything else he's happy to go to the market to source his own fresh produce and prep everything without assistance if he has to.
In the Maldives he was inspired by the local produce. "I wanted to make a menu focusing on ingredients from the islands," shares chef Aaron. "Like Maldivian reef fish, Carabinero shrimp and yellow-fin tuna, as well as island cooking techniques and presentation such as grilling over coconut embers, kinilaw and barbecue."
Some of these dishes he brought to the Manille-sur-Mer dinner, such as the crab tostada with aligue mayonnaise, kinilaw of local fish with pili leche de tigre, radish, pickled onion and danggit powder, and the octopus with salted egg annatto rouille, okra crunch and sinigang consommé.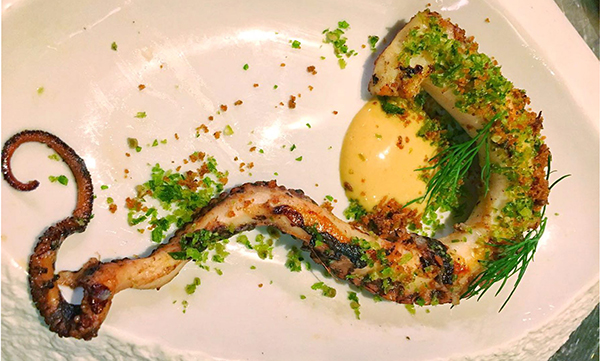 Grilled octopus with salted egg annatto rouille, crispy okra and sinigang consommé (poured on after)
That's the beauty of his cuisine — it has this undisputed global appeal. His use of Filipino ingredients is purposeful and not in your face, requiring no explanation or nostalgic stories. One can blindly take a bite of his kinilaw with danggit powder and know that it all works. Or his grilled octopus with that salted egg and annatto condiment — each ingredient adds a specific layer of flavor, a pungent saltiness or creamy richness, perhaps a bright squeeze of fragrant calamansi. It's never contrived or forced.
The best example would be the highlight of the Manille-sur-Mer charity dinner: the Ube Bouillabaisse. Fresh and delicately cooked, locally sourced fish, rouget and mussels were doused with a thick, purple soup. Purple is an unusual color for food and for some can be a bit jarring, but once you take a whiff of the soup and have a sip, your eyes will immediately close to revel in its sophistication. Every single flavor you would expect from a classic bouillabaisse was there: the heady aromas of shellfish and anise but layered with delicate touches of lemongrass and kaffir. The use of ube here was not a gimmick; it was intentional and it worked. Its creamy texture and subtle sweetness added a whole other dimension to the rustic Marseillaise classic. Absolutely stellar.
For now we have to content ourselves by following his food journey on IG and watch out for upcoming pop-ups, but the good news is Aaron has finally made his way home. He left the world of bistronomie and upscale dining in Paris and is settling on the crystalline shores of Palawan to cook from the heart, trading suits for swimsuits. The project is still in the works but what is certain is that it's going to be good.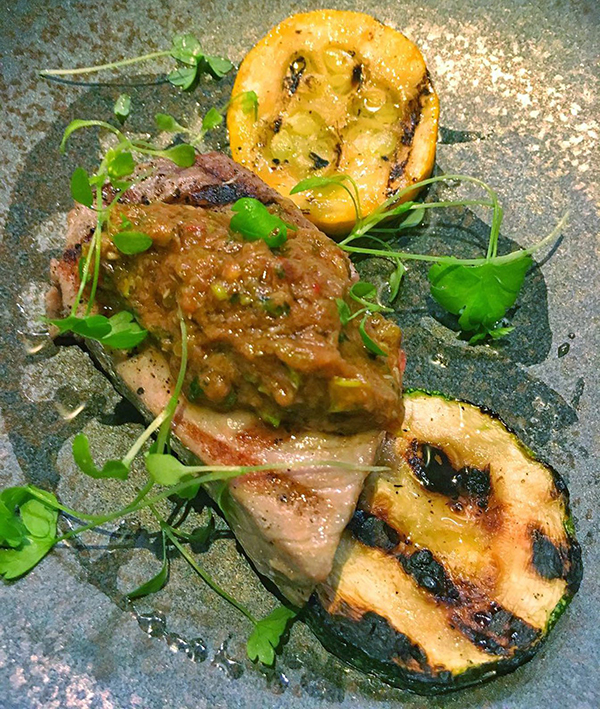 Yellow-fin tuna with tamarind anchovy sauce Vierge
* * *
Follow chef Aaron Isip on Instagram @isipaaron.