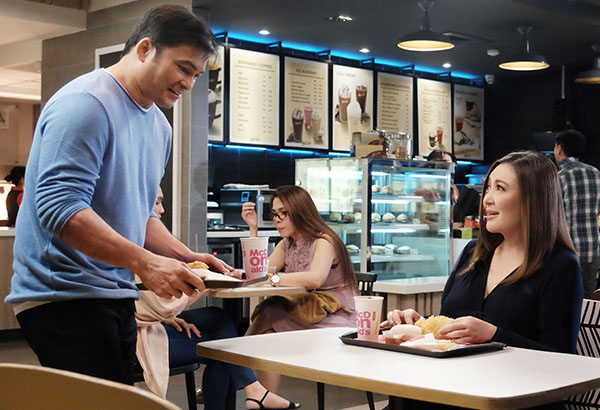 Since Valentine's Day 2018 also falls on Ash Wednesday, it sends out a message of love and forgiveness, as embodied by former husband-and-wife Gabby Concepcion and Sharon Cuneta in this latest TV ad by McDo. The fast food chain now accepts cashless card and QR payments.
Released
Eat your heart out: Valentine's Day dining picks
MANILA, Philippines — This month of love, the following bites and treats might help you fulfill your heart's (and your gut's) desires.
Rolls of love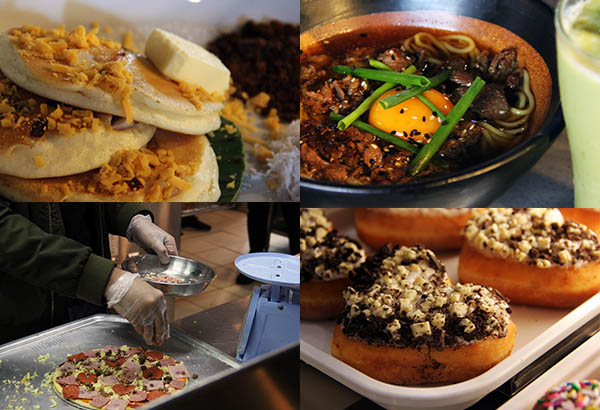 Go on a food trip aboard the love bus, and try novelties such as Pancake House's bibingka pancakes (top left). Philstar.com/Kat Leandicho
Inspiring fans to show their own sweet expression of love, Krispy Kreme rolls out limited edition heart-shaped Valentine's doughnuts until February 18. Take a bite of the Chocolate Strawberry doughnut, a heart-shaped treat filled with Strawberry Kreme, dipped in strawberry glaze and drizzled in Belcolade ganache. Try the Red Velvet with a creamy New York Cheesecake filling or grab the White Chocolate Mascarpone, a white chocolate-dipped doughnut filled with mild and creamy Mascarpone cheese. There is also the Strawberry Peach, a ruby strawberry glazed doughnut filled with Peach Kreme and finished with a tasty Peppero almond stick.
From February 14 to 18, buy one regular pizza of any variant and get a free regular Chicken Alfredo Pasta, regular Salt & Pepper Hustlers and two sodas in-can when you dine in, order for take-out or delivery at Yellow Cab branches in Kidzania, NAIA 3, MOA Arena, Brent and Camaya Coast.
Available from Valentine's Day until March 31, Max's Corner Bakery's Velvet Heart Cakes come in Red Velvet Classic, a classic red velvet butter cake frosted with sweet vanilla cream cheese, topped with whipped cream rosettes and white chocolate curls; White Velvet Cake, a light and fluffy vanilla chiffon cake iced with cream cheese frosting, chocolate shavings and drizzled round chocolate toppings; and Black Velvet Cake, a moist chocolate fudge cake frosted with creamy vanilla cheese and covered with black velvet crumbs with dark chocolate curls toppings.
The rich flavors of Japanese cuisine are best enjoyed when shared. From February to March, Teriyaki Boy offers a set for two. Enjoy one serving of the restaurant's signature chicken, two servings of steaming hot gohan, two pieces of mochi and two glasses of iced tea from February 14 to March 31.
Get up close and personal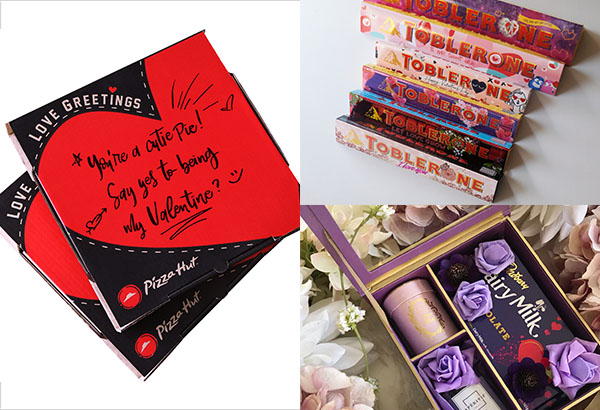 Personalization is still a big trend in gifts nowadays.
Love is in the air, and what better way to showcase your affection than by sharing some sweetness? This Valentine season, Toblerone encourages everyone to be more imaginative by giving love a lot of thought when gifting your loved ones. Keep it simple and personal through designing Valentine-inspired blank packs.
Pop-up Valentine stations will be set up in leading malls, including Robinson's Galleria, SM North EDSA and SM Megamall until February 14. Be inspired to express artistic love with the help of local artists and calligraphers who will be there on selected dates. For techy art lovers, visit Tobleroneph.com to digitally design your own sleeves, which can be printed out at any pop-up Valentine station for a minimum purchase.
This season, the brand ties up with two new artist collaborators whose designs are influenced by what they love the most. Watercolor painter and teacher Alessa Lanot drew inspiration from nature because she loves how greens convey such a positive vibe.
"My design is composed of the different indoor houseplants with heart-shaped leaves painted with watercolor: pothos, caladium, diffenbacchia, philodendron," Lanot shared. "The water-colored note is a little reminder for everyone — friends, lovers, family — to always let love grow and thrive, especially this Valentine season."
Googly Gooeys, a webcomic turned design blog, puts a very fun and animated spin on her approach on the sleeve. "My mission is to bring happiness through color, and so I fashioned my design in a way that is fun, happy and colorful," the artist behind Googly Gooeys mused.
Visual artist Anina Rubio has a more traditional and sentimental take on the season of love, while illustrator Soleil Ignacio remains to incorporate a fashion spin on her design. Graphic designer June Digan's sleeve looks out of this world with outerspace elements she is known for, while graphic artist Juan Rodriguez put an edge to his design with creative lettering and some interesting characters.
Have you ever felt scared to say something? Do you feel embarrassed when expressing what you truly feel? This season of love, chocolate brand Cadbury invite one to love out loud. At Cadbury Love Out Loud on February 14, 3 p.m. onwards at Lane O, Bonifacio High Street, Taguig City, you can write your Valentines message on a heart tag. With the help of technology, your declaration of love will be projected at the larger-than-life Love Wall! You can also hang your heart tags at the purple Love Arcs.
Fancy a sweet selfie, coufie or groufie? Take it under the Love Arcs with your loved ones, too. Get giddy and kilig watching the Facebook Live portion hosted by love team partners Elmo Magalona and Janella Salvador.
The Love Out Loud installations are a romantic destination for you to have the courage to say what you truly feel this season of love. You can find them at Bonifacio Global City, Quezon City Circle, SM Mall of Asia, and Luneta Park from February 15 to March 15.
Likewise, the brand introduces its limited-edition Valentines sleeves. Express your affection to your loved ones and draw them closer by writing your message on the heart-shaped carton flap.
"Don't be afraid to express the way you feel! Love is a beautiful thing!" said the brand's ambassador, Liza Soberano.
This Valentine's, say "I love you" in the most unique way possible. A gift with much thought, a lot of heart, and just the right amount of cheesiness is the perfect present to give bae, boo or babe.
Score a surprise as Pizza Hut presents its romantic February offer. Personal, Regular or Large pan pizzas come in the limited-edition Valentine's Box that serves as your giant greeting card wherein one can write, doodle, or design one's personal message.
Make your valentine laugh by scribbling adorable and witty pizza puns; or keep it sweet with a heartfelt proposal that you have always wanted to say. Select from the brand's signature pan pizzas to convey your affections once they open the box.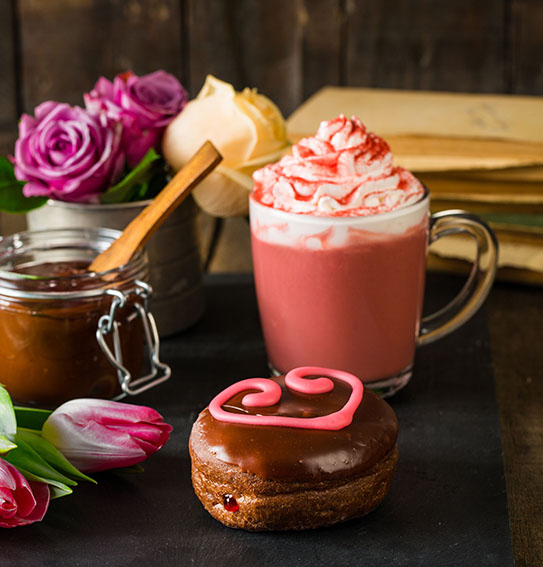 Red Velvet Latte and Choco Raspberry Donut.
"We're very excited to bring extra sweetness to the valentine's celebration of Filipinos with our limited edition Red Velvet Latte and Choco Raspberry Donut. As this is our first Valentines celebration in the Philippines, we hope to spread more love to the Filipinos," says Rickie Yap, president and Chief Executive Officer of Tim Hortons Philippines.
Share coffee with your special someone this Valentine season with the coffee and doughnut pair, available for only a limited time. Get a cup of Tim Hortons' new Red Velvet Latte, a blend of espresso and cocoa with a red velvety texture sweetly topped with whipped cream. Match it with the Choco Raspberry Donut, chocolate yeast donut generously dipped in chocolate fondant, completed with luscious raspberry filling. The Valentine's menu will be available until February 27.
Go on a London-style date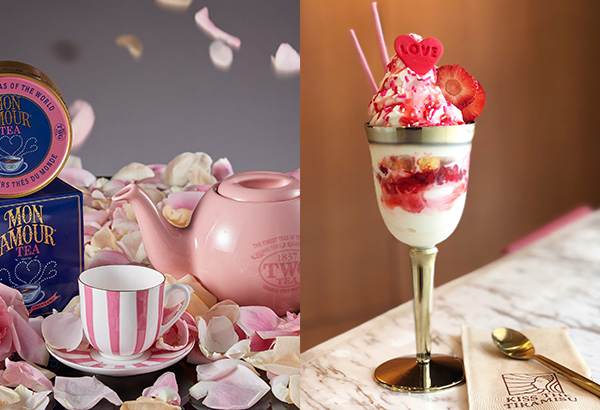 Get ahead of the royal wedding in May and rekindle love, London-style.
Available until February 16 in time for Valentine's Day is Costa Coffee's treat for two. Bring a date to this cozy coffee shop and whisper sweet nothings while sharing two Strawberry Pavlova, a combination of sticky meringue, gooey strawberry sauce topped with crunchy meringue and whipped cream.
Swing by the following branches to enjoy this Valentine's drink: Robinsons Supermarket, Robinsons Galleria; Robinsons Supermarket, Robinsons Place Manila; Robinsons Selections, Venice Grand Canal; Robinsons Equitable Tower; Robinsons Summit Center; Cyber Sigma, Taguig; Tera Tower, Bridgetown; Citywalk 1, Eastwood; U.P. Town Center; The Block, SM North Edsa & SM City Manila.
Lovers or friends, also try two Berry Vanilla, inspired by the classic Eton Mess dessert. Likewise, one can surprise one's special someone with Choco Walnut Tarts or Empire Biscuits.
Embrace the season of flowers and romance with TWG Tea's collection inspired by the blush hues of the delicate rose. On February 14, beckon your beloved with a cup of Mon Amour Tea, a potion composed of rich black and sweet notes of quince, the sacred fruit of the "Goddess of Love."
Perfuming the air with rare and precious essences, the Bain de Roses Tea Scented Candle accompanies evenings of sweet romance. The dusky roses of Grasse envelops you in an intoxicating perfume combined with a secret bouquet of black tea, heady notes of white sandalwood, warm vanilla and fresh grapefruit.
Meanwhile, the Valentine's Day menu includes Tomato Raspberry & Beet Salad, Halibut Risotto, Seared Ox Tongue, and Dulce de Leche Love Me Tea Cake.
Fall in love with Thai dishes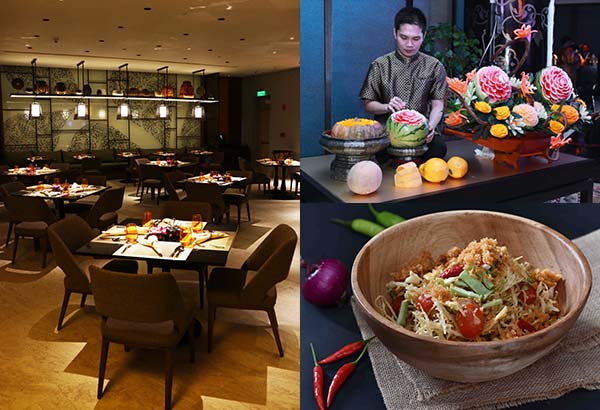 The newly renovated Benjarong in Dusit Thani Manila offers a romantic escape for couples or friends.
With cuisine and a place that is truly Thai at heart mixed with the geniality and gracious hospitality, the revamped version of Benjarong is among the new authentic Thai dining hotspot to rediscover in Manila.
Coming from the pinnacle of heritage of the Land of Smiles, Benjarong literally means "five colors" and pertains to a unique kind of Thai porcelain embedded with stunning intricate patterns. Just like its namesake, the restaurant exudes of elegance in both its interiors and in its center, thanks to its renowned designer Manny Samson.
The new restaurant has been redesigned and relocated to the ground floor for a better and more convenient experience overall, while preserving the rich Thailand tradition. It offers a new Thai perspective, while the dishes served present a blending of Thai herbs and spices.
Featuring a harmonized fusion of traditional flavors enhanced by modern cooking techniques, each dish characterizes Thai cuisine. The classics and all-time favorite dishes have remained on the roster like Moo Ping, Phad Thai Gung Sod, See Krong Moo Krob Wan, Gaeng Khieo Wan See Krong Neau Toon, and Tab Tim Krob, to name a few.
The new creations of the resident Thai Chef Watcharapon Yongbanthom also known to Benjarong's diners as Chef Ja, can also be found on the menu: Peek Gai Yad Sai Gaeng Khieo Wan Tord, Pu Nim Phad Pong Kari, and Gam Pla Phad Piew Wan.
Apart from authentic Thai food, the restaurant now boasts of a bar as well for socializing with friends and colleagues.
Keys to the heart in BGC
Celebrate Valentine's Day at Seda BGC with its dining offers at its signature outlets, Misto restaurant and Straight Up roof deck bar.
For the traditional date, Misto presents A Dinner to Remember, featuring a buffet with the finest meats and seafood as main dishes, and a rich variety of sumptuous starters and desserts to complete the feast. A glass of sparkling wine enhances the flavors.
A different kind of setting is offered at Straight Up, Seda's popular roof deck bar that stuns for its amazing view of the metro skyline, cool music and extensive fare. Its Valentine's Day buffet consists of grilled lamb as the featured carving with pastas, pizzas, grilled beef and prawns, plus appetizers and desserts amid jazz/lounge music from a guest singer.
For an extended celebration, the Valentine room package on February 14 comes with an overnight accommodation in a Deluxe Room, a complimentary bottle of wine in the room, buffet dinner for two persons, buffet breakfast for two persons, complimentary WiFi, and use of the e-lounge and gym.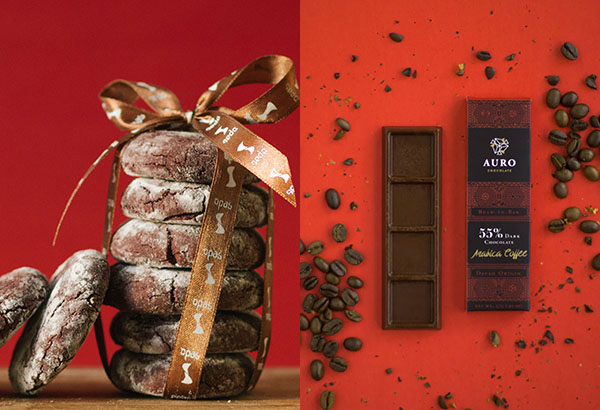 Baked goodies at Seda Hotel BGC (left), and Auro chocolate at Kultura (right).
Love local
The artisanal Auro Chocolate is the latest in line of Filipino specialties now available at Kultura, SM Makati.
Auro highlights a gold standard in chocolate making. Its name, after all, is derived from Au, the chemical symbol for gold in the periodic table combined with "oro," meaning gold in Filipino and Spanish. This represents a new way of looking at an old tradition, which is exactly what the company aims to represent.
The brand boasts of cocoa flavors and vibrant tropical fruity notes. Variants in its high- quality cocoa and chocolate line include milk chocolates, dark chocolates, white chocolates, couverture coins, baking chocolate, cocoa nibs and mass, and the chocolate spreads.
This proudly Filipino, bean-to-bar chocolate empowers local farming communities by sourcing cocoa beans directly from them making it sustainable. Products are carefully crafted at its modern processing facility using the finest ethically sourced cocoa beans from Davao. The founders buy beans at a higher value to inspire quality and to give farmers the opportunity to improve their standard of living.
To elevate the standards of cocoa and chocolate production in the Philippines, the brand invested in a 2,000-square-meter factory equipped with the latest European technology. The facility located in Calamba, Laguna is designed to meet the strictest international standards. This factory does more than just producing fine chocolate. It has designed the factory specifically for learning and collaboration to invite everyone, both public and professionals alike, to appreciate the bean-to-bar chocolate making process.