Cruising through Mexico with my CX friends
January 4, 2018 | 12:00am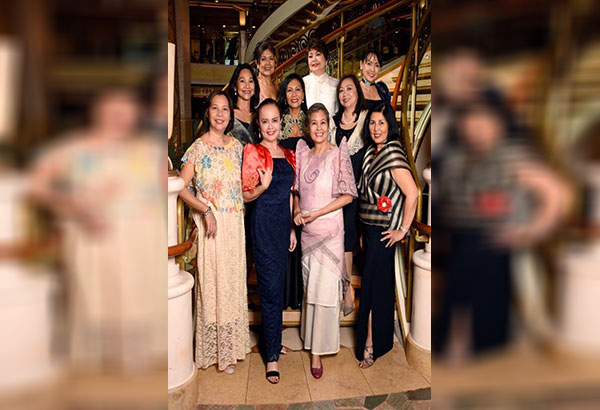 MANILA, Philippines — The first night of our cruise, I smiled as I excitedly climbed and crawled into my bed.
The last time I slept on the top bed of a double decker, I could still depend on my strong knees. That was in the early '80s and I shared a tiny yet neat flat of 42 square meters with four good-natured ladies: Ivy, Jo, Leen, and Maribeth. We were then in our early 20s and after our eight weeks training at the Cathay Pacific (CX) office in Hong Kong, we had to be on our own renting flats.
Now, 37 years later, I am again on the top bed but this time on a Mexican Riviera cruise with my nine CX batch mates. We didn't really care if it was going to Timbuktu. We just wanted to be together. Land tours are too brief to make a difference. A cruise was best as we could disappear and show up as we wished. And, with the Wi-Fi costing $6 an hour, there was less distraction and more time bonding together. And indeed, there is something for everyone on a cruise.
Serene Leen daily joined the morning group bible study. Smart dresser Gina and vibrant Irma frequented the gym. Fun-loving Grace watched all the musical plays and comedy shows. Habitual cruiser Mer took facial lessons from Gina and Irma. Head-turner Doddie was a regular at the shops. Sultry Glo paid for Wi-Fi and worked from her stateroom. Demure Lilibeth awed the guests with her graceful dancing. Fit Jo daily went for Zumba before sipping her morning coffee. I was at the laundromat (my happiest place after dining rooms) twice in seven days. And nightly, the 10 of us ate a sumptuous dinner together and then danced at the deck parties to burn the calories from the food and wine.
Young Bea and Victor stayed in the bars till morning. Musical Jill joined the "Voice of the Ocean" and her patient hubby, Peter, watched their Viro expel energy at the children's playground. Our Brad Pitt, Sam Almariego, daily watched the sunrise. Great listener Ate Mench rested in her stateroom and came out mostly for meals and tours. My adopted sister, Ludette, would disappear for all-day expensive pampering at the spa. And two-star General Felix shepherded us, an unruly herd. The nine of them completed our gang to Mexico.
Mexico was convenient because it only required a US visa. But the brief land stays were not enough to see much of Mexico. And, more than the shopping and sightseeing, I was most interested in the local cuisine. Almost nightly, I secretly wished (now it can be revealed) for bad weather or a technical problem or a broken ship needing repair that would prevent us from sailing away once we were on a Mexico shore. (No, I did not wish for pirates, too.)
I just wanted to stay longer and drink tsokolate and eat tamales with the locals. I wanted to see if they had something similar to our kare-kare, since the Mexicans — through the Spanish galleon trade — introduced peanuts and achuete to us and if not for them, my favorite kare-kare would probably be like the unpopular Indian kari (an orange vegetable stew, different from curry), Iacking in flavor.
I wanted to bottoms-up tequila with them and together in the morning, cure our hangover with their popular hangover dish, menudo. I wanted to know, too, if they had something similar to our callos, as their menudo, which is an orange stew with tripe and beef offal, is more like our callos. And maybe they could answer why we do not have flatbreads and lots of chilies in our cuisine like they do.
Seeing the Catholics take off their hats and make the sign of the cross every time they passed in front of a church reminded me of home. I was thrilled to see their rice tamales like ours and wrapped in banana leaves, too. It was a Mexican lady ambassador to the Philippines who told me years ago that they also have rice tamales, though they're not as popular as their gritty corn tamales, which are wrapped in cornhusks. They also sell huge jicama (singkamas), guava and cocoa.
Regrettably, we only had one meal in Mexico, which was by the beach, and fortunately it was impressive and memorable, especially the fish-skin chicharones, octopus taco and a very interesting radish sauce, with a nice pinkish color. Thank you, Ate Mench, for paying for it.
Being a first-time cruiser, I observed a few things. When sharing tiny staterooms, demarcation lines for personal stuff must be determined and a toilet deodorizer is a must-have. If laundromats are available, bringing your laundry soap will save you money. A cardigan is a must. The formal dinners are definitely worth the hassle of packing long gowns. Not all land tours are worth it. You'll need an ID strap for the cruise card. Even if the tips are already added to the cruise cost, an extra tip makes a big difference. If you add the cost of corkage, the price of wine on board is reasonable. Exercise and walk as much as you can, as the food is impossible to resist.
I preferred the food served in the dining rooms than the dishes served at the all-day buffet. Unless you abhor dressing up and or can never get your timing right, avoid the buffet. Maybe because their kitchens are supervised by Italians, the western dishes were great, but the Asian buffet night was a disappointment. Had they added Filipino adobo and bistek Tagalog and Indian chicken tikka and paneer cooked by their many Filipino and Indian cooks, it would have made a big, delicious difference.
With the food being included and prepaid, there is definitely something that will interest and grab you. For me, it was the succulent rib eye — the two-inch-thick steaks cooked to perfection — hard bread sopped in buttery escargot, huge steamed Alaskan king crab legs, the irresistible New Orleans-style crawfish, freshly baked scones with thick cream in between meals, and the best crème brulee I have ever tried — I finished one sharing portion all by myself on our last day.
The eager Filipino staff, especially Alfie Manahan and Brenda Rivadeneyra of Boticelli, Joel of Da Vinci and Benjie of Crab Shack, and Arel Tayag at the buffet, surely pampered us like we were sumo wrestlers being prepared for a match. As expected, I gained four pounds and most probably an increase in my sugar and cholesterol. Could it also be why I now have to deal with a fatty liver? I have decided to move my other blood tests to next month. That's definitely one downside.
On our last night sailing back to Los Angeles' San Pedro Port, lying on my top bed, I could almost touch the ceiling. I thanked God for the wonderful seven days with my nine dear friends. They are His precious gifts to me. I closed my eyes and imagined how the Mexicans suffered during the Acapulco (galleon) trade in the 16th century. They sailed weeks to reach California and months to reach Manila from Mexico, suffering from scurvy, sleeping like sardines and without proper toilet and laundromat.
I opened my eyes and the 16-sqm stateroom with a toilet slightly bigger than an airplane toilet that I shared with three most convivial roommates suddenly seemed like a 100-sqm suite. I was so thankful and felt an unexpected surge of unusual joy and energy all over me. If not for the low ceiling, I could have stood up from my bed and jumped with the newfound strength in my knees. I felt young again!