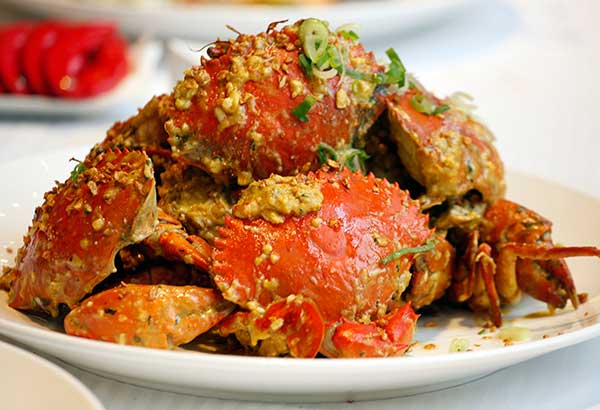 Chef Den Lim loves cooking crab. Here's his bestselling Crab Marlen, with sauce made of 30 salted egg yolks! His dishes are featured at Flavors at Holiday Inn & Suites Makati until Oct. 19.
Holy crab, denlim's kitchen goes to the holiday inn!
You know you're in for a good meal when your seatmates start bringing out the Lipitor. "We're about to get a little closer to God," one said.
Tito jokes aside, we were excited to sample chef Dennis Lim's dishes at Holiday Inn & Suites Makati. I'd heard so much about Denlim's Kitchen from my family in Pampanga — and suffered several failed attempts at booking a table.
"We're booked all weekdays until March 2018 and all weekends until October 2018," he told us when we tried to pressure him into giving us a slot. But it's good to know that a lot of people are still into good old death-defying dishes, the kind of meals that glisten on the table and leave a glossy film on your lips. Those are the best ones, and I was one of the lucky few that got to have some — no reservations required.
Until Oct. 19, the camera-shy Kapampangan chef will be showcasing his signature dishes at Holiday Inn & Suites Makati's Flavors Restaurant. At the press preview for his Flavors menu, I was surrounded by people I had only just met. But chef Den's dishes were not only good, they were also certified icebreakers.
Imagine a plate of giant crabs covered in yellow sauce arriving at your table. That's something to talk about, especially when the sauce is not made of aligue, but something even better: 30 salted egg yolks for every 12-person serving. We were instructed to abandon all hope of leaving the table without traces of this delicious crab juice on our shirts, and were each given a crab cracker.
"Ayaw ng tao maghimay, diba?" chef Den said. "So with crab, it's you love it or you don't. Gusto ko palitan yung perception ng tao towards crabs."
Chef was preaching to the choir, of course — all our hands were already knuckle-deep in salted egg sauce. And as you know, crabs squirt. In less than the time it takes to introduce ourselves, we'd have squirted crab juice on our seatmates. That leaves a more lasting impression, don't you think?
Soon arrived the Caveman's Shank — tender, smoked beef shank braised for five to six hours and smothered with mushroom gravy, with grilled sweet corn on the side. It really did look like a caveman's meal, meat falling from the bone and all. This is how I know chef Den is really a Kapampangan at heart. We love our meat, and we know how to cook it. My titas have a version of this dish, but it's drowned in the mushroom sauce, like a creamy bulalo. It's like eating something that my own mother made; I forgot I was in a hotel. And this is what chef Den is all about: home-style cooking.
"My food doesn't have genre. If it's good, I'm cooking it. Without formal training, I didn't know the protocol for dishes. But now, it works. Kung ano yung sine-serve ko sa kitchen ko, that's what I'm serving here. These are the bestsellers in our restaurant," he shared.
"Beef eater ako, and I love anything smoked: salmon, tinapa, bacon, brisket, so I came up with the shank."
Chef Den was born and raised in San Fernando, Pampanga. He took up management in San Beda College, and learned to cook from his Chinese lolos and his mom. "My roots are really Chinese. So I grew up eating the Chinese pata with shiitake mushroom. My mom cooks that so well. And then my titas, who are Kapampangan, they cook the asadong dila — the old-fashioned lengua," he said. "I just love cooking. I was never born to be in the spotlight. Gusto ko lang magluto."
My favorite dish arrived last: the Pugon Liempo Wrap with Pork Buro. If chef Den is a beef eater, I am a pork eater. I told him that I would have eaten more had it not come last on the menu. Then again, it was as good as any dessert.
How to eat it: you take a lettuce leaf, wrap the liempo and tomatoes with it, get some buro, and use it as a dip. Pro tip: try dipping the raw ampalaya in the pork buro. You know how, when you try a new workout, you feel muscles you didn't even know you had? It's like that, but with your taste buds.
How did chef Den discover that ampalaya-and-buro combo? "May bagyo noon," he began. "Yung mga crew ko, they got the ampalaya, took out the seeds, tapos kinakain nila. Sabi ko, 'Paano niyo nakakain yan? Hindi ba mapait?' Pero pag-kain ko, sabi ko, 'Get the buro. Init natin.' It started that way. Kaya, that's not all me."
"It's a simple dish," he continues. "You taste the pork. Then I wanted to revive the pork buro. Seldom nalang yung gumagamit ng pork sa buro. Ang accepted ng tao is shrimp buro. I just wanted to do something not traditional."
Another key to the liempo wrap is the crunchiness of the pork skin. Had it been gummy, I would have given up on the wrap thing altogether. But it was just so easy to eat — crunchy as crackers — and that somehow made it twice as good.
We ended the meal with Flavors' bestselling Ube Cheesecake. By the end of the lunch (which went on for three hours), we were all fast friends, or at least it felt that way. After all, we just YOLO-ed together. We're foxhole buddies now, and we got crab juice on our hands.
* * *
Chef Den Lim's dishes will accompany Flavor's choice selection of dishes for lunch and dinner buffet, priced at P1,818. Holiday Inn & Suites Makati is located at Palm Drive, Ayala Center, Makati City. For information, call 909-0888 or visit www.holidayinn.com/makati.