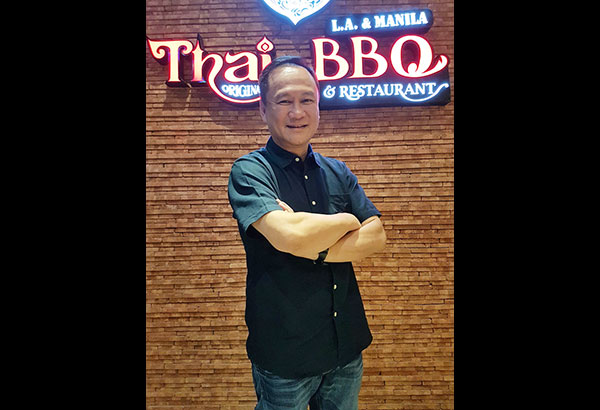 Barbecue boss: No Limits Food, Inc.'s George Pua, who's opening Thai BBQ Original Restaurant at Ayala Vertis North tomorrow, says, "The Filipino market, in general, loves barbecue, and you'll never go wrong with a great barbecue dish."
Authentic Thai BBQ reaches Vertis North
MANILA, Philippines - I look at the restaurant as my stage," declares George Pua. The former Repertory Philippines actor says, "I have my players, which are my staff in costume. I have the setting, with the interiors, the lights, and the sounds. And you have the story, which is the food. I'm the director. I get to orchestrate everything, and this is my total production."
After two successful decades in the food business, one might think that Pua may have outgrown the wide-eyed wonder that comes with opening a new restaurant. The self-proclaimed "senior citizen" of the local food scene, after all, has managed to build his No Limits Food, Inc. gastro empire from a string of triumphant foreign franchises, such as the celebrated American ribs joint, Tony Roma's, into a dynamic food innovator with homegrown concepts like Modern China, Oppa Chicken, Ogawa, and the beeline-inducing K-Pub.
But now he's brought the popular Thai BBQ of LA to Manila.
"The things that I do, or the restaurants that I open, represent the food that I love eating," Pua says. "In any restaurant by our group that you dine in, one thing you're assured of is the quality. It's something that we never compromise on."
Pua believes there are two types of restaurateurs: "One is a businessman who will always compromise to get the best profit, and a foodie, who will never let any price affect his cooking. A businessman's restaurant may make money, but it won't last in the long run. But a foodie restaurant will continuously grow and can last forever."
His first venture, bringing LA's busiest Thai joint to our shores, was an expensive misfire. After eight long years of courting Thai BBQ LA to land their first (and only) international franchise, Pua realized he couldn't bank on sheer popularity alone.
"I first brought it here about 18 years ago," he recalls. "We were on Jupiter Street then. I had three Filipino chefs who went to the US for training. But, after three years, the food started to change. The taste started to change."
Instead of simply watching from the sidelines and praying that people wouldn't notice, Pua did the unthinkable. "I decided to close it down. If I don't like the food anymore, I just close it. Why will I fool myself? Why will I try to convince people to eat in a Thai BBQ that isn't Thai BBQ? So I swore to myself I wouldn't ever open another Thai BBQ without a Thai chef."
After securing four Bangkok chefs to work in his kitchens, Pua reopened Thai BBQ of LA and Manila in November of last year. Patrons started coming in droves, smitten by his lip-smacking Gaiyang or chicken barbecue, the most sublime plate of Pad Thai noodles (which, according to Sandy Daza is some of the best in the country), or the heartiest Thai Curry Crab, celebrated for its rich yellow sauce as much as the hefty serving of the crustacean.
"In just a month of operations, we were awarded by the Thai Embassy with a Thai Select, for being one of the best Thai restaurants in the Philippines," Pua beams. Thai food, with its studied layers of sensational flavors, is one of the hardest cuisines to perfect, after all. "I can proudly claim that we're the only Thai restaurant that has big servings, because it's an American franchise. And it has authentic Thai flavor. It's not a fusion restaurant."
He observes that, "the Thai BBQ branches in the States are pretty old. They're very much like holes-in-the-wall, and they never cared about how they look. But they're always packed. They're all about serving good food, and it's all that matters."
However, being an artist with exactingly high standards, Pua did care how Thai BBQ in Manila would look. "I upgraded the interiors with designs I collated on my trip to Bangkok," he says. "It's all a product of my personal taste. I buy everything, from the spoons to the plates, the chairs to the chandeliers… even the design of the uniforms! I'm very hands-on." He even personally oversees the Thai BBQ Original Restaurant Facebook page, with its 4.8 approval rating and strong following of 30,500 fans.
Another aspect that makes Thai BBQ Manila different from the ones in LA is the speed with which it is expanding. "We will be having four stores by the second half of next year" Pua says. "In LA there are about 10 or 11, and we're not even a year old. They've been there for 20-something years."
A lot of guests have been asking them to open in other areas because, with all the traffic, it's too difficult to go to BGC. "So, we go to them. We go to Vertis North, which has a great community growing there. Those from Bulacan or Pampanga, most of them have been to LA or have relatives in LA and are familiar with the Thai BBQ there. For EDSA Shangri-La, there's a market with the villages and the offices. And we're opening in January or February of next year in Ayala Feliz Mall in Marikina."
At present, the Thai chefs for the Vertis North branch, which is set to open tomorrow, are still training in the BGC kitchen. "In the restaurant business, to keep people coming, consistency is very important," Pua emphasizes. "There's nothing more frustrating than going to a restaurant craving a certain taste and you go home disappointed. You feel cheated. And once you lose a customer with bad food, you lose them forever."
But, after 20 years in the competitive Philippine food industry, Pua shares his real secret to longevity: "You would not be convincing if you really don't like what you're doing. You have to be passionate about what you do, you serve, you eat, you offer, for you to be convincing. It's different when people see you serve the food that you really love. And it shows when you don't really like the food. I don't know how people can operate a restaurant not liking the food. But If you're passionate with the things you are doing, you can never go wrong."
* * *
Thai BBQ of LA and Manila opens on the second floor of Ayala Malls Vertis North tomorrow, July 14.