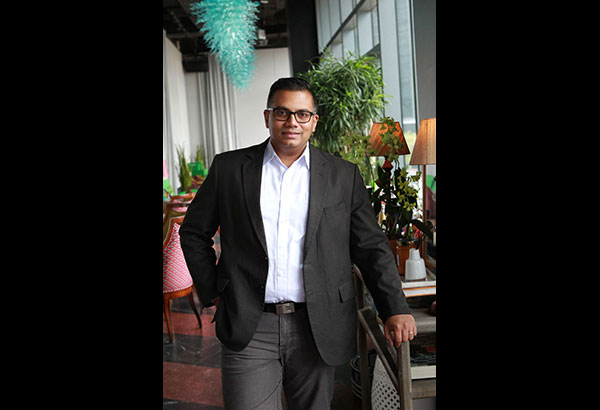 Manila House F&B consultant Cyril Addison: "Wine is subjective. No matter what anybody thinks, don't be afraid to enjoy what you truly like." Photos by WALTER BOLLOZOS
Manila House (selectively) opens to the public with nearly 100 wines
I have customers who put ice cubes in their red wine," Manila House chef and partner Gilbert Pangilinan tells me, and he's not cringing about it. There is something to be frowned upon about diluting aromas and flavors masterfully brought out over time, but the rationale behind why I surmise it's done — to cool it — isn't completely wrong.
Food and beverage consultant Cyril Addison recommends a bottle of red wine must indeed be chilled properly. "A common mistake I see here in the Philippines is that some think red has to be at room temperature, but Filipino room temperature isn't as low as it is in, let's say, Paris," he says. The ideal temperature is 15 to 18 degrees.
Only knowing the rules — and the whys and hows behind it — allow you to get away with bending or even breaking them to your whim and enjoyment. The by-invitation-only membership club is a visual mélange in its Gert Voorjans-decorated space alone, juxtaposing BenCab (would you really put the national artist's carpets on the floor?) with tables filled with founder Ricco Ocampo's seashells. Gilbert's comfort-food offerings at the members-exclusive Bonifacio Dining is no different; like French duck confit is done a la hawker center Hainanese, and like the popular boneless fried chicken served over a bed of gravy, they are served in the finest setting. You can pair them with something Tempranillo-based or even an old-world wine — some older than myself — or with a regular Coke, which also comes with the same bottle service.
Cyril, who used to be Manila House's general manager, dispels any hoity-toity misconceptions associated with its exclusivity: "The main idea behind Manila House is to showcase the best of what Manila has to offer."
And alcohol — the best of it — that, Manila House has a lot of. Manila House kicks off its annual wine festival on July 14 with Uvas, a bespoke wine experience. (It is the beginning of a series of focused and specialized events to come. I've been told up next are gin, craft beer, and whisky.)
To those who have yet to take a peek inside the member's-only side of the space, Uvas will also give you access to see what it's all about.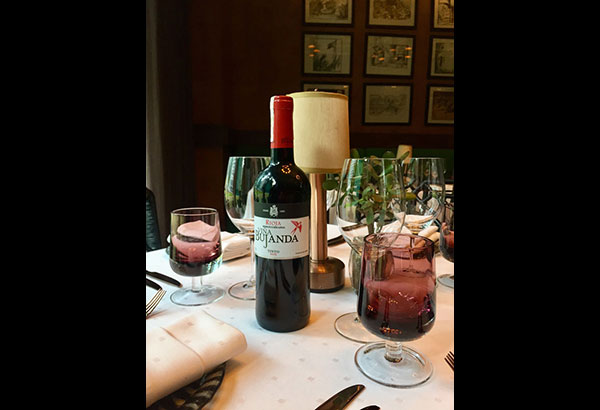 Crowd favorite: The Vina Bujanda
Uvas will feature nearly 100 diverse wines curated by 10 of Manila House's wine suppliers. They have been handpicked by Cyril based on the strength of their portfolio, which lies in specializing in wine from certain regions. Premium Wine Exchange is known for their North America and Australia collection; Philippine Wine Merchants for staples from France and New Zealand; AWC Fine Wine for Italian and Spanish wine; Brumms for Austrian and German picks; Silver Secrets for Italian; Zen Asia for Australia, France, New Zealand, and Spain; and Sommelier Selection for French and Italian wines. Also in the lineup are Grand Cru, Forth & Tay, and Penta AG Merchandise. "At Uvas, they will present the best that they have in their portfolio, whether entry-level or premium," says Cyril.
There will be two wine appreciation classes and an opportunity to further discover more with discounted prices exclusive to the event. A stuffy tasting, it is not. As with most occasions lubricated by libations, it'll be fun — and delicious.
Savory is the word for Gilbert's finger-food offerings, meant to complement and not overpower every wine. The aforementioned fried chicken will be served on skewers and in between are nori popcorn with shichimi and fried mushrooms. Before dinner, two stations will open. Local apahap is the star of the fish taco station to be mixed with your choice of guacamole, hot sauce, or spicy mayo with onions. On the other side is a 16-hour roasted beef-belly station with a smorgasbord of sauces to pair with pistolet. No sweet endings here; pairing desserts with wine, Gilbert admits, is tricky. Cheeses will be rolled out towards the end of the evening.
At the heart of Cyril's expertise is a curiosity that all began with wine. He emphasizes the importance of pairing: "Wine with food is a match made in heaven. Any beverage, for that matter, but wine and food accentuate each other's flavors. Like a spicy bowl of mussels paired with a beautiful German Riesling."
Gilbert shares his favorite, a red: "Pinot Noir with fish and light meat like duck. Pinot Noir, it's really versatile. You can have red wine with anything but white wine is really for light meats."
As for the other reds, Cyril names a Vintage Port from 1977 (his birth year) as his favorite, but his favorites change. "I drink wine every day and it fits the environment or what I'm eating it with. It's more about an experience. A certain wine that you taste today might be different if you drink with different people and in a different environment."
He has one more tip: "Pick the right glassware. If you're not able to aerate the wine and taste it properly, you won't understand the complexities of wine."
But, at the heart of it all, really, is to be true to your taste. "Wine is subjective," he emphasizes. "No matter what anybody thinks, don't be afraid to enjoy what you truly like."
* * *
Uvas is on July 14 and runs from 3 p.m. to 10 p.m. It is open to the public upon the purchase and presentation of an entry ticket. VIP tickets (P3,500) come with event access and two wine appreciation classes, access to Manila House dining establishments and P1,500 stubs. A regular ticket (P2,500) comes with event access and P1,000 stubs. For more information, contact 0917-816-3685.