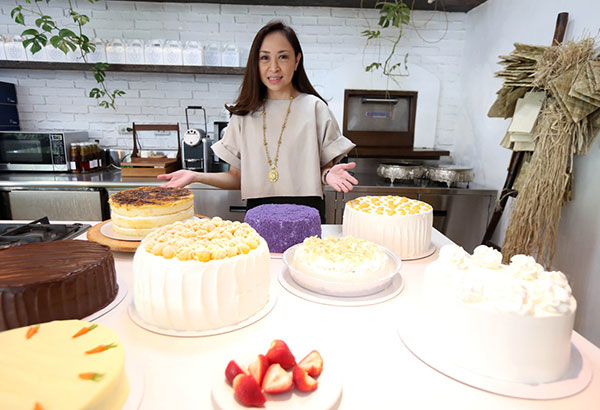 The baker is in: STAR columnist and chef Heny Sison and her yummy cakes at the Heny Sison Desserterie in Quezon City. Photos by BOY SANTOS
Heny Sison: Baking must come from your heart
MANILA, Philippines - Who can resist a good piece of cake? There are few such divine pleasures that a small plate can hold. But, more than just a dessert, it's a symbol of celebration — of birthdays, weddings, and other happy occasions.
Heny Sison has long been famous for her fabulous wedding cakes, exquisitely decorated with delicate icing flowers and calado embroidery. The good news is, since she opened the Heny Sison Desserterie, you no longer need to have a wedding to be able to enjoy her cakes.
The Heny Sison Desserterie is a bakeshop within a restaurant, which she co-owns and manages. "If you have a restaurant, you also have to have good desserts," Heny says, "so I put my desserts here. Some of the recipes are from my mother and some I developed for the lessons that I teach at my school."
What started some 26 years ago as the Heny Sison School of Cake Decorating and Baking has evolved into the Heny Sison Culinary School, offering professional classes and certificate courses for aspiring chefs and pastry chefs. "We also have lifestyle classes like flower arrangement and table setup, designed for enthusiasts and hobbyists who just want to relax and learn."
The classes in June, for example, include native kakanin workshops as well as a paella demo class. "I have a demo table in the bakeshop where I can conduct classes," Heny explains.
If she is not in the kitchen at the bakeshop testing recipes, she will be at the kitchen in her cooking school. "It seems my day is not complete if I don't see a kitchen. I come from a family of cooks. My mom made all my birthday cakes," Heny relates, "except my wedding cake, which I made myself. I made it like a fruitcake. I did it slowly — it took a month — so I was not harassed and I could still look pretty on my wedding day."
Heny is married to businessman Beny Sison. "I am the artist, while he helps me with the numbers part of the business," she says, "so I have a consultant for free."
They have two daughters. "They also cook, but I think they learned only through osmosis."
When they were little, Heny used to take them with her to her cooking school and they would hear her lecture. "They were listening pala, and they remember."
Denise, 28, finished molecular biology then took up her master's in biology at NYU
and two years of pre-med at Columbia. Carmela, 26, finished fashion marketing and did her internship in different fashion houses in New York. Not exactly courses that would lead to a culinary career, but it was the same way for Heny as well. She graduated with a Bachelor of Arts degree in Social Science and Political Science from UP. It was only later that she studied at the Culinary Institute of America. In 2006, Heny received the distinction of "Certified Culinarian" from the American Culinary Federation.
"People don't know that my first love is cooking, not baking," Heny shares. "But at the time I set up my school, there were already many cooking schools. So I decided to specialize in baking and decorating." And the rest, as they say, is history.
"My parents also ran a restaurant, Travelers' Kitchenette, next to our gasoline station in Orani, Bataan," Heny recalls, "so running a restaurant is not new to me. But a bakeshop is more difficult. It's easy to find a cook, but it's harder to find bakers. I tell my students, anybody can cook, but not all can bake. A baker has to be precise. You have to be obsessive-compulsive. If you don't follow the recipes and instructions closely, the result will be different."
She has standardized recipes. "We use weight measurements," she explains, "which is better than using cups and tablespoons for measuring."
"You have to master the basics," she emphasizes. "You have to focus. Most importantly, it must come from your heart."
Her logo is a hummingbird, that tiny winged creature that feeds on sweet nectar and represents wonder, beauty and endurance.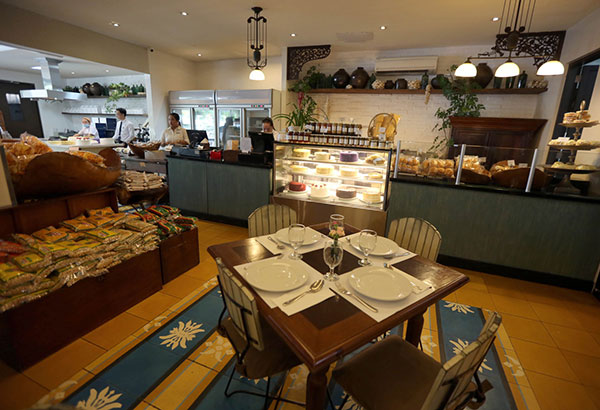 The Heny Sison Desserterie is a bakeshop within a restaurant, which she co-owns and manages: "If you have a restaurant, you also have to have good desserts," Heny says, "so I put my desserts here."
Open daily from 7 a.m. to 10 p.m., the Heny Sison Desserterie also offers a complete breakfast menu. They have pancakes and waffles as well as sandwiches, homemade ensaimadas and breads. They also have pastas and pizzas. "We have a special pizza oven with unglazed tiles inside, like a brick oven," Heny shares. "While we have the traditional Italian pizzas such as Pizza Margherita, we also have a local version of the Ilocano pizza, Poqui Poqui Pizza, topped with Vigan longganisa and grilled eggplant."
What she wants to do now is revive old recipes that are disappearing. In 2015, she authored a meticulously researched book on regional cuisine and culture, Naimas! The Food Heritage of Ilocos Sur.
You can buy deli items, frozen and bottled items at the bakeshop such as a variety of longganisas from different provinces, bagnet, tapa, and rellenong bangus. "We make our own bottled atchara as well as cashew butter," Heny says. "When my santol harvest from my farm is plentiful, I make santol jam, or I pickle our mangoes. I do whatever is available. I want to promote our local products."
The list is long and varied: chicharon, chichacorn, biscocho, tejas de almendras, casuy, tawilis, bagoong, calamansi and dalandan vodka, Vigan basi, and many more.
Still, the spotlight is on the cakes. "My bestseller is still the lemon torte," Heny says, while the white chocolate mango torte is a "must-try." She has three kinds of Sans Rival: cashew, macadamia, and pistachio. There's the classic Old-Fashioned Chocolate Cake — moist, with mocha cream filling and frosted with chocolate fudge icing, slow-cooked in a double boiler for three to four hours. The latest additions are the Tres Leches sponge cake, soaked in a mixture of three kinds of milk, frosted with whipped cream and topped with toasted almonds; and Tarta Quemada — layers of sponge cake filled with crème Chantilly and topped with caramelized yema.
To achieve that delicious, crunchy, caramelized top, she does not use a blowtorch, as is common practice. "A blowtorch leaves a faint, gas-like aftertaste," Heny explains. Instead, she uses an old-fashioned hot iron or plantsa, as Heny calls it, which she got from Spain. It's her meticulous attention to details like this that makes the big difference. You really must try Heny's Tarta Quemada. Like all her other cakes, it is guaranteed to put a smile on your face.
* * *
Heny Sison Desserterie is located inside Victorinos Restaurant on 11th Jamboree corner Scout Rallos, Quezon City. For information, call 922-8558.
The Heny Sison Culinary School is located at 33 Col. Bonny Serrano Ave., Quezon City. For information, call 726-5316 or visit www.henysison.com.