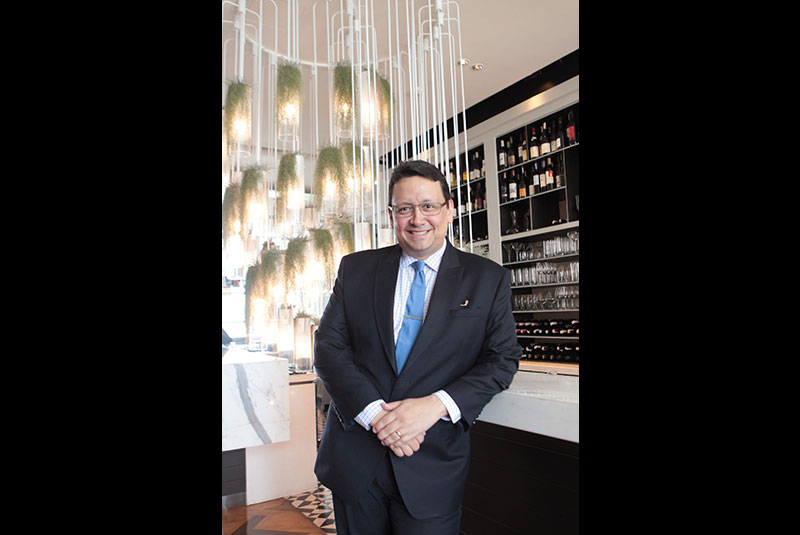 You can take the chef out of the kitchen, but you can't take the kitchen out of the chef: Discovery Primea general manager David Pardo de Ayala. Photos by JOEY MENDOZA
The power lunch is alive & fiery at discovery Primea's flame
MANILA, Philippines - People have preconceived notions about hotel dining being conservative, costly, and usually reserved for one-off occasions. But, perhaps inspired by its prime location, caught between the bustling all-business Ayala Avenue and the elegantly understated Urdaneta Village, Discovery Primea's landmark restaurant, Flame, highlights the joys of finding comfort in luxury cuisine by breaking some long-established rules. The hotel's maverick general manager, David Pardo de Ayala, leads this five-star rebellion.
"There is a very fine balance that you have to accomplish in a restaurant," he says. "People want a sense of familiarity. They go to a place they know and trust. But, at the same time, they want a taste of something new every once in a while."
Pardo de Ayala shows off Flame's panoramic view of some of Makati's most-coveted addresses, and a swanky, sparse interior that flaunts its passion for modern dining.
A native of Colombia, American-trained Pardo de Ayala clearly knows the ins and outs of the country's gastronomic scene, having worn his toque here for two decades. Starting as corporate chef for The Discovery Leisure Company back in 2005, he helped create the hospitality brand's distinction in contemporary cuisine, by putting as much emphasis on dining experiences as on celebrated menus. Now at the helm of its most premier property to date, Pardo de Ayala pushes the boundaries even further.
"Our approach to food and beverage is that we like to feel like a freestanding restaurant inside a hotel," he explains. "They're very much part of the hotel, but we don't want them to feel like hotel restaurants. We wanted our restaurants to be more approachable."
So, instead of private niches and booths, Flame features communal tables and encourages business networking.
"Right now, dining has too many rules," Pardo de Ayala says. "We're not like that at all. As long as it is not intrusive to the other guests, people should be allowed to enjoy themselves. Since our hotel is designed for long-staying guests, we'd have guests come in and Flame becomes a social space. They appreciate how they can open their laptop, have a drink, and wait for their dinner service."
With its Carrara marble-topped "Hub" wrapping around the core of the restaurant, a well-stocked wine and liquor bar and large chandelier as a focal point, Flame encourages rubbing elbows while enjoying your entrées. Choose a seat at the "Cold Hub," which features a garde-manger station with a breathtaking CBD view, or the "Pastry Hub," which sends out exquisite desserts as you gaze upon a lush green backdrop of gated villages. Either way, you won't miss the culinary action that comes with the best seats in the house.
"Now culinary arts have gone very mainstream," notes the chef. "What used to be behind the scenes is now front and center. The communal-table concept encourages interaction among people, including the chef. Over time, you are likely to forget what you ate, what you drank, or how fancy is the silverware. But if you have a wonderful interaction with the chef, that stays with you. And it brings you back."
Much of this interaction is best enjoyed through Flame's Power Lunch, a three-course menu that executive chef Luis Chikiamco changes monthly.
"Our chefs tend to underline the Asian influences with our modern European cuisine through our Power Lunch menu," says Pardo de Ayala. "These are flavors that resonate well with the Asian palate. It gives our culinary team a wider palette of flavors to paint with."
Think of kimchi-flavored apple salad for a starter, sumptuous Shanghai-style pork belly as a main, and a sensational sweet ending of malted chocolate kulfi, and you realize how haute cuisine can be so comforting… and speedy.
"The emphasis here is the time-efficiency," the chef says. "We want to make sure that our guests will be able to go about their lunch business in about an hour, if they are in a hurry."
Most reassuring, though, are Flame's price points, which are very approachable for a five-star dining experience. "People forget that the last course of the meal is not the dessert, it's the bill," observes Pardo de Ayala. "You can have the most fantastic meal and get indigestion on that last course. Your last perception has to be one of, 'I have to come back here.'"
While Flame can break away from other hotel-restaurant traditions, there is one facet that Discovery Primea's crowning dining establishment can't leave behind: "The service is one of the key things that the Discovery brand is most proud of," assures Pardo de Ayala. "Even if our hotel properties are different from each other, we have a DNA in our culture, which is 'service that's all heart'. So our goal is to strike a balance of professionalism, knowledge and hospitality with a sense of familiarity, in a frame of a relaxed dining experience."
But when caught in an ever-shifting dining industry, Pardo de Ayala reminds his patrons that it is they, not he, who change the rules, and Flame is there to serve them. "People's taste has evolved. It has changed. And any chef welcomes that evolution because it keeps things exciting. At the same time, cuisine can only evolve at the same pace the market does. As long as they are willing to try something new, or interesting, or challenging, and at the same time pay for it, the culinary scene will keep on growing."
* * *
Flame Restaurant is located on the 16th floor of Discovery Primea, Makati City. Its Power Lunch menu is available on weekdays. For reservations, call 955-8888.