This corner café signals a newly hip Antipolo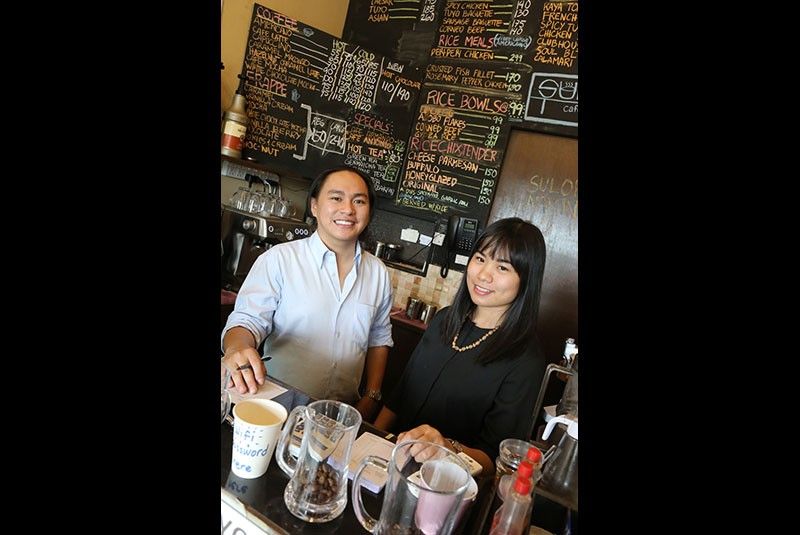 If you're ever at the Pinto Art Museum or anywhere near Antipolo, make sure to stop by Sulok Café at Sumulong Memorial Circle, five minutes down the road from the museum.
This tiny establishment, which means "corner café" in Tagalog, is run by an extremely dedicated millennial couple who both quit their jobs and plunged their life savings into starting their own business — Andy Riel Wong (the female half of the duo) used to work in ecommerce, while Rods Escobar (her fiancé) toiled at an advertising agency.
"We wanted to get married and start a family right away and couldn't do it with kind of work we had," Rods explains. "Andy spends three to four hours commuting. In advertising I spend 12 hours a day in the office. That's the life we had before."
The two met in college and became a couple in their third year. After graduation and beginning their respective careers they got engaged, but in order to save enough to start a life together, they figured they would postpone the wedding and start a business first. They started scouting locations, researching the most popular dining areas in Pasig and Quezon City before finally settling on Antipolo, where Andy lived.
"It had the three qualities we were looking for," Rods says. "It had to be in front of a highway, there had to be foot traffic, and there should be a point of interest nearby. Luckily Pinto Art Museum is five minutes away and our first customers come from there."
Sulok Café is one of the pioneers in the newly gentrifying Antipolo. Looking to the future, the area might just become the next hipster destination for Pinoy foodies. "This long street alone has the most number of food establishments in Antipolo," Rods says. "You can compare it to Maginhawa in Quezon City and Kapitolyo in Pasig. This is going to be the goldmine for Antipolo."
To start the daunting task of constructing the café, Andy resigned from her job first before Rods joined her a week and a half prior to Sulok's opening.
They named the café after the "one corner that we're used to going whenever we're alone or want to be alone, and that's basically what this space is," Rods explains.
The young café owners studied coffee making from a barista trainer who worked for a popular coffee chain — he didn't just teach them recipes but also how to concoct their own drinks.
Consequently, their coffee is high-grown Benguet Arabica harvested in Sagada, roasted in Baguio, then brought to Manila by bus, and their two specialty coffee drinks are named after their dads: Café Armando is a triple shot of long black coffee (P100), while Café Antonio is a caramel latte made with two-and-a-half espresso shots (P120).
"It just so happens that both of our dads like customizing their coffees, so we decided to put it as part of the menu," Andy says.
Originally they wanted to offer drinks only, until they observed that competing establishments also offered food. So they consulted with a chef friend to come up with a spicy menu (Andy is from spice-loving Bicol), though there are many un-spicy options as well for those who shy away from heat.
Luckily I love spice, so I was a fan of the chili popper appetizers (P140) — fried wontons containing spicy melting cheese that boast a considerable kick. (They would go well with Sulok's cold frappes like Vanilla Berry, White Chocolate Mocha and Choc-Nut.)
Sulok also specializes in pasta, giving popular Italian favorites a Pinoy spin, like in their bestseller Tuyo Mushroom pasta (P165), an aglio olio-type spaghetti in which they use dried salted fish in place of anchovies. Another popular dish, Malunggay Pasta (P165) takes off on pesto with fresh malunggay leaves instead of basil — the result being a unique sauce bursting with green herbal flavor.
Also order their Adobo Flakes rice bowl (P99), a generous serving of savory chicken floss on steamed rice topped with a fried egg; and the fish tacos (P165), which are billed under "appetizers" but, with four pieces, would also make a hearty main course.
"Both of us are foodies," Andy says. "We consider this our first baby. This is the first time we worked together, and it's made our relationship stronger."
The couple designed the 22-seat, 40-sqm restaurant themselves, the wood-and-blackboard-paneled walls of which may or may not attract Sulok's regular clientele of teachers and nurses who work around the area. The blackboards are covered with colorful chalk art made by customers leaving their mark.
"It embodies the whole mindset of people having their own corners," Rods observes. "We vandalize the walls, di ba?"
Ten months since opening Sulok in July 2016, Andy and Rods still haven't set a date for their wedding.
"We're still waiting for the ROI (return on investment) on this place before we go to that level," Andy admits.
"The moment we hit ROI, that's when we start planning again," adds Rods. "Because the money intended for our wedding was used to buy tables and chairs, and initial inventory."
I'm touched by Rods and Andy's story, and am rooting for this brave, hardworking couple to succeed in their small business and save up enough to finally tie the knot.
* * *
Sulok Café is located on the second floor of the Okinari Arcade Bldg. along L. Sumulong Memorial Circle, Barangay San Roque, Antipolo, Rizal, tel. no. 534-4918. Right now they have a special promo: Buy one, take one frappe until 5 p.m., and buy one, get the second beverage for half the price after 5 p.m. Follow them @SulokCafe on Facebook and Instagram.