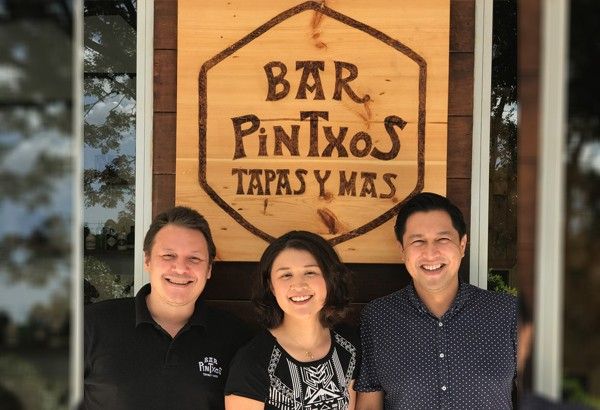 You don't have to go to Spain for good pintxos
Last April 2015, I met Miguel Vecin at Madrid Fusion Manila with news of a pintxos bar opening in Alabang. It opened in June that year as planned. And, just like that, one and a half years passed and last Dec. 16, they opened their second branch in Bonifacio Global City (BGC). Just like in their Alabang branch, there are no signs. So the landmark is Malcolm's at Fairway Towers. (Good advertising for Malcolm's!) This time with different partners: Carlo Lorenzana and Bobby Tenchavez of La Cabrera Manila, Tinchu Gonzalez and Magsy Concepcion of Joey Pepperoni. Carlo told me that it was because he loved the food at Bar Pintxos that he asked Miguel to partner with him.
Miguel Vecin is the man behind the delicious food. He was in the corporate world for a long time and decided to start his own business importing chorizos and other food products from Spain. He has his own brand called Tierra and it's available at Marketplace by Rustan's. According to Miguel, "I used to travel a lot, I kept on trying all the restaurants. I lived in Spain for 20 years, that's where this concept came from. I grew up with all those tapas and pintxos." Until today, Miguel goes to the north of Spain every year to update himself on the food scene.
Aside from sangria, they serve locally made beer and have over 21 kinds of gin to choose from.
Bar Pintxos, though it's called a " bar," is not really only a bar. People come here to have lunch and dinner as well. In fact, if you arrange it in advance, Miguel can even serve a 12-course degustation. You can also ask him to prepare party platters for your own events or dinners at home.
"Pintxos are what the people in the north of Spain call their tapas," says Miguel. "They can be on bread or skewers, toothpicks, on small plates… basta it's a small serving."
Eating pintxos is so much fun because they come per piece, so you can have as many as you want of your favorite without worrying if you can finish a whole order, or you can have a variety of dishes even if you are alone. Eating small servings is the way to go!
I personally enjoyed my experience at Bar Pintxos over the bars in Spain because you can actually sit down at a table and relax. Second, you can order them at your leisure and pace compared to squeezing your way to get to the display and point at pintxos that are already cold and sitting on the bar. Here you get fresh pintxos made upon ordering! Third, it's peaceful (for the titas of Manila!) Lastly, There are over 50 items on the menu you can choose from. And from the tapas section, though they are small portions, there are dishes that still can be shared, like the paella, chorizo, and calamares a la plancha, which I tried. They have daily specials aside from all that.
I cannot believe that I did not trek all the way to the South for this! Well, at least now I know I don't have to trek all the way to San Sebastian to have good pintxos.
* * *
Bar Pintxos is located at Fairways Tower, Bonifacio Global City, tel. 810-1307.