Did you know Hello Kitty now has a wine?
HONG KONG — Everyone who knows me knows that I love and enjoy wine on a daily basis. But, while good wine is important to me, I'm not about the fancy, super-expensive ones. I know what I like — and more importantly, I'm curious to explore and learn, especially the more unorthodox kind. The Washington Post defined a wine explorer as one who "invests more time, attention and money in pursuit of the grape — shunning the mundane, everyday wines in search of obscure and unusual bottlings."
I attended Vinexpo in Hong Kong last week — my first Vinexpo, and the seventh one in Hong Kong — after the encouragement of friends in the wine industry. Described on their official website as "the one and only trade-only wine and spirits exhibition in the Asia-Pacific market... (it is) a must-attend event for importers, distributors and sommeliers from across the Asian continent."
Vinexpo was held at the Hong Kong Convention and Exhibition Centre (HKCC) in Wanchai, and this year saw 1,300 exhibitors from 33 countries and over 17,000 visitors in attendance. This is because Asia has become a huge growth driver for the wine and spirits consumption, accounting for 11 percent of global consumption in wine, and 63 percent in spirits. Its growth prospects for the next five years are five times higher than the rest of the world.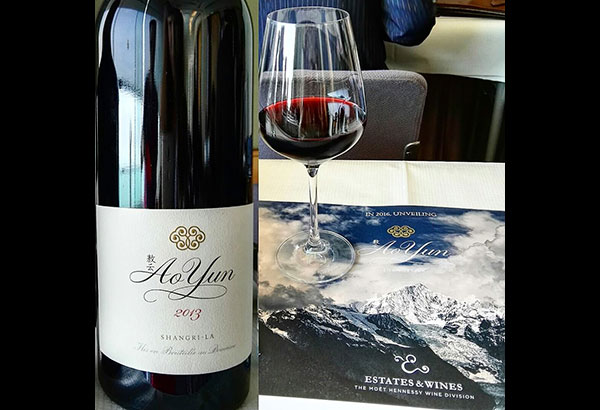 Moet Hennessy's first luxury wine from China, Ao Yun, was unveiled at the Vinexpo Hong Kong 2016. It is made of 90 percent cabernet sauvignon and 10 percent cabernet franc.
Japanese Chardonnays & Hello Kitty Bubbles
From 9:30 a.m. to 6:30 p.m. for three days, visitors combed through all three floors of the exhibition center to experience the offerings on hand. What caught my attention was Suntory's Tomi No Oka Winery. We all know Suntory produces excellent Japanese whisky but it was my first time to try their wines from their own winery in Japan. (They acquired management rights to Château Lagrange winery in Bordeaux, France, in 1983 and likewise, operation of Weingut Robert Weil in Rheingau, Germany, and two French châteaux, Châteaux Beychevelle and Château Beaumon.)
Tomi No Oka winery is located in the Yamanashi Prefecture (where Mt. Fuji is), which has a high altitude, ample sunlight and well-drained volcanic soil that has clay, silt and sand mixed in ideal proportions. They have everyday wines made from the notable varieties grown in Japan, the white Koshu (light-bodied) and the red Muscat Bailey A (a very light red in color that's reminiscent of a French Beaujolais) but the one I enjoyed the most was their signature Tomi made from 100-percent-chardonnay grapes — mellow and fresh, with hints of tropical fruits and a slight oaky flavor. They are currently available in Japan and Singapore, and soon in Hong Kong.
Another one that caught my eye was the Hello Kitty Bubbles, obviously because of its aesthetics. The Hello Kitty cava is made in the Catalunya part of Spain from Grenache grapes, aged for more than nine months in the cellar, following the traditional champagne method. The guy behind the counter said he was looking for a Philippine distributor.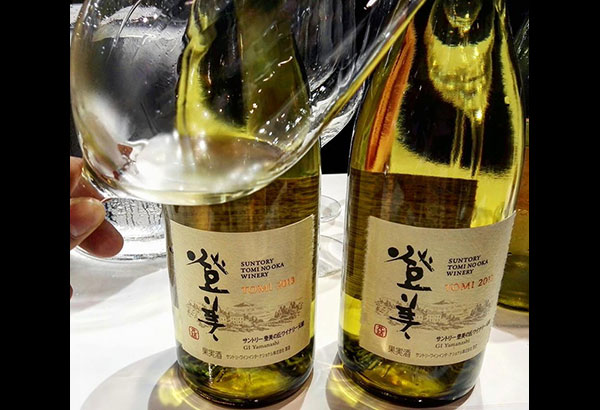 Suntory's Tomi No Oka Winery in the Yamanashi Prefecture produces Japanese wines. Their signature Tomi is made from 100-percent-chardonnay grapes from the region that's mellow and fresh, with hints of tropical fruits and a slight oaky flavor.
Moet Hennessy's First Luxury Wine From China
The tasting I was adamant about attending was the unveiling of Ao Yun, Moet Hennessy's first luxury red wine from China. This had me very curious as wines from China have never really been highly regarded. Their vineyards are located in the northwestern Yunnan province, at the edge of the Himalayas, where the temperature is much like California's Napa Valley and Spain's Ribera del Duero. It's 90 percent cabernet sauvignon and 10 percent cabernet franc, with properties similar to a Tempranillo, described as having a "paradox of concentration of freshness on the nose, with a silky tannin." I personally thought it tasted better with a longer aeration period, which manifested later on in the session as compared to my first couple of sips.
According to Moet Hennessy's Estates and Wines president and CEO Jean-Guillaume Prats, this is the costliest wine to produce from their MH portfolio as it's a difficult area to get to, but major props to the company for working with the local farmers and communities and teaching them new farming techniques. I also thought it was super-cool to have a wine produced and labeled from the fabled paradise of Shangri-La. Ao Yun was a small-batch production and is currently not yet available on the market.
I spotted several of our distributors and restaurateurs from Manila: Kathy Yao Santos, Griffith Go, David Ong, TitaTrillo, Paige Meneses, Sherwin Lao, Justine Villareal, Hugo Moronval, Chele Gonzalez, Khristine Gabriel and Aisha Hussain. Even the chef-patron of Asia's number-one restaurant, Gaggan Anand and his sommelier, Vladimir Kojicwere of Gaggan, were quietly in attendance. Gaggan is very particular about the wines he stocks at his Bangkok outpost, preferring boutique to large commercial ones.
* * *
For more information about Vinexpo, visit www.vinexpo.com/en.
* * *
You can reach me at inbetweendeadlines@gmail.com, on my blog www.cheryltiu.com, on Twitter at www.twitter.com/cheryltiu or on Instagram at www.instagram.com/chertiu.