Living la vida Bamba
August 28, 2014 | 12:00am
MILLIE: I first heard of Bamba through a post on Facebook by Marilou Kahn Magsaysay and the dishes looked really good. A few weeks later, my sister Dorcie Guingona dined there with her friends. So Karla and I became really curious and wanted to go, but we had to time it because of the traffic.
Last week, on the spur of the moment, we decided to go as it was a holiday, and since there was no traffic at all, it was a breeze to get to BF Homes in Parañaque. It was past 1 p.m. when we got there and the place was rather busy, but we were lucky, we had a nice cozy corner table in a jiffy.
Going through the menu quickly, I spotted artichoke crostini so I asked our server Ansel to start us off with that while we were digesting the menu.
As usual, Karla was taking her time to really read through the menu. The artichoke crostini was served with cottage cheese, almond shavings, pesto and balsamic drizzle and was simply divine! I ordered T.A.S., an acronym for "That Awesome Salad," with lettuce leaves, a prawn, smoked salmon, fig puree, onion rings, Parmesan shavings, and creamy balsamic dressing, and was healthy and delicious.
Karla's choice for the main course was the crispy lapu-lapu with rice fried with chistorras while I had to have the duck ravioli with ricotta, a thick porcini mushroom cream sauce and truffle that was sooooo sarap! Although we were both conscious of our intake, we could not pass on the sweet ending so I chose the Queen Elizabeth, which was a muffin-sized, not-too-sweet food for the gods with chopped walnuts and a warm butterscotch sauce. Ooh, la la! Karla had the What's My Name Again? — Triple C's chocolate ganache and whipped cream topped with corn flakes for crunch.
We were so impressed with our meal that we asked to meet the chef but was told she was not around. Over the weekend, however, we bumped into Janet Alfafara, a friend from Cebu whom we had not seen in a long while. She was with her sister Eva Rodriguez and daughters Karina and Krissy, attending the Sky Celebrations Fair 2014 at the Power Plant Mall where Karla, too, was an exhibitor representing The Plaza Catering. In the course of our conversation as we were having lunch, they asked us for tips on new eating places and I happened to mention Bamba. To our surprise, we learned that Krissy was a good friend of the chef's and quickly arranged for an interview.

KARLA: Over the holiday, Mom and I decided to sleep in all morning to reward ourselves and catch up on beauty rest. We were both looking forward to our "brunchinner" (breakfast, lunch and dinner) at 3 p.m. at Bamba, this time with Tina Legarda. Tina worked under chefs Jessie Sincioco and Billy King, the L'Opera group and Mario Batali's Osteria Mozza at Marina Bay Sands in Singapore until she finally ventured on her own.
Nowadays, most culinary graduates think that once they have graduated, they have earned the title of "chef." Tina, on the other hand, had no tinge of arrogance. Instead, she was very warm, bubbly and gave very sincere answers to our random questions. She explained how all her past jobs have given her the experience and discipline she needed to better her craft. Her food is neither disguised nor snooty yet very polished and just upright good food. It is not often that we come across chefs or restaurateurs with the same humility and fun spirit as Tina.
One thing we enjoyed about our interview was hearing the stories behind the menu and the stories behind the chef. Mom asked Tina how she got interested in cooking. Tina told us how she started taking summer cooking classes when she was just eight years old.
When I asked her what was the first thing she learned how to cook, she laughed and said it was a dish she learned in summer cooking class called Tuna Tetrazzini, which is basically creamy tuna spaghetti. She cooked the dish every day for a whole month and liked seeing how her family would react to it, and was pleased to hear that they liked it. Of course, her family had to keep raving every day for Tina even if they were probably all tired of having it. But I guess for her family, years of being Tina's guinea pig has finally paid off with her continued success in the industry.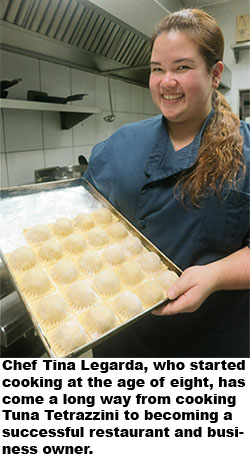 On the second trip back to Bamba, we tried the Patatas Fritas, which is also one of their bestsellers, for an appetizer — fried potatoes with chorizo, ham, and beef, drizzled with garlic aioli, topped with a poached egg and finished with a dash of smoked paprika.
We weren't going to order a salad but she insisted that we try the Bistro Street Salad, which is greens with tomatoes, blue cheese, walnuts and grilled tenderloin topped with crispy string onions and a balsamic cream dressing. Sometimes, mom and I play around with our salad just to give it a different twist. So mom immediately made a lettuce wrap with the salad stuffed with the beef and tomatoes, while I got some of the chorizo from the patatas bravas as stuffing for my lettuce wrap with a couple of crispy string onions and the creamy balsamic dressing.
The next dish we ordered was the Le Cochon sliders with crispy pork belly on a bed of red cabbage slaw, topped with fried wonton for added crunch and eel sauce served on a sesame bun. Mom and I also split the three mushroom raviolo, which is a giant ravioli stuffed with porcini, enoki and button mushrooms in a foie gras cream sauce topped with breadcrumbs.
And finally, for dessert, we tried the Pizzookie, a cookie served in a small pan straight from the oven with a scoop of vanilla ice cream, walnuts and salted caramel, plus extra salted caramel. Hehe! For those who want something refreshing to drink, I would recommend their Beergarita, jar of sangria or even just a simple calamansi shake would do.
MILLIE: I looked around and found the place very homey, country-style. We were seated in the air-conditioned area, which seats about 20. A smaller nook houses the cake showcase filled with delightful desserts baked by Tina's mom and wacky aprons displayed for sale. Karla remembered buying one in the Legazpi Sunday market many years ago. The non-air-conditioned area outside seats more and is perfect for a night out drinking with friends. There's parking for only three cars up front and we were lucky we had our driver with us. Service is prompt and no-nonsense, the staff courteous. We learned that they are closed on Mondays but were open that day for her mom's birthday dinner. They describe themselves as "a modern bistro confiteria."
Asked why she called the restaurant Bamba, Tina said it was after the song La Bamba, which her Dad used to sing to her when she was a little girl while strumming his guitar. When feeling down, she would always perk up upon hearing the tune! She also offers Tina's Table for private parties, dining alfresco at her home, for a maximum of 30 pax. She loves to create new dishes and sometimes changes the menu but retains the bestsellers.
Her own favorite among her creations is prawns with tomato risotto and goat cheese with Berlinois sauce and her spaghetti Bolognese, something we must try the next time. With smiles on our faces, we promise to brave the traffic and come back to our new favorite place serving awesome comfort food!
* * *
Bamba is located at 55 Aguirre Avenue corner Arsenio Luz street in BF Homes Parañaque. For inquiries and reservations, call 519-7097.
* * *
Send e-mail to [email protected] and [email protected]. Find us on Facebook and read articles you might have missed: Food for Thought by Millie & Karla Reyes.