Reggae Mistress brings on the good vibrations
(The Philippine Star) - May 15, 2014 - 12:00am
MANILA, Philippines - Reggae Mistress is not your typical reggae band. First, they're fronted by a female vocal trio. Secondly, they're Filipino. These two facts alone should get your reggae antennae moving.
Formed by Rene ("Chong") Tengasantos and wife Irma ("Chang") Tengasantos back in 2002, Reggae Mistress started as an idea: why not have a reggae band with a distinctly Pinoy flavor? And hey, why not put women in front? It was a fresh take on the music in a largely male-dominated scene. Inspired by the I Threes — Bob Marley's backup vocalists Rita Marley, Judy Mowatt and Marcia Griffith — Chang is joined by daughter Lady I and niece Ira on vocals. Three little birds, indeed. Husband and father Chong meanwhile had honed his drumming skills in one of the Philippines' first reggae bands, Reggae Eurasia.
We know that reggae has had more than a passing fling with the Pinoy music scene — ska bands have been popular since the '90s, while more roots-oriented reggae outfits like Brownman Revival continue to spread lots of irie. So why does reggae music connect with the Philippines?
"Reggae music is not hard to be liked and loved by Filipino audiences," says Chang. "It has a distinct beat and melody that most people recognize when they begin singing or swaying their body to the songs."
Not surprisingly, they hope to bring this "good vibration" to audiences at the May 18 Soundbites Festival at Robinsons Magnolia (they open for Sabor Latino).
The Marley connection goes even further. Reggae Mistress opened for Bob's son, Ziggy Marley, at MTV Philippines' Reggae Fest by the Bay in 2007. "It was a privilege to be one of the front acts of Ziggy Marley," the band members say now. "We were even the very first band to play." They also opened for Black Eyed Peas when the group visited Manila in 2004. "That was as memorable for us, since they're big stars in the international music scene."
You can call it reggae, but as with most bands with a world flavor, they don't like to be pigeonholed. "Reggae Mistress mixes up a delicious cocktail of genres from rock 'n' roll, blues, soul, jazz and a dash of dancehall and lover's rock, putting a reggae relish on top making it a new sound, distinctively Mstres Stylee." What that means to non-rastas is that the sistahs are doing it in their own style.
"Reggae music is a part of our daily life kaya ganun kalakas ang influence nito to our family and the people around us," says Chang. Reggae isn't just T-shirts and Bob Marley CDs, in other words. Spawned from Jamaican slums, early ska music sought an escape from poverty — but reggae music evolved and found its spiritual father in Ethiopian Prince Ras Tafari — who crowned himself Emperor Haile Selassie I in 1930. Since then, true reggae devotees see Selassie as one of the original Biblical prophets. No wonder they consider ganja a religious sacrament.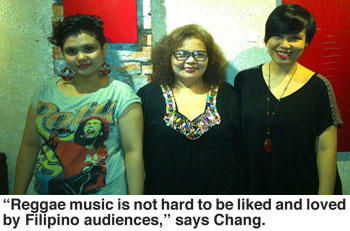 We all have our favorite Bob Marley moment. Whether it was a keg party back in college, or a beach bar last week in Bora where "Legend" was pulsing over the loudspeakers, reggae music is about relaxing, spreading positivity, and good music.
But underneath the groove, there's always a message. "After Bob Marley, reggae songs evolved from praising Selassie to universal songs of love, freedom, and uncensored attacks on social injustices, materialism, and spiritual wickedness."
Offering unvarnished social commentary buried in a seductive beat, Reggae Mistress continue to carry on the movement's message. "As artists, we want to be an inspiration to all the women who hear our lyrics and music since it reflects the greatest qualities of being a woman," says Chang. "In the reggae music scene it shows that there is an equality in what men or women can do.
"Yes, we're an all female vocal trio, which is very unique among reggae bands in the country," she adds. "Although we're not concerned with image but with the goodness of our hearts."
Concert Schedule for SoundBites Music Festival
Robinsons Magnolia
May 17 - Side A (8 p.m.)
May 18 - Reggae Mistress (6:30 p.m.)
& Sabor Latino (8 p.m.)
This will be the launch event.
Robinsons Place Manila
May 23 - Brass Pas Pas Pas Pas (6:30 p.m.)
& Brownman Revival (8 p.m.)
May 24 - Side A (8 p.m.)
Robinsons Galleria
May 30 - Rico Blanco (8 p.m.)