A grand birthday bash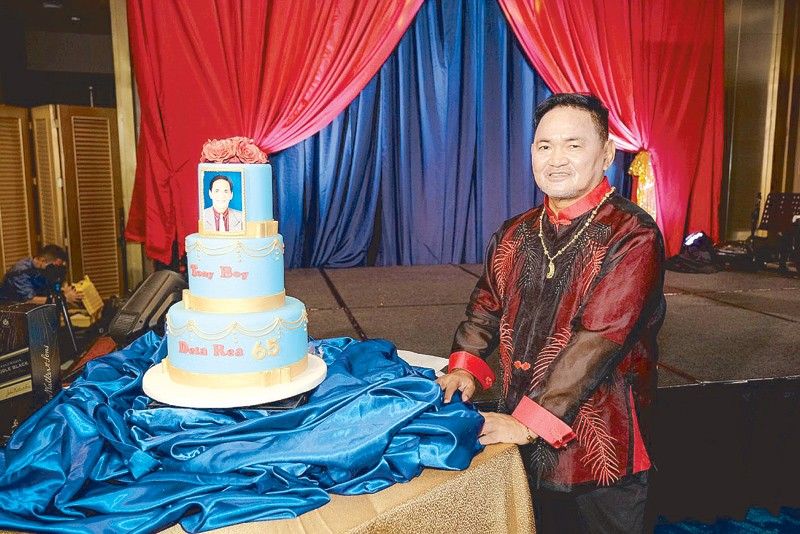 De La Rea Multi Farm CEO and president Tony Boy De la Rea, the gentleman farmer, celebrated another year of his exciting life at Mayuree Ballroom, Dusit Thani Manila with a blast.
Guest of honor was former Silang, Cavite Mayor Socorro Corazon Fule Poblete. Tony Boy welcomed guests with his sister Nette de la Rea, who helped organize the successful event.
His other VIP well-wishers were film director Elwood Perez, actress Azenith Briones, beauty queen Jane Umali, businessman Bridge Sibug, Manny Granasin, Atty. Clemente Fajardo, Geena Zablan and Merlita Antonio, fashion designer Nardie Presa, and sister Del Vitangcol of Healing Eucharist.
Ernie Garcia, Angie Bonnevie, singer Lance Raymundo, Nandy Umali and the celebrant rendered song numbers, dahlings. Guests danced all night with the Savannah Moon dance instructors.
Lance de Guzman hosted the event. Tony Boy gave away souvenir photos taken by lensman/videographer Mark de Guzman.
The party was so much fun, palanggas!
* * *
An irresistible cream cheese drink
Who can resist the delightful flavor of cream cheese? I can't! So, if you're like me, head on over to Seattle's Best Coffee and try its newest beverage creation: the Cream Cheese Delight Collection.
Available in hot, iced, and ice blend drinks, the Cream Cheese Delight Collection incorporates the rich flavor of cream cheese foam.
The Hot Java Cream Cheese is an espresso-based drink infused with dark chocolate sauce and vanilla syrup topped with cream cheese foam. But if you're craving something to cool you down, go for the Iced Java Cream Cheese, which is made with dark chocolate sauce, espresso, and cream cheese foam.
For a refreshing tropical and fruity drink, the Mango Cream Cheese Ice Blend is the best choice. This iced blended drink is made with mango and crushed graham cracker, combined with the distinct taste of cream cheese.
So, palanggas, treat yourself with these refreshing drinks available at Seattle's Best Coffee!
Recommended