Fine arts meets high fashion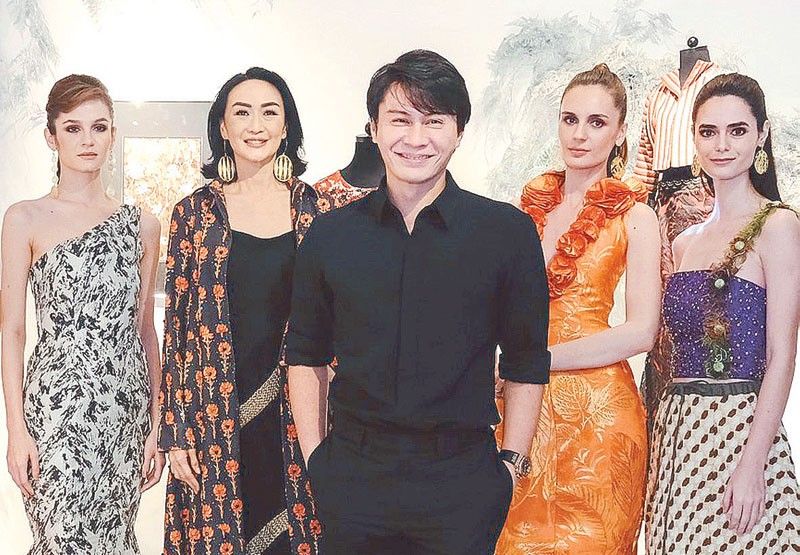 Art and fashion have always been topics for spirited conversation. More often than not, the results are amazing when high fashion and fine art intersect, dahlings. Take the Mondrian shift dresses by Yves Saint Laurent and Elsa Schiaparelli's Dali-inspired designs, for example. Haute couture has been showcased in museums in the same way that such institutions revere paintings by a highly respected artist, palanggas. Fine art has, unsurprisingly, inspired the creation of not only museum-worthy couture, but also of wearable yet stylish and impeccably constructed designer pieces. Such is the case with Manila-based couture label Septième Rebelle, whose collaboration with Fundacion Sansó is inspired by the work of no less than distinguished Spanish-born painter Juvenal Sansó.
Unbeknown to many, master painter Sansó dabbled in fashion as a textile designer, while he was a student at the École Nationale des Beaux Artes in Paris in the 1960s, as a means of supporting himself when the Central Bank had set caps on the financial support that could be sent by his father from Manila. Sansó's hand-painted textile designs depicted florals and foliage, as well as geometric shapes and abstract patterns. The House of Balenciaga was his biggest client.
Robbie Santos, founder and creative force behind Septième Rebelle, is no stranger to Sansó's work as a patron of the arts himself. But Sansó's story of working as a young textile designer in Paris may have added another dimension to Santos' appreciation of the renowned painter, prompting a vision beyond his: that of an art connoisseur.
Santos draws a connection between his experience as a burgeoning fashion designer inspired by fine art, palanggas, and Sansó's experience dabbling in fashion many years ago.
"He was still new as an artist. I feel a certain level of parallelism with Sansó in a way that I'm also starting my life as a fashion designer — 60 years later," Santos said. "I think there is a connection between what he made and what I am making for the collaboration."
Although separated by half a century and belonging to different generations, their experiences are similar: both artists took a step away from their respective chosen mediums to see how one another's approach could fuel their creative pursuits, dahlings.
Drawing from Sansó's work wasn't easy for Santos. He had to take two different paths for his new collection. First, the process of digitally printing Sansó's hand-painted original designs on fabric and making clothes from the printed fabric produced. Resulting from this process are the pieces with painterly patterns from the collection. The second, arguably more daunting task was using the inspiration he got from Sansó's paintings to find fabrics that embody the aesthetic presented in the artworks, and design and create clothes from ready-made fabrics.
Robbie allowed his influences and personal aesthetic as a designer to flow into his work. Santos, who took design courses in esteemed institutions such as the Istituto Marangoni-Paris, London College of Fashion and Central Saint Martins, is deeply influenced by '90s fashion, and cites greats such as Jean Paul Gaultier and Gianfranco Ferré as major influences. He has a personal preference for asymmetric details; diagonal cuts and slashes have become trademark elements in his work. Santos had to balance all these with the aesthetic of the '50s and '60s — which inspired Sansó's textile patterns — and the sensibility of contemporary fashion, while staying true to the promise of his brand — to Rebelle.
The capsule collection by Septième Rebelle using the Sansó textile designs is a nod or a curtsy to the revival of fashion after the second world war, which was the time when a young Juvenal Sansó made contributions to fashion as a designer for fabric houses and ateliers overseas; and to the hopeful resurgence of high fashion after limitations set by debilitating lockdowns. More than a showcase of wearable art, the collection is also part of fundraising efforts in partnership with Fundacion Sansó.
"The collection that I am making in collaboration with Fundacion Sansó has to uplift," says Santos. He wishes that the designs, which stand out with their vibrant prints, colors, shapes and patterns, would positively shift the mood and enrich the souls of spectators and eventual owners of his avant-garde, made-to-order pieces; for them to bring a sensation much like the one you get when you open your eyes to something beautiful and extraordinary after a long, tiring dream but you just know things are going to be better — an awakening, of sorts.
"Sansó Textile Designs X Septième Rebelle" was on display at the newly opened Galerie Joaquin in One Bonifacio High Street Mall, BGC. The limited-edition Septième Rebelle embroidered bags with patterns inspired by the textile designs were also on display. Set design was meticulously conceived and supervised by creative genius Vince Uy. Curating the artworks to complement the fashion exhibit was properly executed by the director of Fundacion Sansó, Ricky Francisco. The styling of the space was subdued in hue to highlight the bold colors and prints of the capsule collection. The foliage accents cascading from the ceiling and covering areas of the exhibition took cues from some of Sansó's paintings. Mannequins on loan from luxury fashion distributor Noble House brought form to the entire capsule collection. The 38 looks were segmented based on the color palette juxtaposed with the actual paintings of Sansó. Coordinating the event and publicity details were handled by IMPRINT Media Group of Tedrick Yau and Rica Barcelon. Divine Accessories by Caro Wilson were handpicked by Santos to complement the pieces that were showcased at the launch.
* * *
For inquiries, ollow @fundacion_sanso and @septiemerebelle on Instagram.