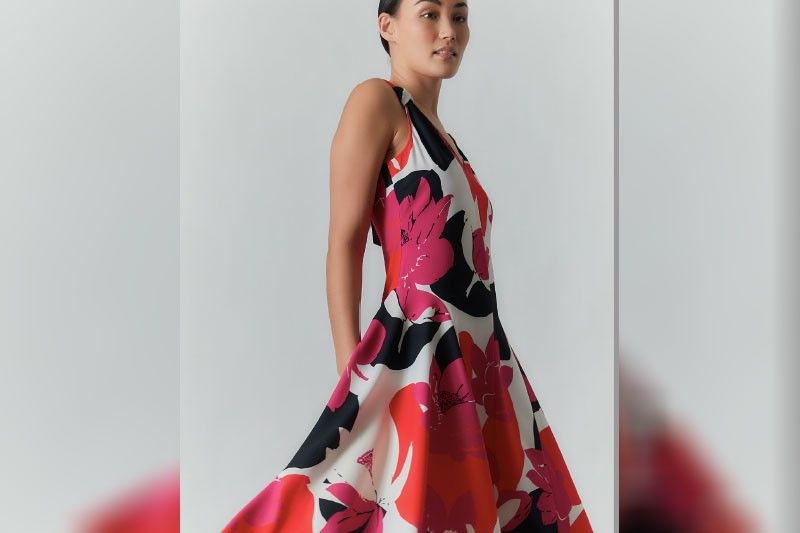 Hothouse flowers: A halter dress printed with the vibrant florals Natori is known for
Clothes women love so much they sleep in them
Designer Josie Natori is nothing if not prescient: she was doing the innerwear-as-outerwear concept and chic loungewear years before the pandemic made those concepts daily, practical necessities.
And Natori is still doing it with her distinctive flair this season, with her spring 2021 collection looking more relevant than ever before.
"Our spring '21 collection is a true example of the Natori concept of dressing and living," she says. "Effortless dressing… comfort from the inside out... looking good and feeling good 24/7... never sacrificing comfort for glamour."
Hard to believe that it's almost been a half-century since the brand Natori was born from the concept of dressing that had no boundaries and, according to Josie, this concept has stayed the same for 44 years.
"Natori is the convergence of RTW, sleepwear, underwear, loungewear and activewear," she says. "Thankfully, our collection has resonated even more strongly since the pandemic a year ago."
I'll say. This season's billowing summer dresses and flowy shirtdresses in clean neutrals or caftans and tunics in the vibrant, artistic prints Natori is known for look very current yet are classic and timeless enough to live in your closet well past this year and beyond.
"We celebrate shirt dressing by blurring the lines between shirts and dresses," Natori says. "Our spring collection is the result of curating the ideal wardrobe with the Natori sensibility to fit our new world."
Her comfortable lifestyle essentials include cotton, terry and knit separates, underwire sports bras, and the comfort even extends to your feet, with sneakers made out of velvet.
Now more than ever we're desiring versatility: pieces that we can WFH in, lounge in, work out in or go out in — easy pieces we can throw on without too much thought and still look presentable over Zoom or doing errands.
"The new lifestyle post-pandemic requires versatile pieces that are effortless, comfortable and artful!" Josie declares. "We make clothes that women love so much they sleep in them."
And that is no joke. These days you can literally roll out of bed in your Natori sleepwear, slip on one of her silk robes or terry toppers and head out the door — that's how blurred the lines have become with boundary-less dressing and how essentially "right" and everlasting Natori's pieces are.
As the designer herself says, "Remember: Never compromise comfort for glamour."
* * *
Natori is available at Rustan's and Rustans.com.