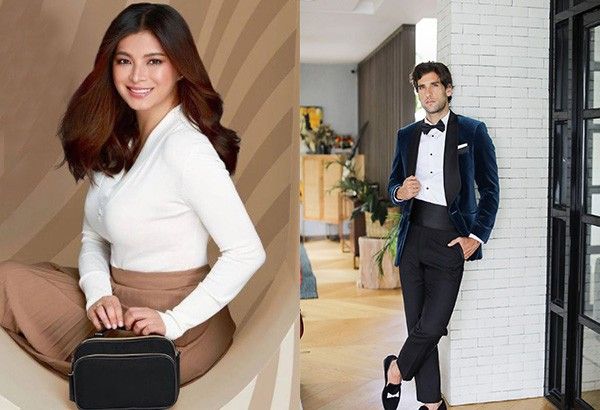 From left: Angel Locsin, Nico Bolzico
Avon Philippines via Angel Locsin's Instagram page; Pat Dy/Suit It Up Manila, released
Better days ahead: 5 faces of fashion for 2021
MANILA, Philippines — What does 2021 look like amid the ongoing COVID-19 pandemic?
In terms of health, more vaccines are coming up, but also, more variants of the virus are being discovered.
While the future still seems hazy until the pandemic is really over, fashion, however, shows a glimpse of what future styles and lifestyles could be like.
More fashion meets function
Although most people are confined to their homes, they also want to look good whether on virtual meet-ups or the rare times they leave their houses.
Knowing this, actress Angel Locsin will drop new designs for her exclusive accessories collection for Avon Fashions on January 16.
Named "Designed by Angel," the award-winning star's accessories line for the direct-selling brand includes bags, watches and jewelry she describes as "classic with an edge."
In the past, among the pieces from her collection are multi-way totes and sling bags that do not only come in lavish textures such as faux crocodile skin and suede, but also have multiple pockets for storing essentials such as extra face masks and alcohol, which are much-needed during the pandemic.
The necklaces and earrings in her collection, meanwhile, can help one look glammed up in one's virtual meetings or small gatherings.
In 2018, Angel began collaborating with Avon by applying what she learned from the short fashion design course she took from St. Martin's School of Arts in London in 2007.
More collaborations
Stargazers will want to own a piece from the limited capsule collection, Guess Originals x NIKI. The renowned American brand continues its partnership with musical incubator 88Rising with the launch of the collaboration that features the Indonesian vocalist, songwriter, multi-instrumentalist and producer.
The capsule collection is also called "Moonchild," after the singer's first full-length album.
"To have my own Guess Originals x NIKI 'Moonchild' collection is like a fever dream!" said NIKI. "I used to play dress-up in my mom's GUESS shoes and handbags as a little girl. I remember regularly perusing the stores with her as a teenager! To see an album that I worked on for two years take on a new life in fashion is a dream come true!"
The capsule ranges in price from P1,898 to P5,498. It includes a women's tank top that pairs with a matching biker short in a constellation print. The rest of the collection suits both men and women, which includes a selection of short sleeve t-shirts, hoodies, jogger pants and baseball hats in both black and purple hues that mimic the lunar-themed album. The garments feature NIKI's signature Moonchild logo across the back.
The nine-piece collection is now available at the brand's stores and online platform.
More 'athleisure'
Whether you want to pick up a new sport or elevate your current workout routines this 2021, you should start the year strong with athletic wear that helps you power through.
Get your next workout gear from Under Armour Philippines' End of Season Sale and level up your physical activity with top-notch trainers, apparel and other sporting goods—all offered at big discounts. Until January 31, get up to 60% off on selected Under Armour items and get additional discount for buying two or more.
Among those on sale are the brand's lineup of ergonomic trainers that aim to provide ample support as you run those miles or perform explosive reps. The UA HOVR Summit, a reliable running and outdoor shoe for all kinds of activities, comes with a special Chinese New Year-inspired design for those who like striking kicks.
Graphic tees and sportswear are combined in the brand's tops made from lightweight and quick-drying fabric. With a fitted fit that allows for a dynamic range of motion, the Women's Graphic Sportstyle and Sport Tank are smooth and lightweight tops that aim to keep one fresh and comfortable as one exercises.
Recycled, upcycled, sustainable
Sundals onboarded Lazada Philippines last 2018, initially selling locally manufactured abaca footwear. Now, the store has amped up its assortment by selling upcycled "sako" sandals made from recycled sacks, as well as handcrafted "crokini" (crochet bikini) and bags.
Similarly, Philippine retail brand Bayo joined other Filipino companies in the United Nations Global Compact initiative, a voluntary leadership platform for the development, implementation and disclosure of responsible business practices. As such, the brand committed to transitioning its linear approach to a circular business model and at the same time enacting zero waste in all its production process, where most waste from textile scraps is generated.
Recycling and sustainability also echo in the international fashion scene.
Recently, Adidas Originals launched Stan Smith, Forever, a new touchstone in the brand's journey to help end plastic waste. While the look stays the same, from this season onwards, Stan Smith models will become an experimental canvas in the brand's more sustainable journey as the first two sneakers in the drop are composed of white PrimeGreen uppers, a series of high-performance recycled materials, sat atop white recycled rubber outsoles.
The women's iteration then features printed planet earth inspired graphics, a white heel tab and an ivory tongue graphic. Meanwhile, the next makeup features embossed planet earth inspired graphics, gold eyelets and green heel tabs.
Rounding out the trio, the third sneaker features a white recycled PrimeGreen upper, which is complimented by the Stan Smith's quintessential green heel tab and sat atop a white recycled rubber outsole. The classic look is then updated with the addition of planet earth inspired embroidery throughout.
Bringing the sustainability focus full circle, each pair in the collection comes packaged in the classic Originals blue box, which has already been updated to be composed of more than 90% recycled paper.
The three latest iterations of the Stan Smith silhouette launched globally last January 8 and are available at the brand's online store.
More bespoke than mass-produced
During the pandemic, many people realized that they do not need so many clothes – especially if they are just going to stay at home most of the time.
In response to calls for more sustainable production practices, many brands, such as Suit it Up Manila, highlight the importance of going back to appreciating the art of making and wearing bespoke as opposed to fast fashion.
According to Nico Bolzico, getting his clothes from made-to-measure stores like Suit it Up Manila in 1018 A. Arnaiz Avenue, Makati and 5th level Mega Fashion Hall, SM Megamall, is an approachable kind of luxury.
"The first reaction when I come down is wooooow! That first five seconds reaction is priceless." Bolzico said of his wife Solenn's response whenever he is all decked out in a suit.
"Because she's not used to seeing me too often in a suit," he said.
"But also because I believe I look way hotter in a suit!"
Indeed, the Argentinian entrepreneur/influencer is absolutely dapper in the brand's latest campaign, "Suiting Forward," shot with celebrity photographer Pat Dy.
Nico slipped into a sophisticated dark teal wide velvet shawl lapel tuxedo made from the Velvet collection of Holland & Sherry, a relaxed silver gray tartan check notch lapel jacket made of wool silk and linen from the Holland & Sherry Crystal Springs 2020 collection paired with gray trousers, and a black diamond three-piece peak lapel suit with custom gold pinstripes lettering.
"I look for different things for every different suit, it depends on where I'm gonna go. If it's going to be at the beach, I like to be comfortable. If it's going to be a formal event, I like to be outstanding or that I can outshine," Nico said.
Touted as the "Rolls Royce" of fabrics, Holland & Sherry fabrics are considered an investment because they have been using only the highest quality wool since 1836. Their head office is situated in Savile Row and they ship their fabrics directly from Peebles in Scotland.
"In 2020, we didn't have many chances of dressing up or wearing suits. So I think, 'Suiting Forward' is a way of saying there is an end to the craziness that we have lived in 2020. And we're gonna get out there, and when we go out there, we're going to be wearing our suit, we're going to look our best. And being able to start wearing a suit outside your house means that things are getting back to normal, that you're starting to see people, that you're starting to go to events. So it's a way of saying hang in there, things are coming back. Let's suiting forward!" Nico enthused.