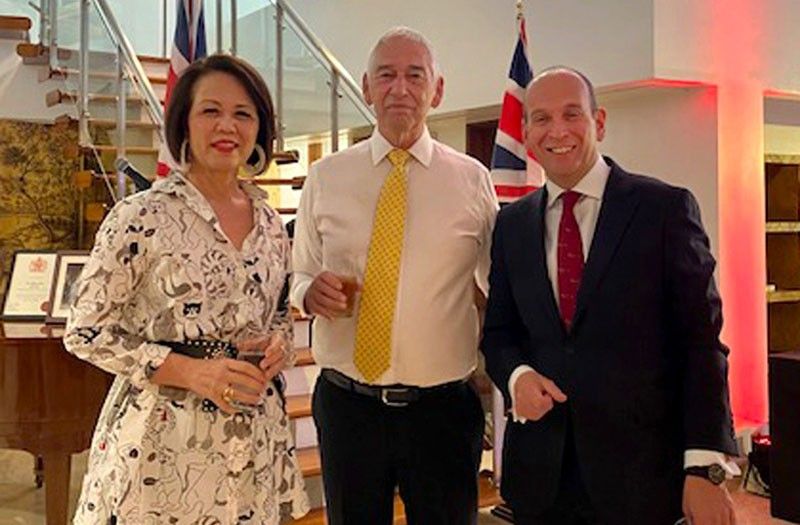 Birthday celebrant Wito Tuason Quimson with Bruce Ahearn and British Ambassador Daniel Pruce
Alex Van Hagen For power MAC Center
An untold story before COVID-19 happened was how the British Ambassador gathered a few friends in order to raise money for Compassion and Responsibility for Animals (CARA), an animal welfare organization. The goals were to save Manila's askals and pusapins from a life worse than death in the streets of Manila, and provide shelter and nurse back to health horses and other animals affected by the Taal volcano eruption.
The coming together of animal advocate stalwarts Rachael Morgan, British Ambassador Daniel Pruce's longtime partner; Nancy Cu Unjieng, head of CARA; birthday celebrant Wito Tuason Quimson, an animal lover; iconic balladeer Louie Tuason Heredia; and Lorrie Reynoso, New York chef, garnered nearly a million pesos in donations.
These friends brought in from Thailand a young Filipina singer, Venice Valdez, the "Adele of Asia," who makes her livelihood by singing up and down Bangkok's Chao Phraya river on a cruise liner to pay for her mother's cancer ailment. She provided the entertainment that evening with her repertoire of songs and her amazingly husky voice, which delighted Nene Tuason Quimson, Pinky Amador, former Ombudsman and Secretary of Justice Merceditas Gutierrez, Dawn Zulueta, Derek Ramsay (whose father is British), Senator Jamby Madrigal, Rep. Anton Lagdameo, art designer Maricris Floirendo Brias and her sister, premier environmentalist and animal lover Marissa Floirendo, Lilibeth Cu Unjieng-Virata and Chiqui Prieto.