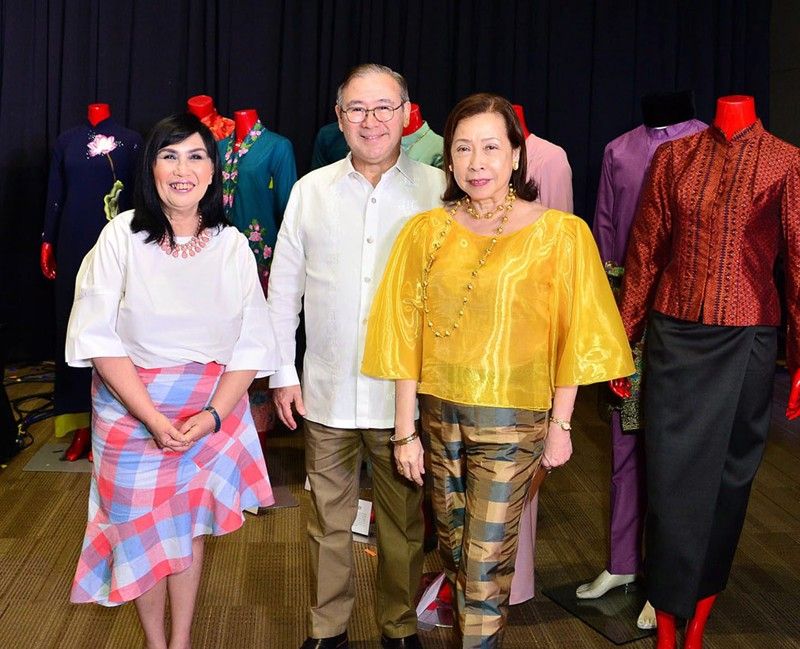 SM senior VP for marketing Millie Dizon with Foreign Affairs Secretary Teodoro "Teddy Boy" Locsin Jr. and wife Louie Barcelon-Locsin
Photos by Alex Van Hagen Powered by MAC Center
A taste of ASEAN diplomacy & cuisine at SM Aura
Mallgoers had a taste of authentic Southeast Asian cuisine and culture during the recent successful ASEAN Food Festival at SMX Aura Convention Center in SM Aura Premier.
A joint project of the ASEAN Ladies Foundation (ALF) and the Department of Foreign Affairs (DFA), in partnership with the 10 Embassies of the ASEAN member states and SM, the fantastic event featured traditional dishes and exotic flavors, palanggas.
This annual cultural event aims to foster unity and cooperation among the ASEAN community, naturellement. It also enabled mallgoers to experience the to-die-for exotic flavors of the Southeast Asia region without having to jet away to neighboring countries.
Well-admired Louie Barcelon-Locsin, wife of workaholic international renowned Secretary of Affairs Teodoro Locsin, Jr. and chairperson of the ASEAN Ladies Foundation, together with Hajah Johariah binti Haji Wahab, Ambassador of the Embassy of Brunei in Manila and president of the ASEAN Ladies Foundation, led the opening ceremony. They were joined by ASEAN ambassadors and spouses who took part in the traditional ASEAN handshake which started this happening on a roll.
Invitees enjoyed both traditional and modern dishes prepared by the embassies and participating restaurants. These included (name-dropping time) Brunei's nasi katok ayam or rice and fried chicken served with sambal or chili sauce wrapped in brown paper and pulut panggangor rice with a spicy sambal filling; Cambodia's popular street food delights — num krok or coconut rice cake and num banh chok or fish curry noodle; and Indonesia's signature stir-fried rice or the popular nasi goreng and sate ayam or grilled chicken served with peanut sauce.
Lao PDR's seensavanh or beef jerky and khaiphaen or dried green algae, khai; and Malaysia's laksa asam penang or spicy and sour fish noodles and teh tarik or hot milk tea beverage; and Myanmar's mohinga or rice noodle with fish soup and kaung nyin paung, or steamed glutinous rice seasoned with sesame salt, also delighted guests.
Singapore's famous laksa or spicy noodle soup and Hainanese chicken rice were among the crowd favorites, plus Thailand's pad thai or stir-fried rice noodle dish and chiang rai or Thai milk tea, and Vietnam's nemrán or fried spring roll. The Philippines had an updated version of the iconic sisig, and its own version of a sari-sari store. If all this doesn't whet your appetite, nothing will, dahlings.
The one-day event showed off our rich Southeast Asian culture with fun games and performances for the guests. These included Cambodians' traditional Lak Kansaeng or hide the scarf game, Indonesia's Bakiak Race, Lao PDR's Crown the Seat game, Malaysia's Coconut Shell Clogs, the Philippines' balut-eating contest, and Singapore's Giant Snake and Ladders. Several cultural dances were presented as well.
The ASEAN Food Festival is one of the many exciting and famous events at SMX Aura. Leave it to SM, dahlings, to always bring us such amazing — and appetizing — events.