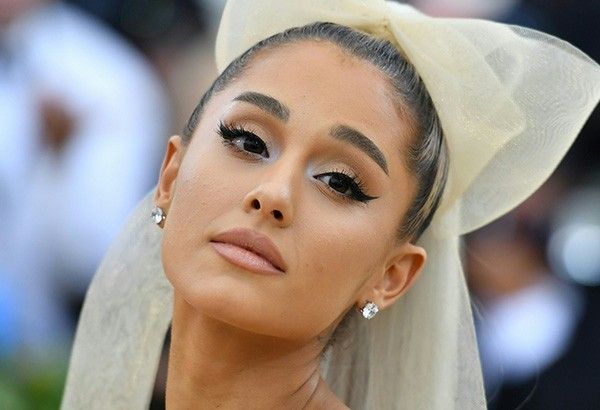 In this file photo taken on May 7, 2018, Ariana Grande arrives for the 2018 Met Gala at the Metropolitan Museum of Art in New York. French luxury fashion house Givenchy on May 10, 2019, named pop royalty Ariana Grande the face of its fall/winter campaign, calling her "a strong, independent woman of refreshing character and style." "A modern muse and the voice of a generation, Ariana has emerged as one of the most influential forces in pop culture today," Givenchy, a legendary brand owned by the conglomerate LVMH, said in a statement.
AFP/Angela Weiss
Ariana Grande is new face of Givenchy
(Agence France-Presse) - May 16, 2019 - 1:11pm
FRANCE — French fashion house Givenchy recently named pop princess Ariana Grande as the face of its fall/winter campaign, calling her "a strong, independent woman of refreshing character and style."
"A modern muse and the voice of a generation, Ariana has emerged as one of the most influential forces in pop culture today," Givenchy, which is owned by the luxury goods conglomerate LVMH, said in a statement.
"She naturally embodies the spirit of the Givenchy woman with impertinence, generosity and a lightning wit -- all cloaked in a touch of mystery."
The announcement came one day after the fashion brand teased the reveal, posting to social media a video clip with the silhouette of a woman quickly identified as Grande thanks to her signature high, extra-long ponytail.
"I am so proud to be the new face of Givenchy. It is a house I have forever admired, and to now be part of that family is such an honor," Grande said of her first campaign for a major luxury house.
"I love this clothing and the confidence and joy it brings to the people wearing it. Not only is the clothing timeless and beautiful, but I'm proud to work with a brand that makes people feel celebrated for who they are, and unapologetic about whatever they want to be."
The 26-year-old Grammy winner's Givenchy campaign is set for release in July.
In a new teaser published Friday, Givenchy portrays Grande as a modern-day Holly Golightly from the classic film "Breakfast at Tiffany's," dressing her in the character's iconic little black dress -- a Givenchy number -- worn by actress Audrey Hepburn.
Considered the "original brand ambassador," Hepburn shared a muse-designer relationship with the house's founder Hubert de Givenchy for decades.
Grande is the second pop idol to announce a collaboration with LVMH Friday, after Rihanna said she was teaming up with the French giant to launch her own luxury fashion brand in the spring -- making history by becoming the first black woman to head up a house for the firm.
Youngest to headline Coachella
Recently, Grande became the youngest ever act to headline Coachella in last month's performance featuring a coterie of high-profile guests including a reunion of 1990s boy band NSYNC.
The 25-year-old pop phenom also invited rapper Nicki Minaj onstage before throwing back to hip hop classics, bringing out Sean "Diddy" Combs and Mase for a touching tribute to both the recently slain rapper Nipsey Hussle and her ex-boyfriend Mac Miller, who committed suicide last September.
Grande is just the fourth woman to headline Coachella, a sun-drenched trendsetting festival in the desert of California that will run through the same lineup again next weekend, save for an exclusive Easter Sunday performance by Kanye West.
The top billing is a feather in Grande's cap after a year that saw the former child star permeate the public consciousness as she shattered record after record and released two hit albums.
She kicked off the show with her hit celebrating sexual pleasure "God Is a Woman," and shortly thereafter performed "Break Up With Your Girlfriend, I'm Bored", which features a deep cut sample from NSYNC's 2000 album "No Strings Attached."
Four of NSYNC's five former members came together for the occasion, though Justin Timberlake -- who found fame in his own right after the band broke up -- was noticeably absent.
But the four who turned up delighted the audience and Grande herself -- who would've barely been in primary school when the group peaked -- with the pop star saying: "I've been rehearsing my whole... life for this moment!"
The performers then did a rendition of the 1997 classic "Tearin' Up My Heart," nailing the original choreography.
Technical difficulties struck when Minaj joined Grande onstage to an eruption of cheers to perform their joint smashes "Side to Side" and "Bang Bang."
A botched rap from Minaj saw the two awkwardly bop back and forth, with Grandesaying "We can't hear anything" several times, before using her four-octave range to try and move on from the snafu.
A clip of the incident quickly became the stuff of memes, with captions like: "Me And My Best Friend During Our Oral Presentation That We Forgot About."
'Still standing'
The crowd threw up peace signs for Grande's collaboration with Diddy and Mase, with the trio performing "Mo Money Mo Problems," the 1999 megahit by the Notorious B.I.G. that featured the duo and was released after his death.
During the emotional tribute to Miller and Hussle -- whose shooting death triggered an outpouring of grief from the music industry and beyond -- the performers also gave shoutouts to Biggie and Tupac Shakur, whose murders in the mid-1990s were the most high-profile of the era's spate of rapper killings.
While Grande has found massive success recently, she has also suffered highly publicized personal and professional upheavals, which included Miller's death, the demise of her whirlwind engagement to comedian Pete Davidson of Saturday Night Live and a deadly bombing at her 2017 concert in Manchester.
"She's been through a whole lot, but she's still standing," shouted Diddy to cheers.
"Give it up for the number one artist in the world!" — Reports from AFP/Maggy Donaldson