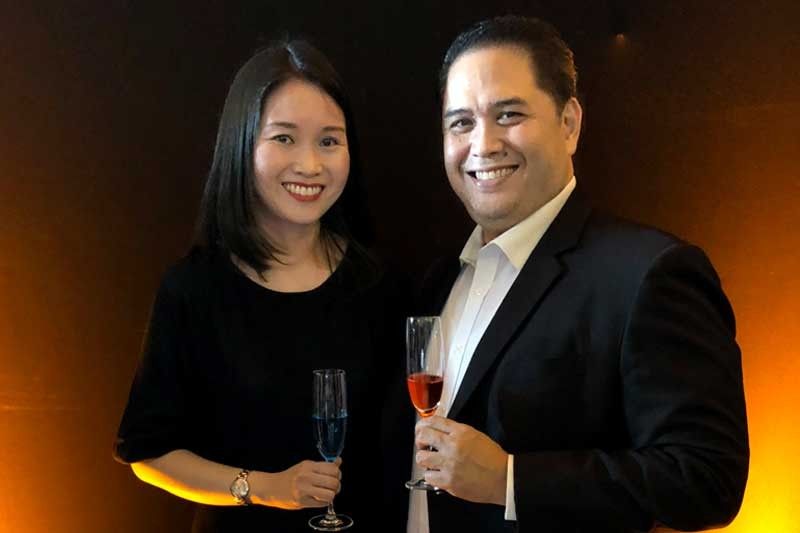 Retail maven Catherine Tantoco Huang and orthopedic spine surgeon David Endriga.
David Endriga & Catherine Huang Define True Love & Their Dream Wedding
LIFE AND STYLE
-
Millet M. Mananquil
(The Philippine Star) - May 1, 2019 - 12:00am
He is a brilliant doctor who rocks. She is a business scion who is simply down to earth.
When David Endriga and Catherine Tantoco Huang walk down the aisle this month, all eyes will be on a brilliant couple seen as "a match made in heaven."
David is an orthopedic spine surgeon whose training in the US and Japan puts him among the best at the Philippine Orthopedic Center and St. Luke's Global City. Catherine is an IT specialist who took her MBA at Manchester Business School before assuming her post as general manager of Marks & Spencer Philippines.
Their marriage unites two highly respected families in business, education, food and retail. Both families are at the vanguard of Philippine art and culture, and the promotion of patriotic values.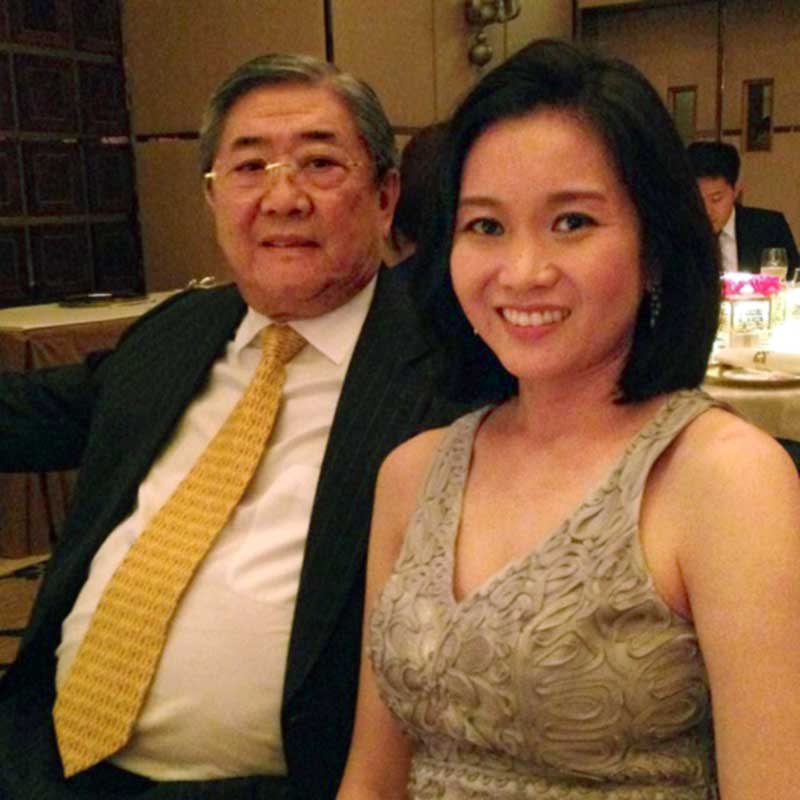 Catherine with dad Anthony Huang, president of Commonwealth Foods.
David is a nationalist who could have worked abroad after his medical training, but he chose to come home and serve the country. "The Philippines is where I choose to live and work," he says.
When asked what quality Catherine likes best in David, she answered: "He has a big heart."
David, on the other hand, says: "It is hard to find someone who is so down to earth yet elegant. Catherine is also kind and gracious."
Catherine's mom (Nedy Tantoco) says the expression "opposites attract" applies perfectly to this couple: "David is outgoing, loves Spanish culture and plays the flamenco guitar. Catherine is a shy and quiet entrepreneur, a hardworking one who travels regularly to London to oversee the buying and marketing programs of Marks & Spencer for the Philippines."
During his college years, David was a member of several rock bands, but classes at Instituto Cervantes and a stay in Spain made him focus on flamenco guitar music.
"Both Catherine and I enjoy classical music as well as the visual arts," says David.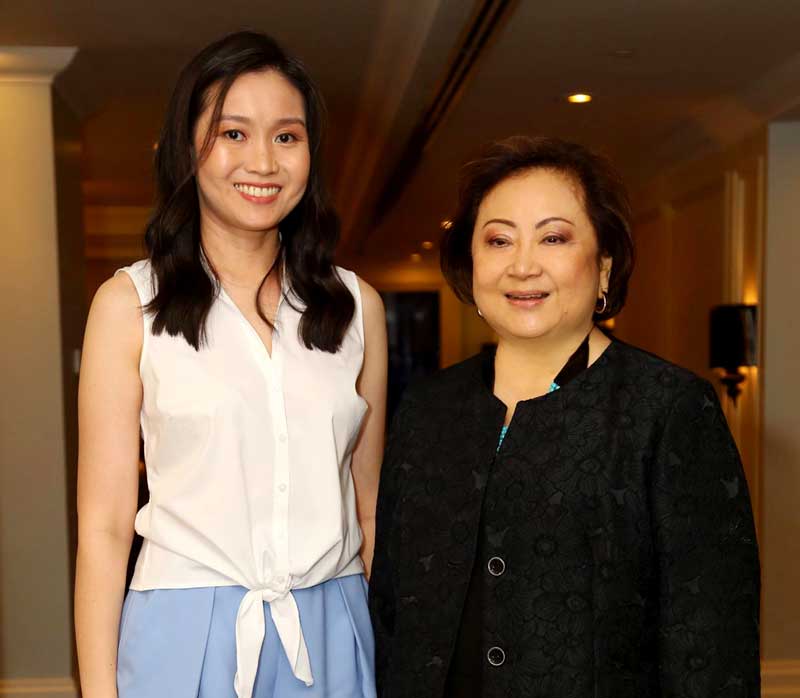 ...with mom Nedy Tantoco, chairman of Rustan's and SSI.
"We like the same things and we also have our own individual interests," explains Catherine. "That's what makes things interesting."
How did they know it was true love?
Says Catherine: "Because we don't try to change each other. At the same time, however, we also want to make ourselves better for the other person. True love is about accepting the other person for what he or she is and trusting that both are willing to work through the rough patches together because you share the same principles."
Says David: "A lot of little things, telltale things she would notice, made me realize she's the right person. The only dream wedding I had was getting married to the right person."
"Napakabait na tao, no airs. A very intelligent and compassionate person," Baltazar and Tessie Endriga say, describing their future daughter-in-law.
Both bride and groom learned a lot about values in life, a work ethic and an appreciation for culture from their parents.
"We live very simply," says Bal. "We have conservative Filipino values. And we want our children to be of service to humanity."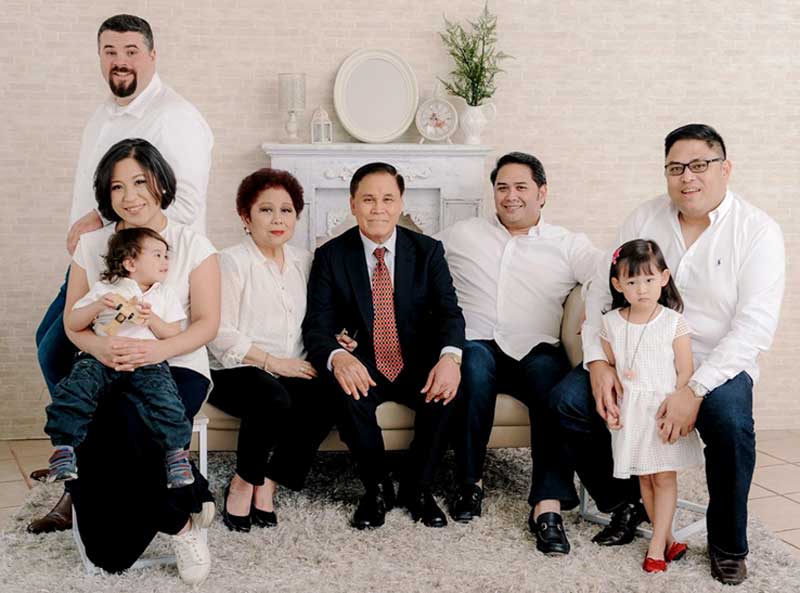 The Endrigas: Axel, Therese and Nikos Wigforss, Tessie Endriga, Baltazar Endriga, David Endriga, Francesca Endriga and Frankie Endriga.
Both Bal and Tessie are CPA professionals. Upon retirement from SGV, Bal served as president of the Cultural Center of the Philippines for two terms, and this was when the Endrigas and Nedy — a current CCP board member — became close friends. Both Bal and Nedy are pillars of the Philippine cultural scene. Nedy is also president of the Philippine Philharmonic Orchestra.
A dedicated educator, Bal served as president of the University of the Philippines, and is a founder of MINT (Meridian International College of Business and the Arts). He also established Libagon Academy in his Southern Leyte hometown, which he proudly states has produced a graduate who made it to Harvard. Bal himself took his MBA at Harvard.
"I have always considered Bal and Tessie as close friends," says Nedy. "That's why I always invite them to my New Year's Eve celebrations, together with their children David, Frankie and Therese. I was godmother of Therese when she wed Alex Wigforrs from Sweden. I can't forget that when there was a fire at our warehouse in Taguig, their son Frankie who was then with the Taguig mayor's office, stayed with me to make sure everything went well, until the fire was completely under control."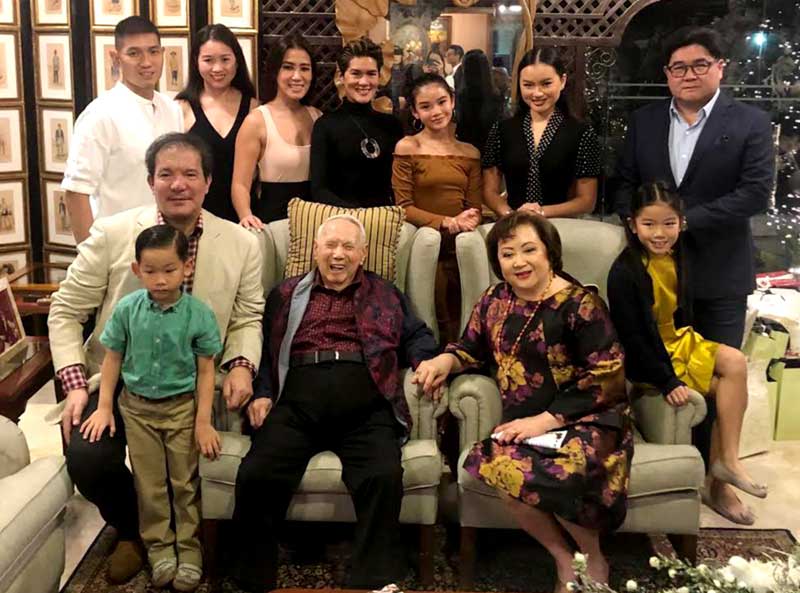 The Tantocos and Huangs: Seated with Ambassador Bienvenido Tantoco Sr. and Nedy Tantoco are Patrick Jacinto, Kameron Huang and Kenzie Huang. Standing are Michael Huang, Catherine Huang, Kathy Huang, Nina Huang, Isabelle Huang, Nikki Huang and Anton Huang.
Wedding ninang Marilou Tantoco Pineda says: "It is a match made in heaven, and we are all excited. It is a joyous occasion which our 98-year-old father (Bienvenido Tantoco Sr.) can still witness in his lifetime, to see his grandchildren happy. Catherine always offers the most intelligent and insightful opinions regarding retail. David was a classmate of my son Jaime in Xavier, and I am impressed with his intelligence, thoughtfulness and culture. I am honored and touched to be chosen as ninang."
So will rocker David play music for his bride Catherine at the wedding? "Let's see," David laughs. "If the Madrigal Singers and Third Avenue allow it."