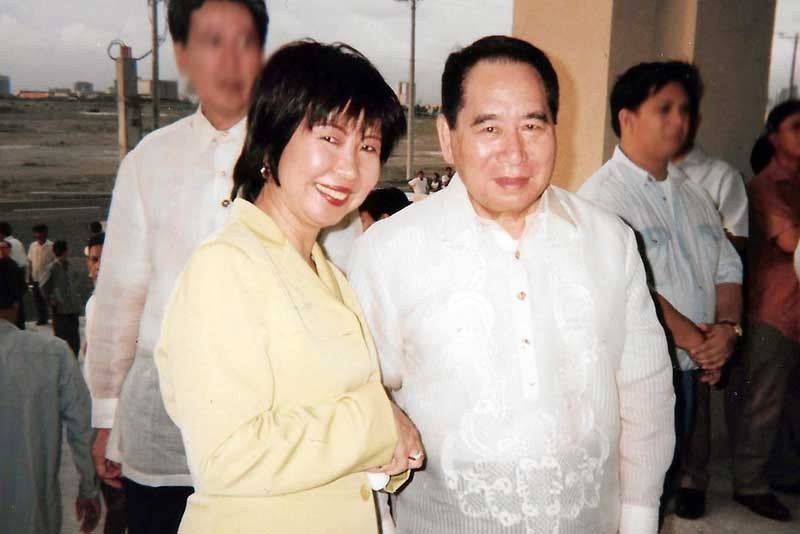 The author, Jeannie Goulbourn, with Henry Sy Sr.
How 'Tatang' Henry Sy Sr. fathered Philippine Fashion
'Tatang' was the visionary of SM and authority in shoes, his expertise and his big love. Tessie Sy-Coson was the fashion mover.
MANILA, Philippines — I formally met Henry Sy Sr. for the first time through his daughter Tessie Sy-Coson — when I was introduced to him in Echague — my first day of orientation. Prior to that, as a 16-year-old model, I would see him at Shoe Mart as I bought Parisian shoes that I needed for fashion shows.
It was about a year after that when SM Makati opened and I remember proudly being shown the architectural rendition of the first flagship SM store. Mr. Sy — fondly called ''Tatang'' at SM ­— had a charisma that made me feel so at ease. He asked me a few questions and, throughout the preparation for the opening, I got to understand his role, not only as the visionary of SM, but also the authority in the selection of shoes — that was his expertise and big love.
The days passed by frantically in preparation for the big opening. The design team of nine designers and nine assistants were selected and, as overall fashion consultant heading it, it was very exciting indeed for me. There were no RTW (ready-to-wear) lines to speak of then. We created and built the different departments — from women's fashion, teens, children, babies, maternity wear and undergarments to non-apparel (kitchenware). With this beginning, RTW is what it is today.
One clear recollection of how it all began stands out in my mind — I was rushing into SM one morning and Mr. Sy was standing there and waved at me. He was indeed happy, as the first year of SM Makati had been a great success. He asked me, "How is the design department, fashion merchandising? Just give up your accessory business and focus on garments. That is your specialty."
The rest is history. Tessie discussed if I could create my line, JMGoulbourn. I cleared it with my husband Sydney (as it was his name on the brand!) and "Jean Margaret" was too long — hence, JMGoulbourn. In the '70s, it sounded like a foreign brand. When I launched my line at the Boutique Square on the third floor, he told my aunt Purificacion Lim: "The success of Jeannie's brand begins when the cash registers start ringing."
The JMGoulbourn line was exclusive for 30 years at SM.
At SM, his favorite place to observe action within the three floors was Café Elysee, which was owned and managed by his younger daughter Elizabeth (Betty). In between his meetings I would sit down for a quick chat and hear his words of wisdom. I cannot forget one thing he said:
"Jeannie, when times are down and there is news of financial crisis, that is the time to invest, the time to take a 'risk' because it is just a phase. The good times will come again and everything will bounce back. Buy land, buy stocks. Your investments will earn. Sometimes the timing when there is a 'crisis' can be risky, but it will go back to normal after maybe two or three years, sometimes more. Be patient and wait. Don't complain. Look at opportunities."
I was then 28 years old and as an artist, it didn't make much sense to me, but later in life I realized he was right.
It is admirable how the family works closely together, each with their own strengths to expand his dream and more. He is an icon and an inspiration to all. There are no barriers in dreaming and achieving through hard work and determination. This is one legacy that he has left behind to inspire every Filipino.