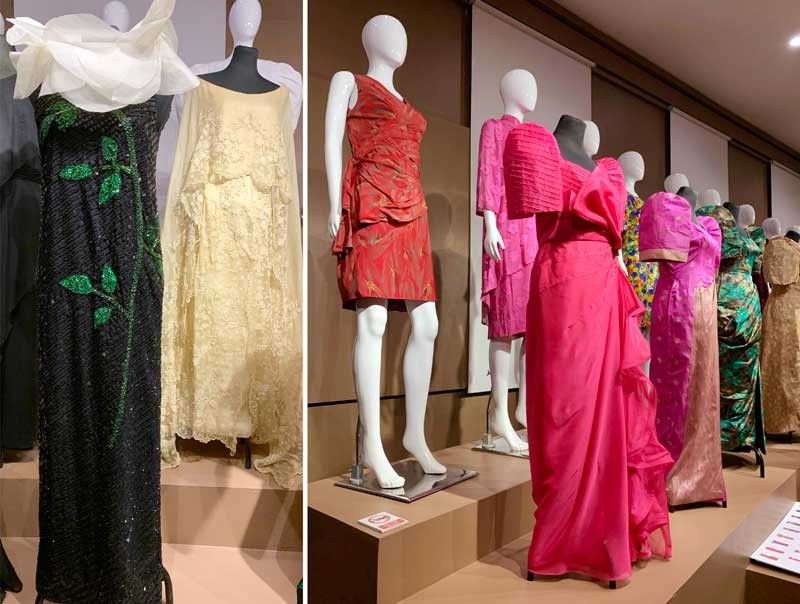 RT Paras' classic creations were exhibited at the National Museum of Fine Arts in celebration of its 116th anniversary.
My LBD by RT Paras of 53 years ago is still good!
PURPLE SHADES
-
Letty Jacinto-Lopez
(The Philippine Star) - January 16, 2019 - 12:00am
… and so are memories of my debut and wedding gowns, done with love!
My childhood dressmaker, R.T. Paras, has turned 116 years old. The fashion house has its roots in Pampanga, established by Roberta Tablante Paras in the early 1900s. She was highly experienced in sewing techniques and dress construction and decided to open, first, a fashion school, and second, a workshop so she could make custom dresses for clients who recognized her standard of high quality tailoring shown in every dress they wore. Her daughter, Josefina "Inang" Gonzales, inherited her mom's fashion sense and kept the high standard of fine sewing as a benchmark of the house. In turn, Tita Inang easily handed it over to her son, Froilan "Roy" Gonzales, who assumed his mother's mantle with inherent class. Indeed, this is the history of a three-generation family of impeccable dressmakers.
Roy celebrated this milestone to coincide with a fashion exhibition of some of their classic creations at the National Museum of Fine Arts. Walking around the exhibition, I found myself following scenes from the lives of my mother, my two older sisters and the baby in the family — me. What a special honor to be the bunso. Yaya Rosita used to tell me that there was never a time when I dressed badly, because Tita Inang made sure that I got my fair share of custom-made dresses in cotton, linen, organza, chiffon, silk and lace.
Tita Inang was the real dressmaker. "She's like an impassioned engineer, treating each job order like a building under construction," remarked a faithful client.
I remember Roy's cousin, Clarita Paras, leading me to one fitting room and closing the door behind her. Shortly after, Tita Inang opened the door with one of her fashion assistants, and a bespectacled costurera who was carrying my dress in one arm while holding a pincushion and a pair of scissors in the other. I raised my arms and Vicky helped me undress. "What is this?" I thought. It was only the lining of the dress. Tita Inang snipped and tucked here and there, while speaking in Kapampangan, her native language. I felt like a mannequin. (Don't move; don't even turn your head lest the pins prick you.) I was horrified at the sight of the seamstress holding pins tucked neatly in her mouth.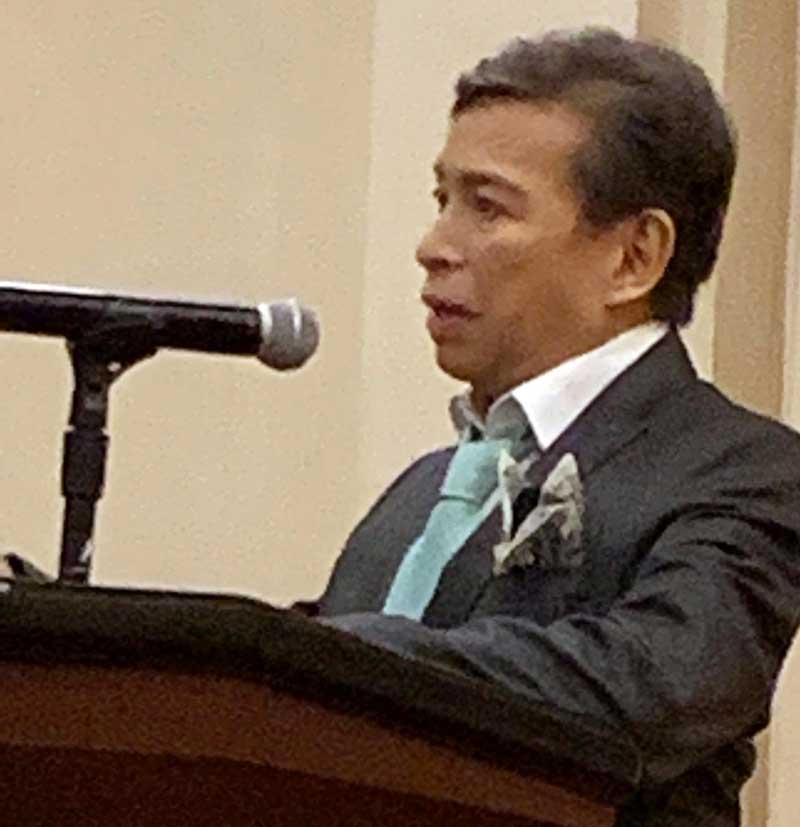 Paris-based Roy Paras never stopped sending sketches and drawings to Manila.
Suddenly, Tita Inang was tearing the lining off from me. I looked right and turned left but everyone was focused on the lining and not this panicking mannequin. To calm myself, I stared straight at the mirror, bit my lip and froze. Tita Inang's voice was firm. She spoke in fluent Kapampangan mixed with Spanish and, just by its tone, I could tell that she was upset.
"Each dress must be treated as a work of art," she said. "The stitches must be even and no creases nor wrinkles must appear."
From the design process (sketches and drawings that drew inspiration from the distinctive character and personality of each client) to the construction (meticulous attention to the sewing, fitting, alterations, fine hand beading and embroidery) to, finally, the finished structure (clothes that speak of confidence and elegance).
She worked with determination to pin one side by hand and when she stepped back to examine what she had finished, she broke into a smile and clapped with cheer.
"Inakupu!" I thought. And this was just the lining. Tita Inang explained, "A lining provides a neat inside finish, conceals interfacing, the padding, the raw edges of the seams and other construction details. If not sewn properly, the draping and flow of the dress are compromised."
Young as I was, I knew that clothes served a functional purpose as well as for social reasons. For these, Tita Inang shared some tips on what clothes to wear in order to have a positive impact on your success:
• Don't show too much skin. "You can tease, just a gentle tease, but do not bare all," she said.
• Never wear dirty clothes. "And that goes for your undershirt, your underwear, your handkerchief, shoes, hosiery and jewelry."
• Don't wear wrinkled clothing. This is where the image of the lining being ripped off finally made sense.
• Wear clothes that fit you well. "Even if you are prepared to pay a ransom for a dress, if it doesn't fit, skip it."
• Don't wear shorts. "You should never dress down to bare your thighs."
The clothes we wear affect our mood, and even the way we interact with others. This means that the experience of wearing something affects our attitudes and our choice of behavior.
For my 16th birthday, Tita Inang made me an emerald green finely sheared dress that she embellished with lace appliqués. When I stood in front of the mirror, the dress shouted a statement: "You're 16! Be ready to conquer the world. In high heels."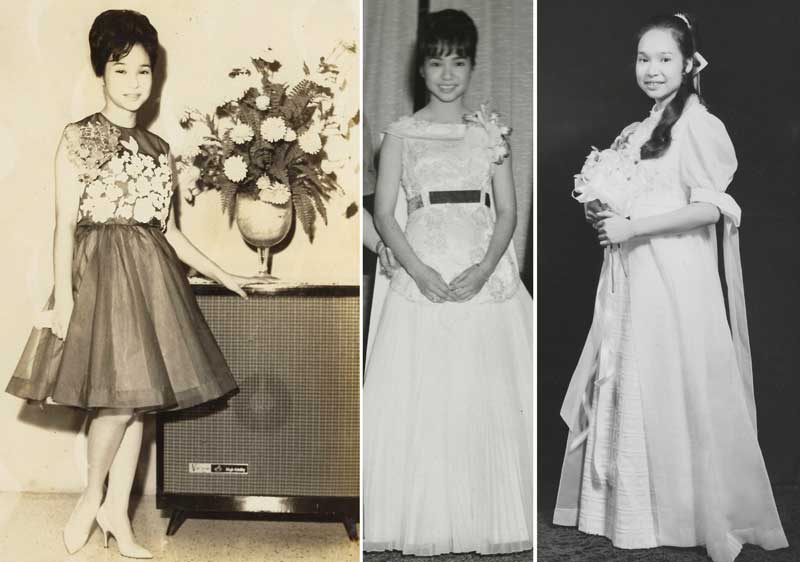 RT Paras, the childhood dressmaker of author Letty Lopez made her gowns when she was 16, 18 and as a bride in 1971.
For my 18th, Roy was already based in Paris, making waves in the high couture houses of Jean Patou, Pierre Cardin and Lecoanet Hemant; he never stopped sending sketches and drawings to Manila.
"I'm thinking of a rose-inspired design," he said. "But wait, spare Letty from wearing opera gloves." Roy, I couldn't agree more.
Question: Do you take the long gloves off when shaking hands in a reception line? Or when dancing? What about when presenting your hand to be kissed? Answer: You keep them on, except when eating.
There were only two instances when I wasn't happy with Tita Inang's dress picks for me: she refused to make me a purple dress ("You're too young to carry purple to its mysterious best") as well as a LBD, or little black dress ("You'd look old beyond your time, in black").
I didn't argue.
One fateful day, I got a call from Clarita: "Letty, come over for a fitting." Whoa! Tita Inang finally made my first LBD. I was 19. "That delicate glow on your face could only be matched by the elegant color of black touching your skin," she said. Is that so, Tita Inang? "You're in love, that's why," she winked.
When I got engaged, Tita Inang said, "Hija, choose your bridal color." I hesitated, sighed and replied, "Lilac." She broke into a wide grin: "Perfect, and my favorite, too."
Roy ordered French Guipure lace for my bridal gown and sent it to Tita Inang with his penciled sketch. Again, he enclosed a note, "No veil for Letty! It will drown her and will never suit her petite frame." Instead, Roy designed a long silk organza bow to hold my hair in place and the bow flowed down to the floor, making me look like a First Communicant.
By the way, the little black dress made of French silk chiffon is still hanging in my closet. It has been 53 years since I last wore it. Someday, I dream of my granddaughter wearing it and she'll catch that same familiar glow, like my yesterday.
Tita Inang, 'tis love I wore, didn't I?