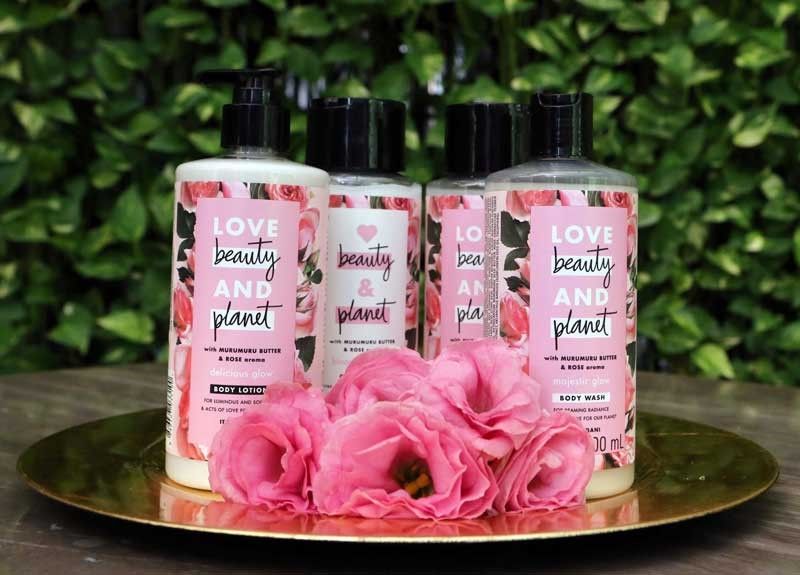 Pretty and pink: The Love Beauty and Planet Murumuru Butter and Rose collection will be exclusively available online on Jan. 21.
Photos by Ernie Penaredondo
Be beautiful, save the planet
One of the top three big players in beauty, Unilever, has delivered its first environmentally friendly brand, and it's a winner in my book.
A range of bath, body and hair-care products called Love Beauty and Planet, the name alone should clue you in as to what the brand's about.
"This is Unilever's first beauty eco brand, which is really born out of the need for sustainability," says Dorothy Dee-Ching, Unilever Philippines' vice president for beauty and personal care. "The rest of our portfolio is committed to fully 100-percent recyclable and compostable products by 2025. Our company purpose is really about doubling the business while halving our environmental impact."
"We're really proud of this brand because it's our first sustainable one," adds Apples Aberin, Unilever Philippines' head of PR.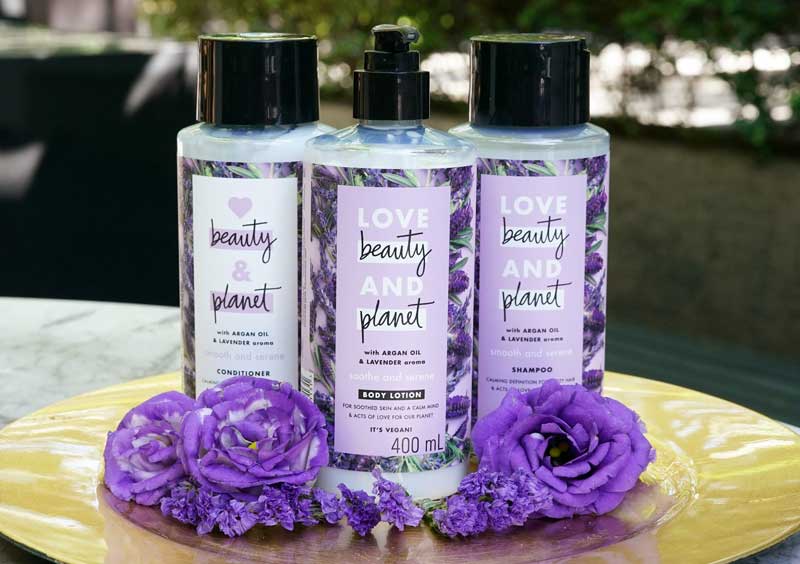 Purple reign: The Smooth and Serene argan oil and lavender collection tames frizz, soothes skin, calms the mind and loves the planet.
According to the company website, over the last four years sustainable living brands have outperformed the average rate of growth at Unilever. In 2017 sustainable living brands grew 46 percent faster than the rest of the business and delivered 70 percent of Unilever's turnover growth. No wonder they developed Love Beauty and Planet to meet the demand.
"We really believe that every small action contributes to make a big difference in the planet," Ching says. "Whereas 'beauty' and 'planet' used to be an 'or' thing, we're introducing products that can make you more beautiful while at the same time giving a little love for the planet."
How are they doing it? First, they use only sustainably sourced ingredients like organic coconut oil from the Philippines and Murumuru butter from the Amazon. These are vegan ingredients that are not tested on animals and contain "no nasties," according to Unilever Ph's head of premium business Clint Raypon: "It's designed to be good for you because there are no parabens, dyes, silicones and mineral oils, so there's no guilt."
Second, even the scents are natural and ethical, derived from ethically sourced essential oils or absolutes from places like Provence.
Third, they want to drastically reduce their carbon footprint and keep waste out of landfills. Love Beauty and Planet's bottles are made from 100-percent-recycled plastic and are 100-percent recyclable.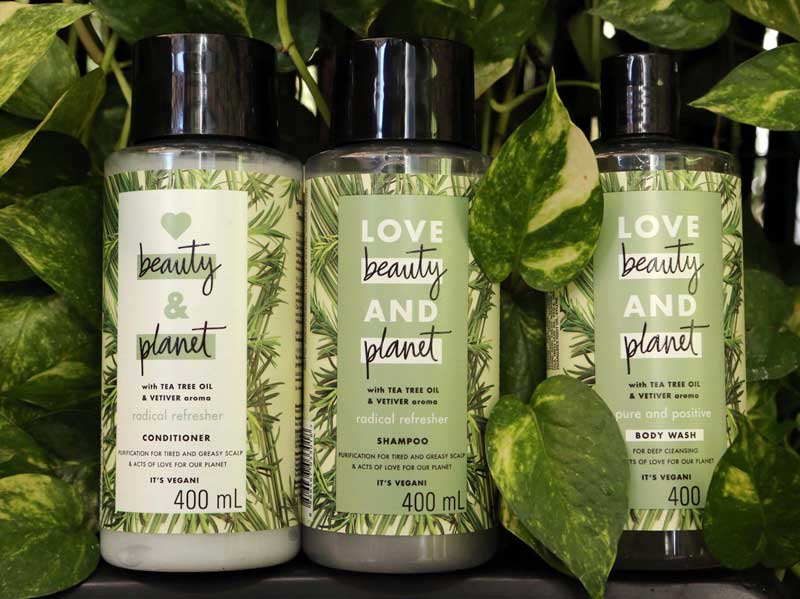 It's not easy being green: All the ingredients in the Tea Tree and Vetiver collection are ethically sourced and the bottles are 100 percent recycled and recyclable.
Fourth, Unilever noted that conditioners usually take too long to wash out, so they invented fast-rinse technology to help save water. Once you add water to rinse your hair, the technology kicks in, breaking down the conditioner into millions of tiny molecules that can be washed away quickly and rinsed out in less time. They estimate that if every woman in the country shortened her shower time by 10 seconds, that could save enough water to support the drinking water needs of 11 million people for a year.
The products themselves are attractively packaged and a pleasure to use. The shampoos and body washes work up to a rich lather, the conditioners indeed rinse out quickly, and the body lotions moisturize skin effectively and smell heavenly. Each of the three variants is based on one key ingredient and one fragrance oil, and is color-coded according to hair concern. Contained in 400-ml bottles that the whole family can share, price-wise they offer value for money (P290 for the body wash; P390 for the shampoos, conditioners and body lotions).
Pink: Blooming color & delicious glow
Made for: Colored hair, dull skin
Key ingredients: Murumuru butter from the Amazon and Bulgarian rose essential oil
What it does: This left my colored hair soft, shiny and really manageable. The lotion softens skin and adds a subtle luminosity.
Purple: Soothe and serene
Made for: Frizzy hair
Key ingredients: Argan oil from Morocco and lavender essential oil from Provence, France
What it does: This tamed and smoothed my often-frizzy hair. Fragrance-wise this is my favorite of the three. The lavender has been sweetened to a calming, soothing scent.
Green: Radical refresher
Made for: Greasy hair and scalps
Key ingredients: Tea tree oil from Eastern Australia and vetiver from Haiti
What it does: With a revitalizing, spa-like scent that would be suitable for men, this detoxified my scalp and hair of oil and any styling residue — a great way to wake up in the morning or to refresh after a hard workout.
15 beauty awards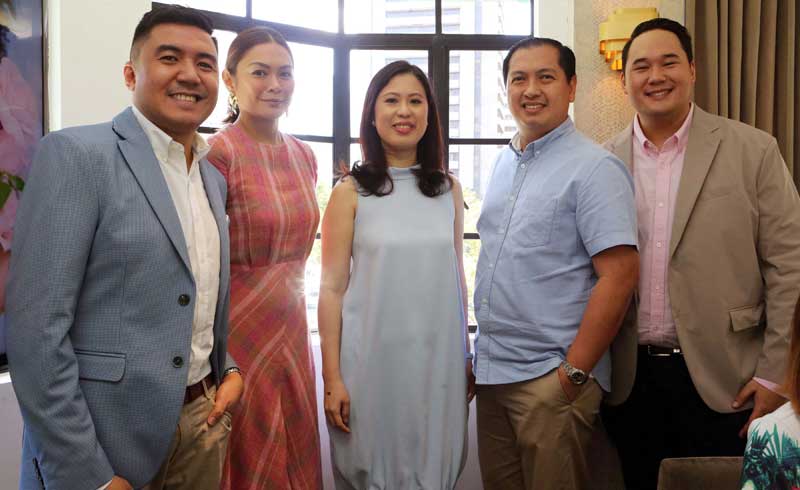 Unilever Philippines' Premium Business Group manager Clint Raypon, head of PR Apples Aberin, vice president for Personal Care and Beauty Dorothy Dee-Ching, Personal Care R&D director for Philippines and ANZ Marlo Mangilin, and Premium Business brand manager Robert Hechanova
Love Beauty and Planet was first launched in the United States in 2017 then rolled out to Europe in 2018. "So far it has shown remarkable promise in the markets where we've introduced it," notes Raypon. "We've been recognized by top global online publications like Refinery29, PopSugar and Bustle. They were raving about not just the story on sustainability but about how the products are actually good for your skin and hair."
In just a year Love Beauty and Planet earned 15 beauty awards from magazines like Cosmo, Oprah, and beauty authority Allure, which awarded the pink shampoo and conditioner.
That's not all: according to Marlo Mangilin, Unilever's director for personal care, research and development in the Philippines, Australia and New Zealand, they source all their organic coconut products — oil, milk and water — from 250 farmers in the Philippines. While these are used in hair ranges not yet available here, it's heartening to know that Love Beauty and Planet is helping our part of the planet as well.
Says Ching, "This brand is really committed to small acts of love that make you and the planet a little more beautiful every day."
* * *
Love Beauty and Planet products will be exclusively available online through Lazada, Beauty MNL, Zalora, Beauty Bubble, Shopee, and Watsons Online on Jan. 21; at a one-time pop-up at the South Wing of Power Plant Mall from Jan. 25-27; and in select drugstores and department stores nationwide starting Feb. 1. For more information, visit www.lovebeautyandplanet.com/ph or www.facebook.com/LoveBeautyAndPlanetPH, and follow @LoveBeautyandPlanet.PH on Instagram.
* * *
Follow me on Instagram @theresesbeautyworld.