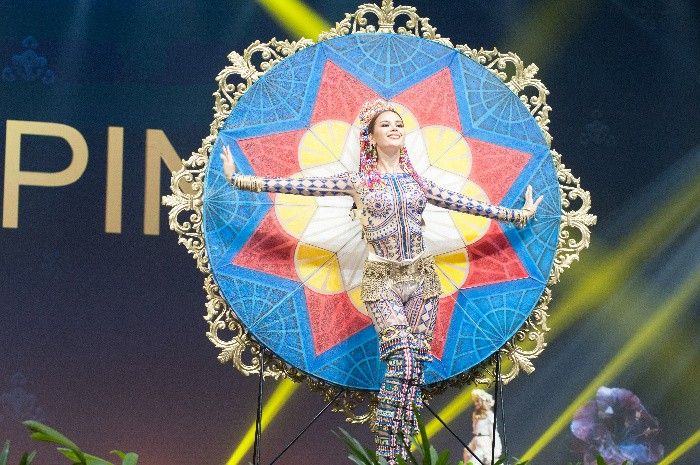 Miss Universe Philippines Catriona Gray competing at the National Costume Show on Monday, Dec. 10, 2018.
Miss Universe Organization/Released
In photos: All the Miss Universe 2018 national costumes
(Updated, first published at 10:44 a.m.) What country will be hailed as this year's Best in National Costume?
There were 93 countries that competed for the title at the National Costume Show of the 67th Miss Universe beauty pageant held on December 10 in Nong Nooch Tropical Garden in Pattaya, Thailand.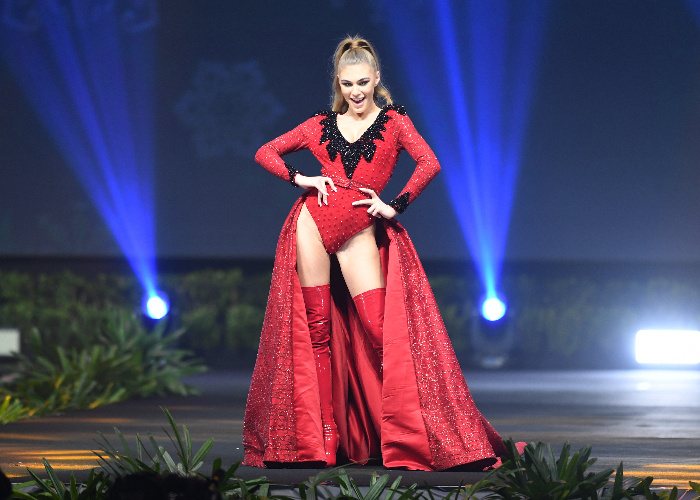 Albania: featuring flag colors red and black, designed by the contestant herself. (AFP)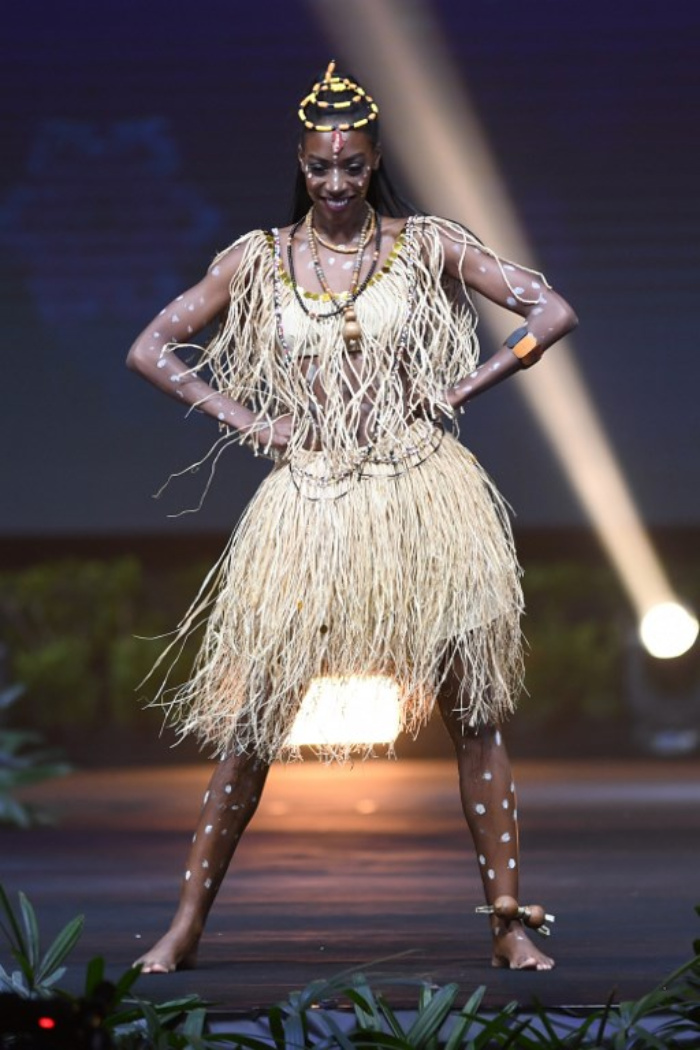 Angola: Representing a region known for its diamonds. (AFP)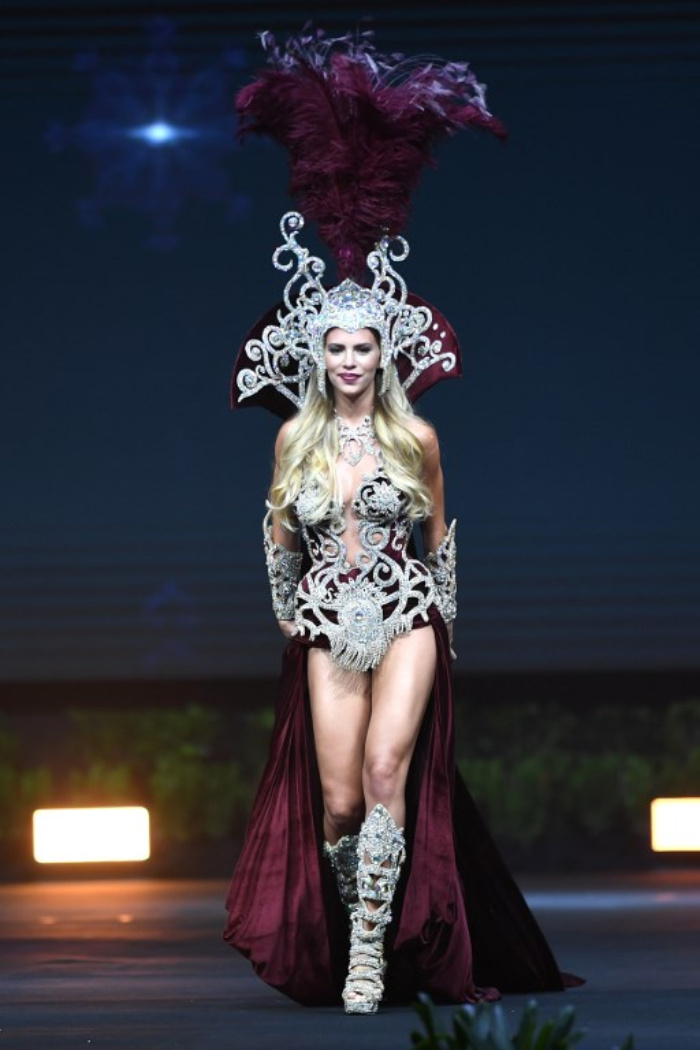 Argentina: the crystal-encrusted garb is based on the country's national flower.. (AFP)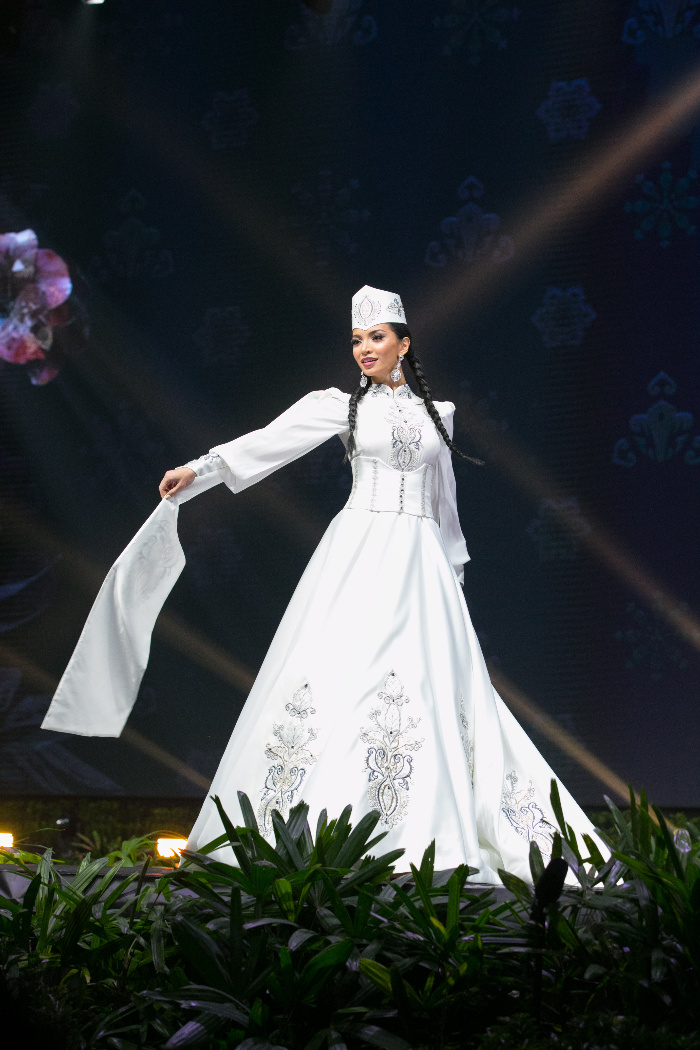 Armenia: The white embroidered satin is based on the national costume of the capital city. (Miss Universe)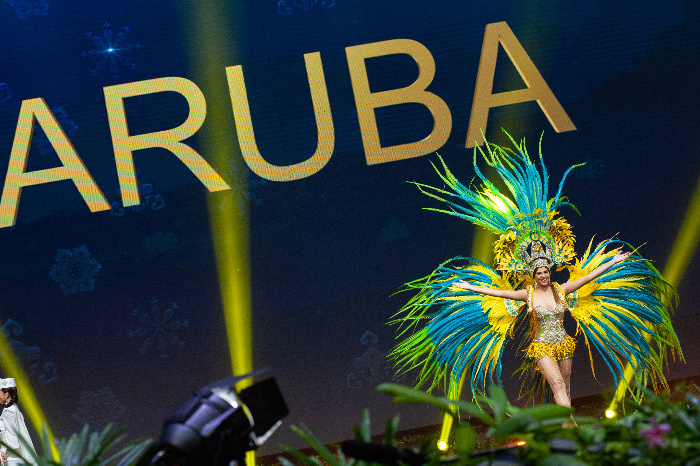 Aruba: inspired by the country's biggest carnival event. (Miss Universe)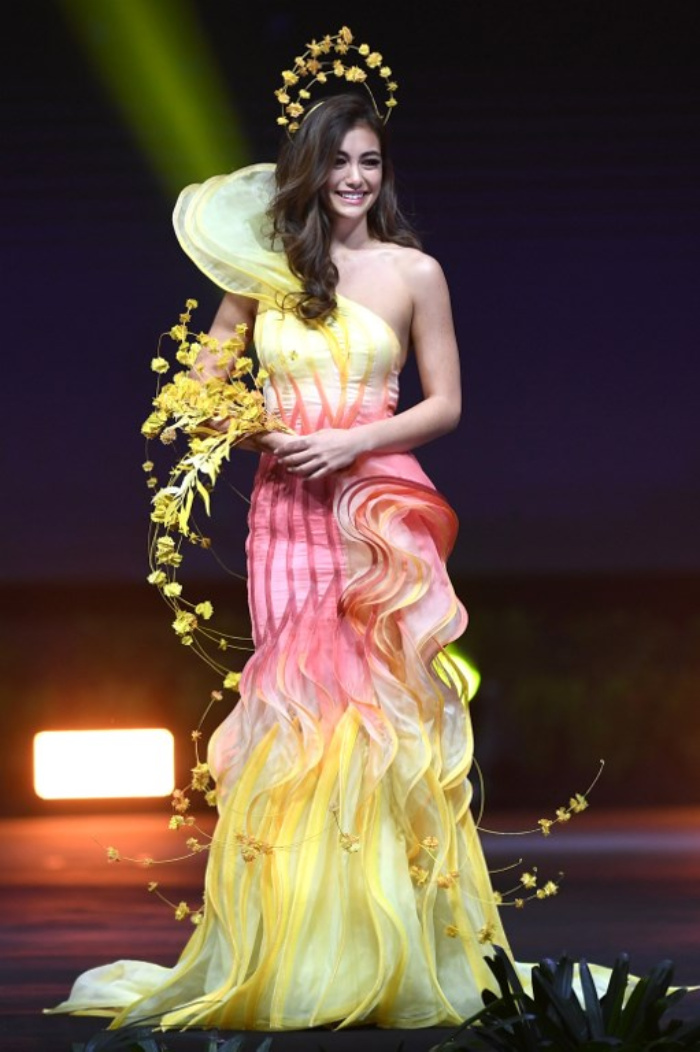 Australia. Inspired by the national flower. (AFP)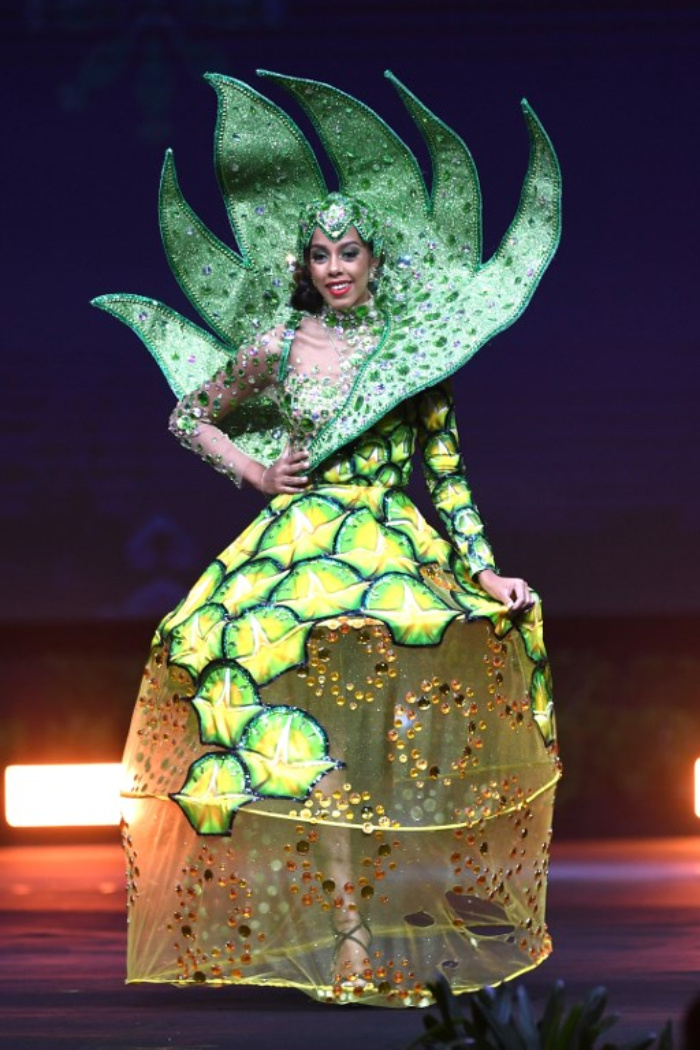 Bahamas: depicts pineapple from a Bahamian island. (AFP)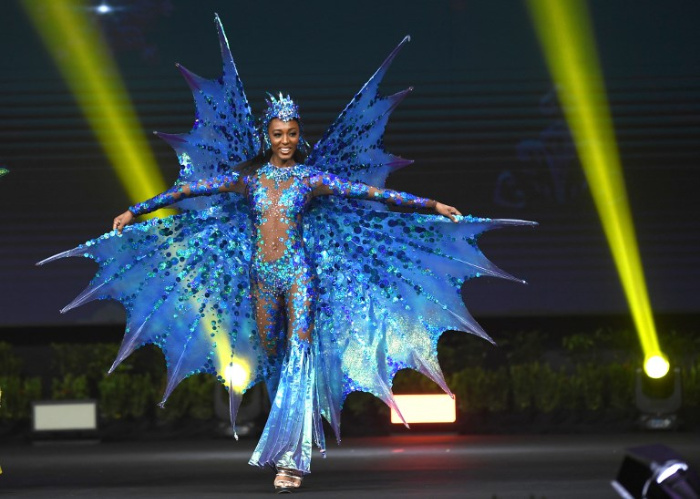 Barbados: Based on flying fish. (AFP)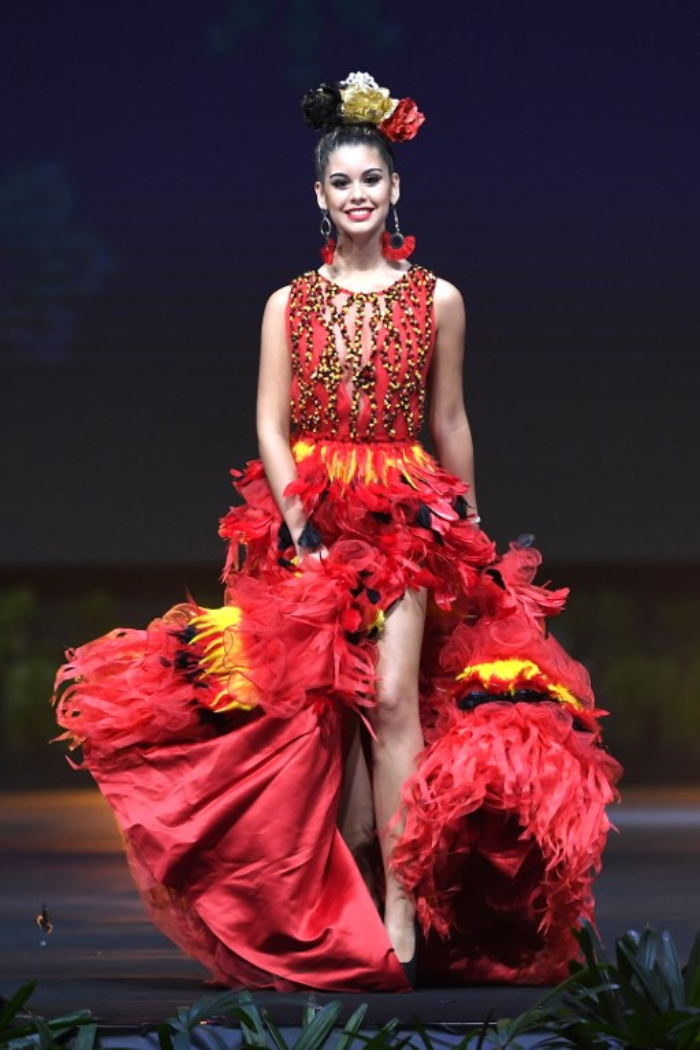 Belgium: this designer dress is made out of tissues and feathers that form the three Belgian colors – yellow, red and black, ornamented by two pounds of crystals. (AFP)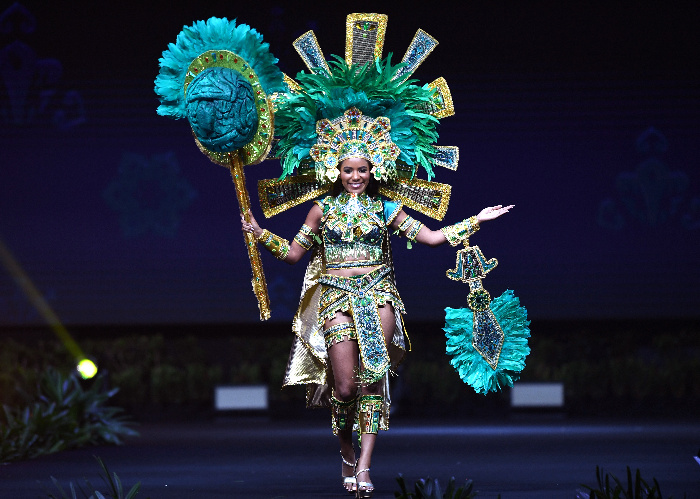 Belize: Ispired by Mayan sun god, voted out of three options presented to fans on social media. (AFP)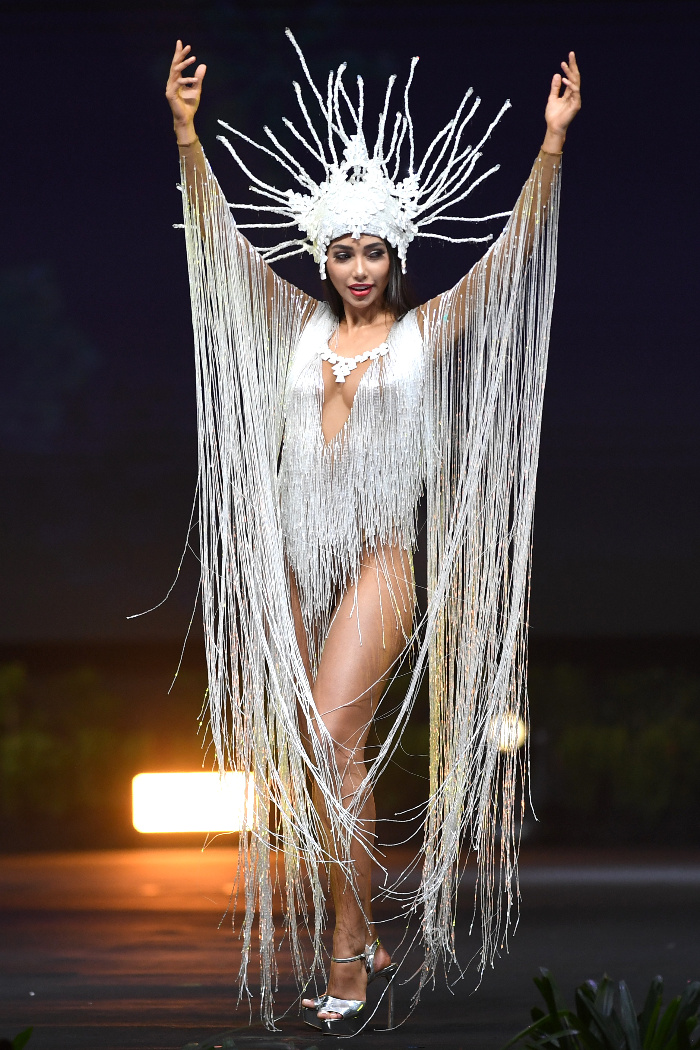 Bolivia: Inspired by world's biggest salt flat; the headdress represents the crystallization of salt. (Miss Universe)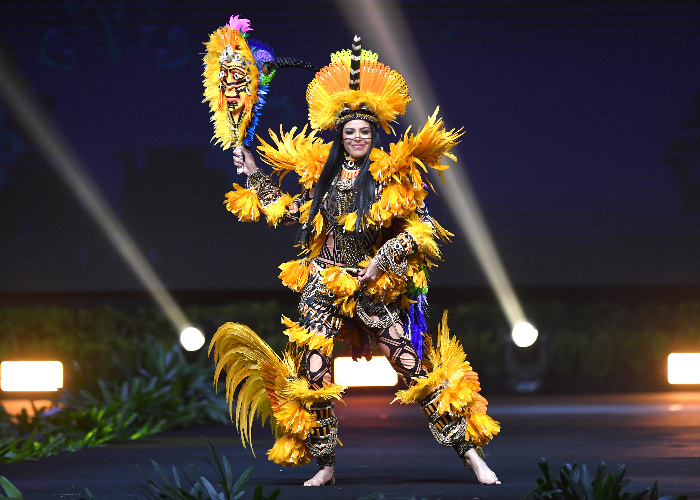 Brazil: inspired by Amazonian goddess that turns into a bird; the candidate's advocacy for environmental protection, made of thousands of feathers and took three months to make. (AFP)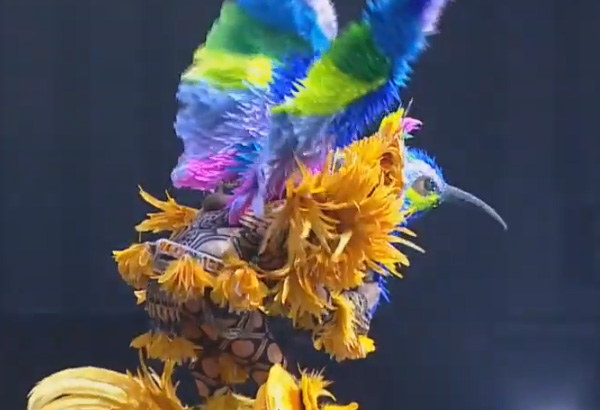 Brazil's costume turns into a bird. (Miss Universe/screenshot)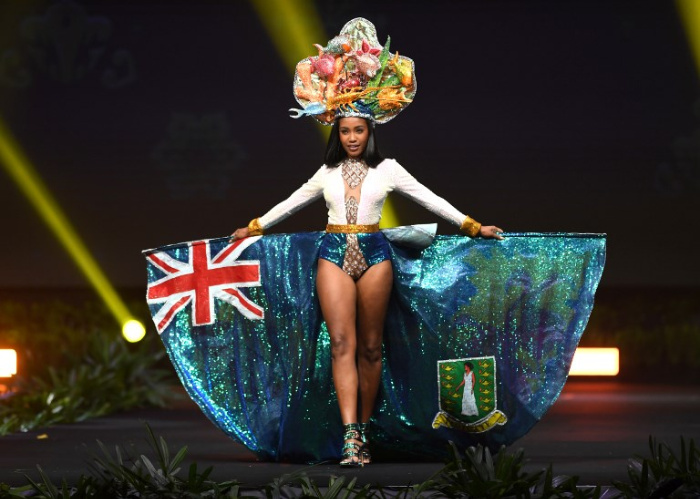 British Virgin Islands: representing the lifestyle in the island – turquoise waters, balmy temperature, good food and people's resilience. (AFP)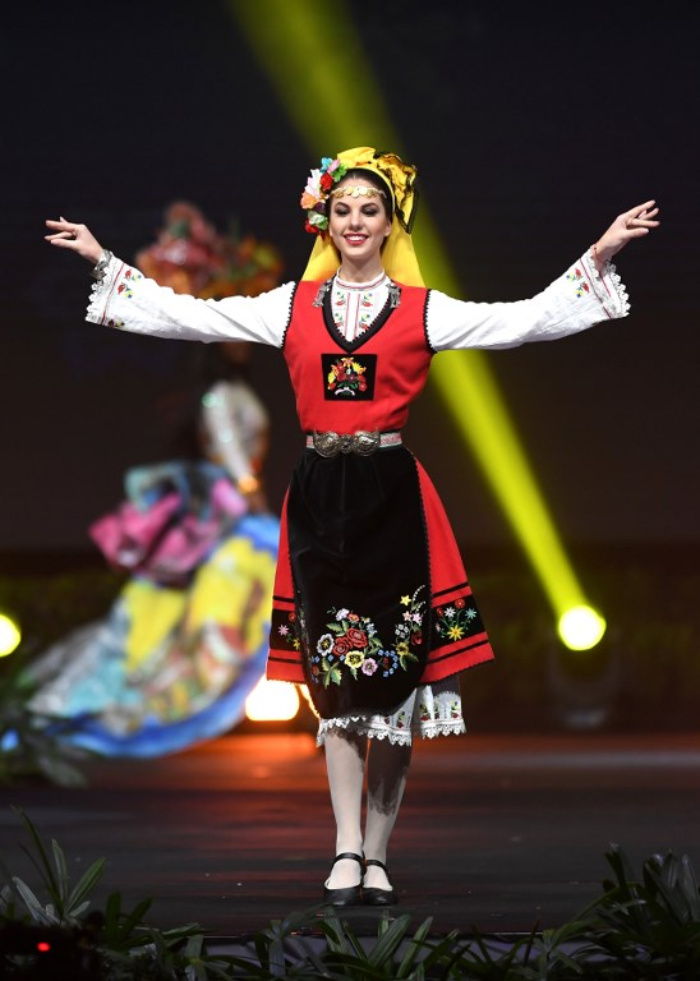 Bulgaria: Inspired by a tribal costume that goes back to 6,000 BC. (AFP)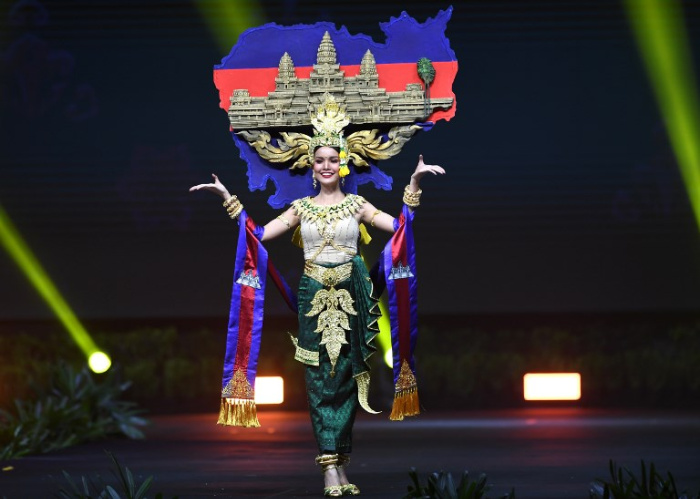 Cambodia: took over 60 days to create, inspired by the Kingdom of Wonder, with a backdrop country map showing famous landmark Angkor Wat. (AFP)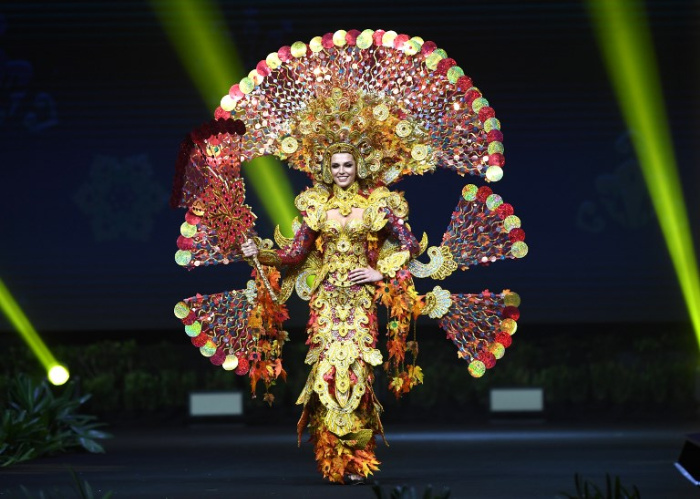 Canada: costume called Queen of Make Believe, inspired by maple leaf. (AFP)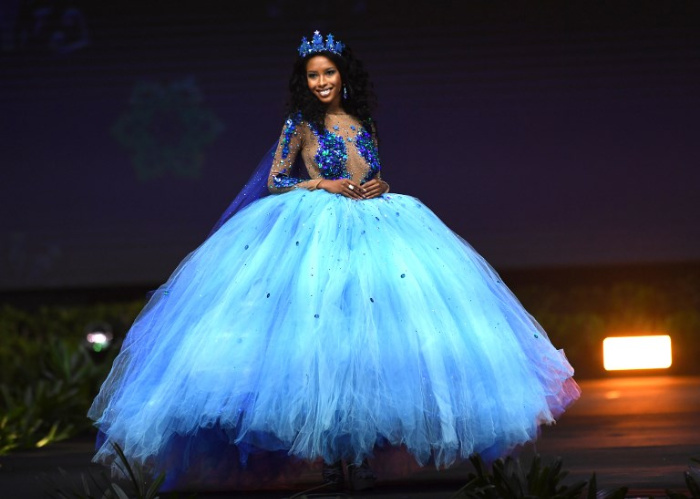 Cayman Islands: sunny body suit with crystals representing the sea and the three stars of the national flag. The skirt is lit by LED lights. (AFP)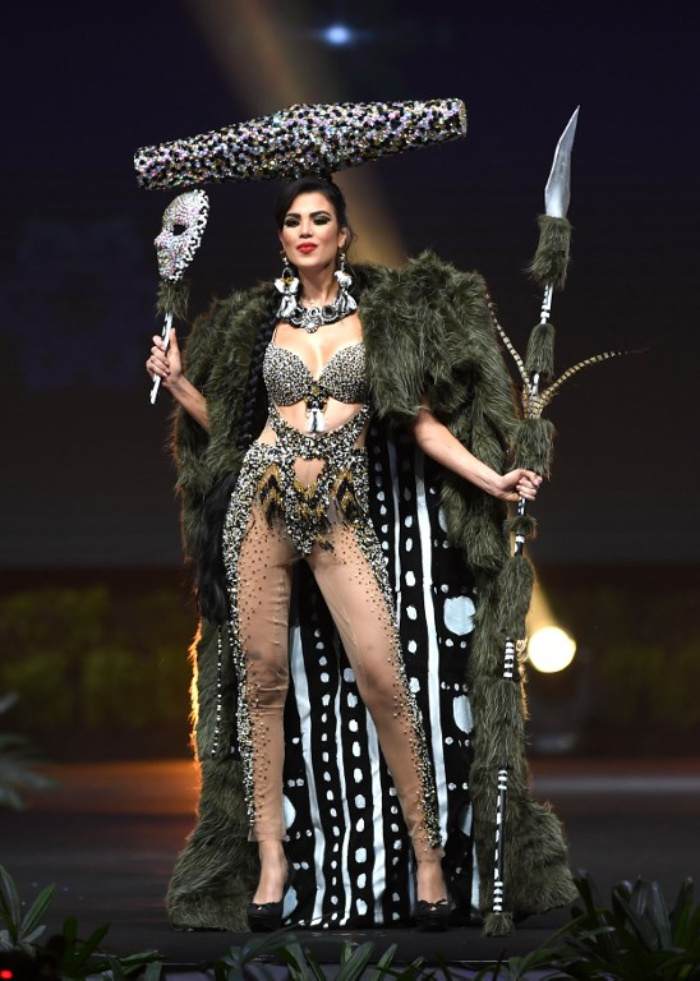 Chile: represents an American Indian tribe that were originally nomadic hunter-gatherers. (AFP)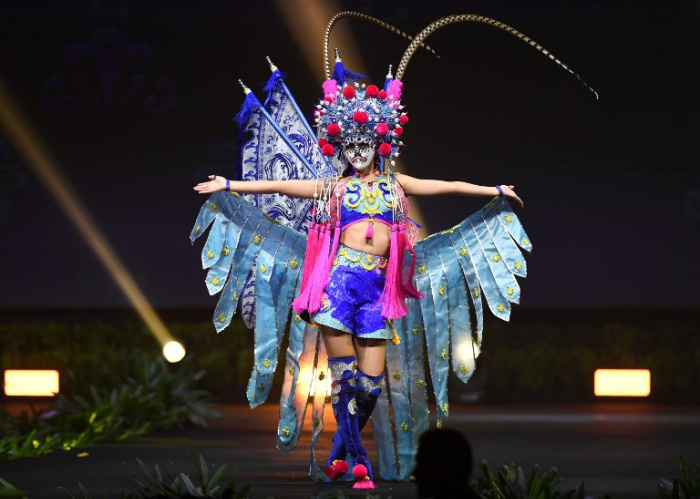 China: Inspired by Chinese dramas characterized by quick-change masks. (AFP)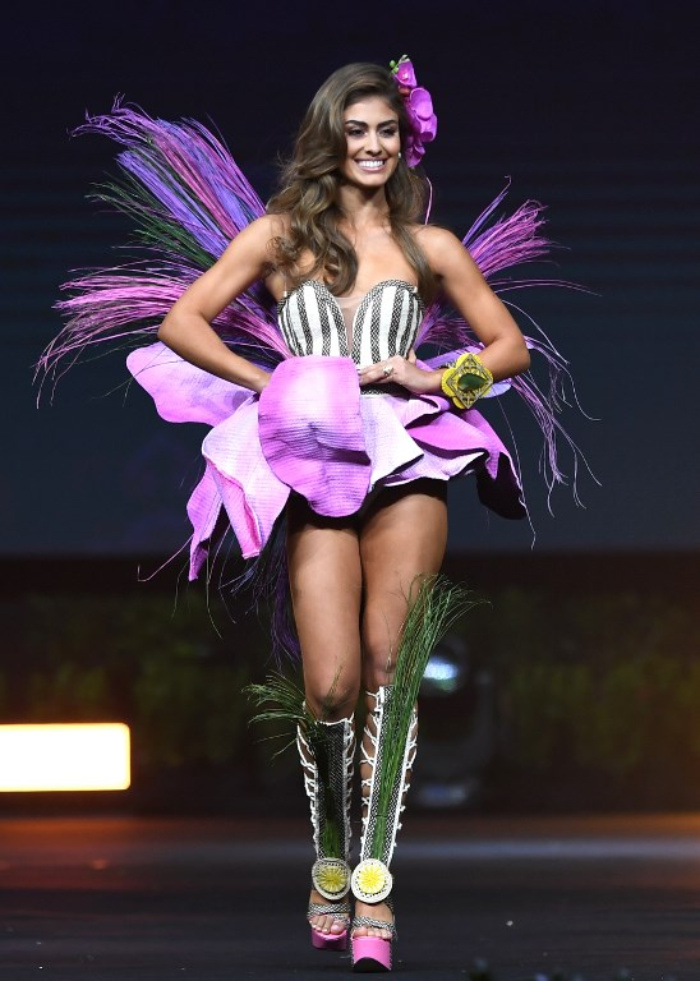 Colombia: Inspired by national flower, costume made by indigenous tribe. (AFP)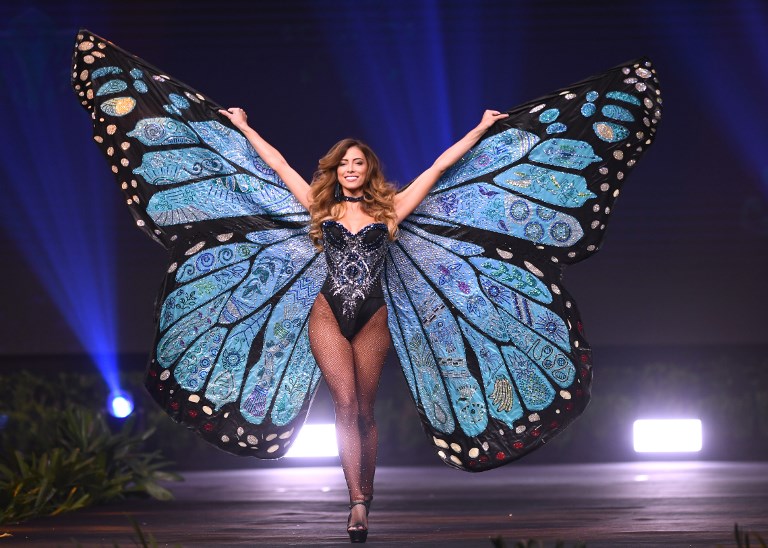 Costa Rica: butterfly representing all women. (AFP)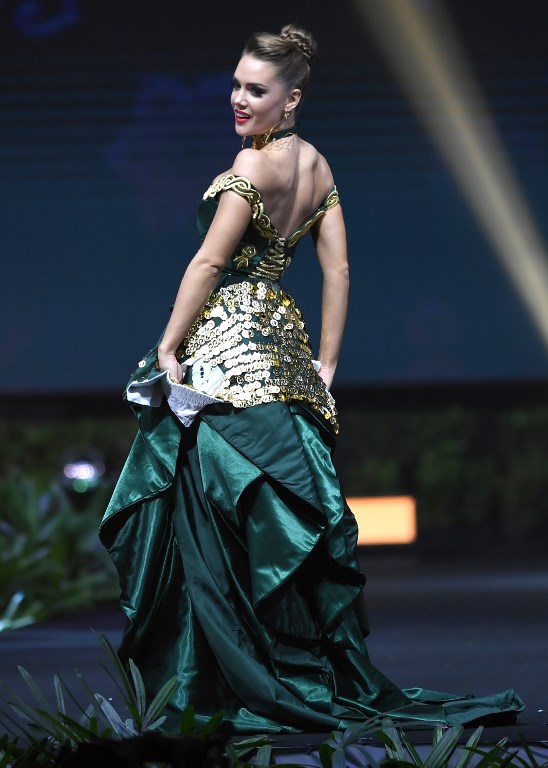 Croatia: inspired by green valleys and fields of the countryside. (AFP)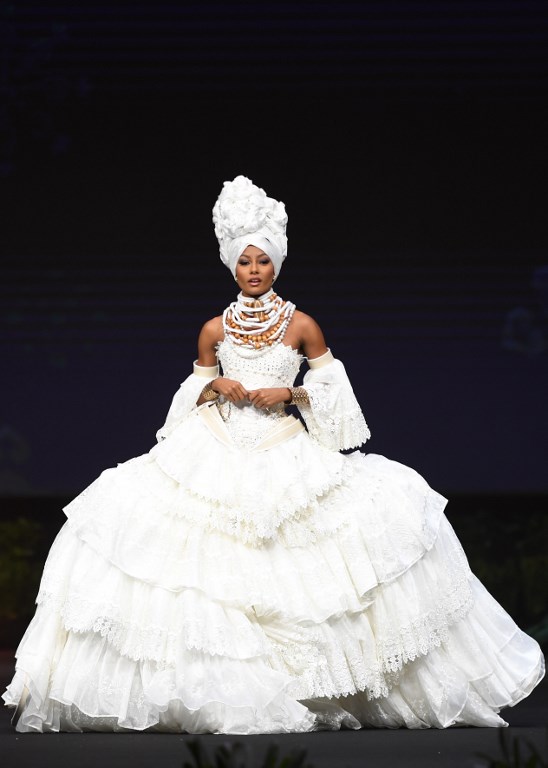 Curacao: Triumph of Sablika – free women, educated women, women empowerment. (AFP)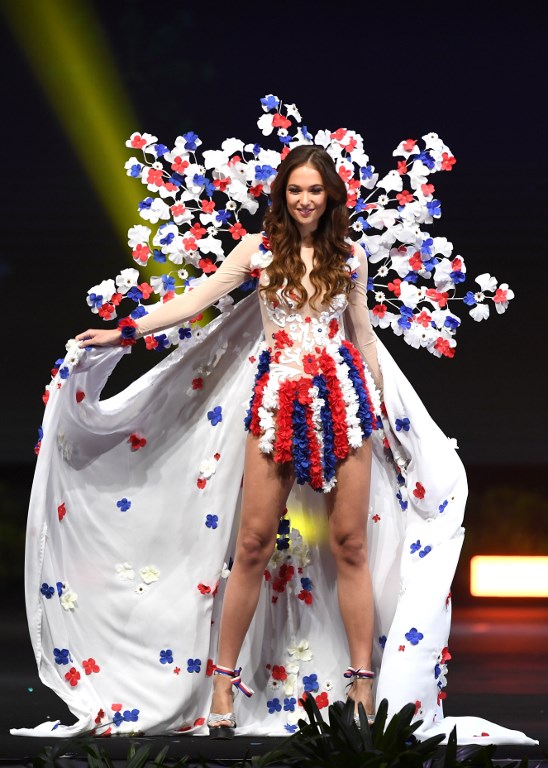 Czech Republic: based on flag colors – red, white and blue, (AFP)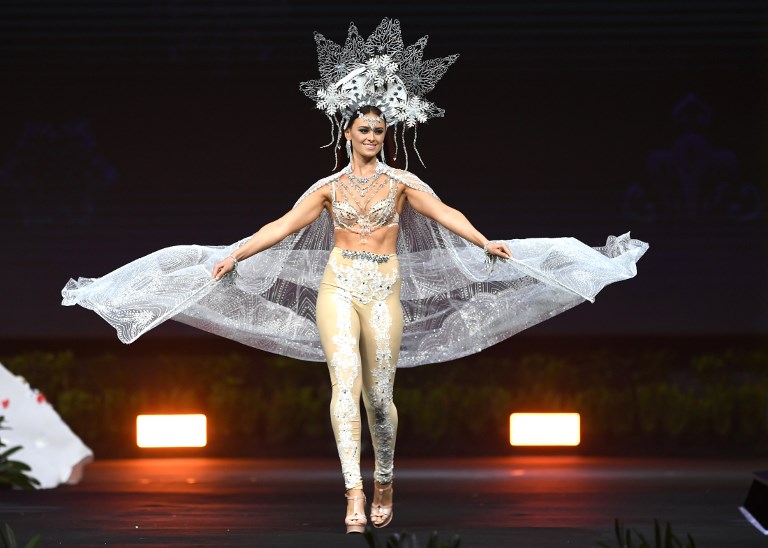 Denmark: inspired by Danish author Hans Christian Andersen's the snow queen. (AFP)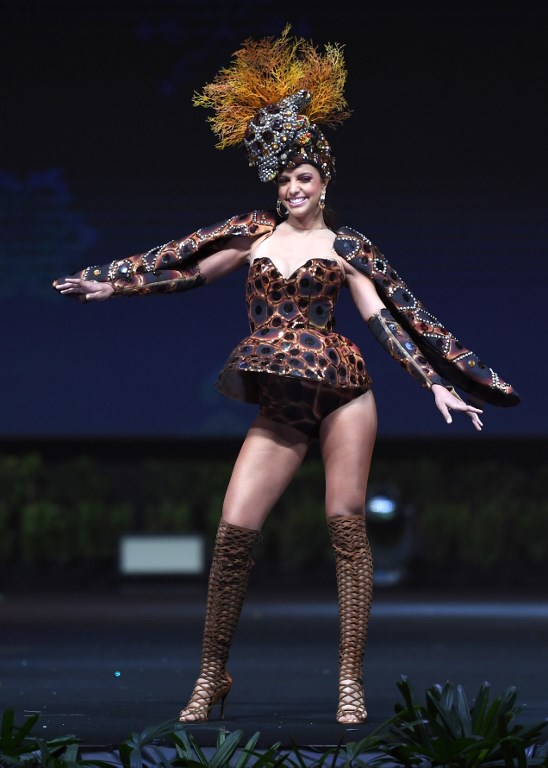 Dominican Republic: based on unique species in Atlantic and Indian Oceans. (AFP)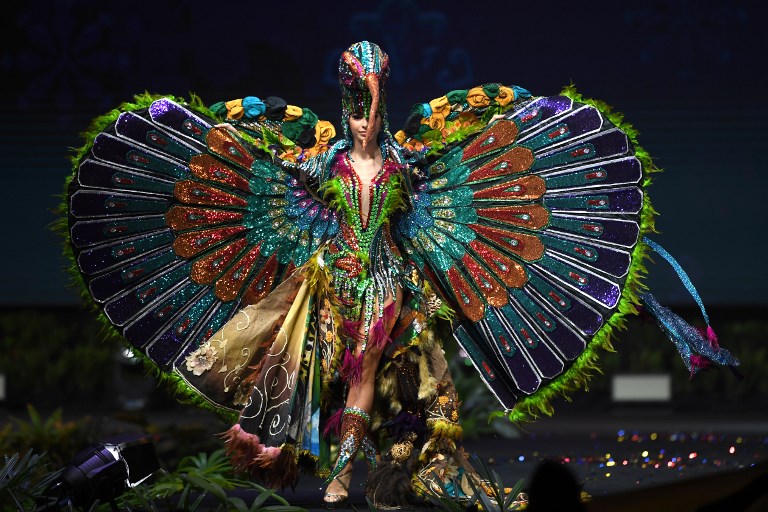 Ecuador: Amazon region flora and fauna. (AFP)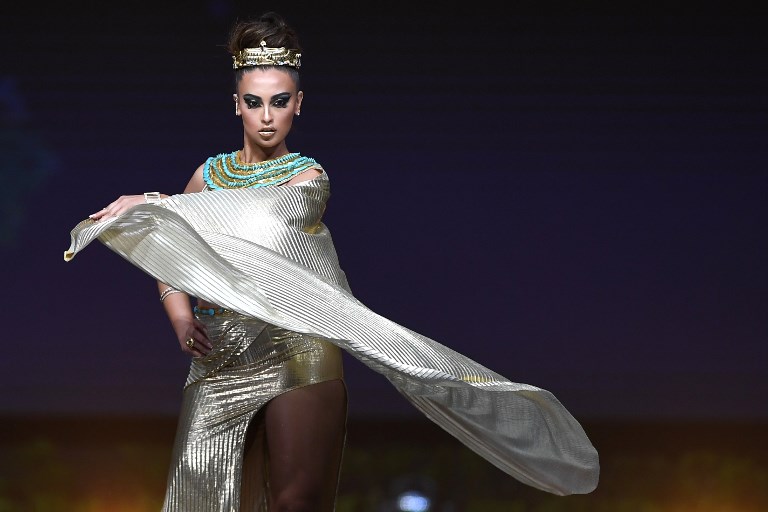 Egypt: modernized version of pharaohs' female strength, in gold and turquoise. (AFP)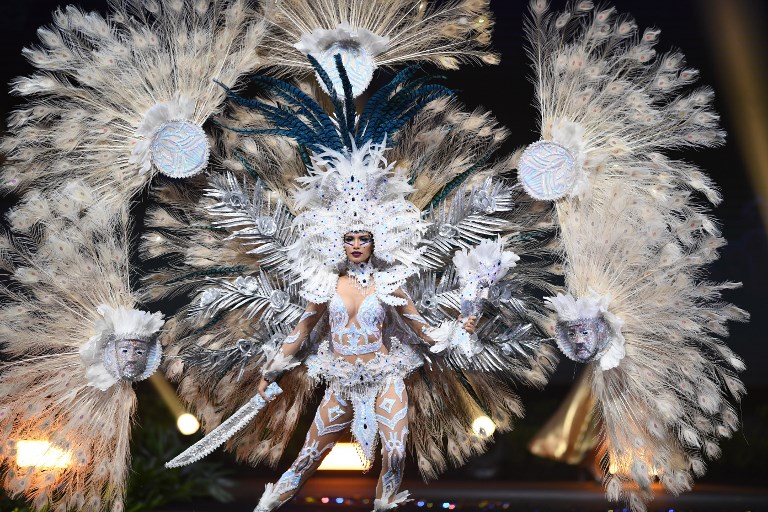 El Salvador: based on a Pre-Columbian festival with a 500 years of history. (AFP)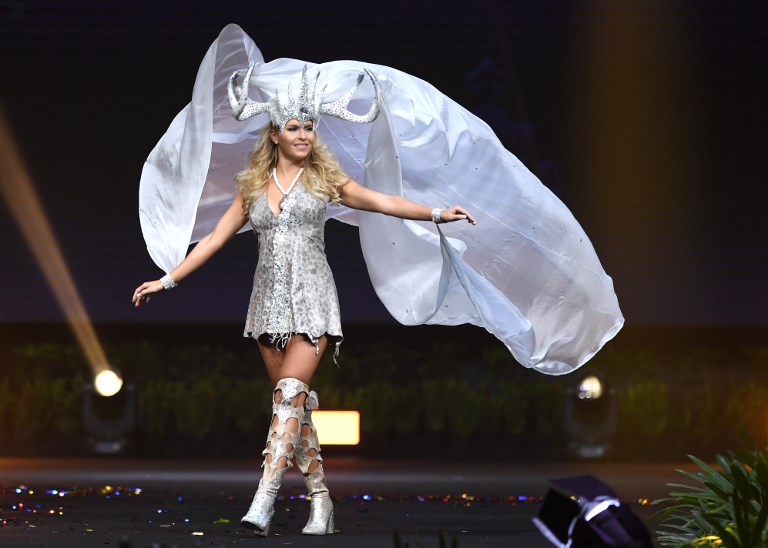 Finland: this handmade costume in Finnish white represents women. . (AFP)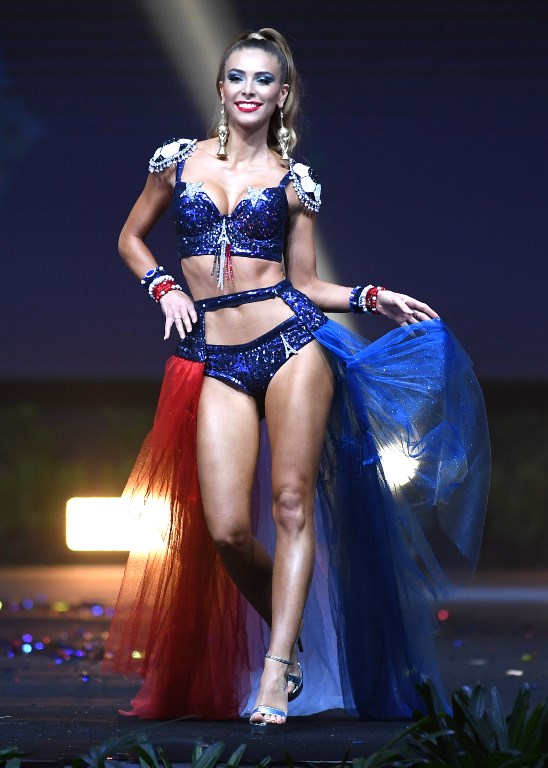 France: red, white and blue flag colors, in bikini as shout out to Corsica, decorated by emblems of the World Cup trophy. (AFP)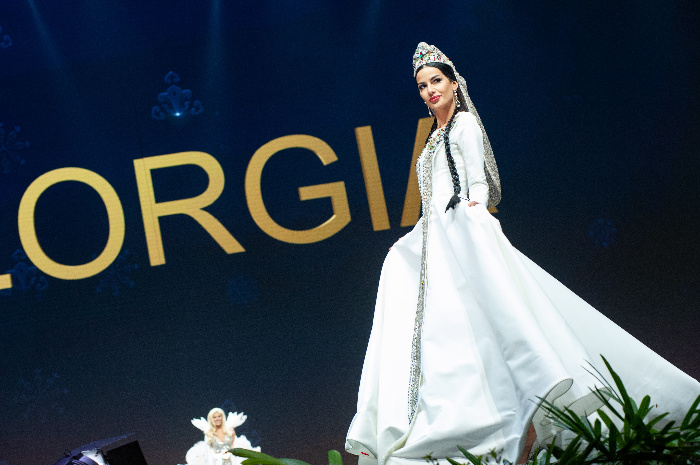 Georgia: dress with a traditional ornament worn by women from high society; white means women's purity. (Miss Universe Organization)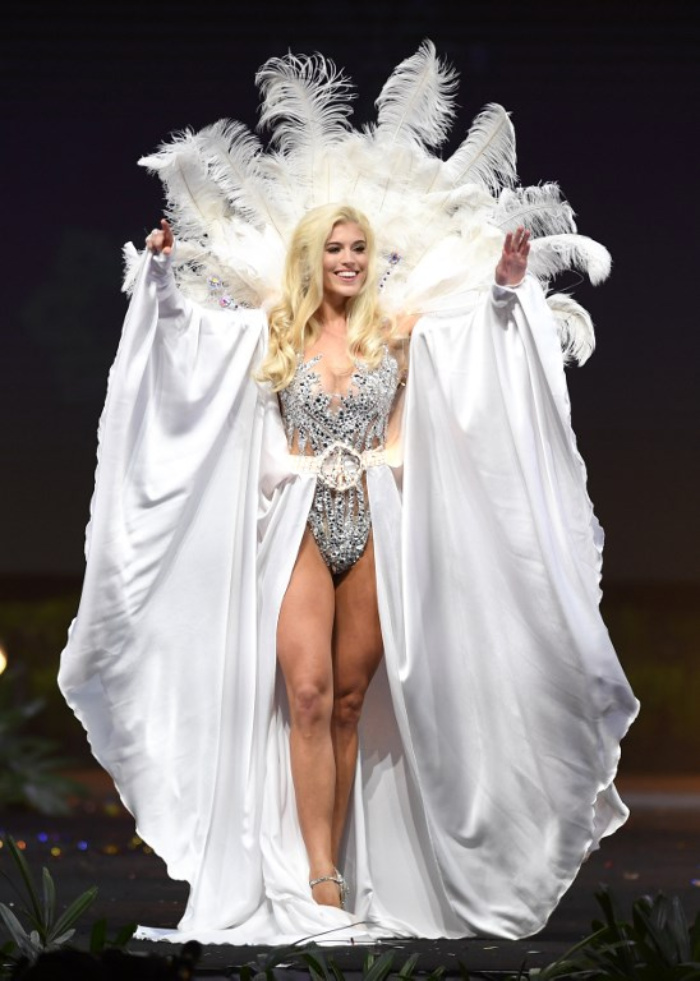 Germany: represents the dove of peace. (AFP)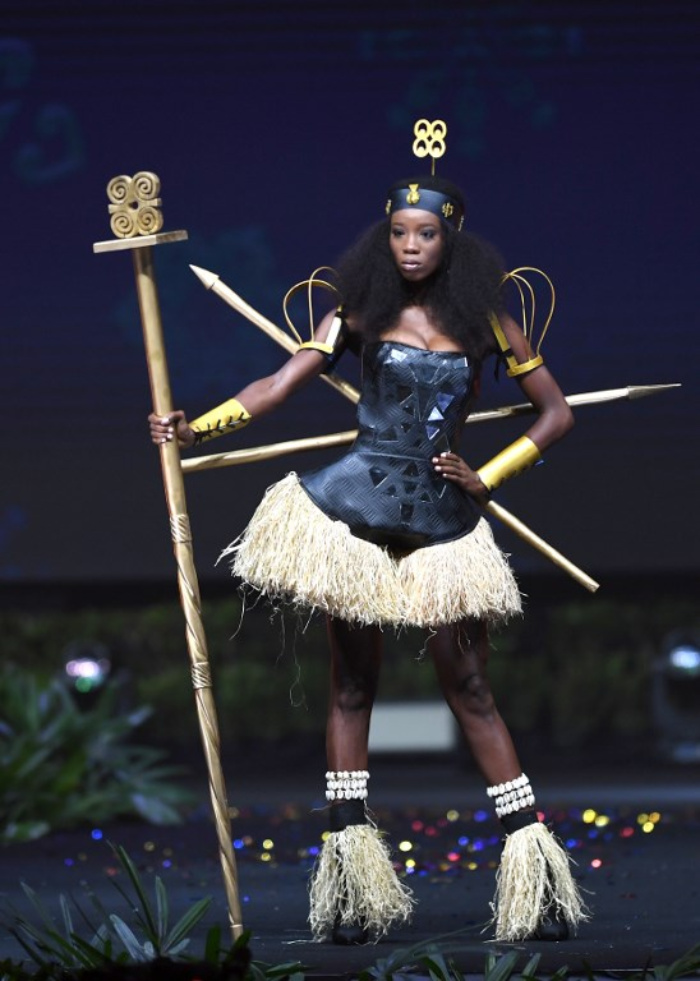 Ghana: warrior queen representing sun and earth connection. (AFP)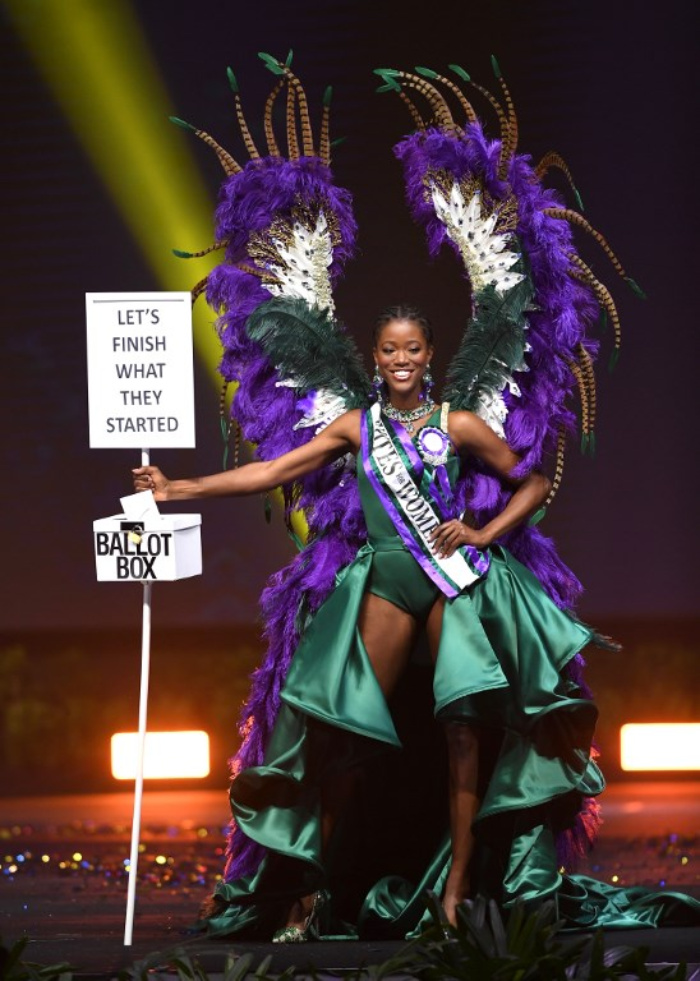 Great Britain: Representing the Suffragettes that mark their 100th anniversary this year. (AFP)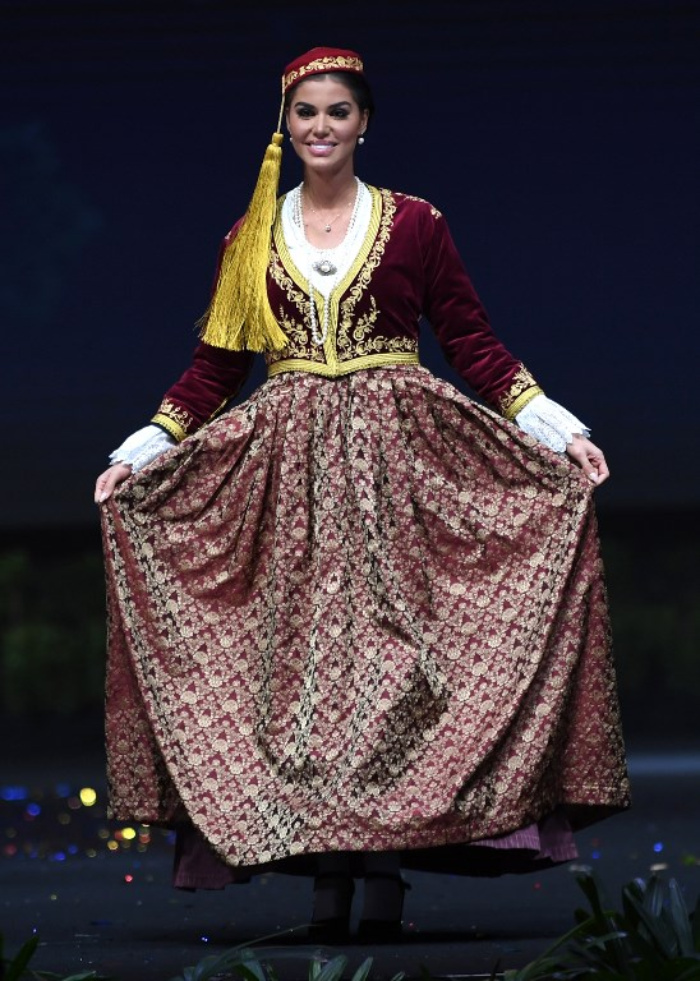 Greece: Copy of a queen's gown. (AFP)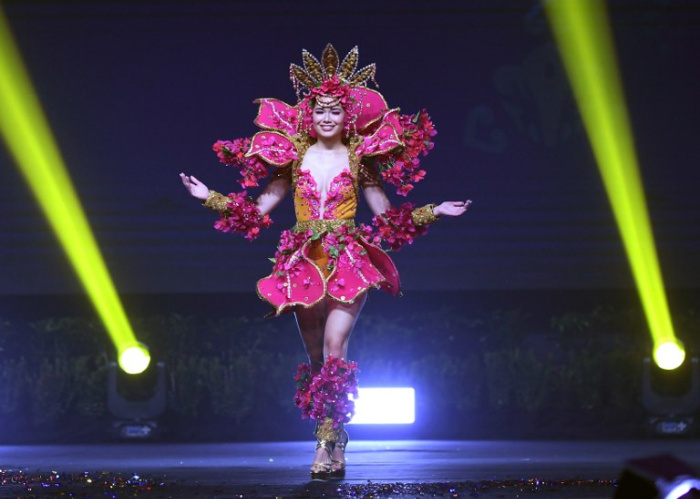 Guam: based on national flower – bougainvillea. (AFP)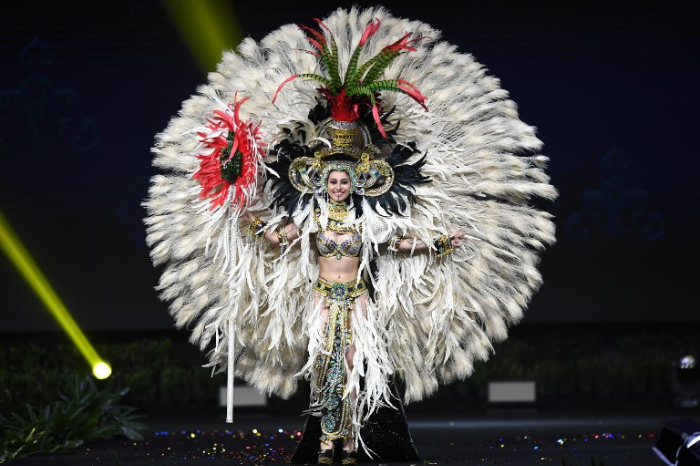 Guatemala: Based on Mayan architecture and civilization and Mayan calendar. (AFP)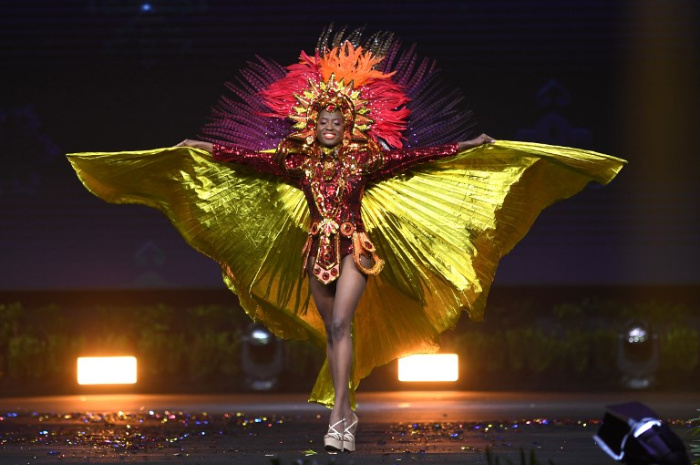 Haiti: Inspired by the country's great weather and carnival creativity. (AFP)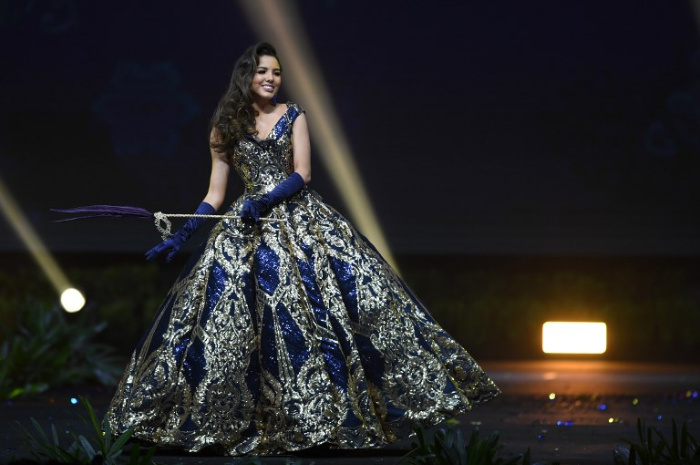 Honduras: inspired by Sta. Barbara's deep blue oceans. (AFP)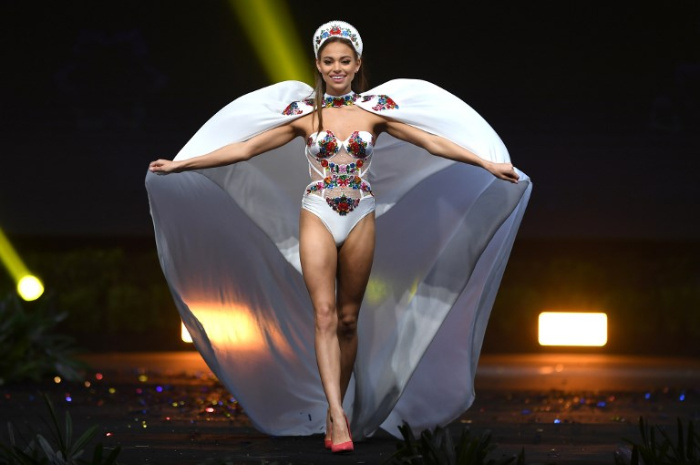 Hungary: designer made, featuring an embroidery done since the Middle Ages. (AFP)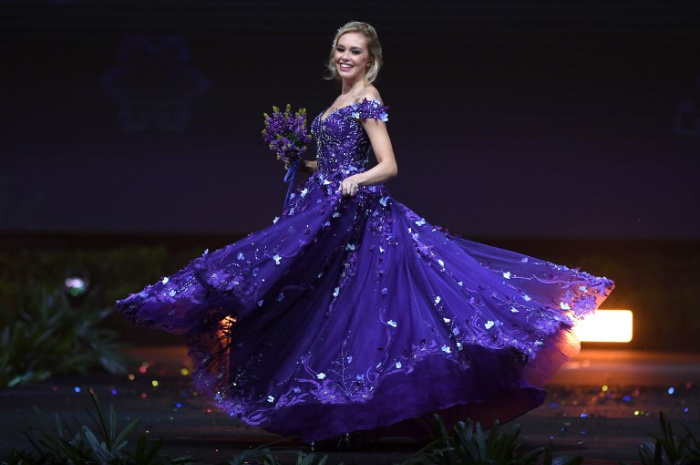 Iceland: based on a wildflower. (AFP)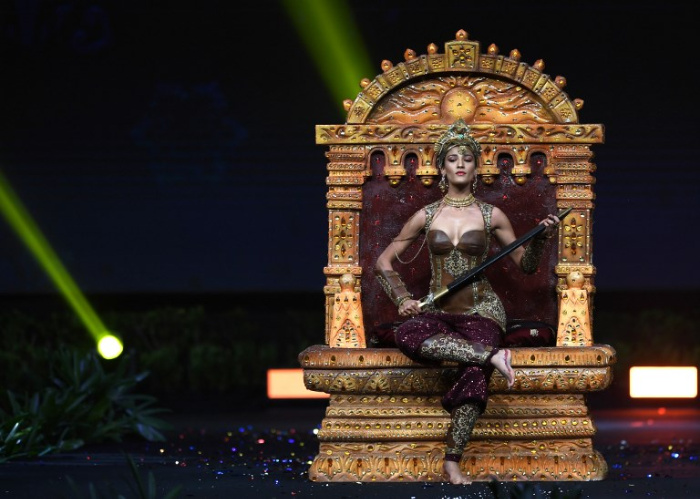 India: a warrior princess symbolizing women empowerment and diversity. The costume weighs 105 pounds. (AFP)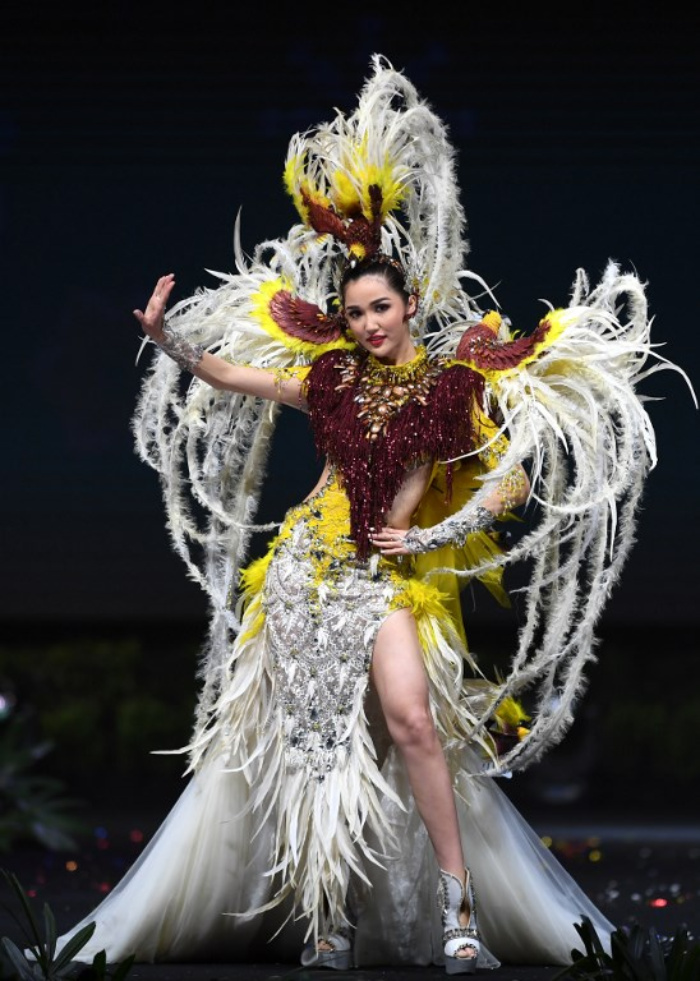 Indonesia: bird of paradise. (AFP)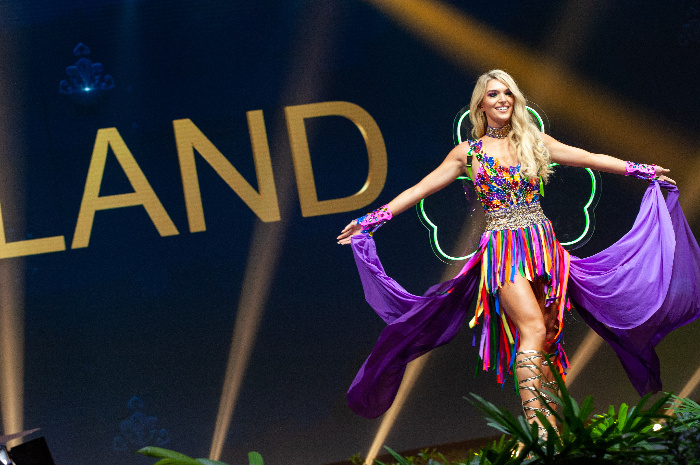 Ireland: clover LED wings for love and equality. (Miss Universe Organization)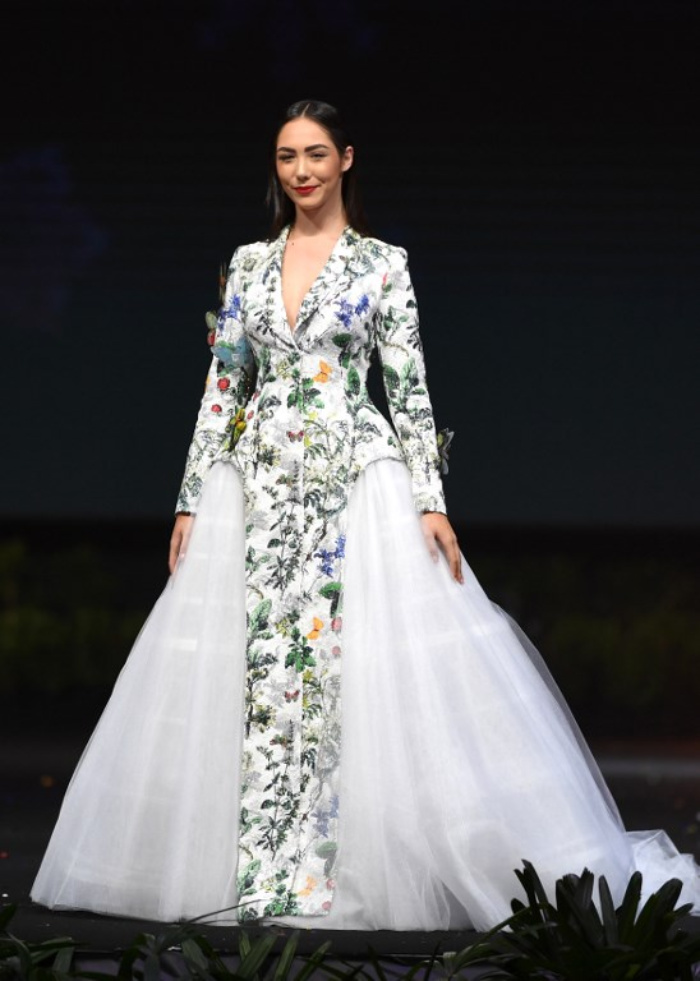 Israel: An abstract of the national image and landmarks. (AFP)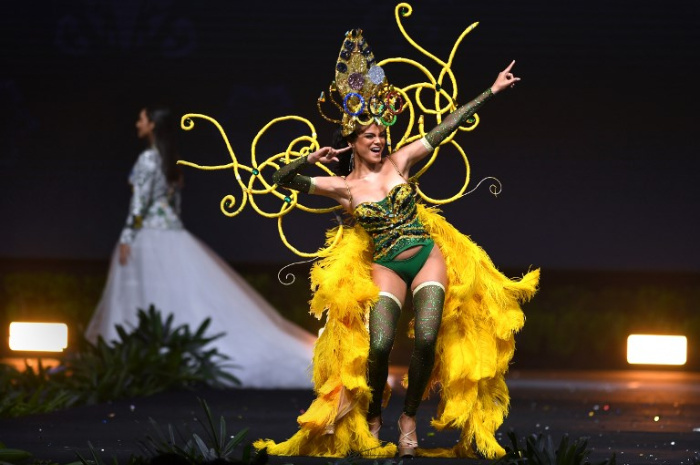 Jamaica: based on Olympic legends. (AFP)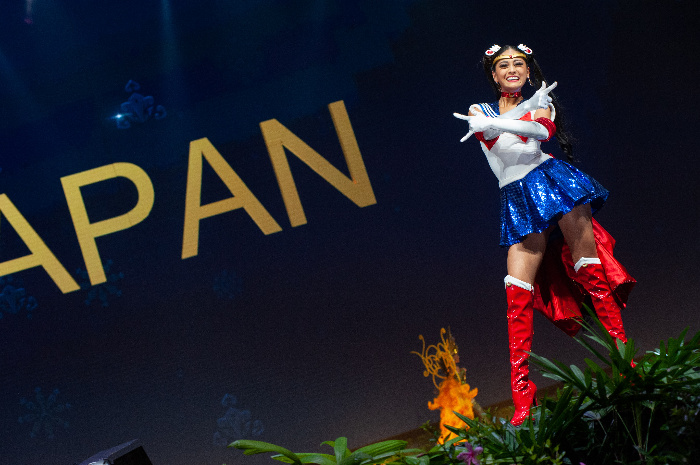 Japan: female ninja that transforms into Sailor Moon. (Miss Universe Organization)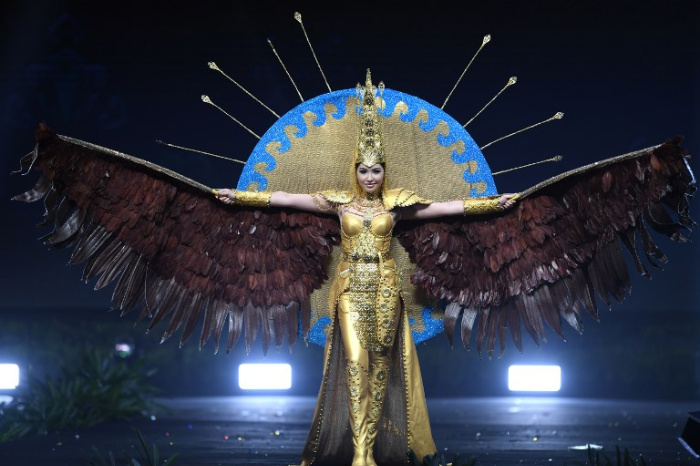 Kazakhstan: representing the wealth of country in gold; blue represents unity, while wings are for freedom. (AFP)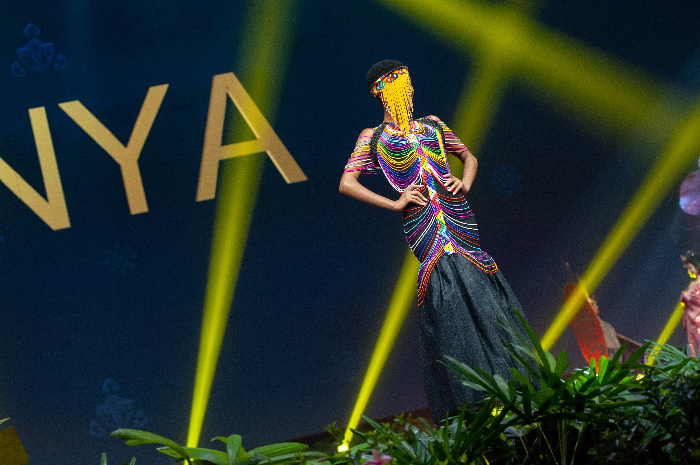 Kenya: inspired by an all-women village for those rescued from forced marriages. (AFP)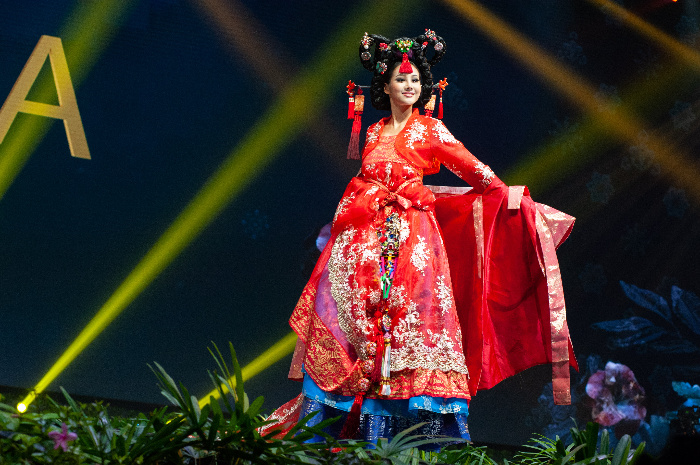 Korea: traditional Hanbok in hand-painted textile and ornamental lace. (Miss Universe Organization)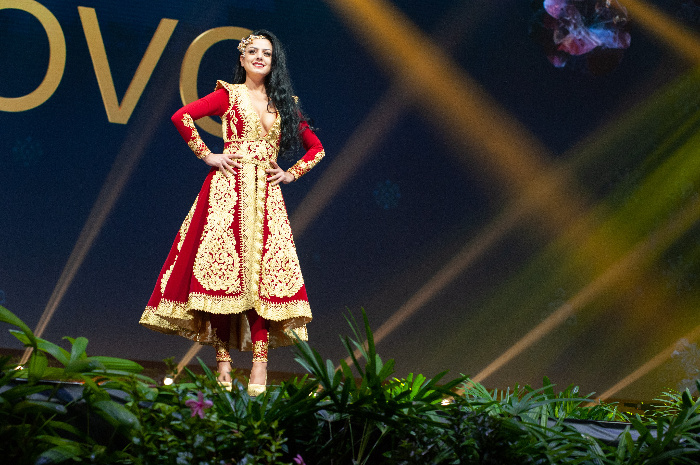 Kosovo: in traditional matrimonial garb. (Miss Universe Organization)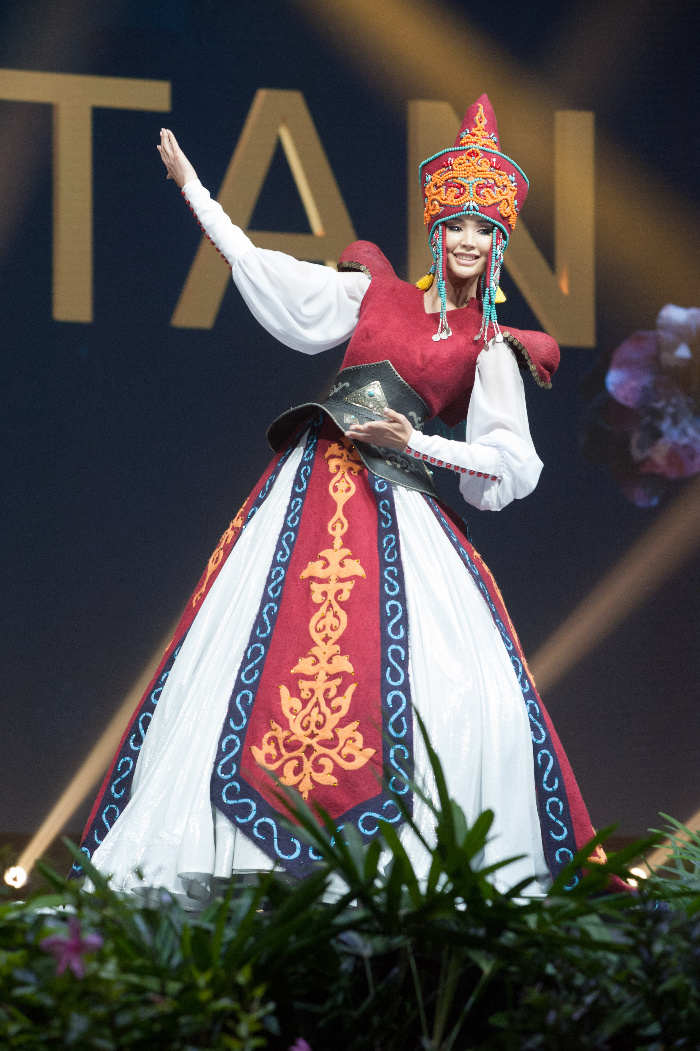 Kyrgyzstan: inspired by folk art, made of wool and handmade. (Miss Universe Organization)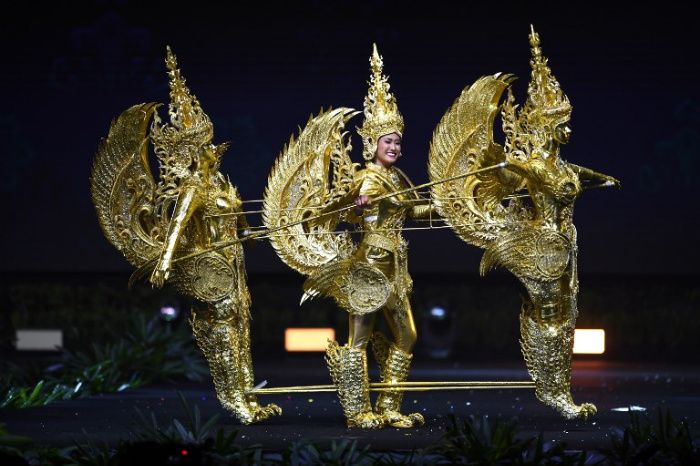 Laos: inspired by the stream of generosity, a half-human, half-bird from folklore. (AFP)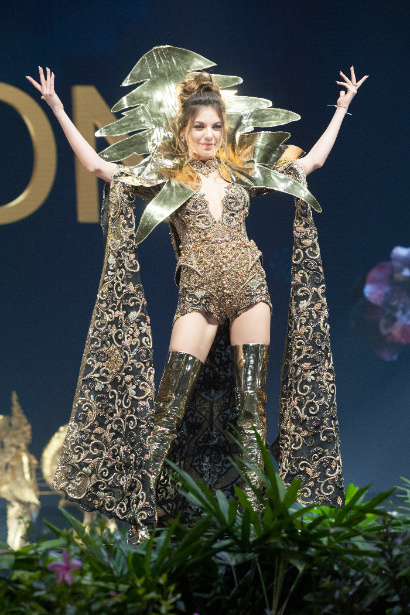 Lebanon: representing strong women, wings from the country's emblem; handmade with beads and fabric. (Miss Universe Organization)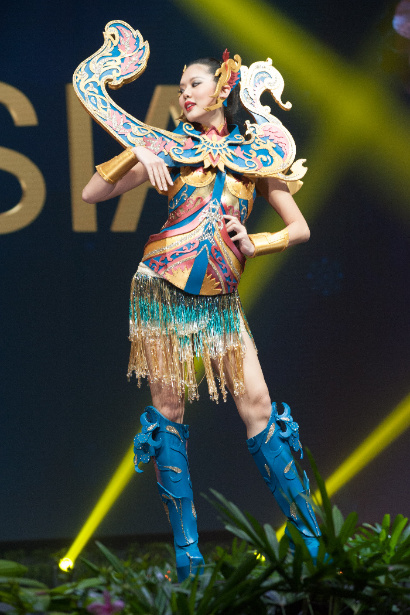 Malaysia: based on an ancient fishing civilization known for its resourceful and protective spirit. (Miss Universe Organization)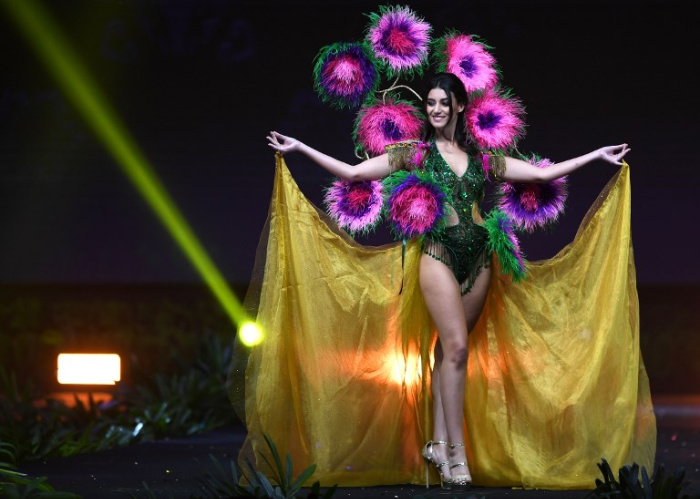 Malta: based on national flower. (AFP)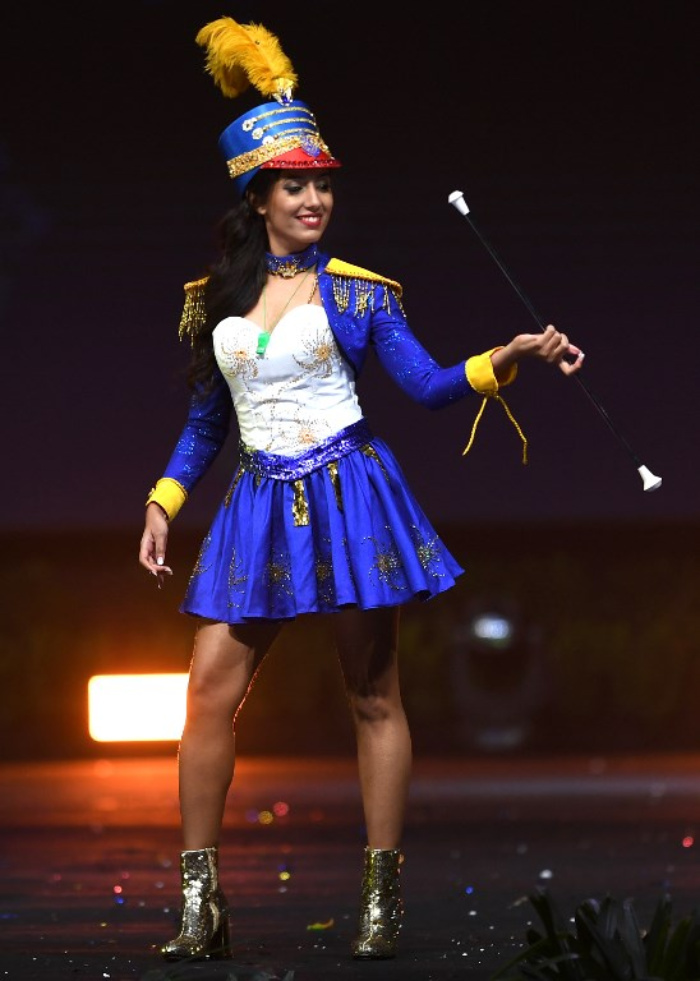 Mauritius: national parade outfit during Independence Day celebration. (AFP)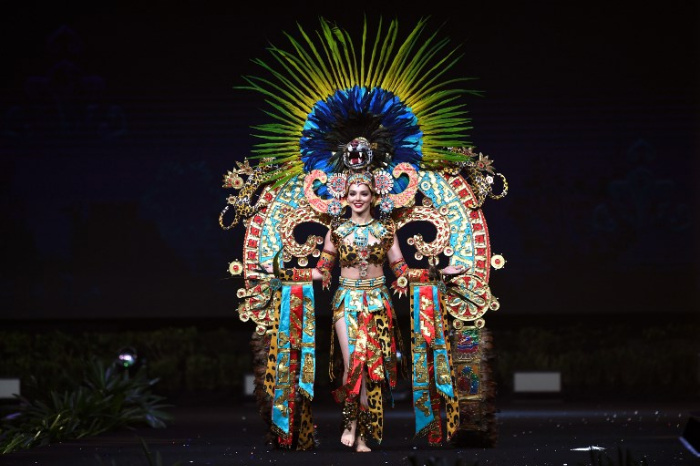 Mexico: Jaguar queen of the Mayan culture; made in pre-Hispanic style in leather and semi-precious stones. (AFP)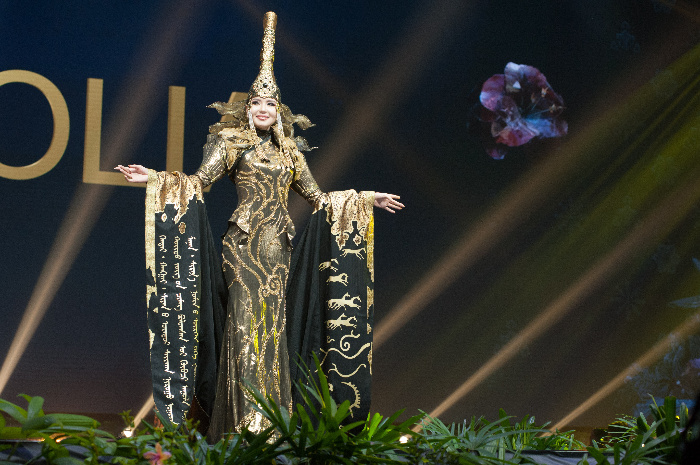 Mongolia: inspired by Genghis Khan's queen, made with over 1000 details executed by hand. (Miss Universe Organization)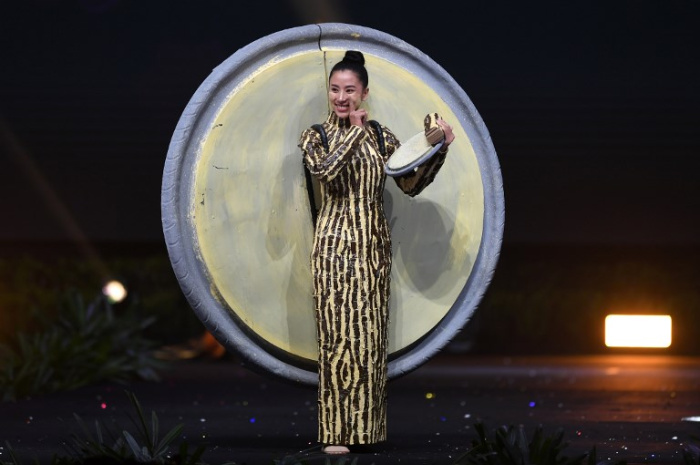 Myanmar: inspired by an endemic tree used as beauty product ingredient. (AFP)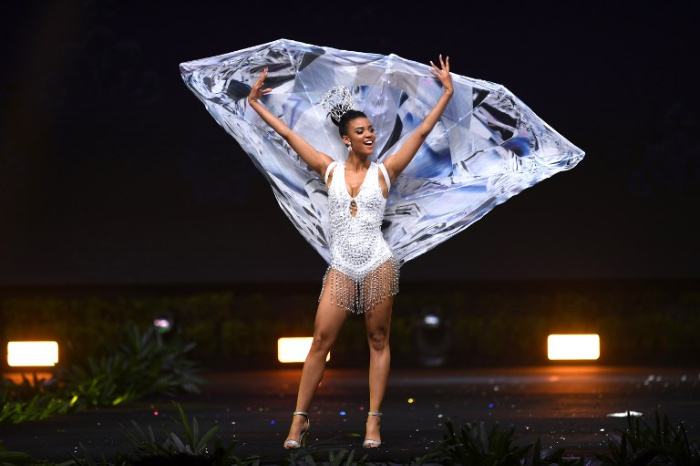 Namibia: inspired by diamonds. (AFP)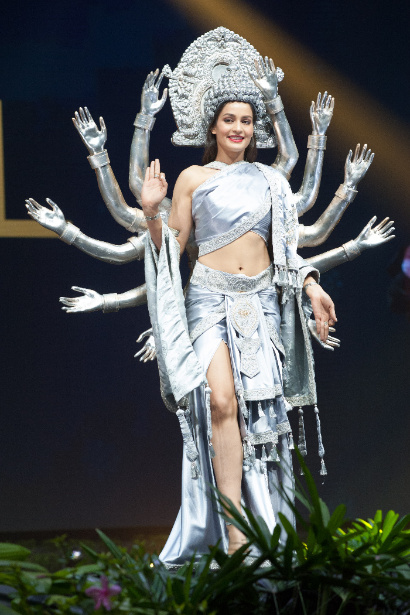 Nepal: portrays goddess that relieves suffering. (Miss Universe Organization)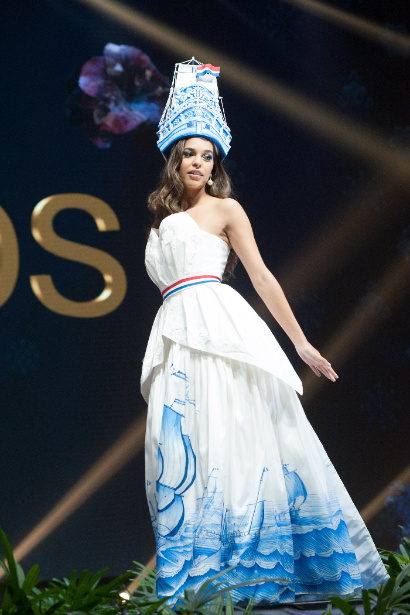 Netherlands: Dutch merchant ship handpainted in Thai silk; papier-mache headdress. (Miss Universe Organization)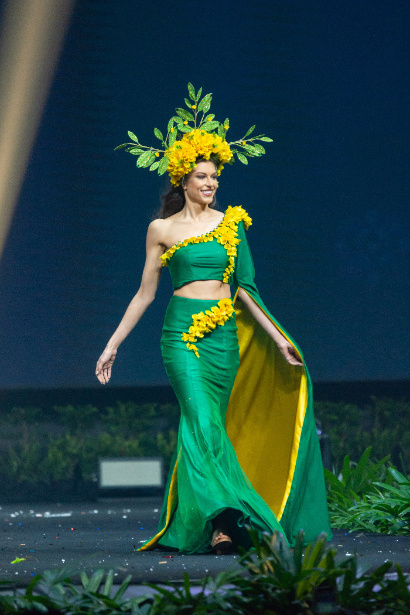 New Zealand: green representing untouched landscape; yellow for national flower and Mother Earth. (Miss Universe Organization)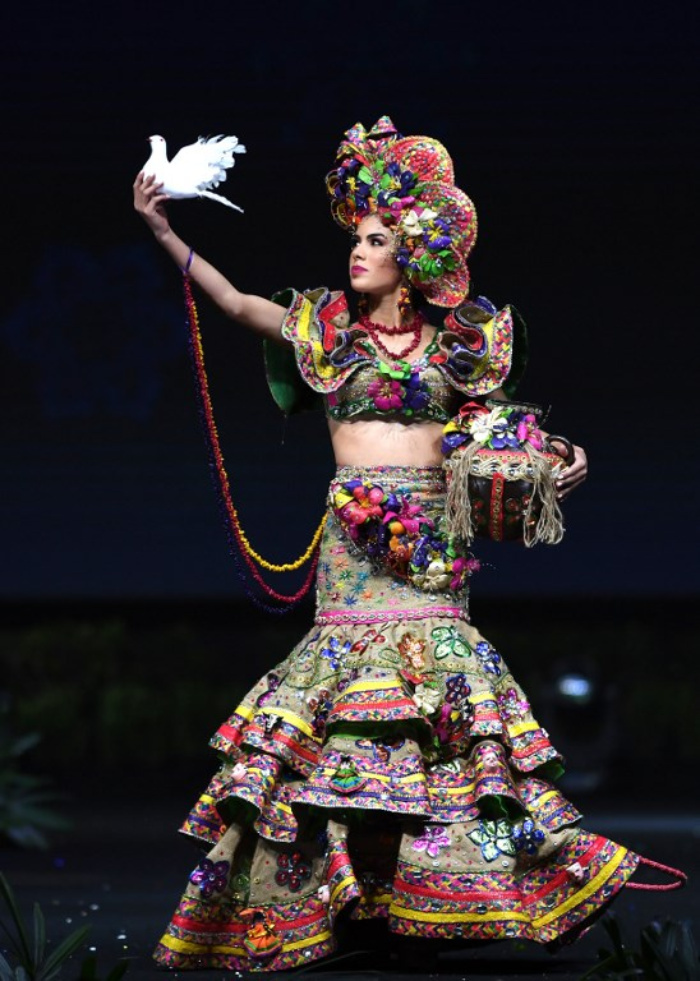 Nicaragua: based on the lines of a female poet's poem about peace and hope. (AFP)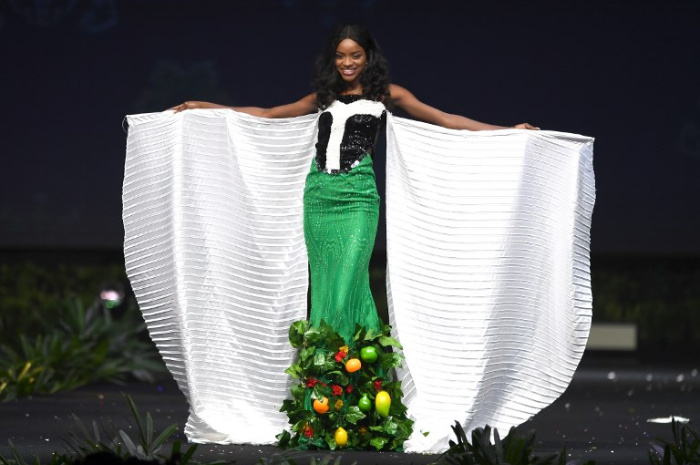 Nigeria: headgear with eagle; dress adorned by vegetation and representations of peace and love. (AFP)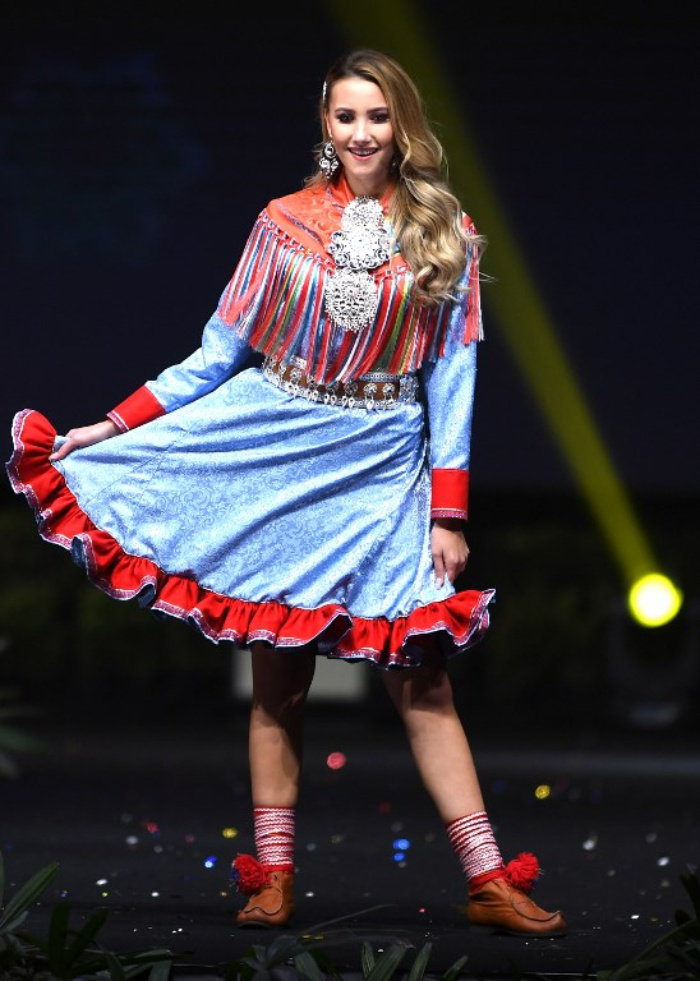 Norway: tribal garb worn during marriage and funeral; designed by the contestant. (AFP)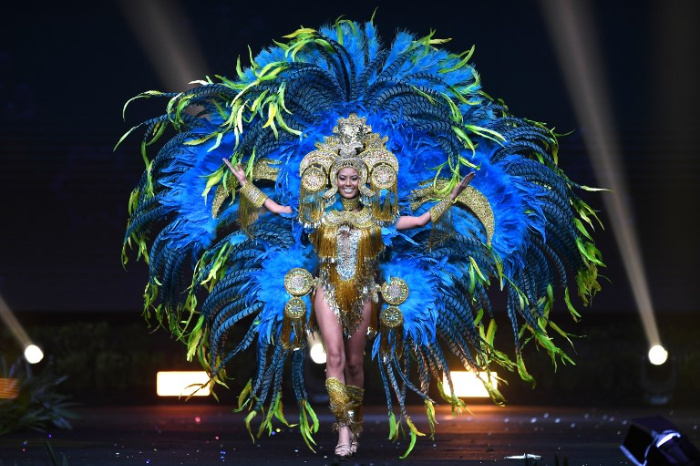 Panama: inspired by a princess from Pre-Columbian history; made of 3500 golden beads. (AFP)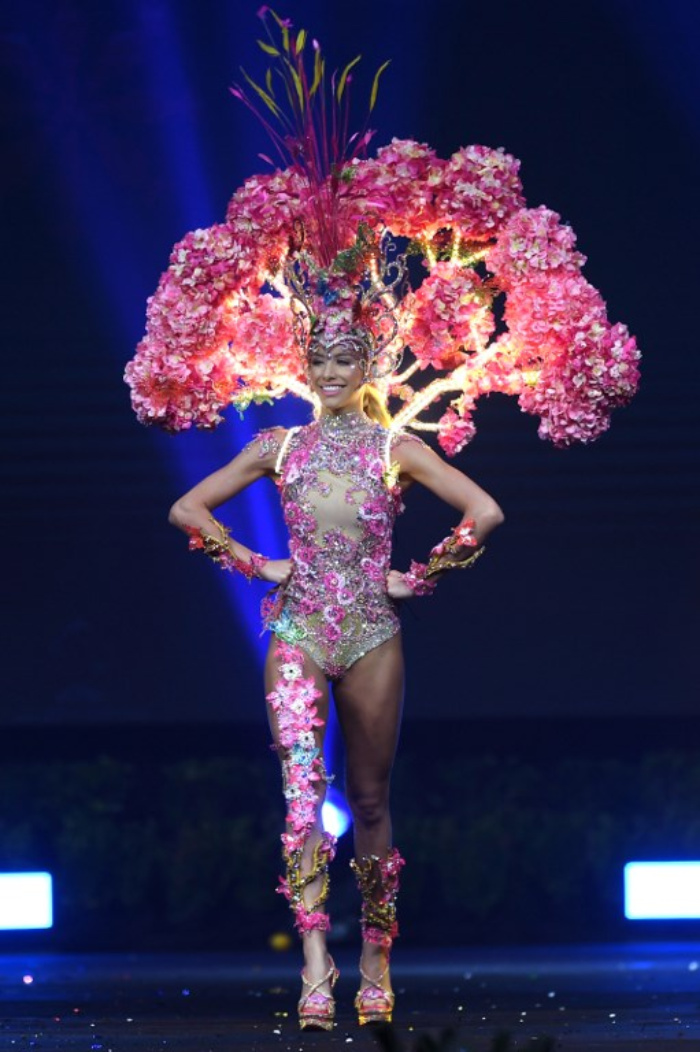 Paraguay: based on national tree, with lighting up branches. (AFP)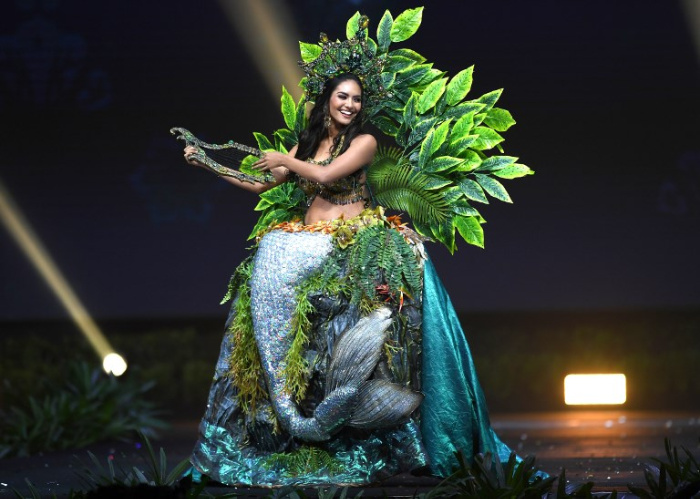 Peru: inspired by jungle region spirits and tale of a woman who turns into a mermaid by singing. (AFP)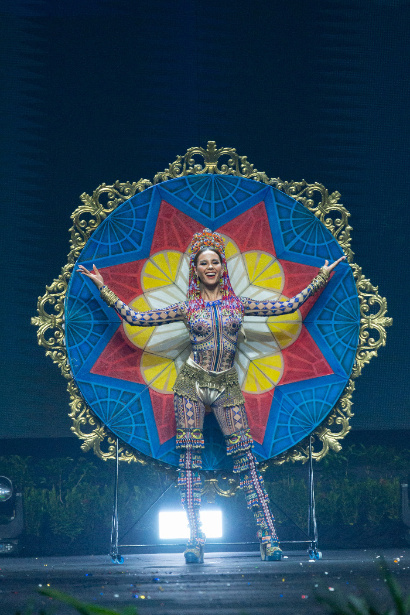 Philippines: called "Celebrate, Fight, Enrich," this costume represents the three major islands – Luzviminda. Its key pieces include a brass headpiece and customized footwear embroidered with indigenous textile patterns. (Miss Universe Organization)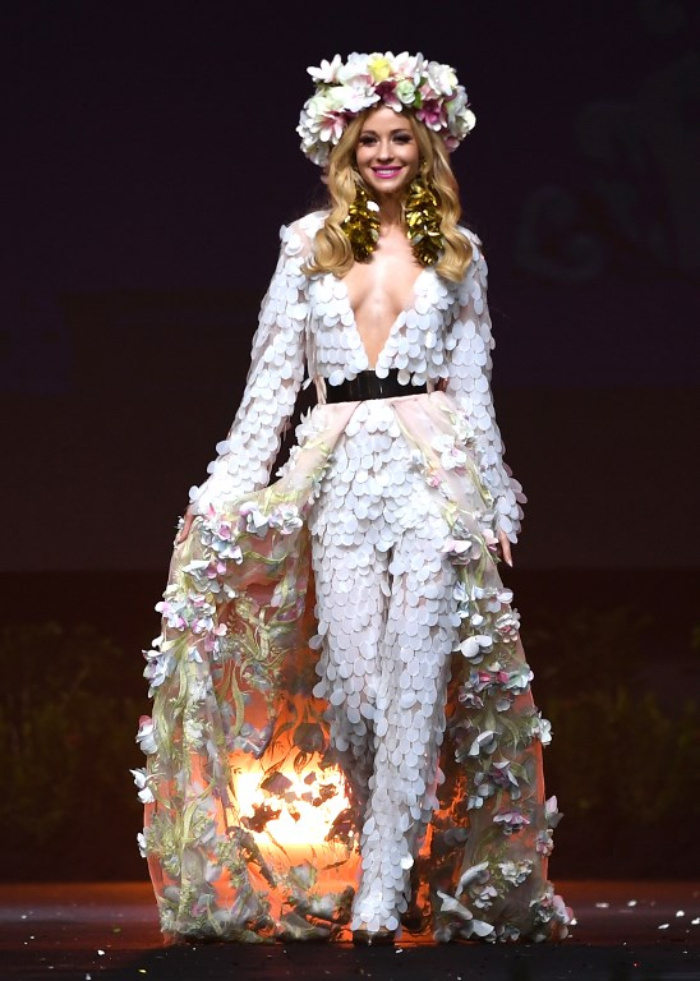 Poland: from Slavic mythology, the water nymph. (AFP)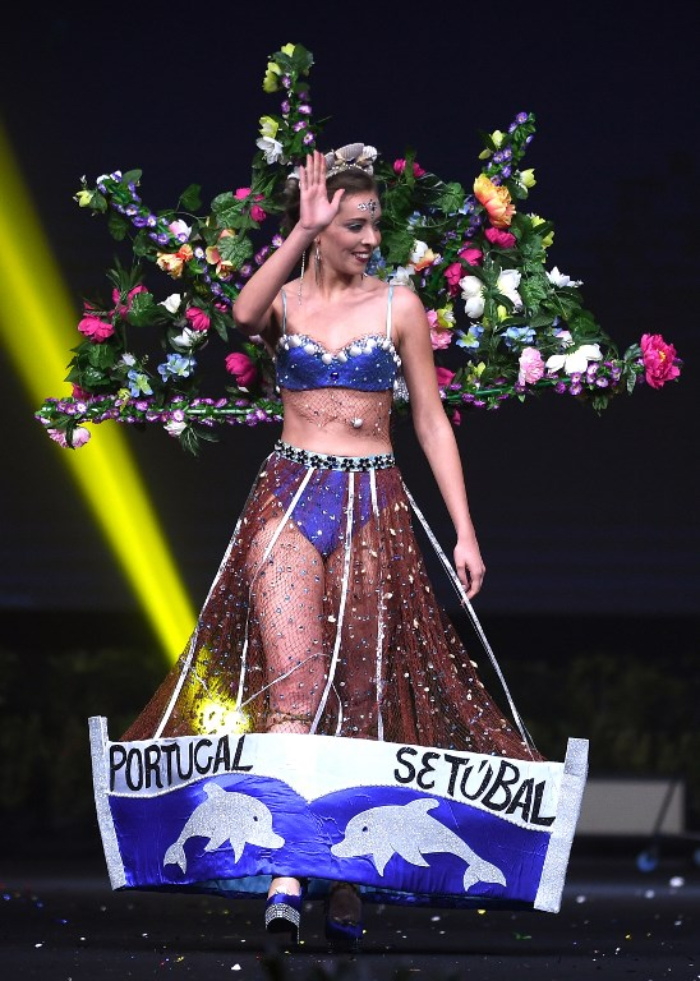 Portugal: fishnet dress representing the Sebugal maritime port. (AFP)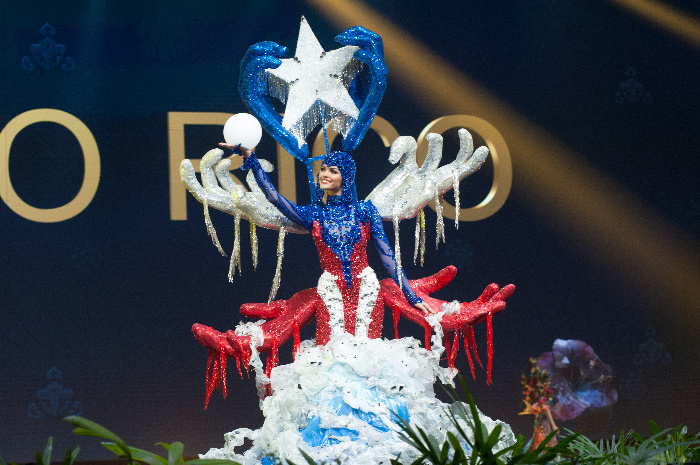 Puerto Rico: representing the winds of hurricane Maria, showing that the country rose up as a pearl of the Caribbean. (Miss Universe Organization)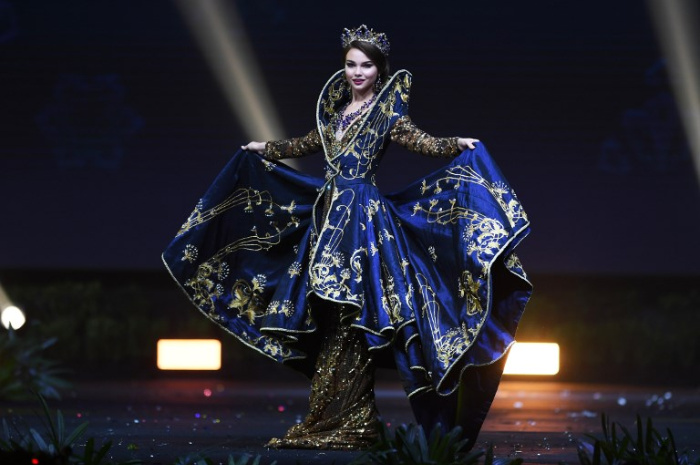 Russia: This designer dress represents a woman of nobility. (AFP)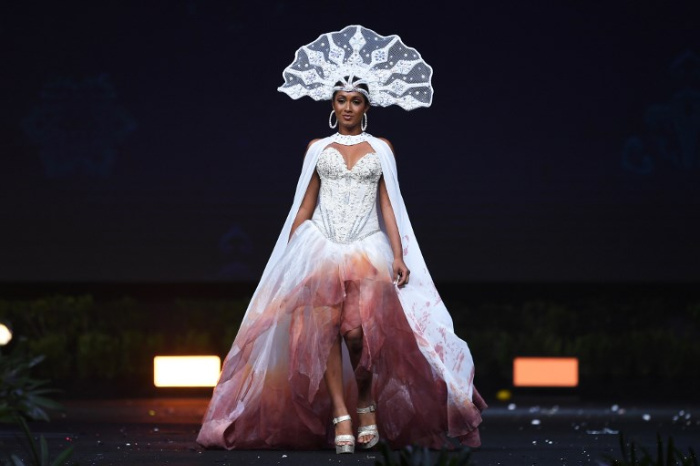 Saint Lucia: inspired by the Mythical Love of the West Indies and Helen of Troy. (AFP)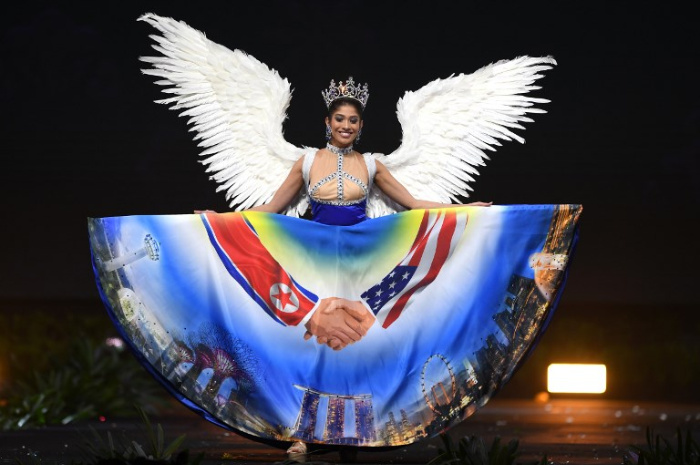 Singapore: based on the Trump-Kim summit and Singapore's role as a global broker of peace. (AFP)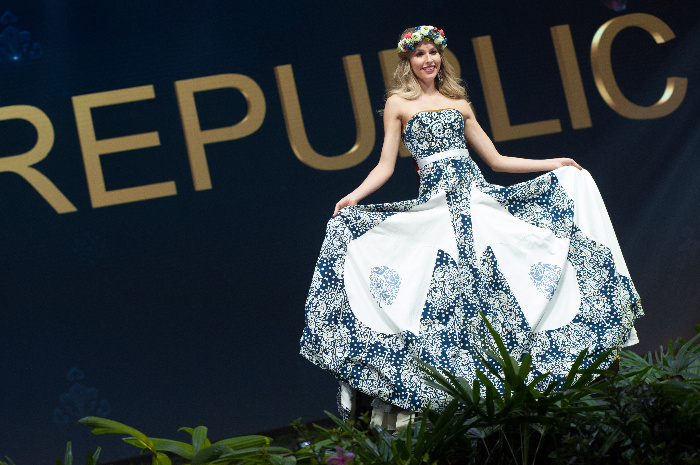 Slovak Republic: based on a traditional textile recognized this year as part of Unesco cultural heritage. (Miss Universe Organization)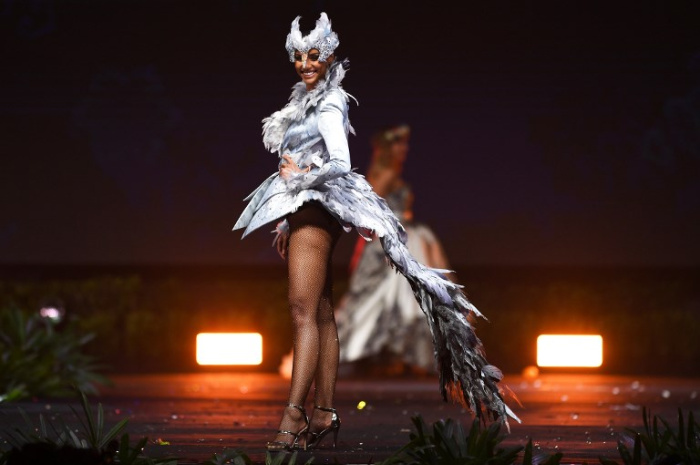 South Africa: based on national bird, made of over 1,000 blue and gray feathers. (AFP)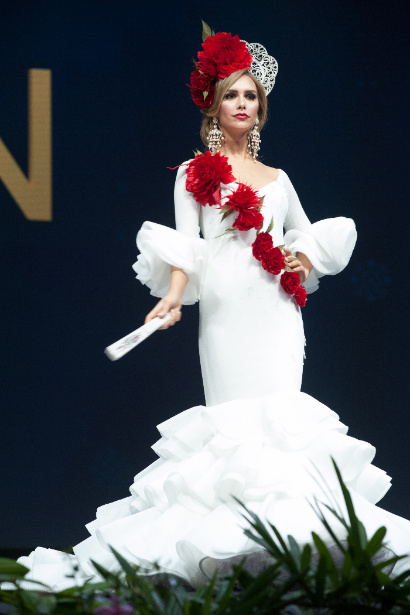 Spain: an iconic traditional robe, with white meaning purity and a ripple of red carnations, the country's most recognizable flower; the fan is to extend the fragrances from her land. (Miss Universe Organization)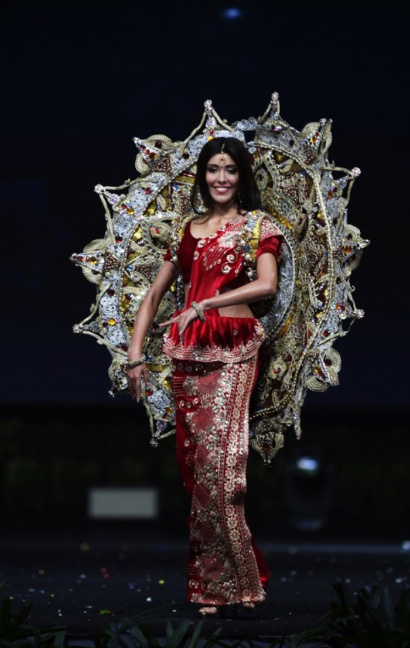 Sri Lanka: representing a celebration parade and women's empowerment. (AFP)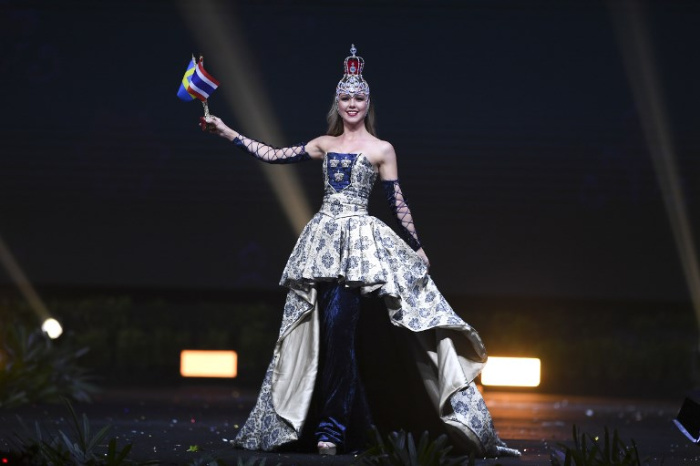 Sweden: a costume about love and friendship, representing 150 years of friendship between Thailand and Sweden. (AFP)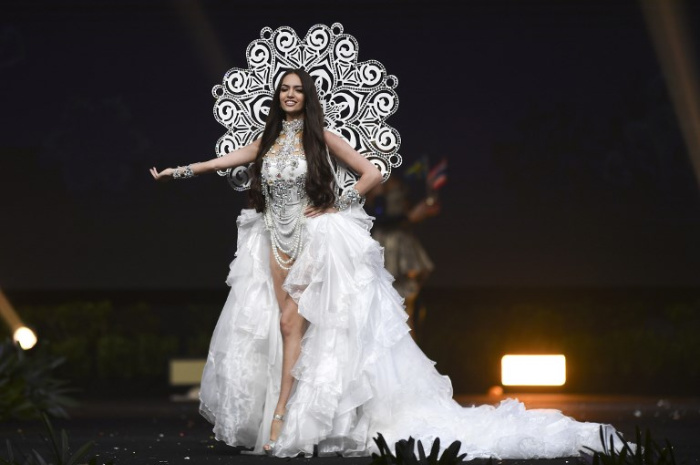 Switzerland: snowflake and ice queen. (AFP)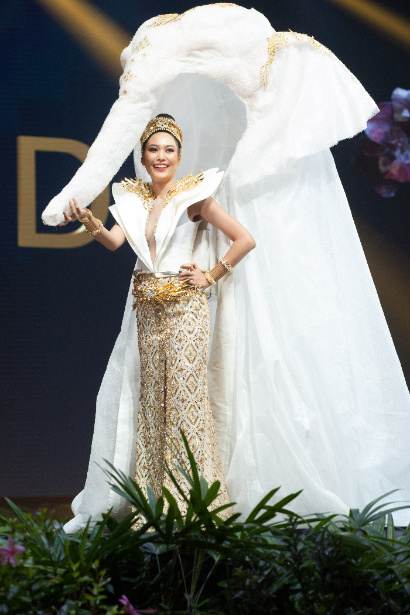 Thailand: based on the elephant icon of Siam, complemented by a royal Thai garb. (Miss Universe Organization)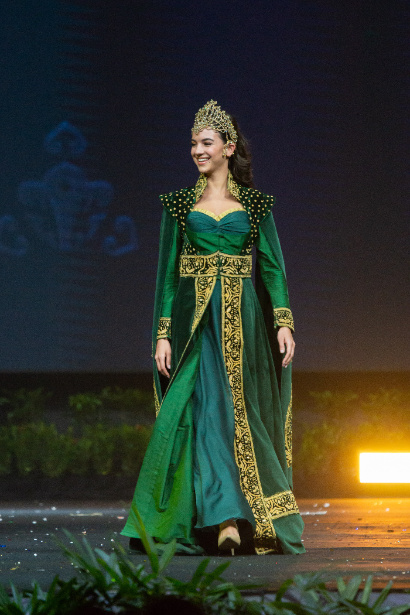 Turkey: representing the women of the Ottoman Empire in a dress that weighs 20 pounds. (Miss Universe Organization)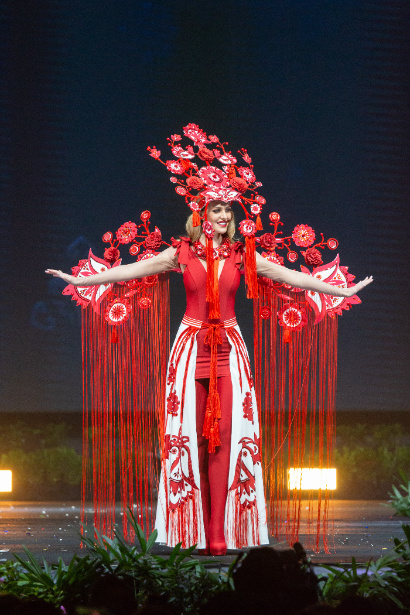 Ukraine: costume made using traditional ornaments used for houses; red means love, white for purity. (Miss Universe Organization)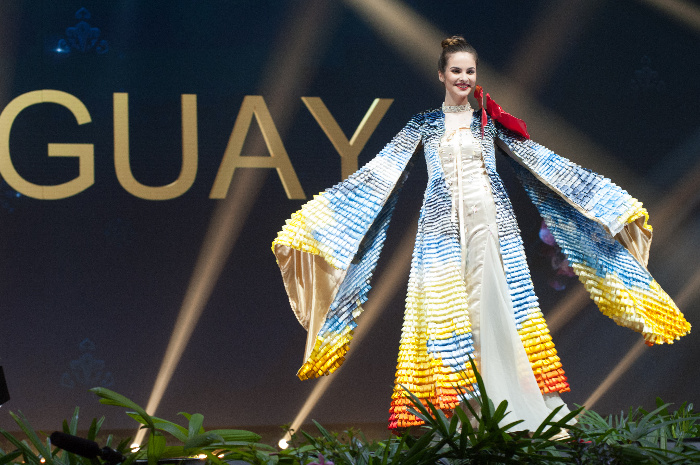 Uruguay: inspired by Salvador Dali's "The Meditative Rose" work, in sequins, beads and stones. (Miss Universe Organization)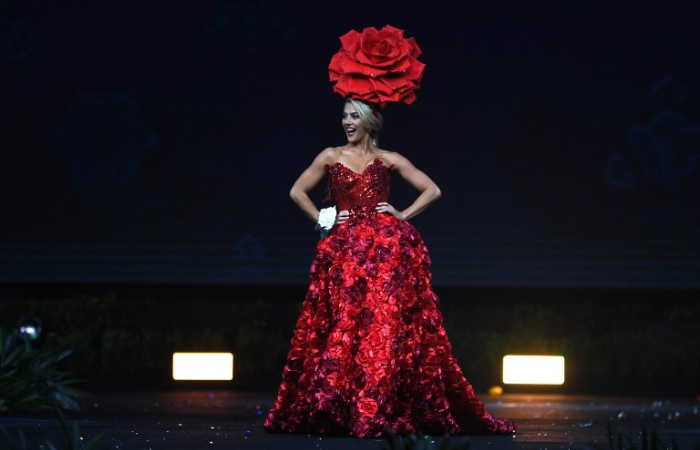 USA: inspired by the national flower, rose, a symbol of love and the contestant's middle name. (AFP)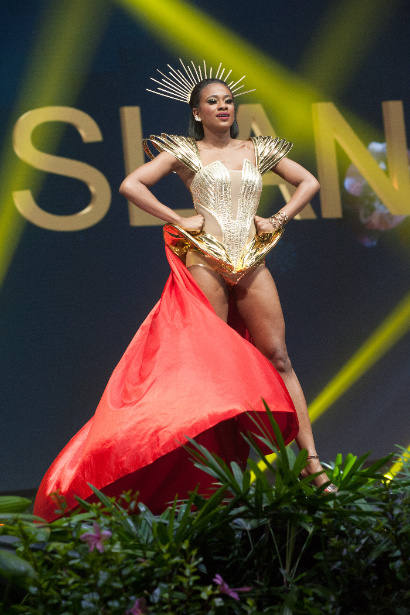 US Virgin Islands: inspired by the phoenix and Queen Mary's reimagined gown in gold corset with jewels. (Miss Universe Organization)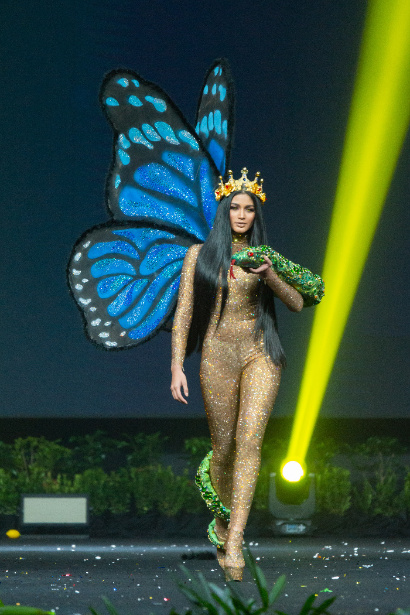 Venezuela: the goddess of nature depicted in thousands of crystals. (Miss Universe Organization)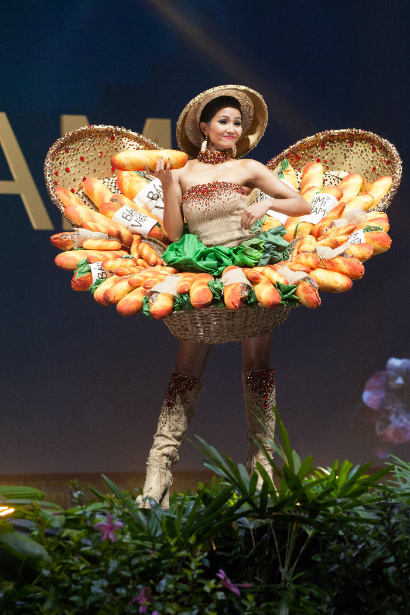 Vietnam: inspired by traditional cuisine, Banh Mi. (Miss Universe Organization)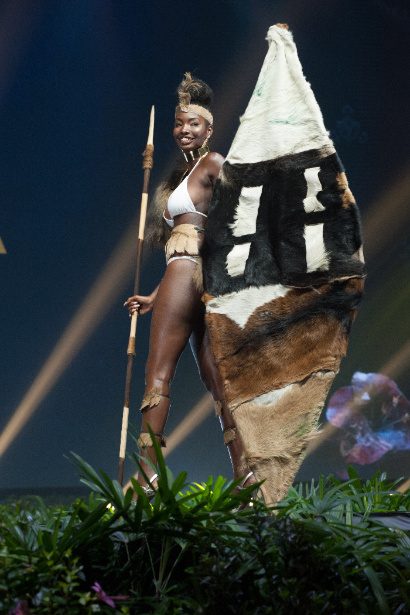 Zambia: this traditional garb for a harvest ceremony is the only time women can dress this way as a symbol of purity. (Miss Universe Organization)
Many costumes were still inspired by the candidate nations' flag colors and flora and fauna, especially, their national flowers.
Those that have been trending on social media, such as Miss Japan's Sailor Moon and Miss Singapore's costume inspired by US President Donald Trump and North Korean leader Kim Jong Un's historic handshake, wowed viewers as well.
Likewise, there were those that used the show as a platform to promote advocacies such as women empowerment, environmental protection and of course, in true pageant fashion, world peace.
The 2018 Miss Universe will wrap up with a coronation night on December 17 in Impact Arena, Bangkok, Thailand.