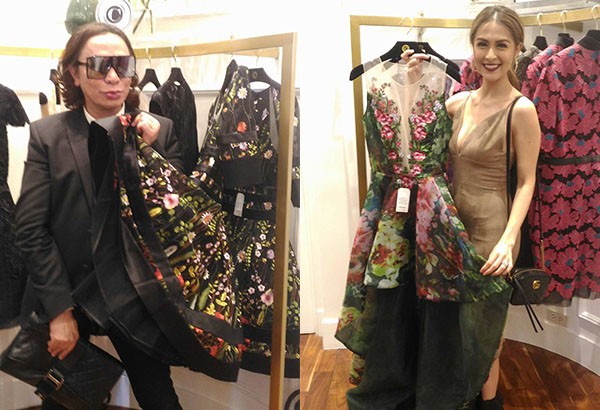 From left: Filipino world-class couturier Michael Cinco enters the local retail industry; Cinco's muse, Marian Rivera, checks out the designer's pieces now available in Manila.
New Manila boutique carries Michael Cinco
MANILA, Philippines — More than two decades after couturier Michael Cinco left for the Middle East for greener pastures (and better textiles, richer clients, brighter beads), his exquisite creations will be sold in the country.
People who are familiar with (and who have been lusting after) Cinco's collections can now get a whiff of glamour as some of his pieces are now on display (and be can be yours at mostly less than P100,000) at a recently opened store at the ground floor of Greenbelt 5 in Makati City.
Besides Cinco, the capsule collections of three other ACF members are on display: Sebastian Gunawan of Indonesia, Songzio of South Korea and On Aura Tout Vu (Livia Stoianova and Yassen Samouilov) of France.
On Aura Tout Vu has the vest-trouser-blouse version of what Madonna reportedly wore during her "Rebel Heart" world tour, as well as lace ensembles. Gunawan has the Flora sequined lace gown, Rosie two-shape jump suit, and flower lace dresses. Songzio carries asymmetric tops and sleeveless outer dresses with abstract prints. It was only Cinco, however, who was at the store opening, proudly showing off his pieces and those of his peers.
At the store window are Cinco's Dana floral-printed pleated skirt dress, Grace lace long dress and the Ricky embellished spiderweb long gown. He then went on to show the Sagan split-sleeve fitted dress, a version of which was worn by Miss Russia Universe 2017 Ksenia Alexandrova when she visited the country in December with her pageant sisters.
"There will be new pieces coming out in March," the designer, wearing a mostly black ensemble and his signature pout, said, adding, "It was the store principals who came up with the names for the dresses."
Miss World Philippines 2017 Laura Lehman hosted the boutique's intimate opening, with Miss Universe 1973 Margarita Moran, Audrey Zubiri, and talent manager Arnold Vegafria in attendance to welcome Cinco's entry to the local retail scene.
Cinco's best friends and fellow couturiers Val Taguba and Bandoix Flore Nebria were also there to lend support. Both were also based in Dubai for a long time and have now returned home and opened their own ateliers — proof that Philippine couture is alive, well and lucrative.