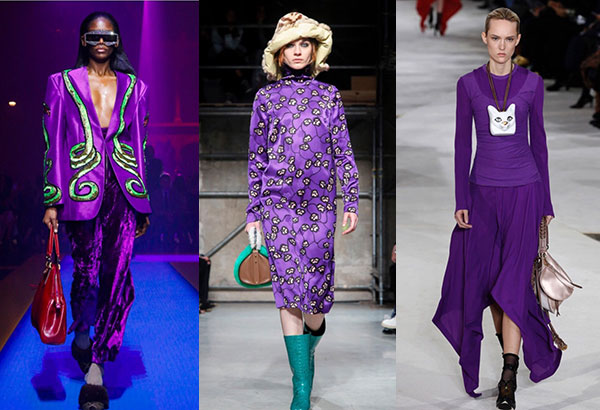 Light our way: The future is bright for Gucci, Marni and Loewe with Pantone's Color of the Year.
In 2018, go bright & cheery in this troubled world
(The Philippine Star) - December 26, 2017 - 4:00pm
If fashion were created to reflect the times, we would be stuck with utilitarian garments in blacks and greys. But the runways say otherwise: 2018 is the year to wear bright and cheery antidotes to the troubled, uncertain world we live in today. Okay, there are still hard-working garments in denim but they are now tailored with elegant and unusual cuts and embellished with enough joie de vivre so that the denim-wearing miners and cowboys of the American West would hardly recognize their wardrobe staple. Even the color authorities of Pantone have declared the color of the year to be a vibrant Ultra-Violet, "communicating originality, ingenuity, and visionary thinking," according to the firm's executive director Leatrice Eisenman. It's a color suggesting the mysteries of the cosmos, evokes wellness through amethyst crystals and was a favorite color of the architect Frank Lloyd Wright who wore a purple cape when he wanted the creative juices to flow. Eisenman adds that it's the most complex of colors, "because it takes two shades that are seemingly diametrically opposed – blue and red – and brings them together to create something new." It's practically a metaphor for espousing peace in the world by bringing together peoples and cultures that are so different from one another but somehow can find similarities and work for the common good. How can you be any more optimistic than that to greet the new year? Fashion designers are just as upbeat: "If there is anything to say at the moment, let it be with love. Let it be joyful," says Phoebe Philo of Céline.
New year brights and pastels
What can be more joyous than bright, saturated hues like hot fuchsia in monochrome at Tom Ford with his sexy pantsuit ensemble, canary yellow tulip dresses at Carolina Herrera and tangerine dreams at Marc Jacobs. If brights are too much to bear, cool pastels are also as welcome as luscious gelato on this unseasonably warm holiday season. The London designers lapped up all the flavors: pistachio at Joseph, blueberry at J.W.Anderson and café au lait at Preen. Strawberry ice cream pink is also popular with flounced dresses at Giambattista Valli and satin dress coats at Helmut Lang.
Liquid satin and slip dresses
If you want to elevate those pastels and simple silhouettes to something dressier, go for satin which is also easy and comfortable to wear all through the party night with its fluidity and lightness. Roksanda mixed flowing maxi-length dresses with slits to reveal relaxed trousers underneath, while Cristopher Kane's pale pink gowns were accented with a major black medallion on the torso. Just as easy are the '80s disco-staple slip dresses which are more luxe this season with intricate patchwork at Tory Burch and sequins at Preen and Oscar Dela Renta.
Sexy transparencies
Look forward to a year of wellness with a fit body that you can flaunt with all the diaphanous dresses in sheer, skin-revealing fabrics but done in sophisticated cuts to keep it classy – from Jason Wu's Madame Gres pleating done in diagonal peekaboos to Jeremy Scott's ruffled glories. Tulle was a favorite material for its sheer qualities and ballerina flair reworked in tiers at Vivetta and elevated to Empire levels at Antonio Marras. For a touch of innocence, sheer white maxi dresses are another way to go, recalling the looks of The Beguiled mixed with Virgin Suicides.
Art prints, plaids and florals
If you are going for the prints, infuse it with fun art like the black and white cartoons at Prada and Andy Warhol solarized multicolor portraits at Versace. Plaids are also a standout print for the season, mixed and mismatched at Balenciaga and Marni for joyous combinations. Even florals go overboard with bigger and bolder versions and retro-inspired prints at Marc Jacobs, Marni and Dolce & Gabbana.
denim that won't give you the blues
Denim is anything but utilitarian this season – ladylike with a peplum and trimmed with a lace hem at Alexander McQueen and a glamazon power woman with an extended shouldered jacket worn over a bandeau at Tom Ford. Rubberized illustrated red panels give the classic denim jacket and jeans a streetwear edge at Calvin Klein.
You can work it out
Work-out gear goes high fashion as seen at Louis Vuitton where satin shorts are paired with Rococo jackets and at Gucci where jogging suits meld athletic diagonals with lush embroidery.
Plastic fantastic
With global warming bringing in more rains, plastic may just be a necessity, not to mention a fun item to include in your wardrobe, as seen at Chanel where the classic suit dresses were protected by clear ponchos and white-toed knee-high transparent boots. Balmain's transparent trousers, worn with a maillot, had graphic prints. Christopher Kane mixed his black plastic jackets with a lace collar and cuffs.
Add texture to your life
There is nothing livelier and more celebratory than a fringed dress, or a feathered one if you prefer. There are quintessential party pieces at Balmain, Acne Studios and Nina Ricci. Even Giorgio Armani glitzed it up with a cascade of polka dots overflowing on one side of an ensemble.
* * *
Follow the authors on Instagram @ rickytchitov; Twitter @RickyToledo23 Facebook - Ricky Toledo Chito Vijandre.