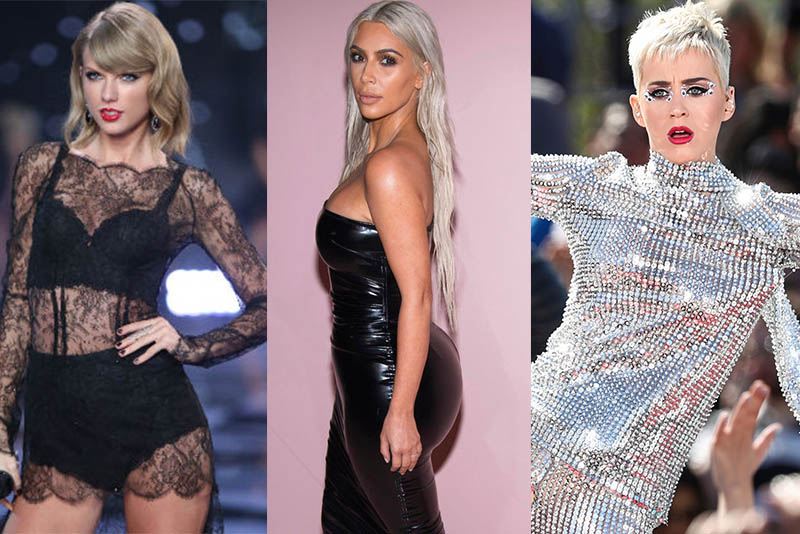 Taylor Swift, Kim Kardashian, and Katy Perry might not like each other, but they all agree: blonde is big this 2017. From left: Taylor Swift performs alongside models at the Victoria's Secret fashion show in London, Tuesday, Dec. 2, 2014. (Photo by Joel Ryan/Invision/AP); Kim Kardashian attends the Tom Ford show as part of NYFW Spring/Summer 2018 on Wednesday, Sept. 6, 2017 in New York. (Photo by Charles Sykes/Invision/AP); Katy Perry performs during 'Katy Perry - Witness World Wide' exclusive YouTube Livestream Concert at Ramon C. Cortines School of Visual and Performing Arts on Monday, June 12, 2017, in Los Angeles. (Photo by John Salangsang/Invision/AP)
#HairGoals: How to rock blonde without being a bombshell
MANILA, Philippines — Taylor Swift, Katy Perry and Kim Kardashian might not like each other, but they agree with one thing: blonde is among the biggest comebacks of the year.
As former "Asia's Next Top Model" judge Lourd Ramos declared: "Blonde is coming back very, very strong!"
"Blondes flatter Filipinas," he assures. "We're blessed that we have golden mahogany in our skin tone, so we can wear any hair color that we like."
Kate Velasquez, product manager for L'Oreal Paris Hair Color Philippines, enumerates other benefits of blonde for Filipinas:
It brings out the gold tone out of Filipinas' complexion
It makes Filipinas' skin tone brighter
It makes Filipinas look fresher and younger
Hair color can make you standout, especially if you are a new grad applying for a job.
Hair color that is two to three shades lighter is perfect for Filipinas.
Blonde is a good color base if you want to pre-light your hair for another color.
Lourd estimates that around 80 percent of Filipinas are wearing blondes and bold colors now unlike the generations before them.
Velasquez has the same observation: "Filipinas are turning into lighter shades, more adventurous colors. In the past two years, they have been going for light browns to dark blondes."
Aimee Kris Pernia, Watsons Philippines' Senior Category Manager for Hair Care, says that Filipinas are still conservative, so the bestselling hair colors for them are ash brown and golden brown, leaning toward blondes.
Even in the runways, Lourd has noticed that brown to blonde hairstyles are trendy because fashion today has been inspired by the melting of arctic regions and "east meets west" themes.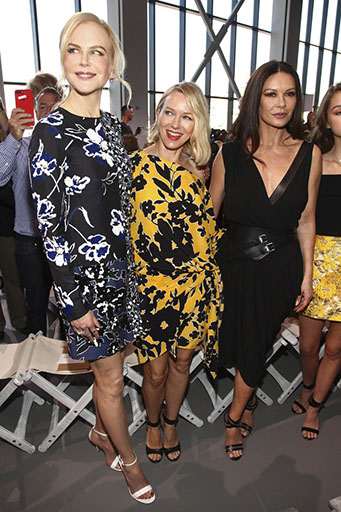 From left: Nicole Kidman, Naomi Watts and Catherine Zeta-Jones attend the NYFW Spring/Summer 2018 Michael Kors fashion show on Wednesday, Sept. 13, 2017, in New York. (Photo by Andy Kropa/Invision/AP)
The blonde this year, however, is not the same as in Marilyn Monroe's time. This year, the trendy blondes are strawberry blonde, rose gold, blue, ash and purple blonde, says Lourd.
Lourd says the following are the inspirations behind blonde's big comeback:
Daenerys Targaryen
Thanks to the popularity of "Game of Thrones" (GOT), Dany has become the poster child for ice blonde.
From her clothing, to her accessories, curls, braids and silver ash hair, the Mother of Dragons has inspired fashion a lot, says Lourd.
There is one episode when Lourd noticed that Dany's ice blonde was combined with deep dark blonde for variation. Mixing silver with deep ash, he notes, is a new way to rock Dany's hair.
He believes as long as devotion for GOT and Daenerys remains strong, demand for ash as hair color will stay strong, too.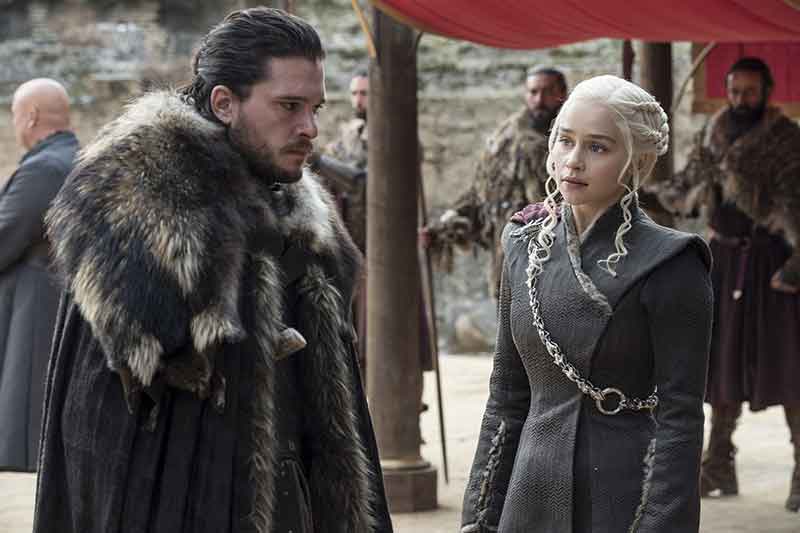 This image released by HBO shows Kit Harington, left, and Emilia Clarke on the season finale of "Game of Thrones." Macall B. Polay/HBO via AP
Kirsten Stewart and Katy Perry
For short and ice blonde hair, Kirsten and Katy are the epitomes this year, Lourd says.
Cara Delevigne for Chanel
Lourd says another way to interpret the blonde and mahogany trends is to put them together in a contrast.
According to Velasquez, innovations like L'Oreal Paris' new Gold Obsession offers different new ways to wear blonde.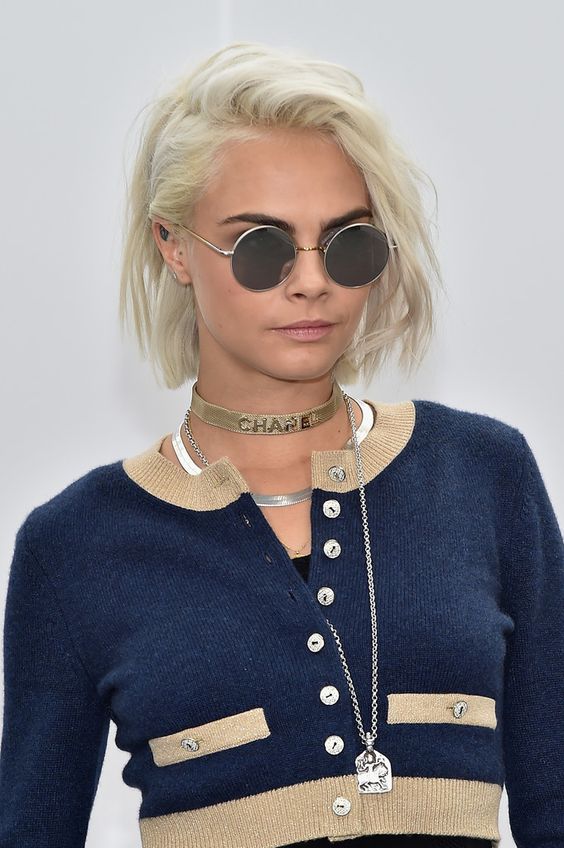 Cara Delevingne attends the Chanel show as part of the Paris Fashion Week Womenswear FallWinter 20172018 on March 7, 2017 in Paris, France. Chanel/Released
Here are different ways to wear blonde: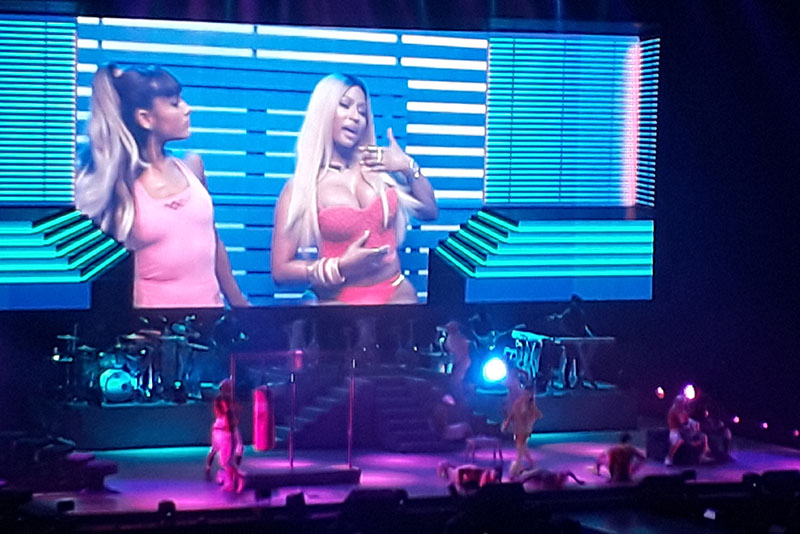 A scene from Ariana Grande and Nicki Minaj's "Side to Side" music video showing them sporting blonde. The video was flashed during Grande's recent Manila concert. Philstar.com/Deni Rose M. Afinidad-Bernardo
Rose gold – if you want to be unique, says Velasquez
Golden ash – since it is illuminating, it gives one a golden glow all year round. If you are not sure about this, the darker version is a safer bet, Velasquez notes.
Golden nude brown – neutralizes or cancels out the red in the hair of Filipinas, according to Velasquez.
Platinum beige and ash brown – these are new hair colors available in the market, says Pernia.
Ash or blue ash – is also in trend, says celebrity hairstylist Henry Calayag.
Try to inject a hint of red or wine red as an ombre or highlight, Calyag suggests.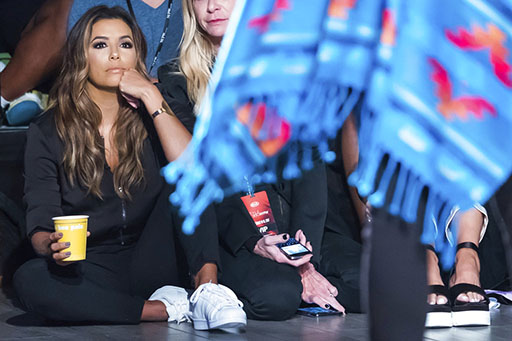 Eva Longoria watches models rehearse before her Eva Longoria Fashion Show as part of NYFW
Spring/Summer 2018 on Wednesday, Sept. 13, 2017 in New York. (Photo by Charles Sykes/

Invision

/AP)
How to keep your blonde from going bland
1. Try the shampoo format
Studies show that a person usually only colors her hair once every six months because she is scared of the damage it may cause and is unsure if she has colored the hair evenly, Pernia says.
For even hair coloring, Pernia recommends the shampoo format that is only applied like your regular hair care product.
According to her, Watsons Philippines carries over 12 brands of hair colors and hair coloring tools, with Korean brands becoming more popular. By the last quarter of this year to next year, the personal care store chain plans to introduce a new brand of semi-permanent bold colors.
"More and more people are coloring their own hair because they want to mix and match their own colors," Velasquez adds.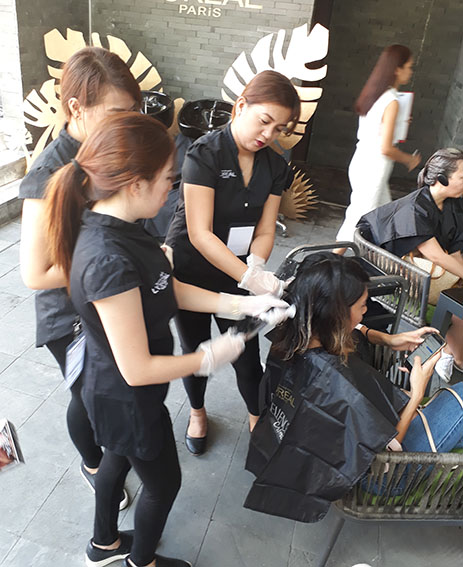 L'Oreal Paris introduces its Excellence hair coloring line that includes a pre-serum and conditioner to protect and take care of the hair from color.
2. Always buy an extra box of hair color
Sometimes, one box of hair color is not enough to give you the results you want, says Velasquez. Thus, she recommends to always get two boxes especially if your hair is past shoulder length or if your hair is thick.
3. Use special products and treatments for colored hair
Blonde hair requires special treatments and products to keep them longer and make them always look fresh, says Ramos.
Thus, for maintenance, use sulfate-free shampoos because sulfates strip off the natural protection on your hair and color, says Velasquez. She suggests using L'Oreal's Ever Pure hair care line for colored hair.
Velasquez assures that the brand's Excellence hair coloring line includes a pre-serum and conditioner to protect and take care of the hair rather than damaging it.
With more than 30 years of hair care expertise, Cream Silk has developed its most effective formulation yet, keeping in mind the most common hair problems of Filipinas. The all-new range has Advanced Hair Reborn Technology that repairs, strengthens and replenishes hair from inside out. It also contains nutrients that are essential to improve hair elasticity, moisture retention and flexibility.
Perfect for every Filipina hair type, the new range consists of seven customized solutions, each with a specialized formulation to improve and transform any hair to beyond beautiful. These are Standout Straight, Hair Fall Defense, Damage Control, Stunning Shine, Dry Rescue, Dandruff-free and its newest variant: Color Protect.
Along with its reformulation comes a new packaging, featuring endorsers and modern Filipinas Heart Evangelista (pink), Coleen Garcia (green), Nadine Lustre (blue), Pia Wurtzbach (gold), Yassi Pressman (orange), Julie Anne San Jose (violet) and Rachelle Ann Go (red).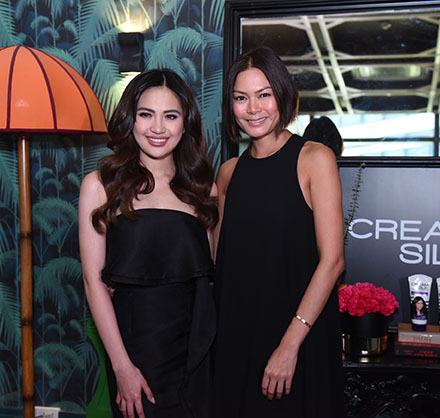 Julie Anne San Jose with Unilever's Head of PR Apples Aberin during the launch of Cream SIlk's new Color Protect variant. Photo Release
4. Avoid the hot stuff
"Do not shower with hot water because it will open your hair cuticles and will make your color easier to fade. The same goes for blow drying and heat styling, so if you are using tools, make sure they are not too hot," Velasquez advises.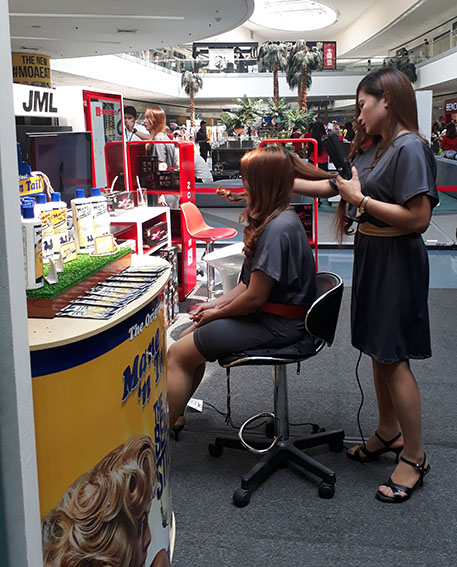 Watsons Philippines offers a wide range of hair coloring products and tools. Photo release
5. Detox your hair
"Detoxiners," like the new Tresemme Detox and Nourish line, enable one to achieve this season's healthy hair and scalp trend, says Ramos.
Designed for everyday use, the new Detox and Nourish line has ginger and green tea that reportedly deeply cleanses to detoxify hair from daily impurities, and replenishes lost nutrients to nourish hair. It allegedly contains no parabens or dyes.
"We're in a humid country and we love hair color. We love to put lots of chemical treatments, so detox is now becoming more popular because it makes hair healthier and stronger," he explains.
"In the '80s, we had a detox shampoo. Now it's high time to bring it back because we abuse our hair a lot – the deposits, the pollution, even what we eat and the alcohol we take have their toll on our hair," Calayag adds.
According to Ramos and Calayag, here are the reasons why you should detox your hair:
To help hair boost its production of natural oils for luster and shine
To make hair stronger and healthier
To prevent having dandruff
To counter free radical effects on the hair
To take out hair care products' build up and residue
To clean the hair strands
To strengthen the hair cuticle
To moisturize the hair
To flatten the mane and make it lighter, so you can be ready for another round of styling.
Calayag recommends using a detox shampoo once every three days to make your hair as light as a feather, so it will be easier to style. Stylists usually add volume to the hair through products.
Besides using detox products, Calayag suggests trying yoga. He himself does yoga every five to six times a week because sweating often also detoxes the hair.
"If we're detoxing our body and skin, then why not hair?" the celebrity hair guru points out.
All these experts agree that through proper application and care, you can achieve your blonde ambition this 2017.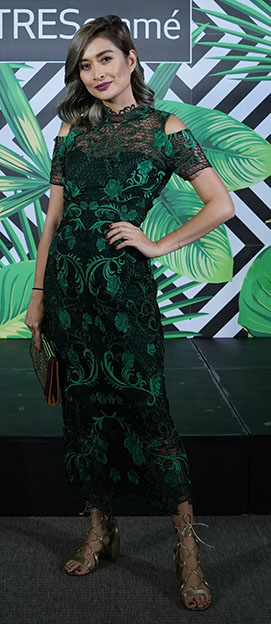 Model and TV host Phoemela Baranda with blonde streaks in her hair during the launch of Tresemme's Detox and Nourish. Photo release
RELATED: From New York Fashion Week: Filipino experts reveal celebrity hair trends